In this Article:
Overview of Analytics


Usage
Recognition
Feedback
1-on-1s
Talent Reviews
Turnover Trends
Flight Risk (BETA)

Overview of Analytics
If you're an Admin user of Quantum Workplace, you have access to aggregate data for every Quantum Workplace feature your organization is using in Analytics. Managers will have an Analytics section that includes usage data for their downline, Talent Reviews for their downline, and aggregate data for any Survey, Feedback, or 1-on-1 cycle for which Manager Analytics has been enabled.

You can access Analytics for any aspect of the site from the left navigation menu. Note: There are no specialized Analytics associated with Goals.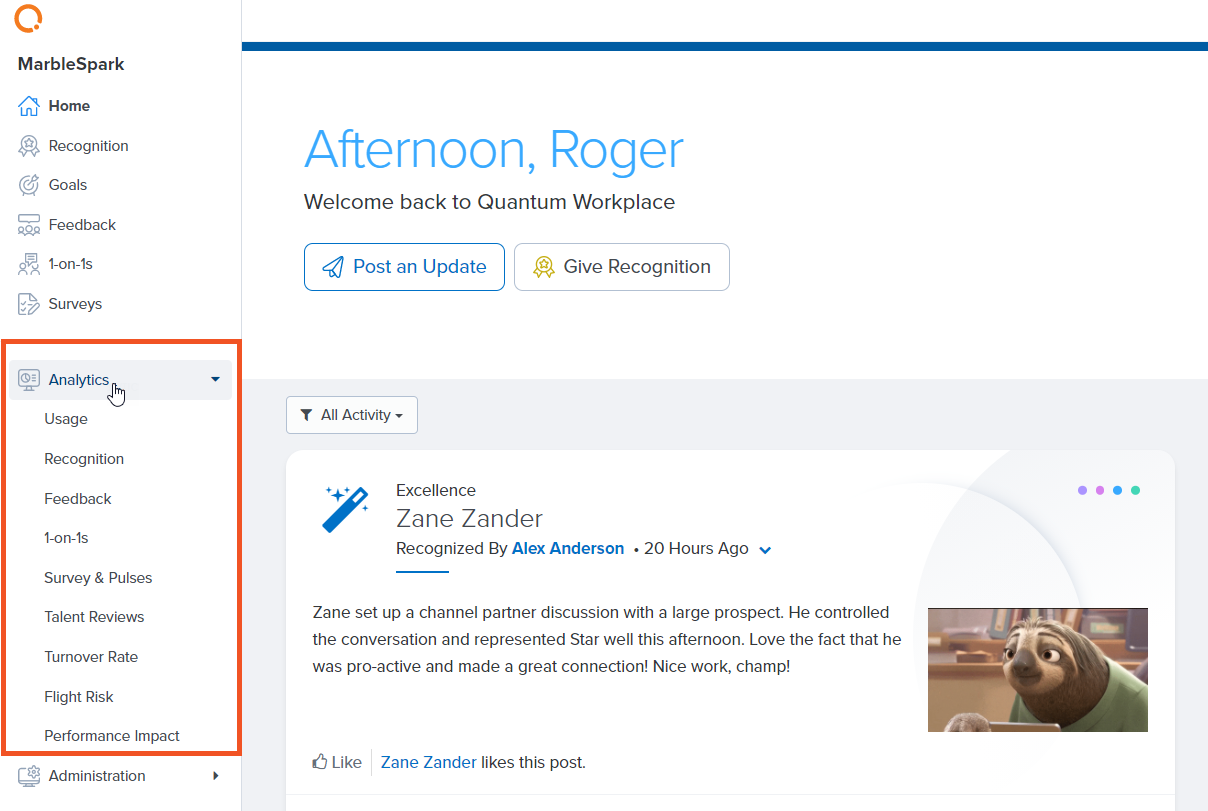 Analytics by Feature:

Usage: View and export metrics for how frequently your employees are using each aspect of Quantum Workplace and the last date that each employee logged in.




Recognition:
1. Export an excel report of the complete history of all recognition badges awarded at your company, including the recognition giver and receiver and the badge type. (Any filters you add will be reflected in your export.)
2. Toggle between a bar graph/ pie chart view of all recognition badges given by type.
3. Use the search capabilities on the right side to view recognition badges given or received by a particular person or given during a specific time frame.




Feedback: View and export aggregate data for all Feedback cycles that have been conducted in your organization.
For cycles that include scaled agreement questions, Feedback Analytics display an overall score that all participants received on the scaled agreement items that included in the overall score (by default, all scaled items are included in the overall score unless you designate they should not be on the Feedback template). To view average scores for each Feedback recipient, click the Slice By... button and select Participant.


If you Feedback groups, you can also click on any of the Feedback groups within the Toggle Feedback section in order to see the average response given by a particular Feedback Group.