Custom Organization Trees allow you to limit Survey Analytics visibility for each user to specific groups like department, location and other demographics.
Overview
When you conduct a survey using the Surveys & Pulses tool in Quantum Workplace, you can view survey results for both the organization overall and for every manager's downline in your organization.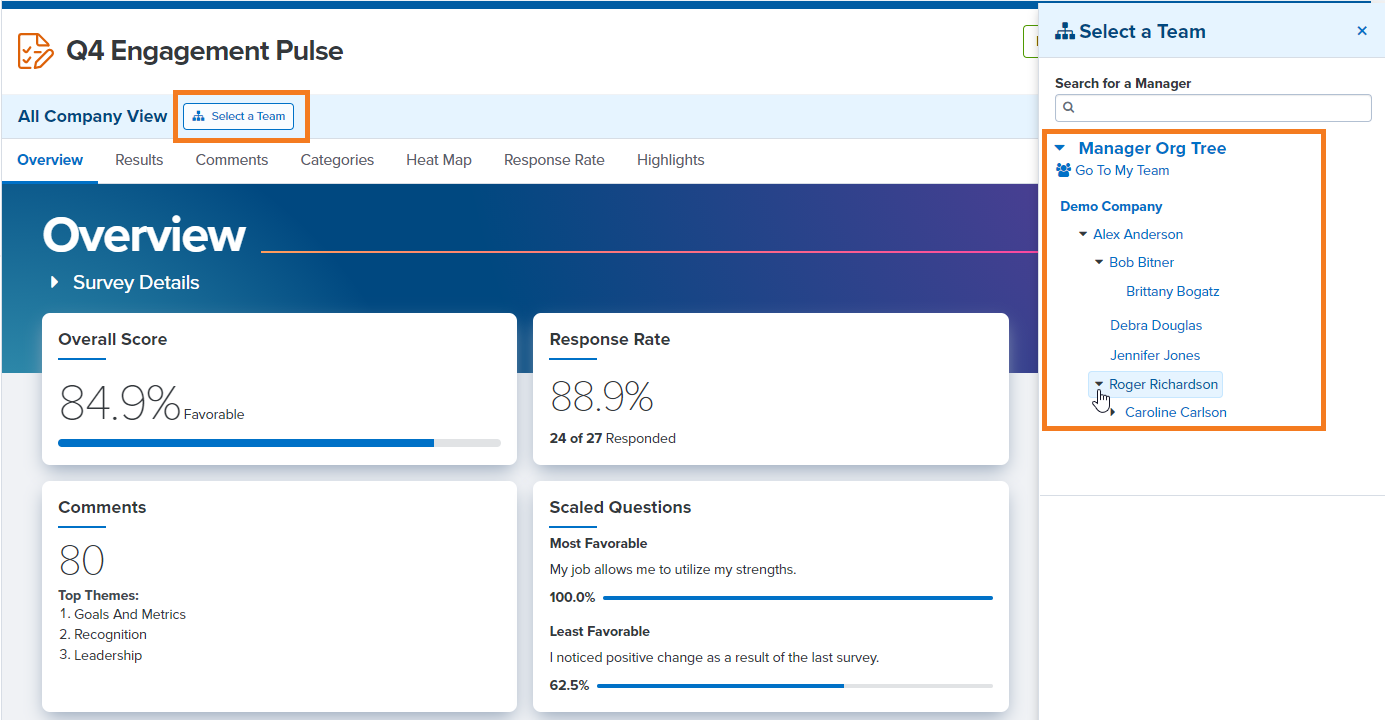 Clicking the Select a Team button in Analytics opens up an expandable menu that shows all of the managers (anyone with downline reports) in your organization. You can click on any manager's name to view the average survey results for the employees in that manager's downline: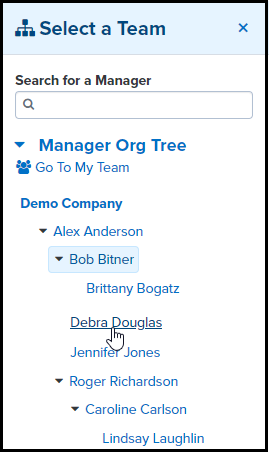 We refer to this expandable menu as the manager org tree and it is automatically built into your Analytics for every survey you launch.
However, you may also want to see results for your organization structured in some other way. If your organization would benefit from viewing survey results broken out by department, division, location, or any other demographic, you can contact your Customer Success Manager to request that we create a custom organization tree (custom org tree) for your survey results.
Once your custom org tree has been created, you will have the option to give your people leaders visibility into the survey results for any level on the org tree. For example, if you had requested an organization tree that is structured by department, you would be able to specify which people leaders should have manager-level access to each department in your organization.
The custom org tree that you request will be automatically available within survey analytics for every future survey that you launch within Surveys & Pulses.
How to Request a Custom Org Tree
Please contact your Customer Success Manager if you would like to have a custom org tree added to your Survey Analytics.
You are not limited to structuring your organization tree by department/function/division or location. You can structure your org tree by any demographic that you are tracking in Quantum Workplace that makes sense for your organization.
You can also structure your org tree to combine two demographics. For example, you can create your org tree for each department broken out by both location and department: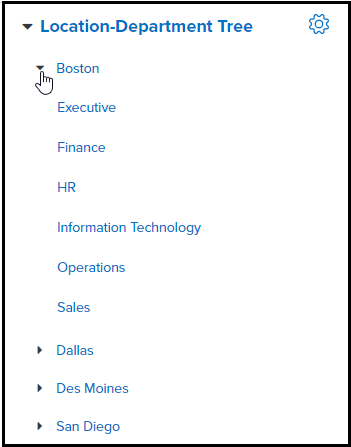 Once you have submitted a request for a custom org tree, our team will schedule a call with you to discuss the specific requirements for your organization tree and provide you with a timeline for when it will be added to Analytics. Our team will add the custom org tree to every existing survey that you request it for, and going forward your custom org tree will be automatically available for every future survey that you launch.
How to Assign Manager Access to a Custom Org Tree
Once your custom org tree has been added to all the surveys that you have specified, you will be able to give any individual within your company, manager-level access for any level within your custom org tree.

To assign manager access to your custom org tree, first open Survey Analytics for the survey you would like to give your managers visibility into. Then, click Access Settings in the top right corner of the screen.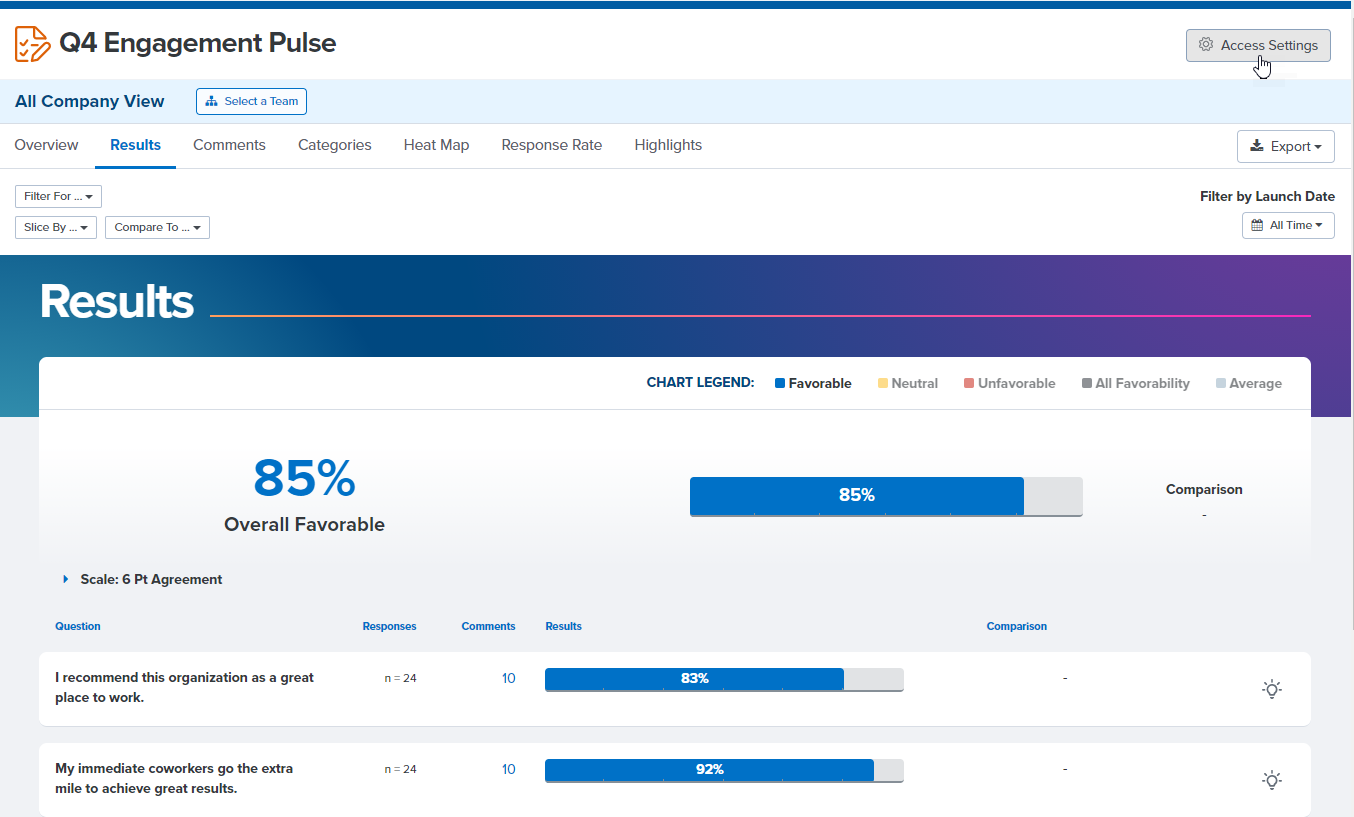 This will take you to a new screen where you can assign individuals within your organization to the level of the org tree that they should have visibility into: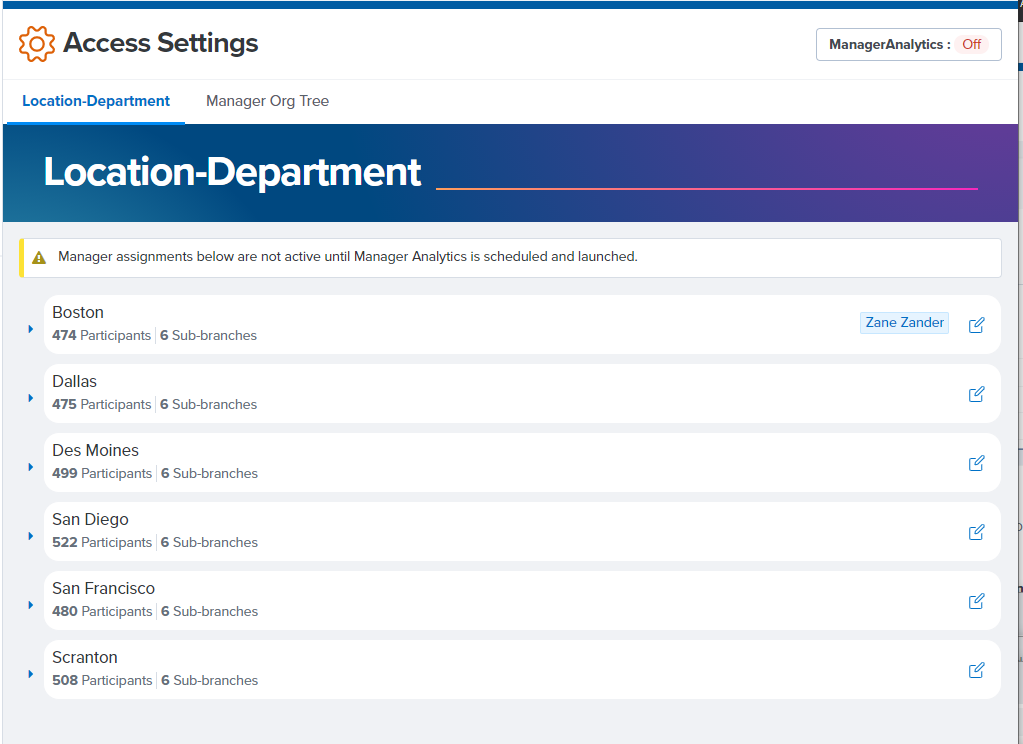 This screen shows every level of your org tree; you will click the drop-down arrows to expand your org tree completely. Each level of the organization tree will display the number of employees within that team who were invited to take the survey. This is the Participants count; it does not reflect the number of employees who submitted a survey, but rather the number of employees on that team who were invited to participate.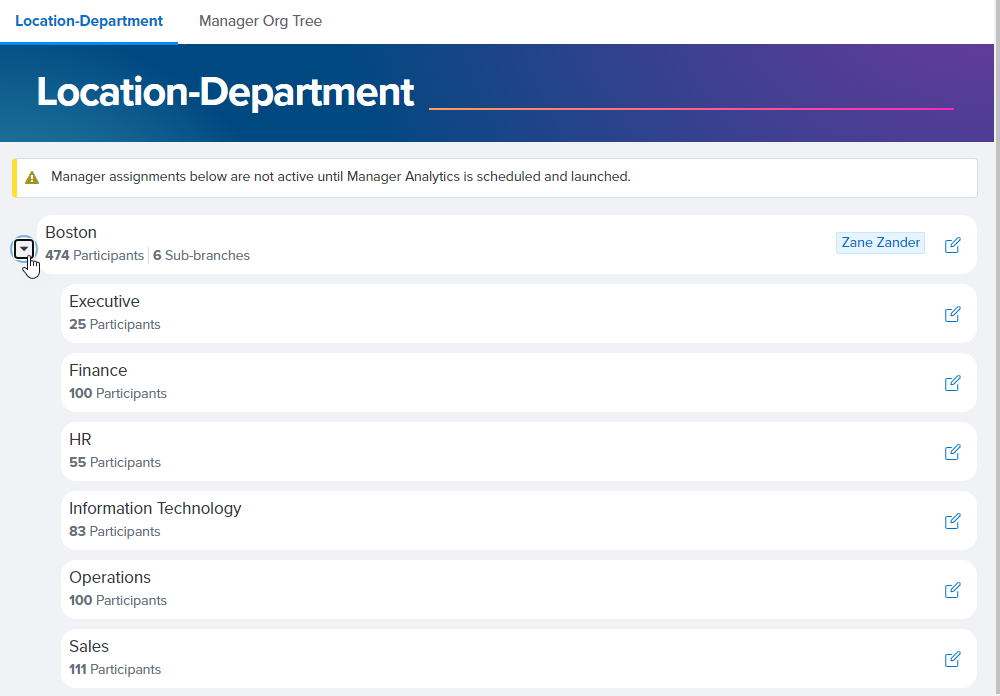 Click the edit icon at the end of the row of a given level of the org tree to give a manager visibility to the survey results for that level: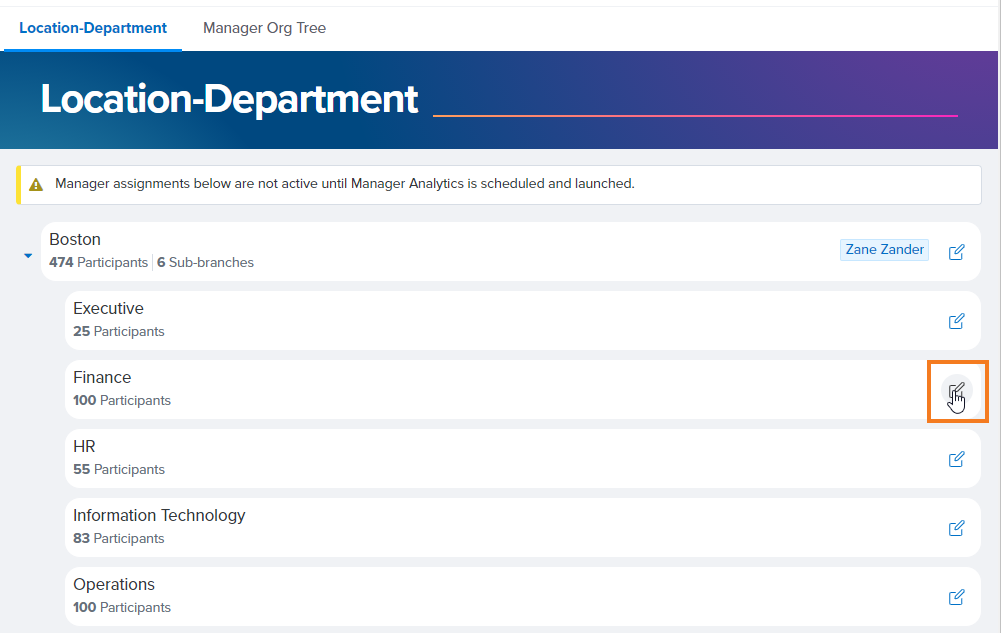 In the window that appears, type in the name of any users who should receive manager-level access to that level of their organization and click on their name to add them.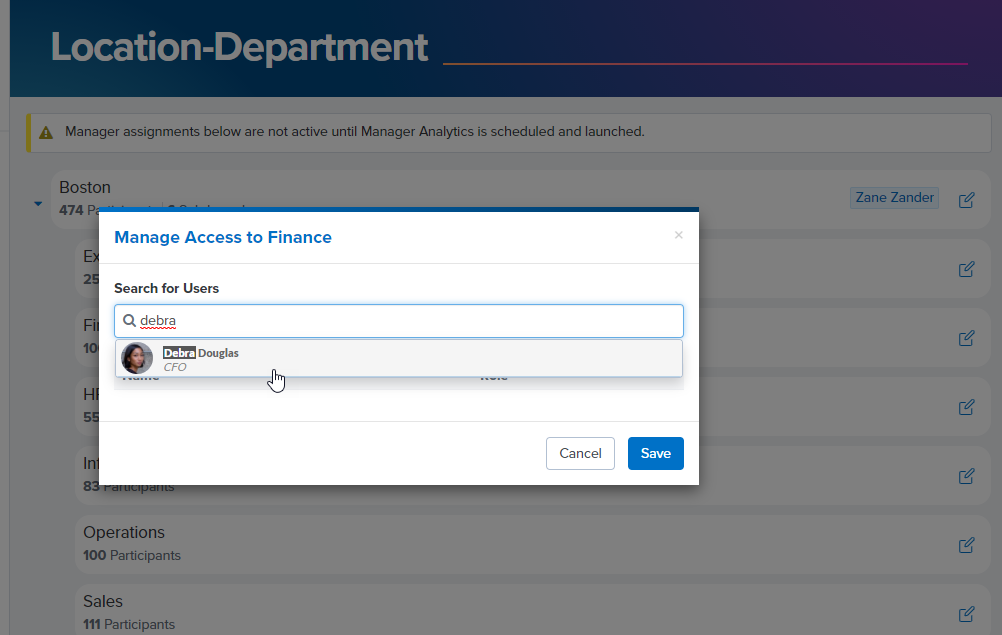 Then, click Save to save your changes. (Note: access does not go out automatically once you click Save. Managers will not be notified that they have been added.)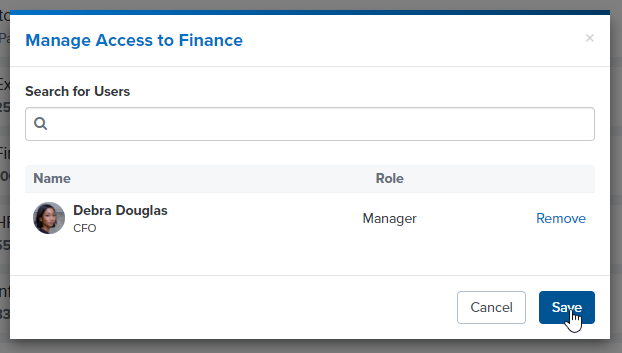 You will add each people leader who needs visibility to your org tree in this fashion. When you are ready to either schedule a date for access to be sent out or give access immediately, you will navigate back to your survey analytics.
Anyone assigned to their respective levels of the custom org tree AND all managers who are represented on the manager org tree will receive an email from Quantum Workplace with a link to their team's survey results on the date/time you have specified.
Importing & Exporting Custom Org Trees
Exporting an Org Tree
To export a Custom Org Tree, navigate to your survey's results page by clicking Analytics in the left-hand navigation menu followed by Survey & Pulses. Find the survey you're looking to export and click Analytics in the same row.
From the survey's analytics page, click Access Settings in the top-right.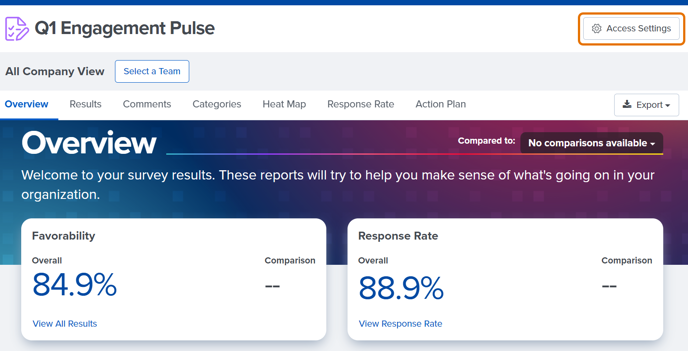 On the Assignments page, click the Custom Org Tree to export.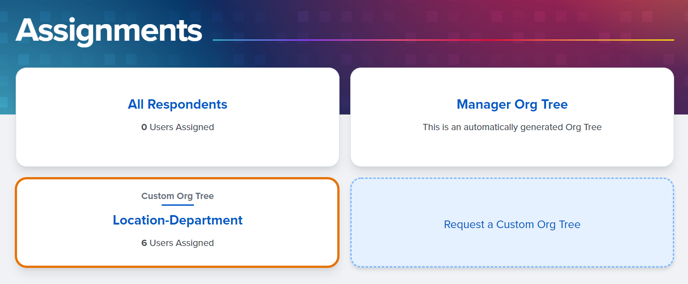 From the Custom Org Tree page, click Export to begin downloading an Excel spreadsheet of the org tree's data.

Importing an Org Tree
From the exported Excel spreadsheet, you can edit assignments within the excel file before uploading the file to update your org tree's data.
See the previous section for information on how to export an Excel spreadsheet.
On the Custom Org Tree's page, click Import.

Upload the updated Excel file and click Import to update your Custom Org Tree.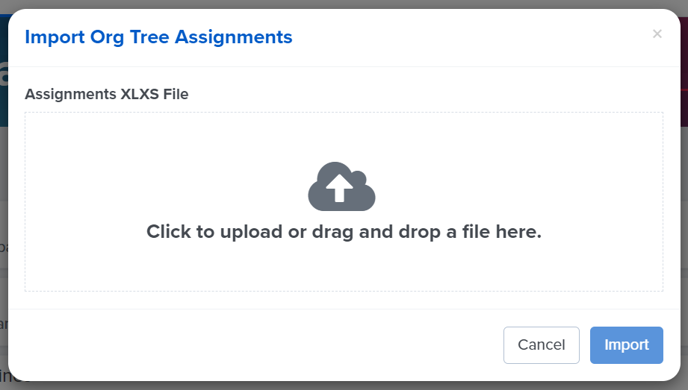 The Excel file includes a column with Import Instructions for more information.