In this article:
Overview
Succession Planning is the process of identifying critical positions within your organization and developing action plans for employees to take those positions. Succession Planning ensures that you have the right people in the right positions, both now and in the future.
Done well, Succession Planning:
Identifies talent risks
Guides talent development
Help prepare organizations for when talent needs arise


Accessing Succession Planning
Access Succession Planning by clicking and expanding Analytics in the left-hand navigation menu. Then, click Succession Planning to navigate to the Talent & Succession Planning home page.
How does Succession Planning work?
To begin- your organization will upload a file with your current succession plan. This file should include:
Critical Role Name
Current Incumbent ID
Successor Employee ID
Successor Readiness

Ready Now
Ready In 12 Months
Ready In 24 Months
Ready In 36 Months
On The Radar

With your Succession Planning file, Quantum Workplace will then populate the Succession Planning home page with widgets and related information. Some of these widgets include:
Critical Roles
Identifies the number of critical roles within your organization, as well as the number of roles that are empty or need to be filled as well as the number of roles that have no potential successors.
Candidate Readiness
An interactive widget that estimates when any number of successors will be prepared to comfortably step into their new role.
Candidates By Demographic
This widget displays a visual indicator of how your successors break down by specified demographics via color-coded dots. The highlighted demographic can be changed on demand to quickly visualize available candidates by a demographic.
Viewing Roles & Potential Candidates
Below the widgets at the top, you'll find a list of roles within your organization. Each row contains the name of the role, the current employee and the number of potential successors.

Click on the name of the role to go into greater detail regarding the current employee and their demographics.
A: Click the + Add Candidate button to identify a new potential candidate for the role

B:

Click Details to open the identified candidate's profile as seen in the next image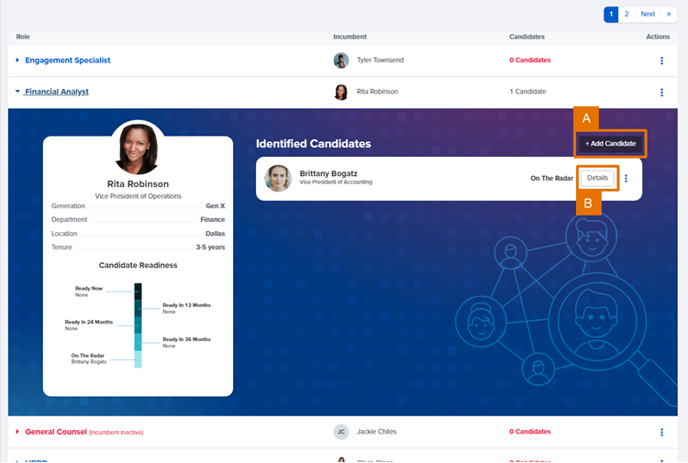 Potential successors will have relevant demographics displayed along with two tabs: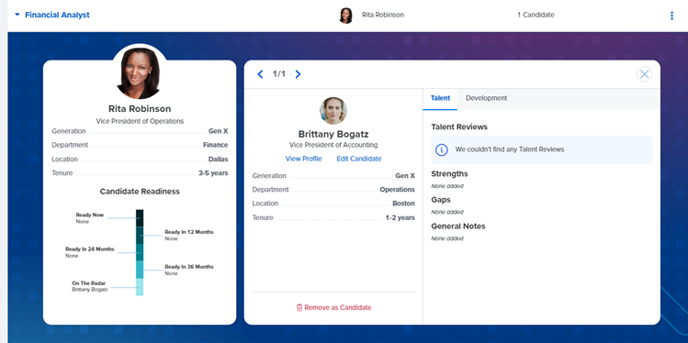 Talent
This tab features a field for Talent Reviews to be displayed if the potential successor has existing Talent Review data. Other fields include Strengths, Gaps and General Notes that can be edited for future reference.
Development
This tab highlights active Development Goals or those completed in the last 12 months. Click here to learn more about developmental goals and related best practices.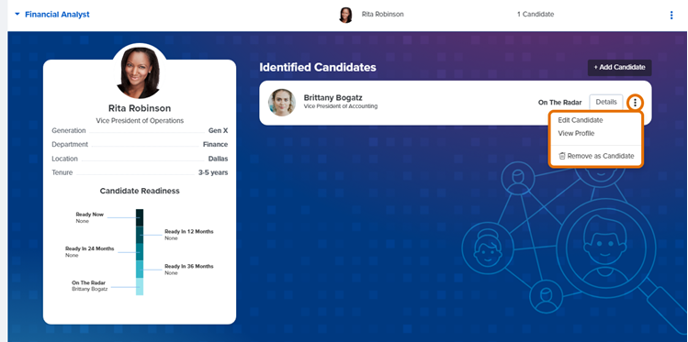 Click the ⋮ icon to view or edit the candidate's profile, including their readiness level and general notes. You can also remove the candidate as a potential successor here.