IN THIS ARTICLE:
Accessing Analytics
To view Analytics for a Survey, navigate to Analytics and select Surveys & Pulses. Then, click Analytics next to the particular survey you would like to view.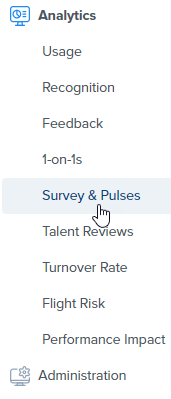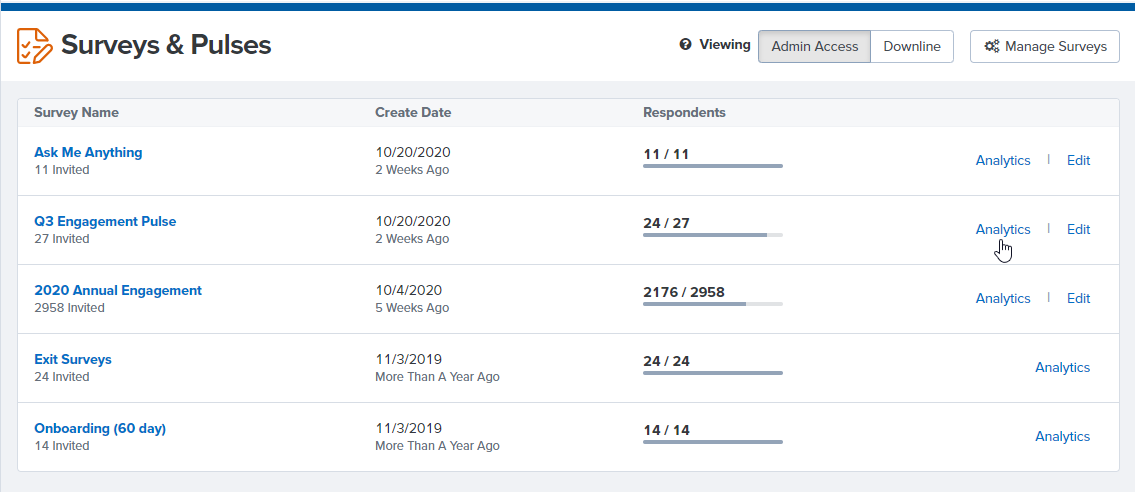 This takes you to the Overview Report, which displays key details for your survey such as the overall score on the survey, the response rate, and the most and least favorable items on the survey.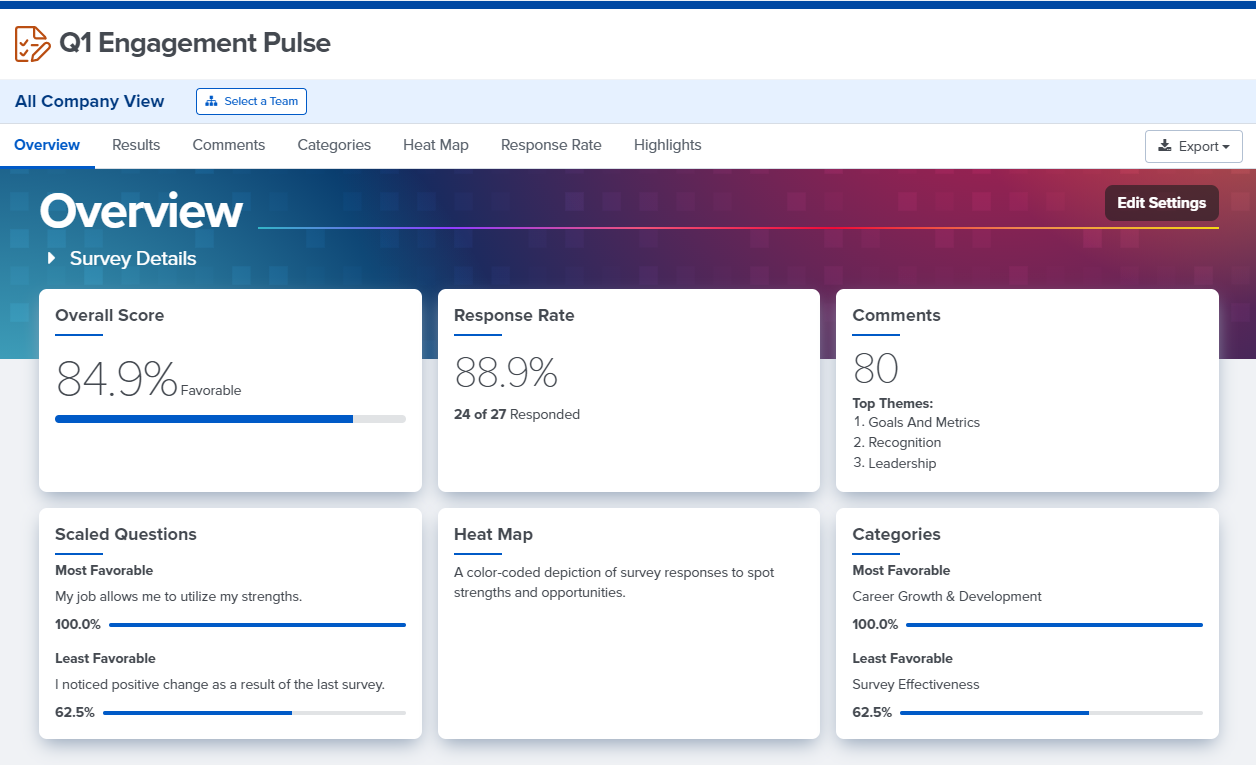 You can click Survey Details to view additional information for the survey such as when the survey was conducted, who was invited to take the survey, and the questions that were asked.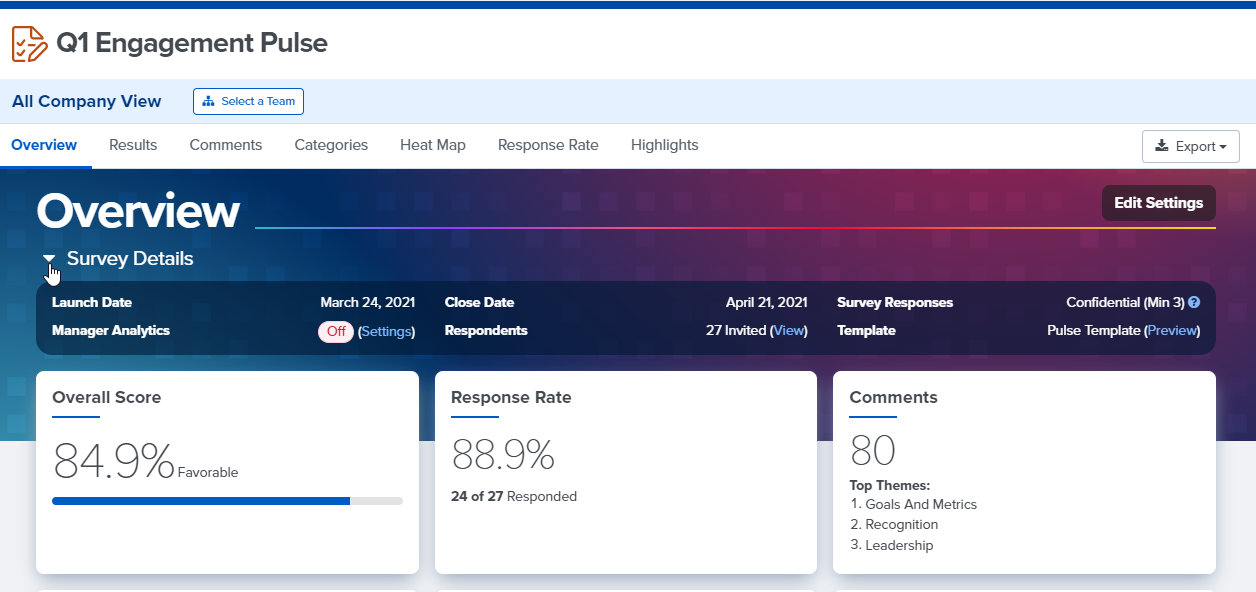 If you are an Admin or if you are an Analyst for this survey, you will have visibility into survey data for the entire organization. By default, you will be viewing aggregate data for the entire organization, but you can change your view at any time using the Select a Team button. Click Select a Team and use the expandable menu to select the team you would like to view results for.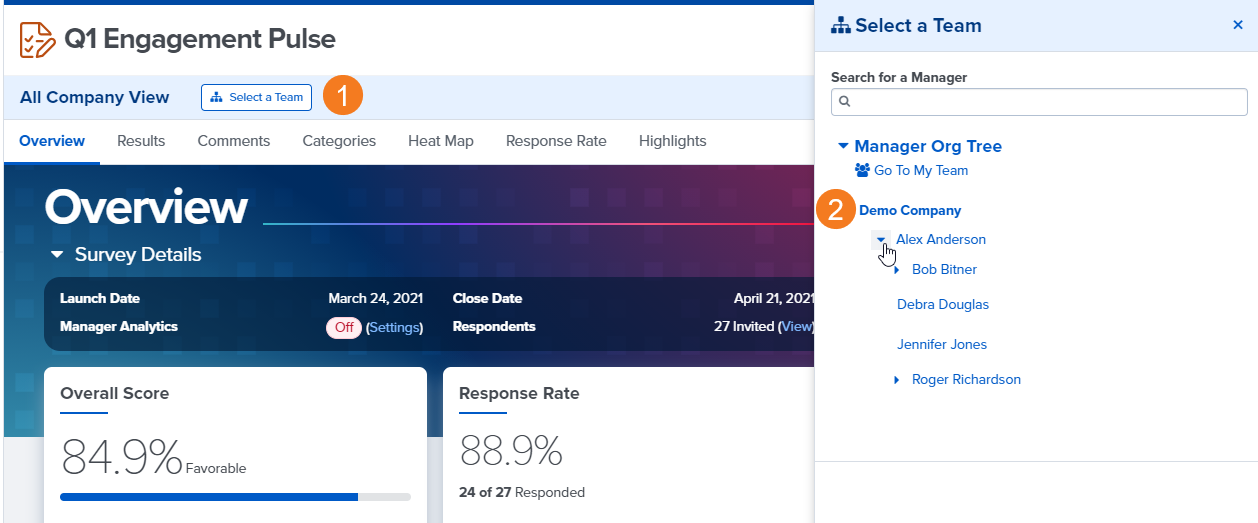 If you are a manager, you will have visibility into data for your down line, but not for the entire organization. Depending on your organization permissions, you may be able to view aggregate data for your upline managers' downline or for the organization overall. If you have the ability to view data outside of your downline, you'll be able to use the Select a Team button to navigate to that data.
Results
The Results tab displays all data for scaled, multi-choice, and NPS questions, grouped by question type. For scaled agreement items, the default view is to show the percent of responses to that that were favorable (e.g., the percentage of responses that were agree or strongly agree on a 6-point Likert scale.)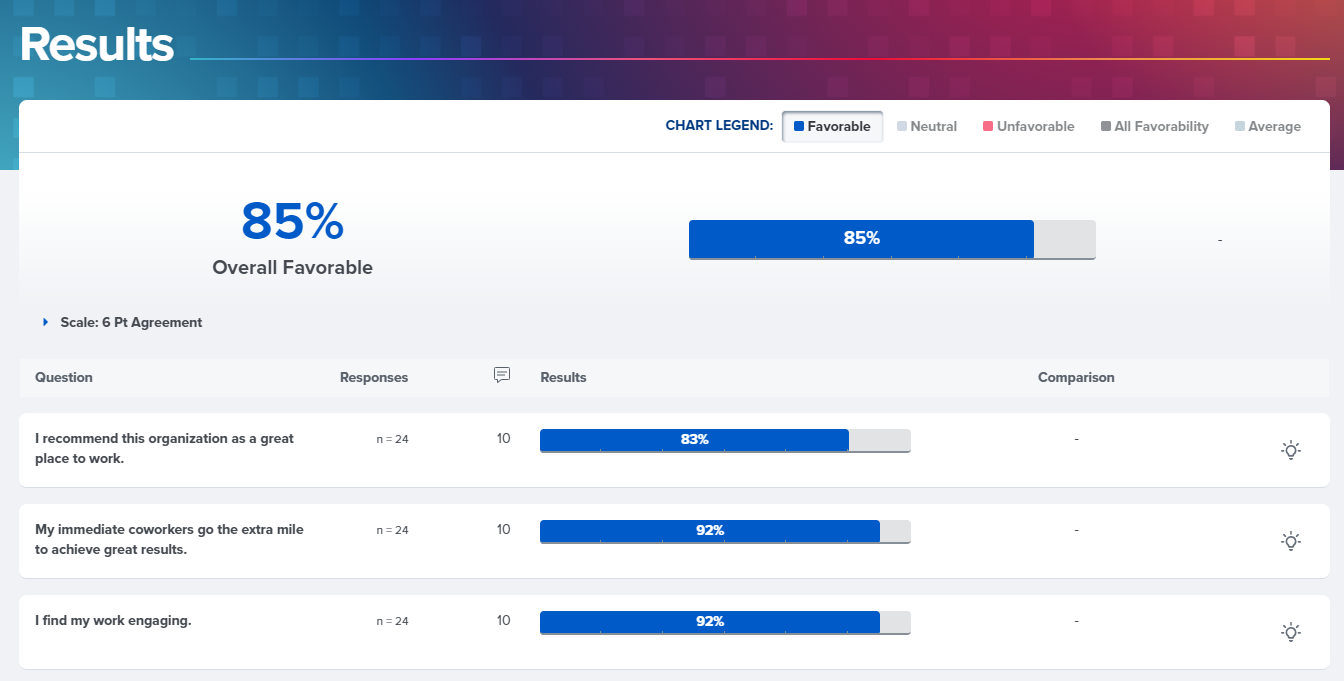 You can view a complete breakout of responses by clicking All Favorability next to Chart Legend. This will show you the breakout of responses that were favorable, neutral (somewhat agree or somewhat disagree on a Likert scale), unfavorable (strongly disagree or disagree on a Likert scale) for every item. Or, you can click Neutral or Unfavorable to just view those responses.




You can click Average to view the average responses on the scale that you were using; (e.g., the average score out of 6 points for a Likert scale).


Slice/Filter Capabilities
From the Results tab, you can view a breakout of your data by any demographic on record using the Slice By... button in the top left corner. Clicking Slice By... Department will display a range of how departments responded to each survey item. Click into the range for any given item to view how each department rated that item.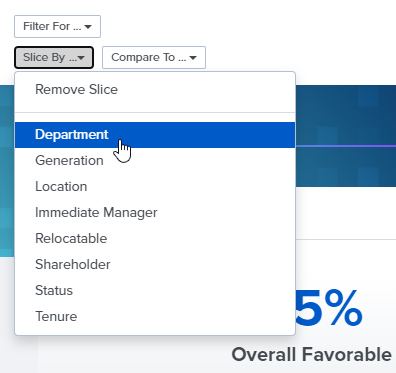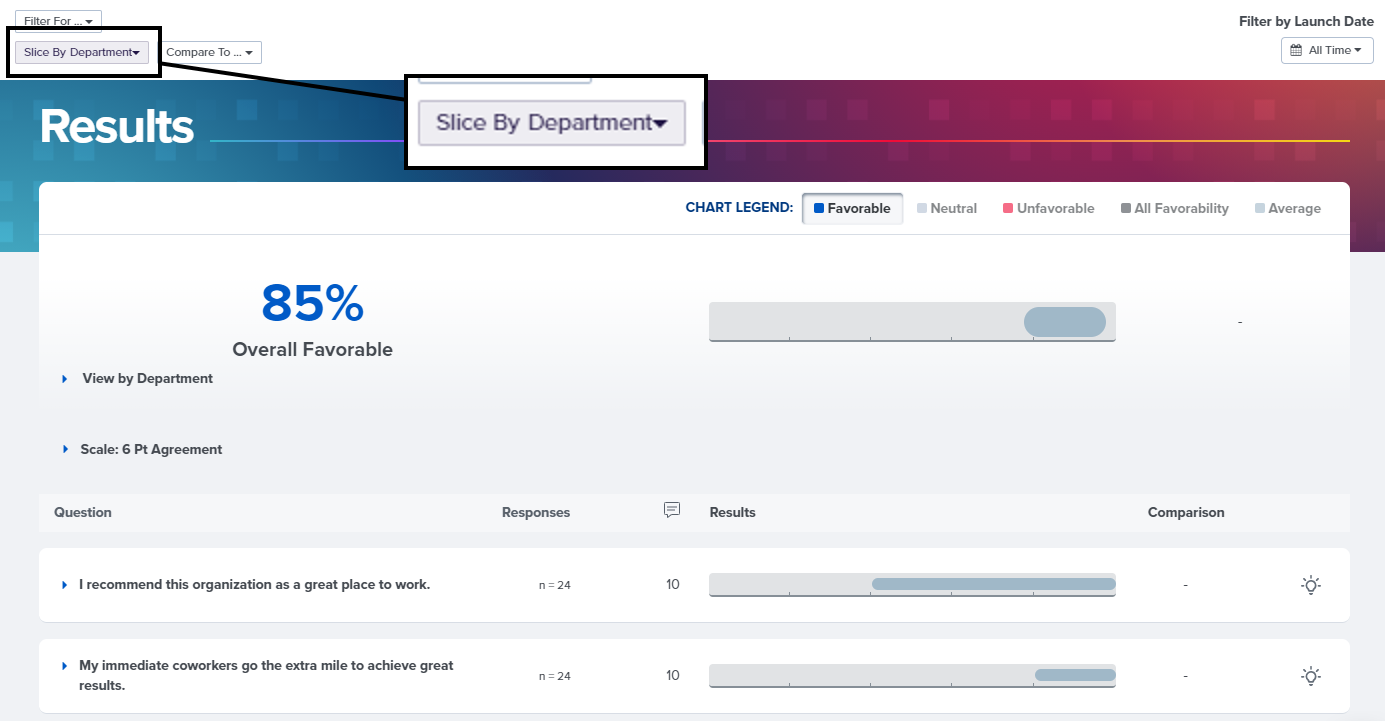 Use the Filter For... button to view data for any given department at a time. For example, clicking Filter For... Department and selecting the checkbox next to Sales will display data from the Sales team by itself.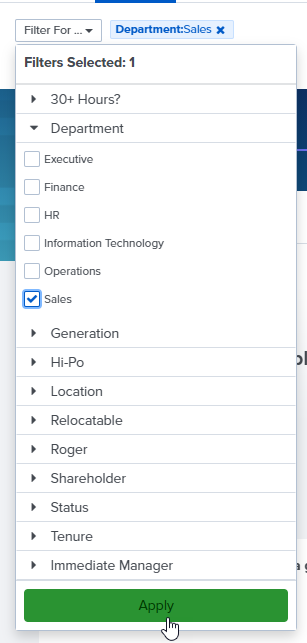 Note: Any Slice or Filter you apply will carry over to any subsequent report that you view. Click the "X" next to any filter to remove it, and select Slice By: Remove Slice to un-slice your data: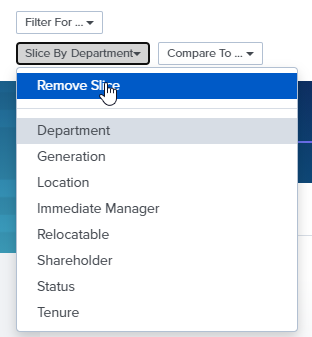 Compare To/ Benchmark Capabilities
Clicking the Compare To button will allow you to select either a previous Pulse cycle for you to compare your current data to or compare your data to average responses for your industry or organizations that are the same size as yours. (We refer to these latter comparisons as "benchmarks").
If you don't see industry or same-size benchmarks available within the Compare To menu, contact your CSM to have these benchmarks enabled.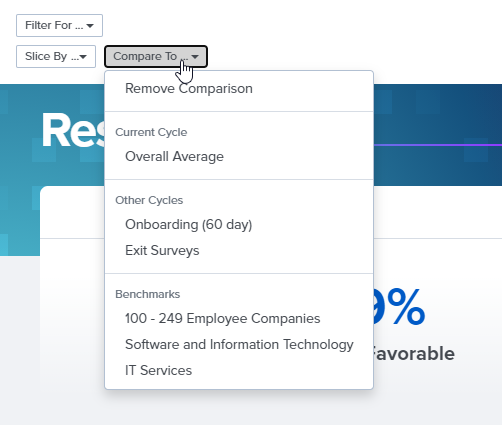 If you click Compare To and select a survey that you've conducted previously, a pin will appear to represent the average response on that survey for any item that you included on both that survey and the survey you're currently viewing results for.

If you click Compare To and select your industry, a data pin will drop to represent your industry's average result for every standard Quantum Workplace item that you've included in this survey.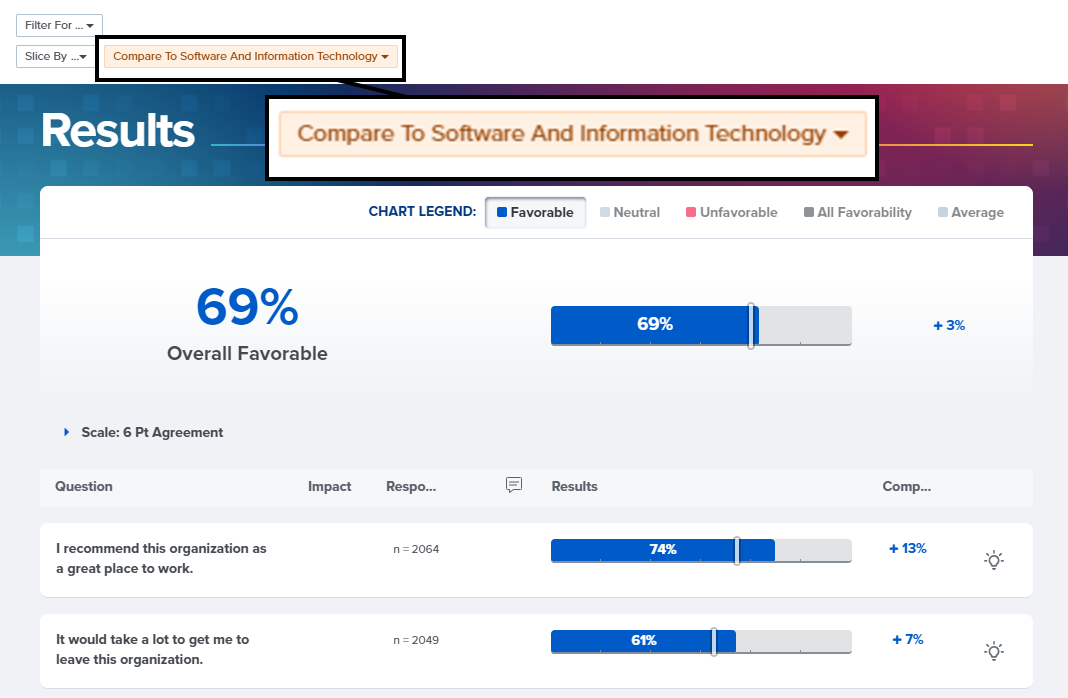 Categories
The Categories tap displays all scaled items grouped into their respective categories. You can click the drop down on the right side to see which survey items make up a particular category. You can click the comments bubble on the left hand side to view comments associated with any given category. All categories can be expanded, via the arrow to the right, to show all of the survey items that belong to that category.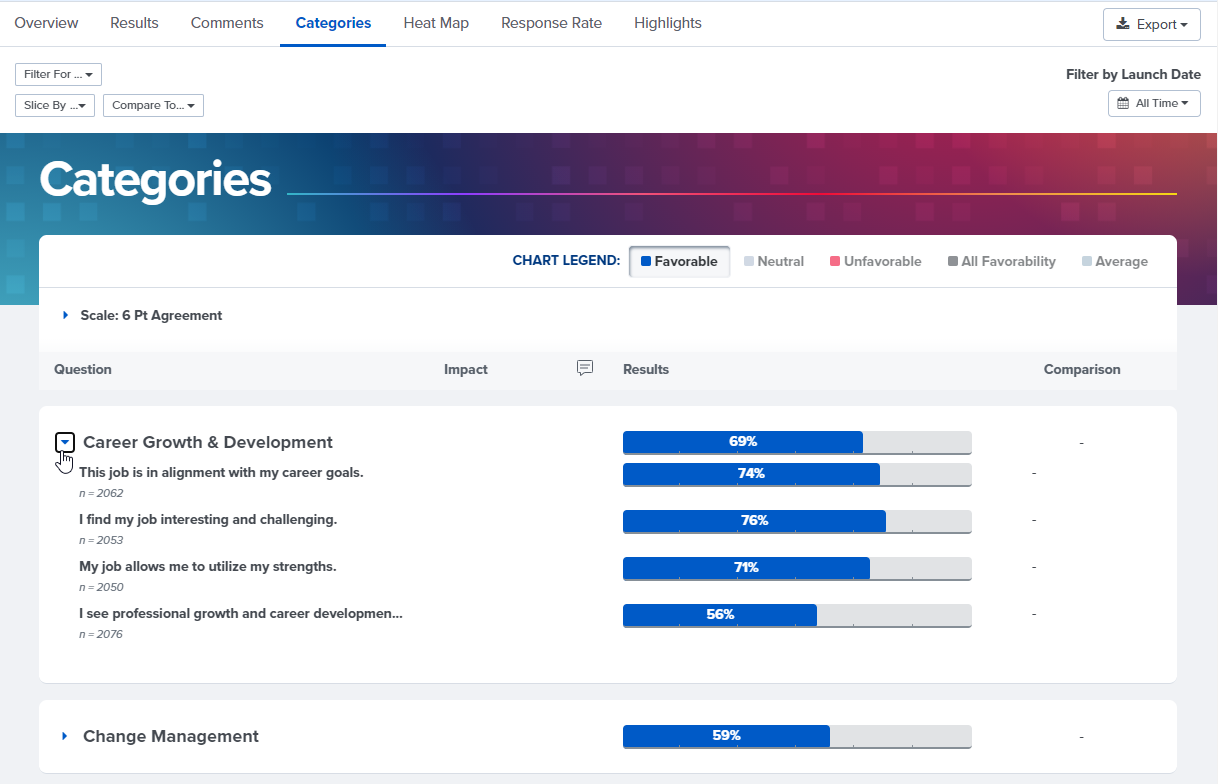 Comments
If you included either open-ended questions -- or offered the option to provide a comment on a scaled question -- on your survey, all free text responses will appear in the Comments report.


The right panel displays all themes that were detected in your Comments.
From this panel, you can click on any theme to view all comments that were tagged with that theme: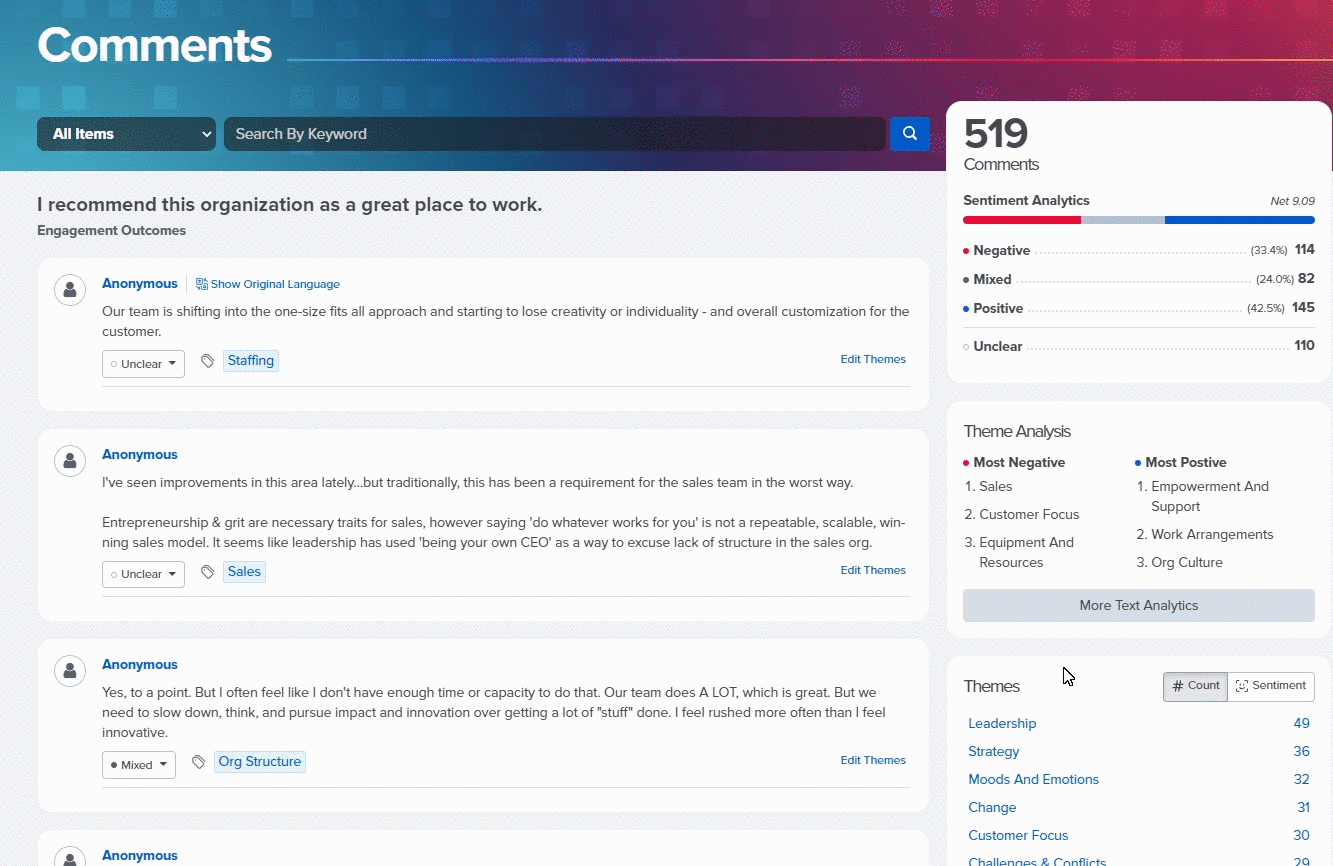 You can also add themes of your own or remove the automated theme for any comment by clicking Edit Themes. Type in the theme you would like to add and click Save to add a theme. To remove a theme, click the X by the theme you would like to remove. You are not limited to adding one of the themes our software detects; you can add any text that helps you categorize your comments.


Filtering and Slicing your Comments
Filtering by Question
You can use the question-filter to just look at responses to a single survey item or survey category. By default, "All Items" is selected. Click this dropdown to select an individual survey question or category.
Note: if you navigate to item-level comments from the Results report, the question-filter will already be set to the appropriate question.
Filtering by Team Select (Org Tree)
Like all survey analytics, the comments report automatically responds to the scope of your Team Select. So if you only have access to your downline respondents (or if you have access to a leaf on a custom org tree), your comments report will be limited to the scope of this filter.
Filtering by Demographic
You can use the "Filter for…" control to limit your comments based on respondent demographic. Just click the dropdown, select the demographic options you're interested in, and click "Apply". You can expand your filters by removing individual demographics or by clicking "Clear All" to see all available comments.
Filtering by Keyword search
Within your current filter set, you can search your comments for a keyword or phrase. If you're looking for an exact match, be sure to place double-quotes (") around your search string.
Slicing the Comments Report
You can slice your comments by any demographic grouping. This will group the responses by the options within that grouping.
Theme and Sentiment Classification
Survey comments offer color and narrative to your survey analytics. But unstructured data is notoriously difficult to turn into insight. And as your comment count increases, this problem just gets worse.
Theme analysis and sentiment analysis offer powerful tools to help users find the story in survey comments. Quantum Workplace's proprietary algorithms use natural language processing (NLP) to classify comment themes and sentiment. With the help of machine learning, these algorithms get smarter as administrators modify the automated theme and sentiment classifications.
Learn more about Theme and Sentiment Text Analytics here.
Replying to Comments
Admins and managers who have been given visibility into the comments for a survey are able to reply to a comment left on the survey. This allows you to probe for more details when a comment contains enough detail to spark your interest, but not enough to offer clarity.
Learn more about replying to survey comments here.
Comment Translations
Survey comments come in all languages. The Comments report allows you to offer users side-by-side translations.
Translated comments contain a "Show Original Language" link, which allows readers to see the comment as written and understand the original language and translation source.
The keyword search returns matches from both the original and translated comment.
Translations (as well as original language and translated source) are included in the Excel export. And while we don't add the original comment to the PDF export, we do list the translation source so, if needed, you can login and find the comment to see the untranslated comment.
Quantum Workplace can source translations from an online translation service for free or from a team of professional linguists for an additional fee. Contact your Customer Success Manager if you have comments you would like translated.
Response Rate
The Response Rate report shows the survey participation rate over time.

Heat Map
The heat map report provides a visual representation of how different groups within a demographic (e.g., departments) responded to scaled agreement items and categories on the survey. When you first open the heat map, you will need to select a demographic to slice your data by via the Slice By dropdown menu.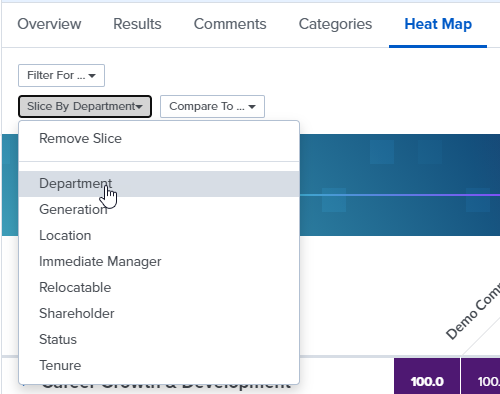 Visually, the scores will be color coded from yellow to purple, with yellow representing low favorability and purple representing high favorability.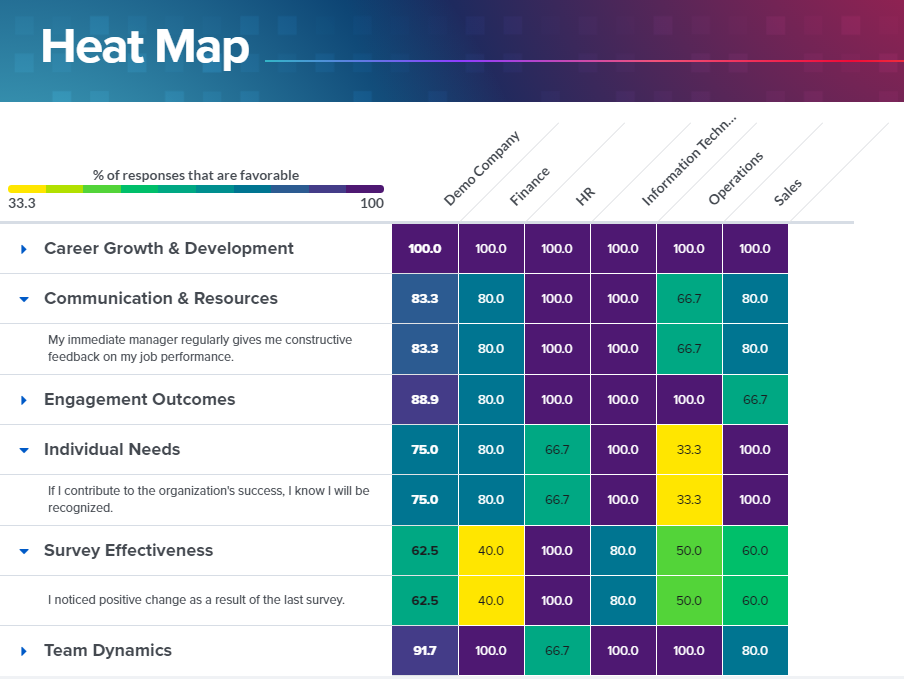 The leftmost column represents the average (aggregate) favorability score across all groups that you are slicing by. For top-level admins, that column represents the average favorability for the organization overall. For focused admins, that column represents the average favorability within their administration scope, and for managers, the left most column represents the average favorability within their downline.