IN THIS ARTICLE:
Overview
As an Admin, you can use Analytics to draw insights from roll-up reporting for any given Feedback cycle (or Pulse or 1-on-1s cycle). Managers can view analytics for their down line reports for any given cycle for which Manager Analytics has been enabled.
To view, navigate to Analytics from the menu on the right side or from the drop down in the top right corner under your name.



Then, select Feedback and click Analytics next to the cycle you'd like to view.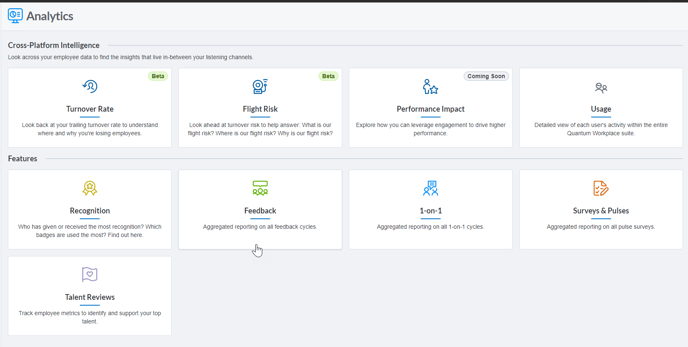 Understanding Analytics

The home page for analytics shows key details for your cycle such as: who the Feedback Recipients were, how many providers have shared, and whether the Feedback is confidential or attributed. You can access your data by clicking into any of the reports or their corresponding tab in the panel at the top. Note: Any of the reports can be exported to a PDF or Excel doc via the Export drop down in the top right corner. Any filter, slice, or comparison you apply will be included in the export.

Results
The Results tab displays data for all Scaled Agreement Items, NPS items, and Multi-Choice items (that is, all quantitative data from the cycle). These are average scores across all Feedback Recipients, broken out by question. To view average ratings provided by each Feedback Group in isolation (e.g., to view aggregate scores given by managers only), toggle the Feedback Group buttons on/off.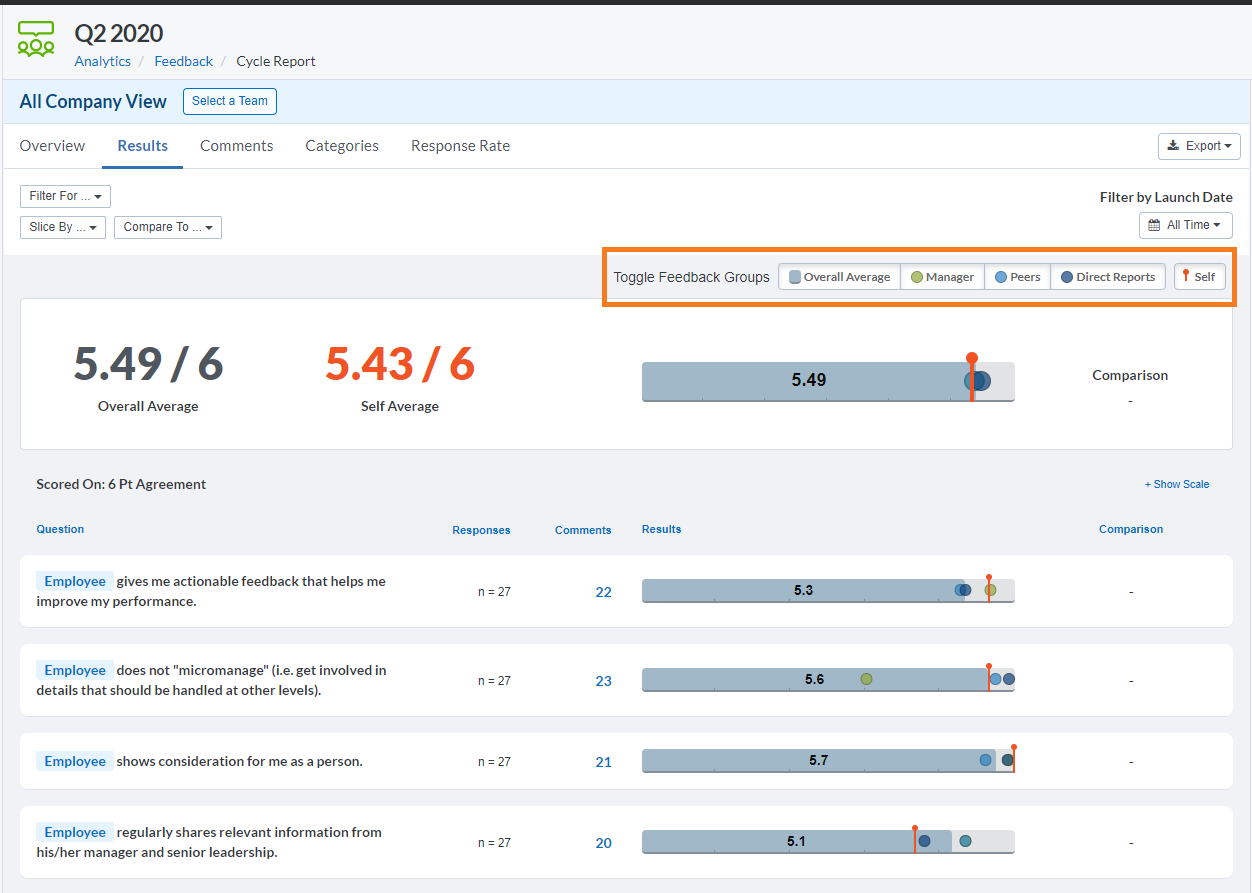 Slicing
You can view data by individual, by team, or any other demographic using the Slice By... button. To view scores for each Feedback Recipient, click Slice By... Participant. This will generate a range of scores by recipient for each question. Click the drop down next to a particular item to view results broken out by each employee (participant). The data is color-coded such that the scores that managers, direct reports, and peers give each feedback recipient are represented with different colors. You can click on any of the Toggle Feedback Groups to view scores given by a particular group in isolation (e.g. only show scores given by managers of the employees receiving feedback.)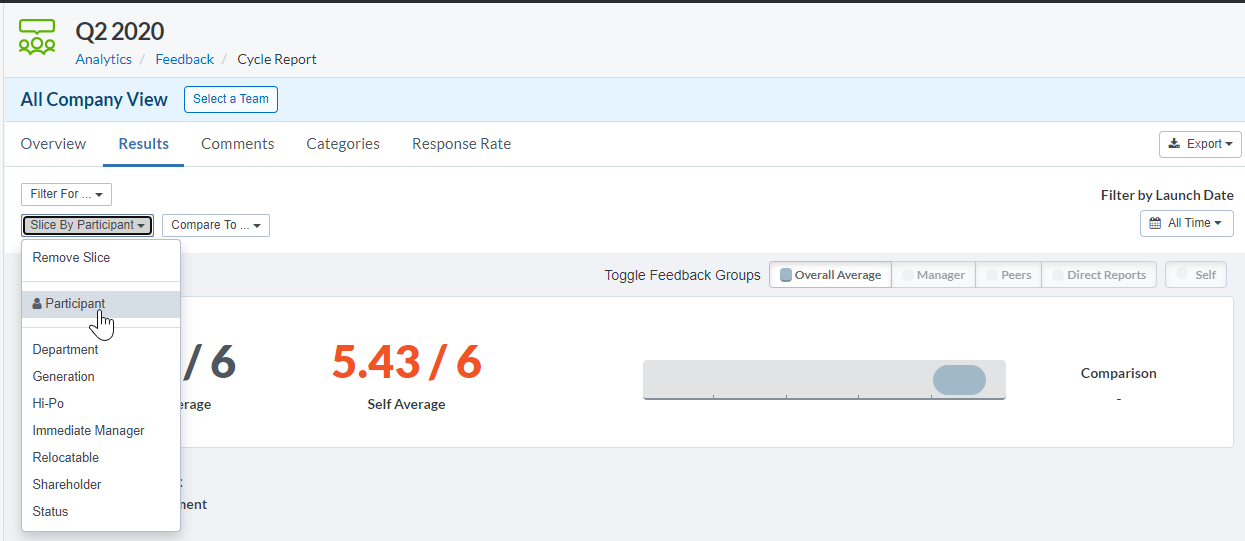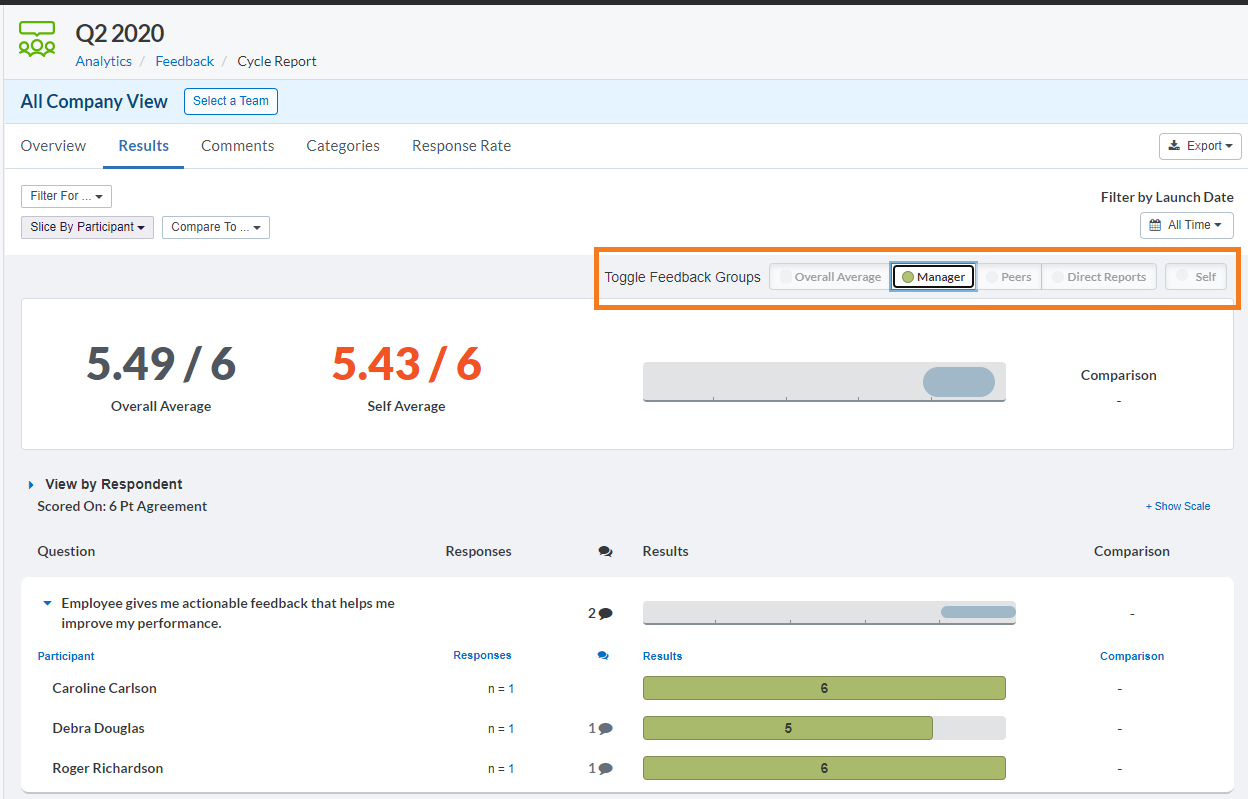 Compare To
For any scaled question that was included in a prior cycle, you can compare scores. Click Compare To... and select the cycle you'd like to compare. This will generate a pin for any question included in the prior cycle that represents the overall score from the prior cycle; you will also be able to view a delta representing the difference between scores.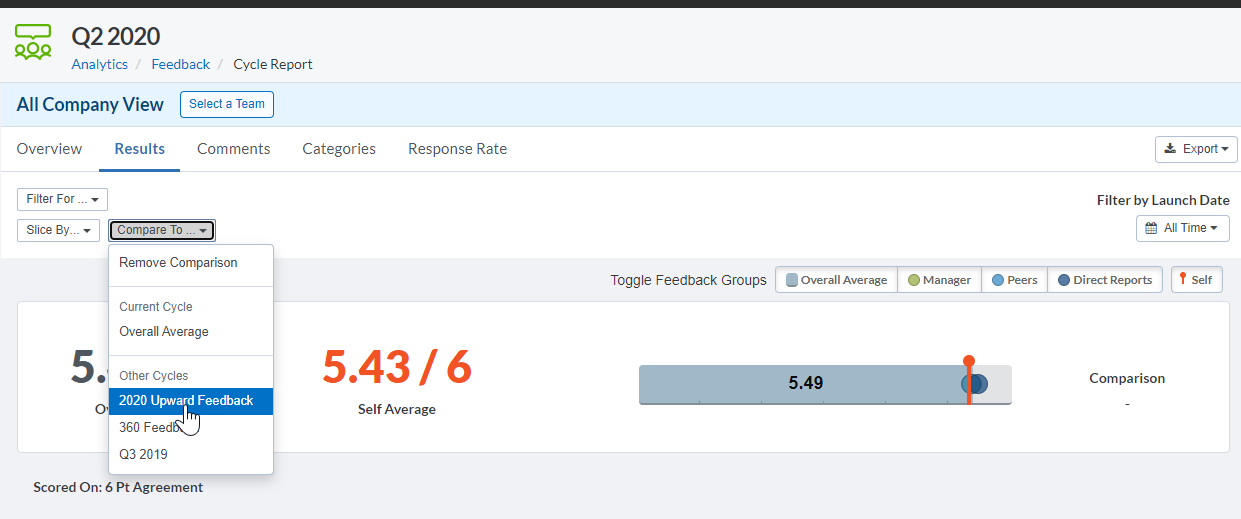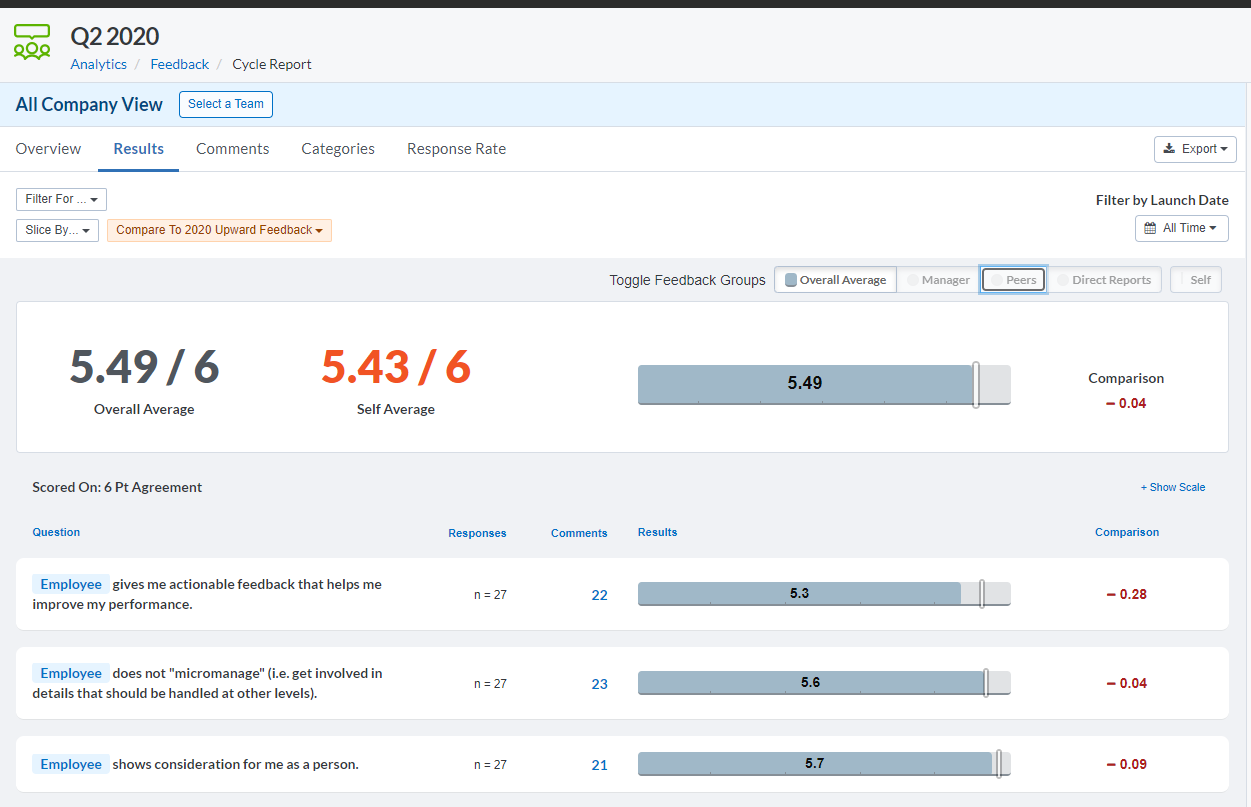 Comments
All text responses left in the feedback cycle, both responses to open-ended questions and any comments left on quantitative items, live in the Comments report. Data is broken out by question and employee, so that for each question you can see all feedback providers' responses for a particular employee.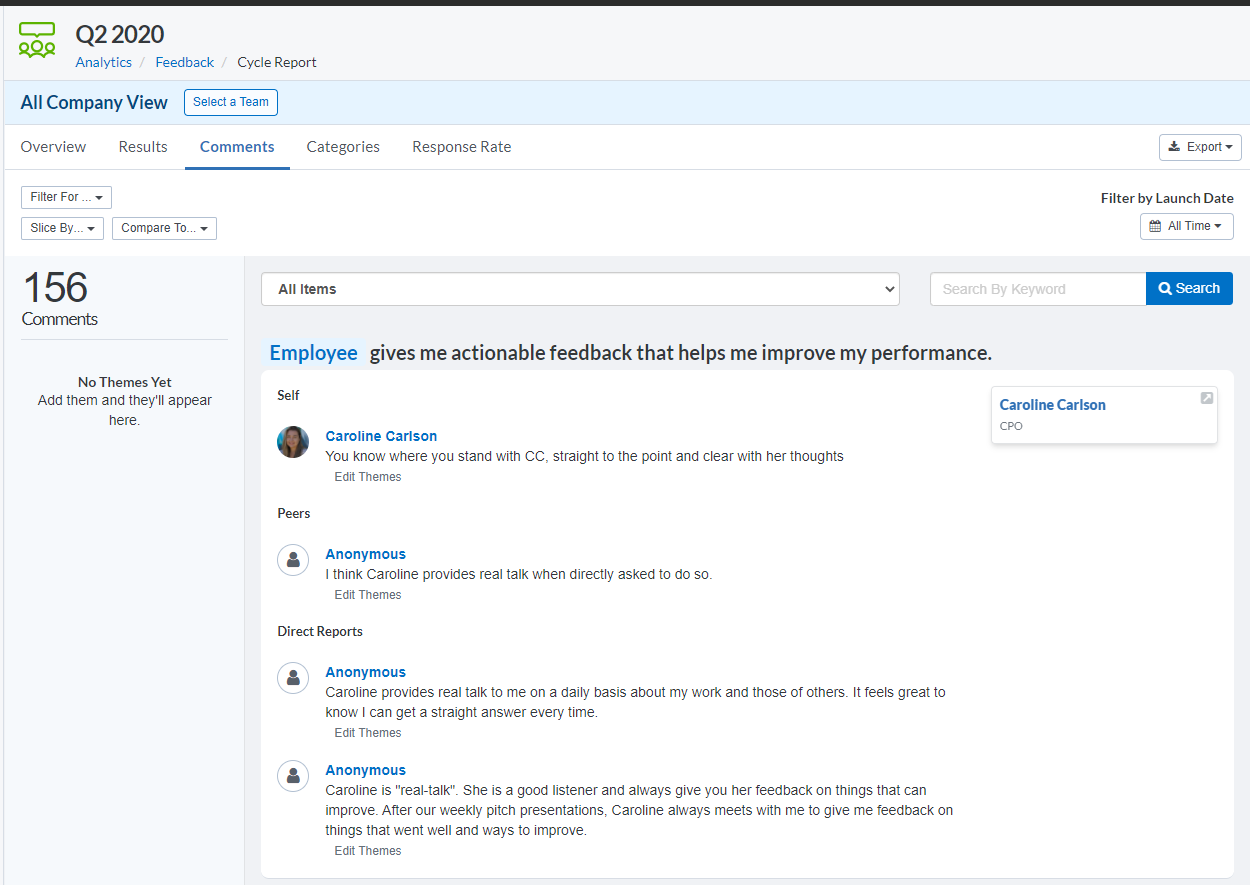 Confidentiality
For cycles that are confidential, the minimum response threshold is determined as part of the cycle set up before the cycle launches. If you have set up the cycle to include Feedback Groups, the minimum response threshold must be met for any given Feedback Group in order to display results for that group. That is, if the minimum response threshold is 3 and the cycle has been set up to include Direct Reports, you will need at least 3 direct reports to leave feedback for a given recipient in order to view their responses.
Open-Ended Results: Because open-ended responses are, by nature, harder to protect, we err on the side of confidentiality. Therefore, we do not display open-ended responses in the aggregate unless we're already showing the comments at the individual report level.