Turnover Trends was previously labeled Turnover Rate.
Overview
Who Can View Turnover Trends?
Where Can I Find Turnover Trends?
How to Use Turnover Trends
Survey Insights

Overview

Turnover Trends is an Analytics module within Quantum Workplace that allows Admin users to examine trends in organizational turnover over time. Within Turnover Trends, you can view turnover by any demographic you're tracking in Quantum Workplace, such as department, immediate manager, gender, and location.
Who Can View Turnover Trends?
All Admins can view Turnover Trends. Focused Admins will be able to view turnover taking place within their administration scope only, whereas Top-Level Admins will be able to see turnover data for the entire organization.
Where Can I Find Turnover Trends ?


Turnover Trends is automatically enabled for all customers and is accessible to all Admin users via the Analytics Home Page. However, customers who do not have an HRIS integration or who established an HRIS integration prior to September 2018 will need to provide hire date and exit date information for their employees in order to ensure that turnover data is accurate. Click here for instructions on how to easily import your employee's hire and exit dates.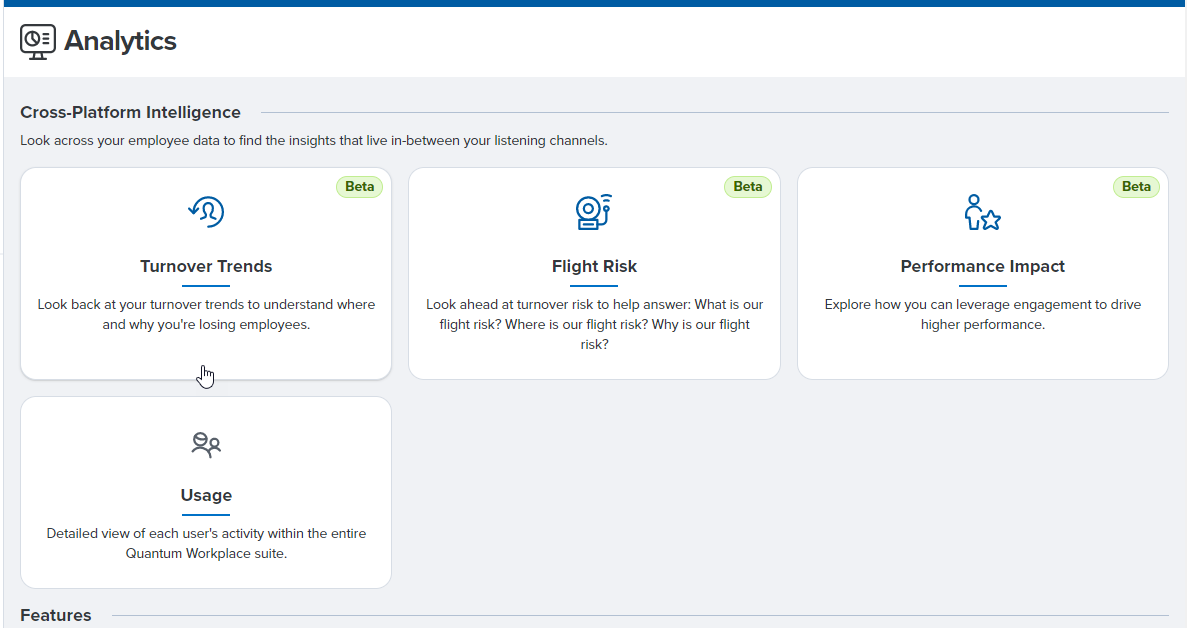 How to Use Turnover Trends
Turnover Trends allows you to examine how turnover differs across particular demographics in your company such as gender, immediate manager, department, and location. Note: You must have enabled demographics for slicing and filtering in order for them to be available within Turnover Trends.

To examine turnover by demographic, click the Slice By drop down button in the top left corner and select the demographic you would like to view your data by.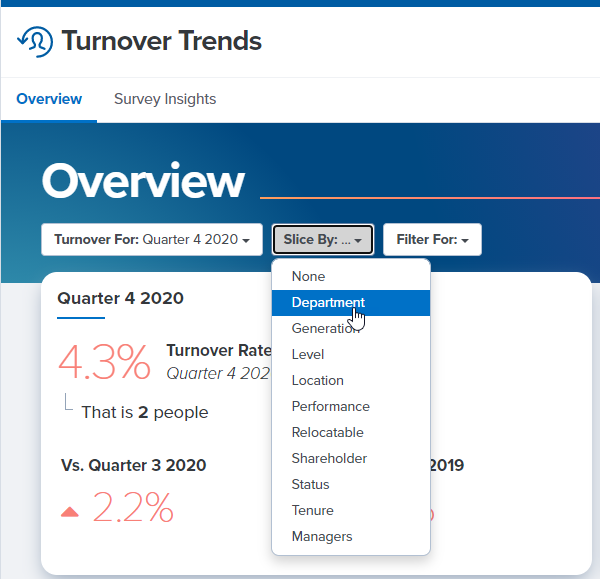 The chart and table will update to display turnover data broken out by the demographic you have selected: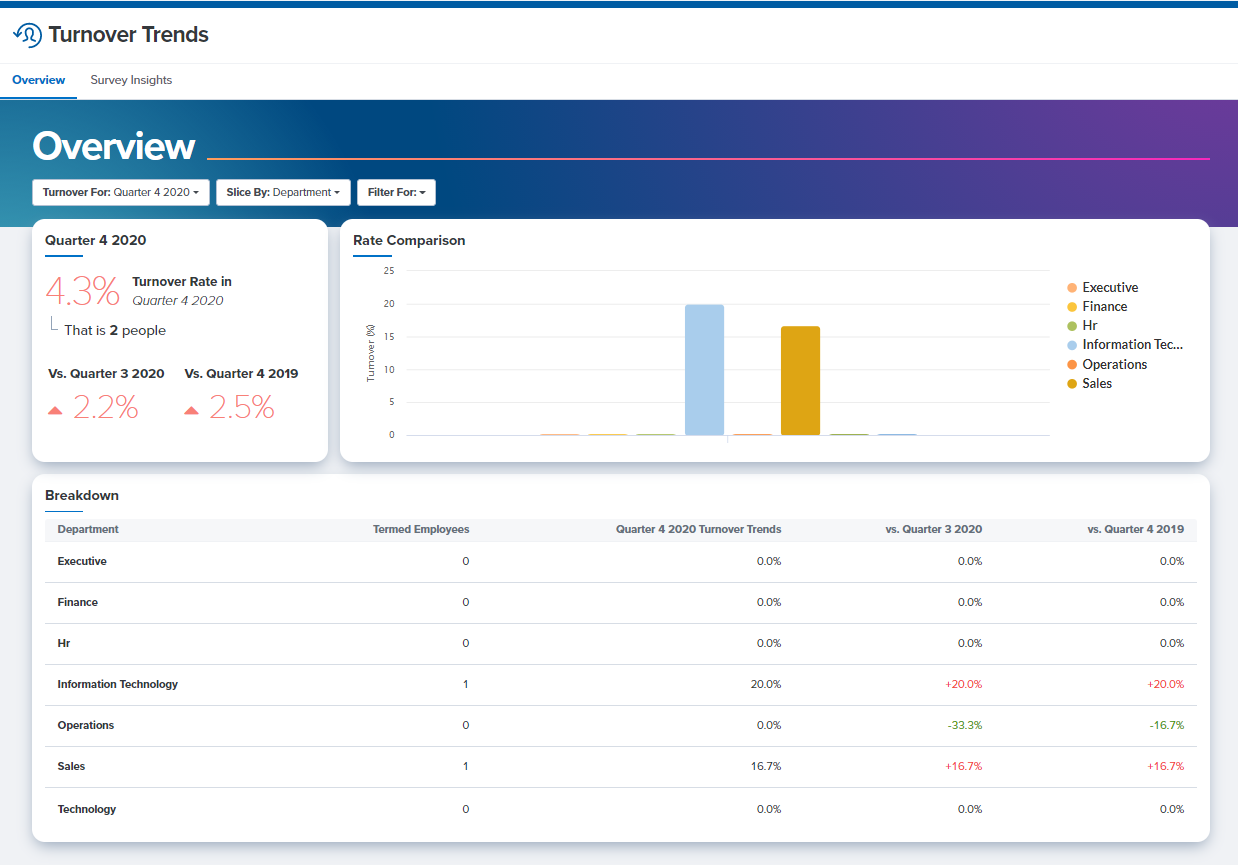 Survey Insights



If you have conducted a survey using Surveys & Pulses Quantum Workplace, you will have access to a Survey Insights tab within Turnover Trends Analytics. For every survey that you have conducted using the Surveys & Pulses tool that includes scaled agreement items (scaled questions), you will be able to view the three survey items with the biggest difference in scores between your current and terminated employees.

Click on the Survey Insights tab to see a list of all surveys you have conducted that included scaled agreement items. Check a box next to every survey for which you would like to compare results between current and terminated employees. You can select every survey or decide which specific surveys you would like to view. One of the surveys that you select will be your "Default Survey" that appears in the Survey Insights panel by default-- you can choose any survey to be your default survey. Once you have made your selections, click the Submit button to continue.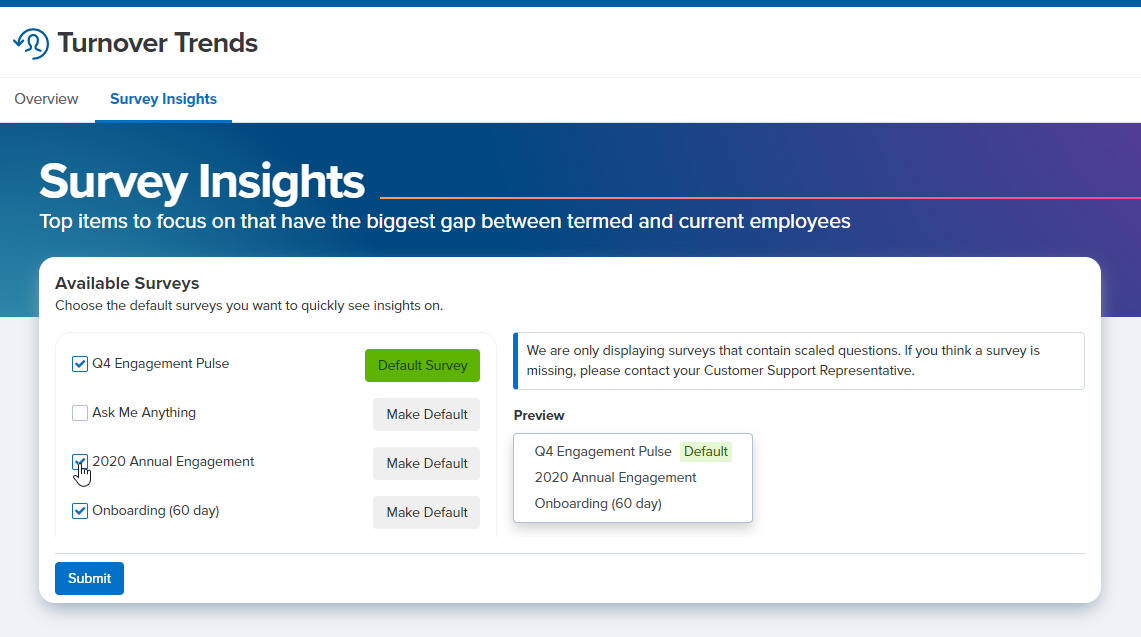 Whichever survey is listed as your Default Survey will now appear in the Survey Insights panel. The three scaled agreement items on this survey that had the largest delta between termed and current employees will appear here. For each item, you will see the average rating from termed employees and current employees.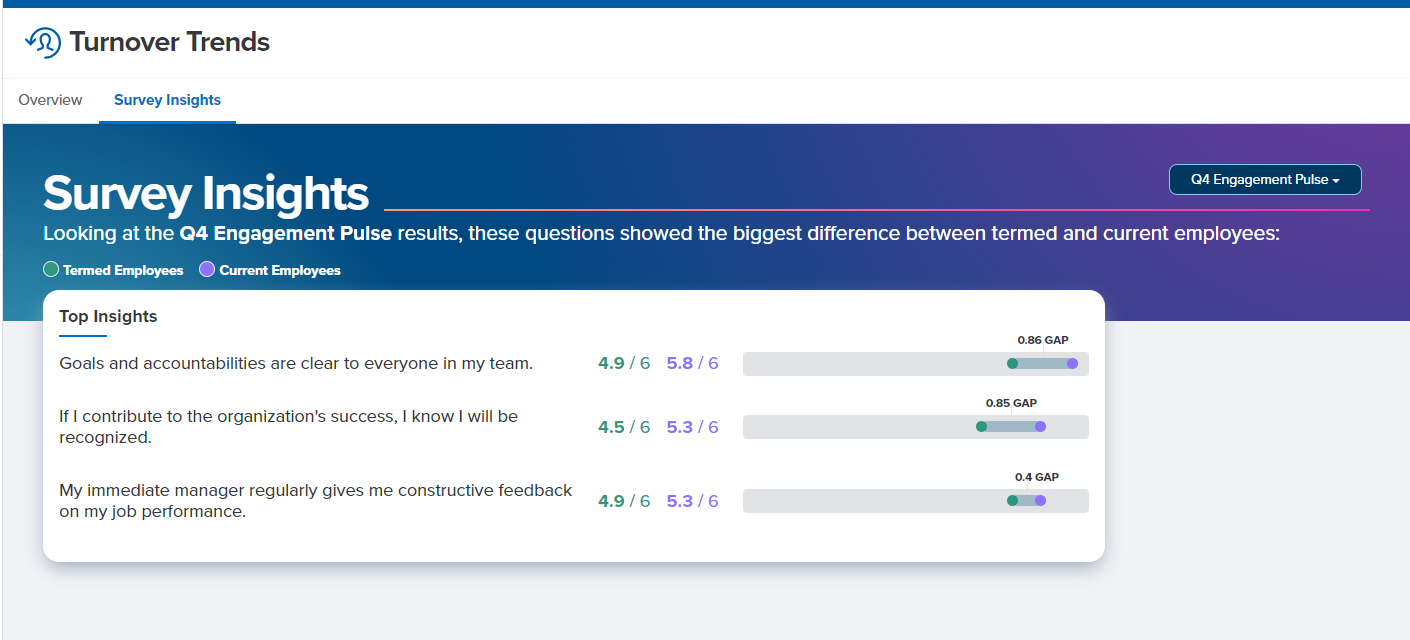 To select a different survey to view comparisons for, click the dropdown menu in the top right corner of the screen and select a new survey.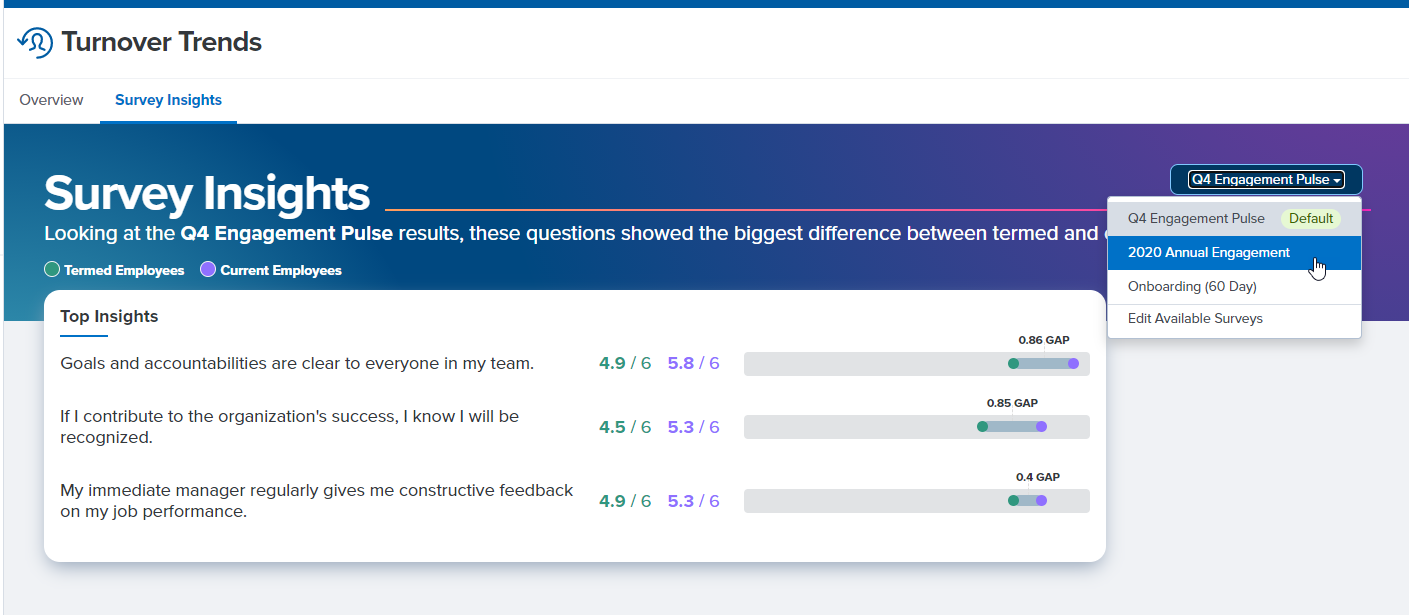 Note: Surveys conducted in the Surveys 1.0 platform (e.g. Engagement Surveys) are not available within Survey Insights.