To get started, click the Create Goal button in the top right corner of your Goals page.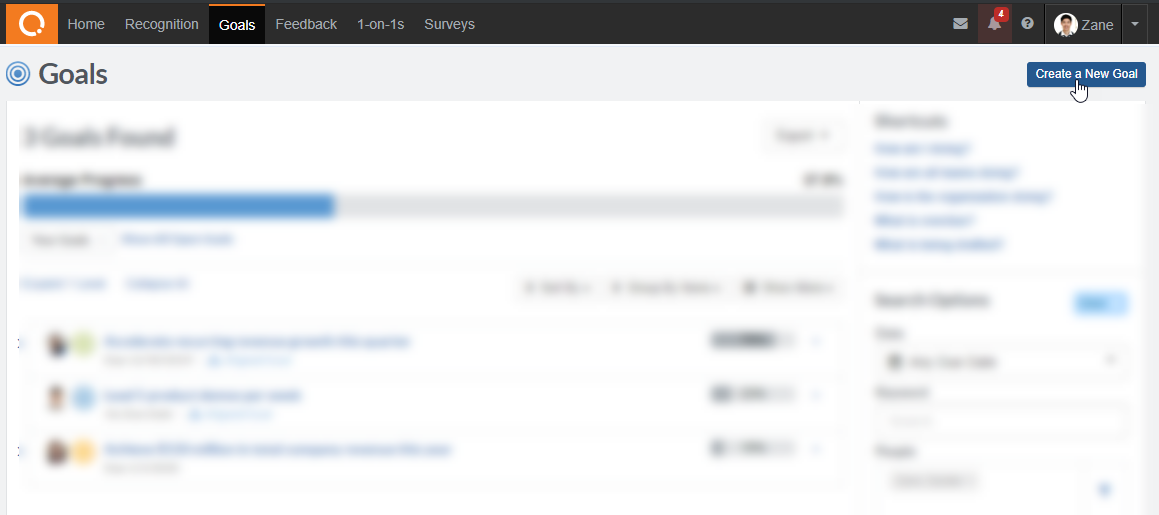 This will take you to the goal creation page: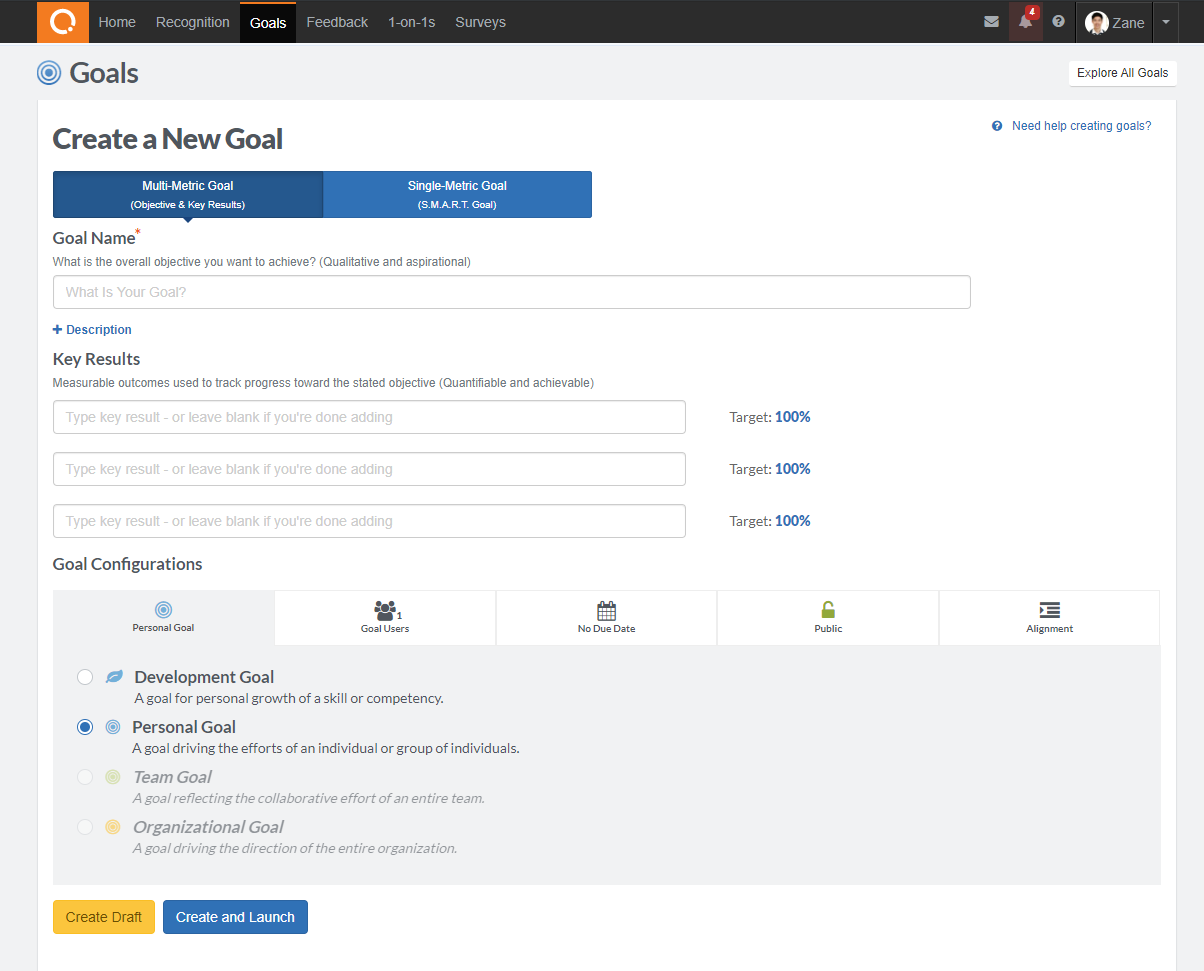 On this page, enter the following information to customize your goal:
Single Metric vs. Multi Metric Goal: Click on Multi-Metric or Single-Metric to specify which type of goal you're creating. If you do not need to include Key Results with your goal, select Single Metric.
Goal Name: Give your goal a name that clearly communicates what you want to achieve. The Goal Name will be the primary identifier for your goal throughout the app, so give it a name that is clear and as concise as possible.
Key Results: (Multi-Metric Only) Add text to describe each Key Result. On the right side, click Target to set a starting value and target value for that key result. You can choose to track your Key Results as a number, as a percentage, in dollars, or as a binary Complete/Incomplete. Note for OKR purists: If you want to grade your OKRs on a 0 to 1 scale, you'll choose Numerical as your metric and enter a target value of 1.
Goal Configurations
Under Goal Configurations, make the following decisions about your goal:

Goal Type: The default goal type will be a Personal Goal, or a goal for an individual that is tied to job performance or your ultimate success in a role. You can also create Development Goals to denote areas you would like to grow in over time (typically this is something that isn't related to the day to day functions of your job). If you're a manager (i.e. you have direct reports), you can create Team Goals. If you're an Administrator, you can create Organizational Goals.


Goals Users: On this tab, designate the Goal Owner and add any Contributors if needed. (Contributors can update the goal but are not ultimately responsible for the goal).




Due Date: The best goals are time-constrained. Set a due date for your goal from this tab.



Goal Privacy: Decide whether the goal should be Public or Private. Public goals will be visible by anyone at your organization, while private goals will only be visible to your upline and to Administrators of Quantum Workplace.


Goal Alignment: You can choose to align your goal with larger goals (typically, you would align a personal goal with a team or organizational goal). Aligning your goal does not officially link the goals in any way; rather, it makes it clear to others viewing your goal how it contributes to broader organizational goals.


Saving as a Draft vs. Publishing your Goal
Once you've configured your goal, you have the option to either save your goal as a draft or publish it. Click Create Draft to save it as a draft; by saying as a draft your goal will not go live and will not be visible to your manager or peers.

If you're ready for your goal to be visible to others at your organization, click Create and Launch. Your new goal will not get posted to the Home Page, but you will have the option to post subsequent updates to the Home Page.


See Also: How to Update a Goal