IN THIS SECTION:
Getting Started

You can let your CSM know that you're ready to start planning for your upcoming Engagement Survey and share files with them securely via the Survey Assistant feature in your Quantum Workplace account. To open Survey Assistant, navigate to your Surveys tab and click Create New Survey. Next, select Survey Assistant and click Save and Continue. Fill out the small form to submit your initial request to get started. Be sure to include the contact info for the person who will be primarily responsible for launching your Engagement Survey. You'll hear from your Customer Success Manager shortly after submitting this form (generally within 1 business day).
General Settings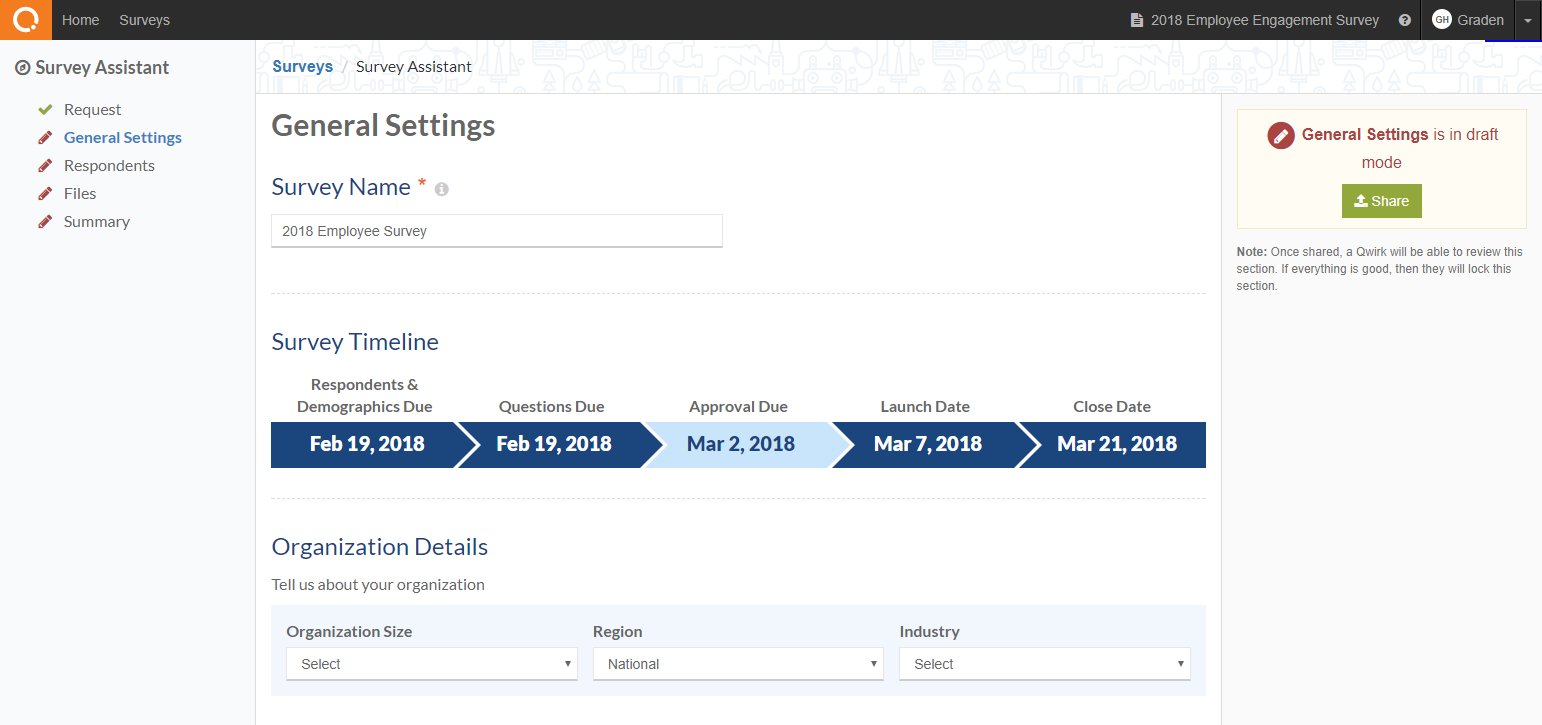 Pick up where you left off by filling out the information on the General Settings page. Here is where you can find your Survey Timeline based on the settings you entered during the previous step. Under the Miscellaneous section, you'll also be able to specify who will need access to the reporting site after the survey closes as well as who on your team should be contacted for support questions. When all looks good, you can share the settings with your Quantum Workplace support team by clicking the Share button.

Respondents
Here you can upload your respondents along with their demographics. Export from your favorite HRIS and upload a CSV or Excel file. Need a starting place? Try downloading this sample file.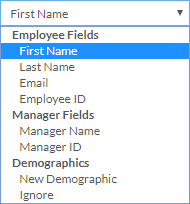 Once you've uploaded your file, you'll need to map the columns in your file as a New Demographic or one of these important data points:
Employee Fields

First Name
Last Name
Email
Employee ID

Manager Fields

Manager's Name (First + Last Name)
Manager's Employee ID

Or you can choose to ignore the data a column if you do not want to add it as a demographic to slice your Engagement Survey data.
Validate Your File
Once you've added your employee demographics, click the Validate button. This will ensure your file is error-free and ready for your CSM to review. It will show you a list of warnings you might want to fix as well as any errors that must be fixed before you can upload your file.
Adding More Respondents
You can always upload a list of more respondents (handy if you have another office location that uses a different HRIS). If you hired someone new that you want to include in the survey, no problem! Just add them to the list by clicking the "Add Respondent" button at the top. When you're done uploading the list of respondents, click the "Share" button to share it with your CSM.
Files
The files section is where you will add your Survey Content and Communications files. Once you've uploaded your documents, click the "Share" button to share it with your CSM. If you're unable to validate your demographic file via the Respondents tab, you can upload that file here, too. Your CSM will reach out to you with the information they need to successfully validate your file.