Featured 🚀
Slack Notifications for Recognition

If your organization has enabled a Slack integration, your employees will now receive a Slack notification when they or their direct reports have been recognized or when someone comments on their recognition.
This Slack notifications will occur along with the bell alerts and email notifications associated with Recognition.
Do you use Slack but haven't integrated with Quantum Workplace yet? Click here for instructions on how to install the Slack integration with Quantum Workplace.
Keep your eyes peeled for more Slack notifications coming soon as we continue to expand our Slack integration!
Consolidated Feedback Email Notifications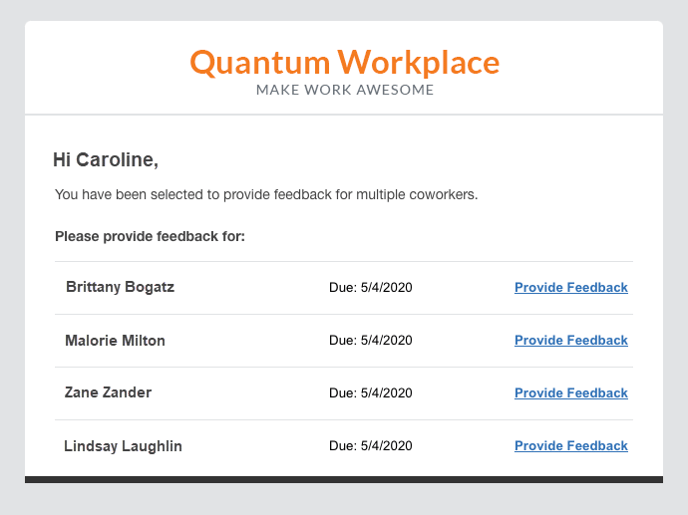 We've heard from customers that when employees are asked to provide Feedback for multiple coworkers, the number of resulting email notifications can sometimes be overwhelming. Going forward, for any feedback cycle in which feedback providers are selected prior to the launch of the cycle, employees who are providing feedback for several colleagues as part of that cycle will receive one email with a list of ALL recipients waiting on their feedback, rather than a separate email for each person. Similarly, when Feedback providers receive nudges from multiple feedback recipients of a particular cycle, those nudges will be grouped into one email notification. Email notifications will not be consolidated for cycles in which feedback providers are selected after the cycle launches (e.g. when feedback providers are selected by employees or managers rather than being imported by an Admin prior to the cycle launch.)
Unsure if your Feedback email notifications will be consolidated? Please reach out to your CSM for assistance.
Noteworthy 📝
Add a Title to Feedback Requests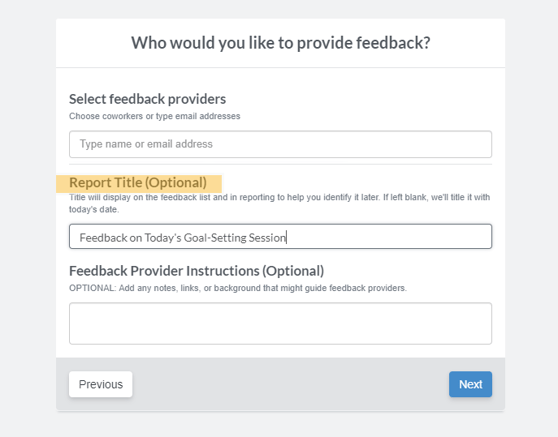 Employees using the Give and Request Feedback functions can now add a title to the Feedback they are giving or requesting, which will make it easier to keep track of Feedback over time. For example, employees who request Feedback from their team at the conclusion of a project can title each request with the name of the project to make it easier to find in the future.
Sort Individual Feedback Reports by Question Order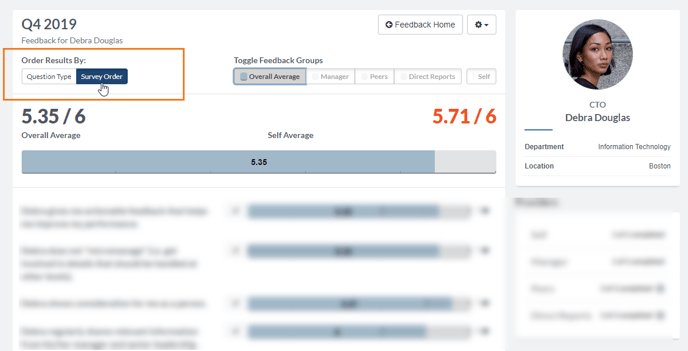 Sometimes for contextual reasons, it can be helpful to view the Feedback an employee has received in the order that the questions were asked. Now you can decide whether to sort by question type or question order when viewing an employee's Feedback report.
Note: Sorting by question order is only available when viewing individual Feedback reports, not cycle-level Feedback Analytics.
Goals Excel Export Includes Key Results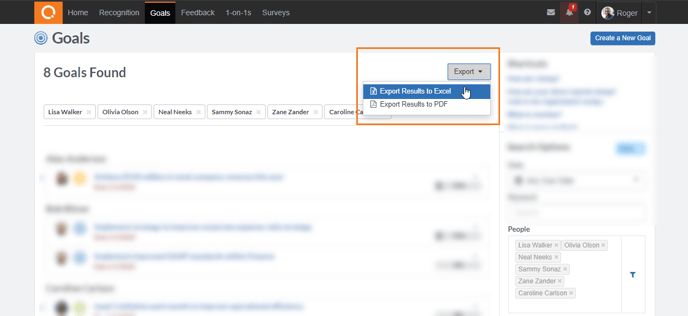 It's now easier for managers to see their direct reports' overall progress against goals via the Goals Excel export. The Excel export now includes all of the key results and progress against key results for all goals, which will allow managers to track progress against both personal and team goals.
Fixed 🔨
Pulse Survey: We fixed a bug in which the "Create a Pulse" button was hidden from Focused Admins.
1-on-1s: We have updated the timing of 1-on-1 email notifications to make sure the reminder email that your 1-on-1 takes place tomorrow is delivered 24 hours before your 1-on-1.