Excited to announce the new Microsoft Teams integration and the new "My Engagement" report.
🕐 5 min read to learn about
Featured
Microsoft Teams Integration

Quantum Workplace works where your users work.
Now more than ever, communication and participation are critical to your success. Get the most value out of your subscription with the new Microsoft Teams integration. Increase response rates and receive quicker replies from users.
The Microsoft Teams integration delivers timely notifications for:
Surveys
Recognitions
Goals
Feedback
1-on-1s

To learn more about the Microsoft Teams Integration, click here to visit our help library. If you are interested in joining the Microsoft Teams integration beta, contact your Customer Success Manager.
My Engagement (ME) Report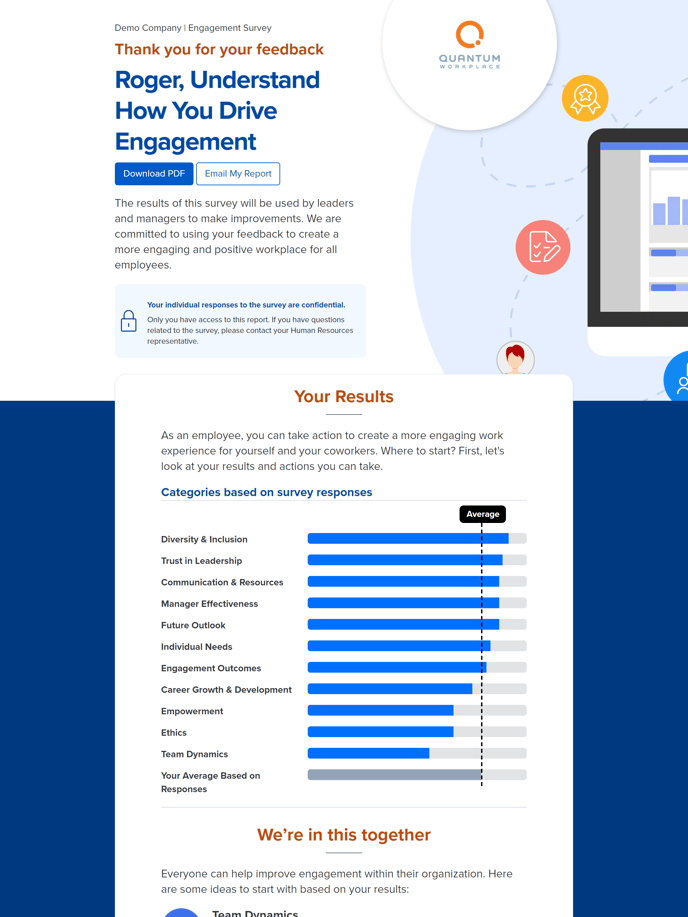 Help every employee drive engagement with the new My Engagement (ME) Report. The ME report gives employees real-time feedback on their engagement survey. They can easily:
Identify what categories they rated the highest and the lowest
Get tips to improve engagement
Understand "What happens next" with their feedback
To really move the needle on employee engagement, every employee needs to be empowered to act. The ME report does that!
Contact your CSM to enable and utilize the ME report.
---
Noteworthy
Customized Survey: Now add your company logo!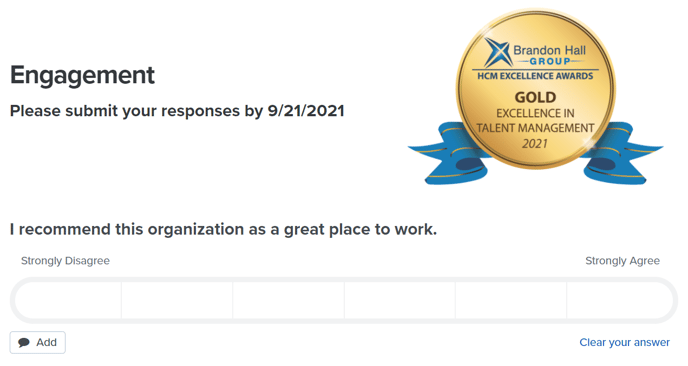 Help drive employee response rates by including your company branding on all surveys. Now your company logo will be included in the survey-taking experience to give employees confidence and trust in who is asking for their feedback and who will be receiving their feedback. This self-service capability allows you to upload your company logo to the survey.
Want to add your company logo to survey invitations? Contact your CSM.

Learn more about how to add your company logo
---
Fixed
Feedback Reminders: We are now batching all feedback reminders to reduce the clutter in your email box. You will only receive one email instead of one email for each outstanding feedback request. - Woohoo!