Receive Slack Notifications for all Quantum Workplace Updates
As part of our mission to meet employees where they work, Quantum Workplace offers a Slack integration that allows employees to receive instant updates from Quantum Workplace via Slack. We're excited to announce that our Slack integration now supports notifications from the entire Quantum Workplace platform-- activity from 1-on-1s, Feedback, and Goals will now trigger slack notifications in addition to activity from Surveys & Pulses and Recognition. Employees can now be notified directly in Slack when they are invited to participate in a 1-on-1 or provide feedback for a coworker and when goals that they follow have been closed.
With the expansion of the Slack integration, employees have more flexibility than ever to decide how they would like to receive notifications from Quantum Workplace. Employees who prefer to receive notifications exclusively in Slack can now opt out of email notifications from within their Account Settings.

Click here for more information about the Slack Integration.
Ready to get started? You can enable the Slack integration for your organization directly from your Quantum Workplace account by navigating to the Integrations section in Administration.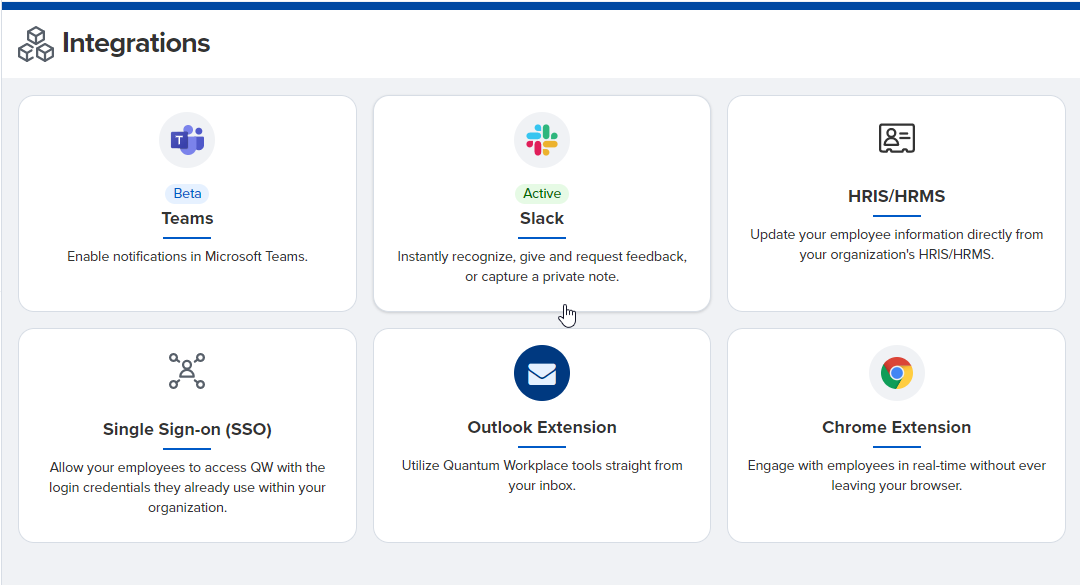 Feedback View in Snapshot Includes Dates and Report Titles


The Feedback tab within the Employee Snapshot now includes the same information that is included in the employee's Feedback inbox. Previously, any feedback that was initiated via Request Feedback or Give Feedback did not include the date or title of that feedback request. Going forward, within the employee snapshot, users will be able to see either the title (if applicable) or date of all feedback that an employee has given or received.

Updated Text for Feedback Self-Assessment Emails


We have rewritten the email that employees receive when they are prompted to complete a self-evaluation to make it clearer that they have been asked to provide feedback for themselves as opposed to a colleague.
Focused Admins can Delete Feedback for Recipients within their Scope
Previously, Focused Admins did not have the ability to delete feedback that employees in their administrative scope had received. Going forward, both Focused Admins and Top-level Admins can delete feedback that employees in their scope have received.

Fixed:

Focused Feedback:
We fixed an issue with Focused Feedback in which managers who were responsible for writing a focused feedback summary could not easily view the comments that feedback providers had left about their direct reports if those comments were associated with scaled agreement items.