Survey Analytics for Small Teams, Survey Creation Update For Inactive Employees, Survey Test Invite Update, 1-on-1 Administration Update, Calibration Export Update, Update to Calibration Approval Notice
🕐 5 min read to learn about
Surveys & Pulses
Survey Analytics for Small Teams
Those who do not meet Min N because they have a small team will be nudged to the nearest team upline that has met Min N. By being nudged, managers are provided with the most relevant data to them and their team.
Note: This new view only applies to users who are assigned to a role with full upline visibility permissions.
Learn more about survey analytics for small teams.
Survey Creation Update For Inactive Employees
The option to exclude inactive employees across all time has been added to survey launch and survey results. This update expands survey filter and exclusion options beyond those with term dates in the past 30 days.
Survey Test Invite Update
Administrators can send a test invite email to users when no reminders exist on a survey. This update fixes any error messages that were previously occurring.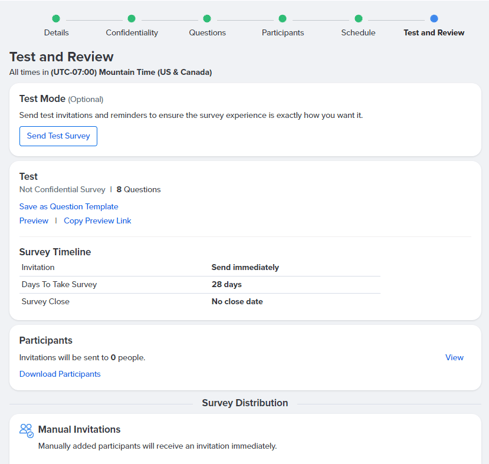 Learn more about survey administration.
1-on-1s
Administration Update
Administrators can change the 1-on-1 status for any user regardless of share status, increasing their control of 1-on-1 status progression.
Learn more about 1-on-1 statuses.
Talent Reviews
Calibration Export Update
Dates have been added to the approval process for calibration in the 1-on-1 analytics export. Calibration cycle admins now have greater visibility into when facilitators submitted for approval and received approval so that they have a full picture as they use the 1-on-1 analytics export.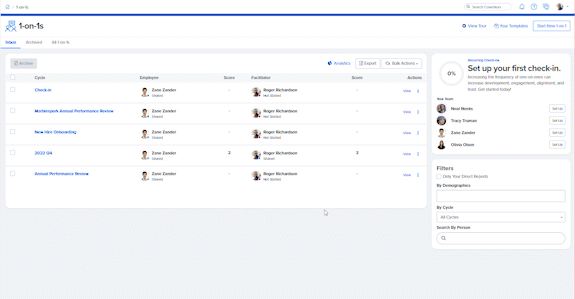 Learn more about calibration export.
Update to Calibration Approval Notice
For 1-on-1 cycles requiring approval for manager responses, the cycle name has been added to the approval notification. Users will now pay greater attention top their essential cycle updates because it will inform them what they need to do next.