IN THIS ARTICLE:
How to Take Action on Talent Review Ratings

One of the key benefits of Talent Reviews is that people leaders can discuss an employee's Talent Review ratings directly in the platform. Using Insights, Admins and managers can collaborate to brainstorm possible actions to take as a result of an employee's Talent Review Rating.
In Talent Review Analytics below the grid at the top, you will see a row for each employee who has received one or more Talent Review ratings. To the right, you can click on the Add button to begin a conversation with the people leaders who have visibility into this employee's Talent Reviews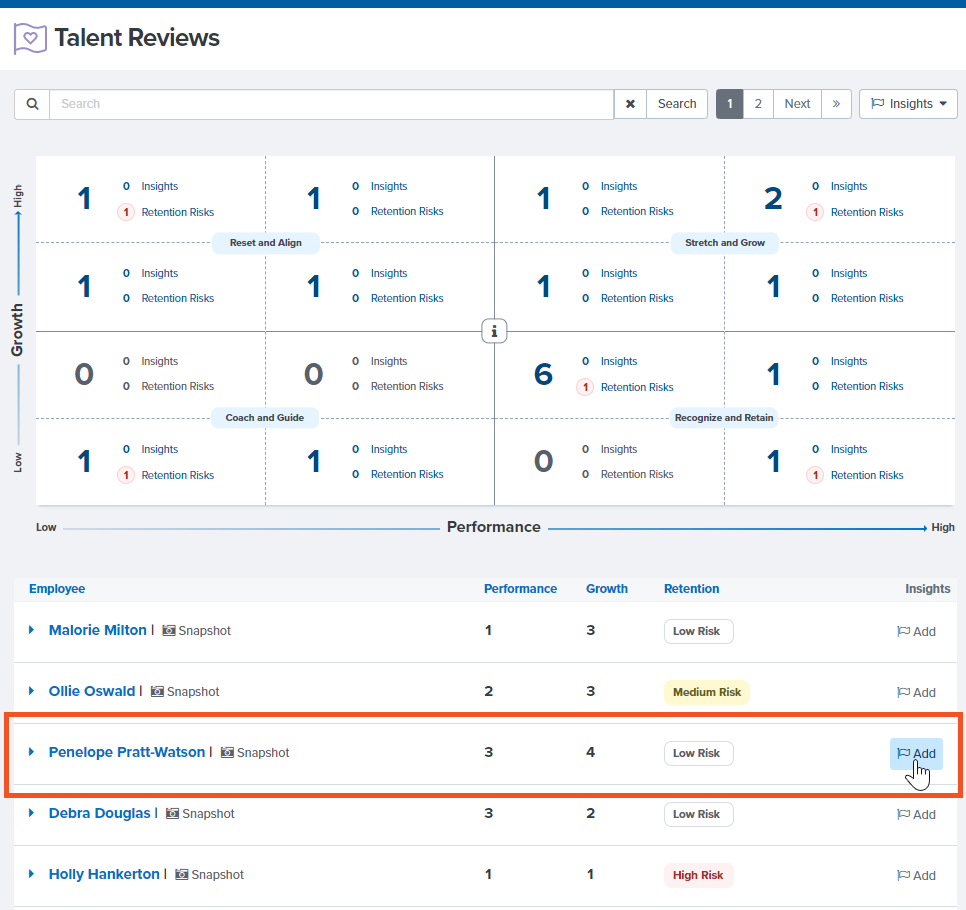 Once you click the Add button, a panel will appear to the right where you can initiate a conversation about this employee's performance and growth.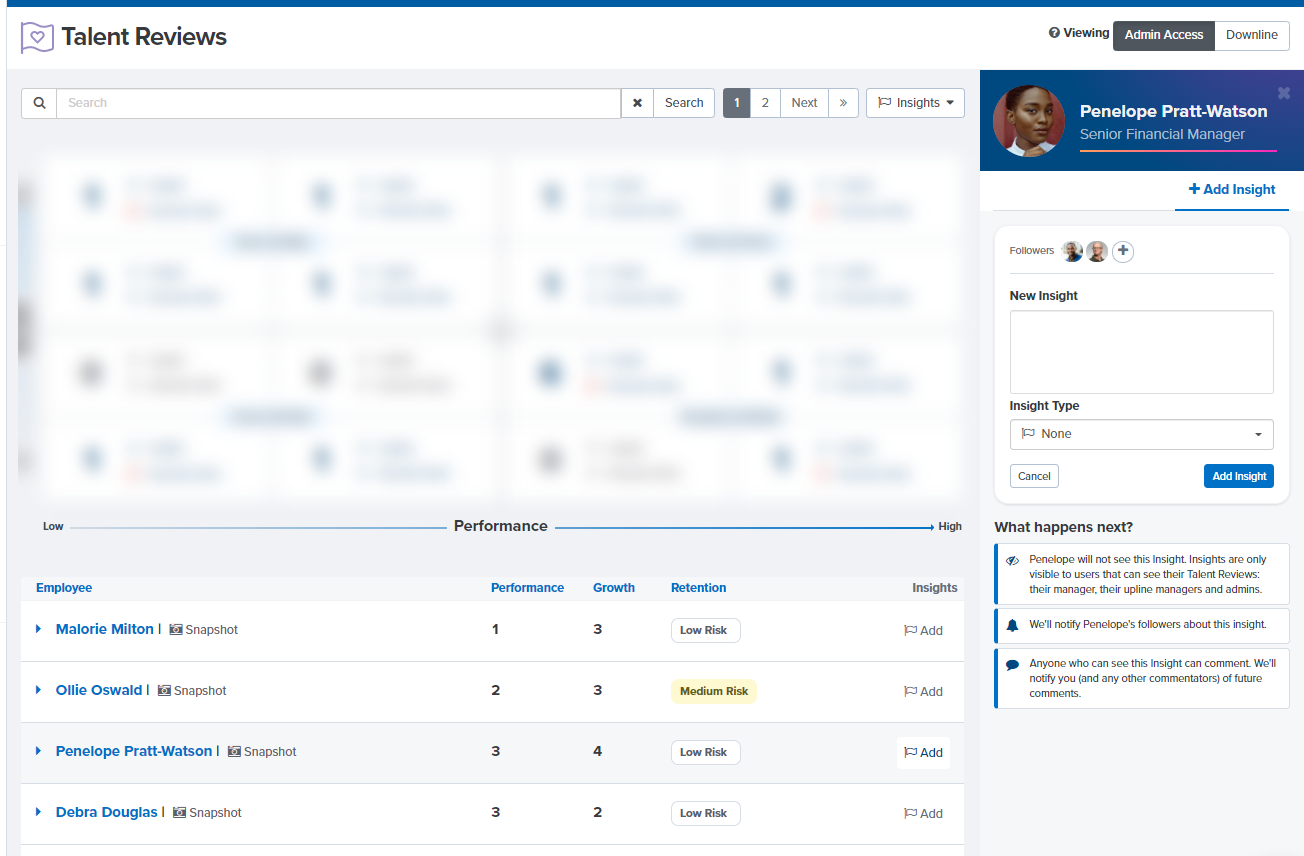 The top of this panel displays the default followers who will be notified about any conversation you begin about this employee.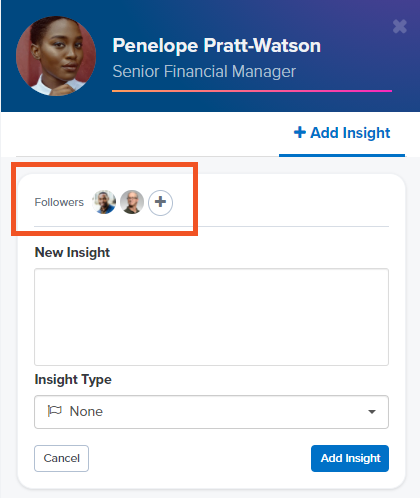 You can click the Add icon to add an additional person here (they must have visibility into the particular employee's rating in order to be added). You can also hover over any follower and click the "X" to remove them as a follower. Anyone you remove as a follower will still be able to view any conversation you initiate about this employee, but they will not receive an email notification for any comment you add here.

In the New Insight text box, you can type a comment or thought you'd like to share with the group of leaders about this particular employee.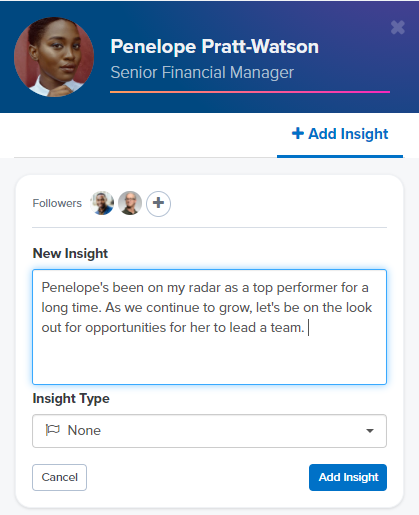 From the Insight Type drop down menu, you can select an action you'd like to recommend.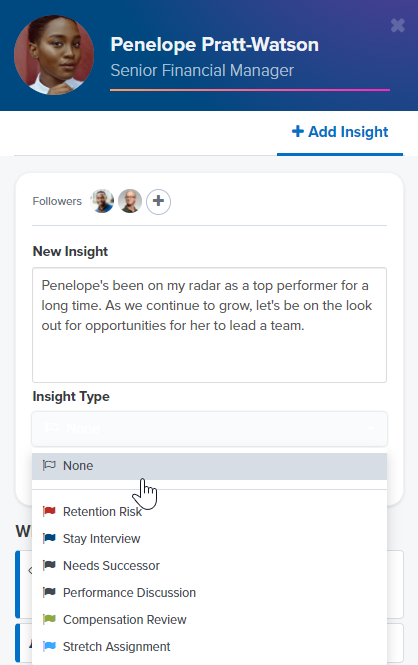 If your comment is not related to any of the Insight Types, you can leave the Insight Type as "None" and click Add Insight to add your comment. This comment will be visible to anyone who can see this employee's Talent Review ratings. Anyone who is listed as a follower to this employee's Talent Review will receive an email notification prompting them to view your comment.
How to Customize Insight Types
Admins are able to customize Insight Types for your organization. From Talent Reviews Administration, click the Insight Types tab to view our six default Insight Types. These are simply tags that represent talent management strategies your team may want to leverage; you can use them to help frame your conversation on next steps to take with an employee based on their Talent Review. You can edit or replace any of the 6 default Insight Types. For example, if you want to replace the Compensation Review option with a different strategy that is pertinent to your organization such as "Recommend for Promotion", you can click into the Compensation Review field and update the text to your preferred strategy here. However, you cannot delete or add an Insight Type.

On the right hand side, you will see a tally of how often each Insight Type has been used by anyone at your company.