Within Survey Analytics, you may see the following message that demographics are not available when you attempt to slice or filter your data: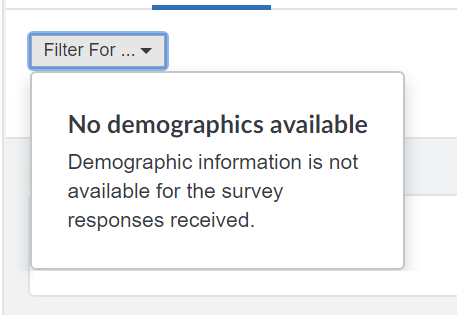 If you see the above message, it means one of two things:

1. There is no demographic data available for the individuals who participated in the survey.
There may be no demographic data available because survey takers were invited to take the survey using a public link rather than via email or unique code, because people outside your company to participate in the survey, or because employees demographics were not updated in Quantum Workplace prior to the survey launch.
If you invited employees to take a survey using their unique link (via email or by entering their employee ID or a unique code) but did not add demographic data in Quantum Workplace prior to conducting your survey, please contact your Customer Success Manager for assistance with retroactively adding demographic data for your employees. You will not be able to add demographic data for any survey takers who took the survey via public link or for any survey taker who is not a user within your Quantum Workplace account.

2. You do not have permission to slice and filter by demographics.
If you are a manager who is viewing results for the organization overall, you will not be able to slice/ filter data for the organization overall. If you are a manager viewing results for your team and you see this message, this may mean that slicing and filtering by certain demographics has not been enabled for managers. You can contact your HR team to see if demographics can be enabled for you.