Admins can make any user an Analyst to give them visibility into Survey Analytics
Overview
How to Share Access to Analytics
How to Edit Permissions
Overview
Admins have the ability to give any non-Admin user visibility into Survey Analytics by making that user an Analyst for a particular survey. Once a user has been set up as an Analyst, they will have the same level of visibility into survey analytics that Admins have, meaning that they will have full visibility into data for every level of the organization. This includes the ability to slice and filter data and the ability to view and create Highlights. However, Analysts will not be able to edit the survey in any way or edit the survey invitees' demographics.


Notes:

There is no ability to give an Analyst visibility into data for particular teams only.
The ability to give another user Analyst visibility is limited to top-level Admins, rather than Focused Admins.
How to Share Access to Analytics
Once the ability share analytics has been enabled for your organization, you will be able to grant any user access from within the Analytics for a particular survey. Click the Access Settings button in the top right corner of your Analytics to begin.

In the top right corner of the following screen, click the Analysts button in the top right corner.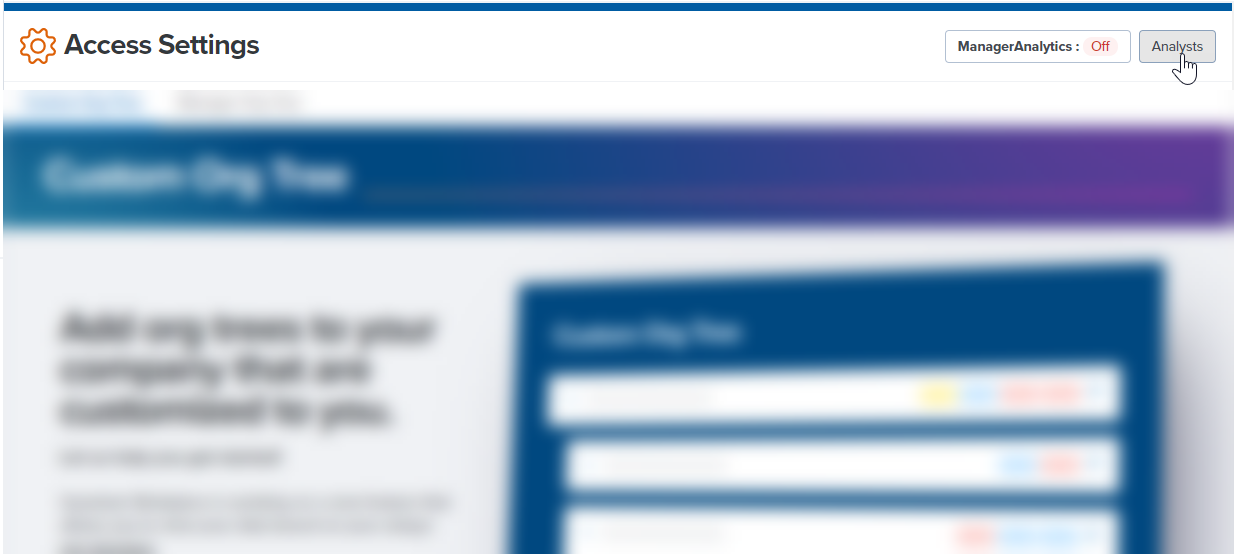 In the pop-up window that appears, type in the name of any user who should receive access to the complete survey analytics. Click on their name to add them.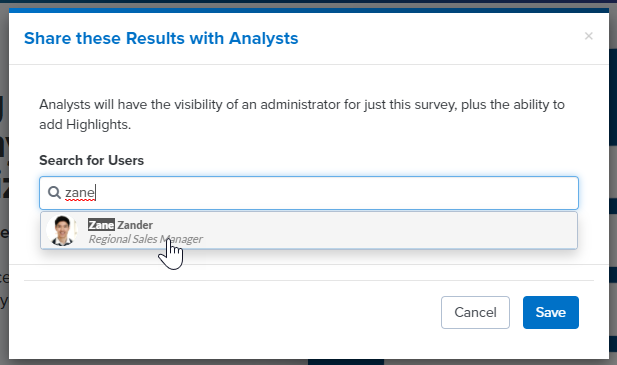 The default setting is for Analysts to not be able to reply to open-ended responses in the Comments report. To give an Analyst the ability to reply to comments that were left on the survey, check the Reply to Comments? box next to their name.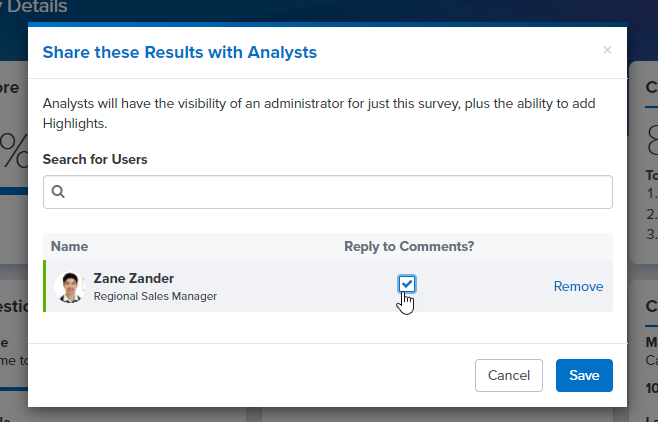 Finally, click Save to give this user access to Analytics for this Survey. Please note that Analysts do not receive email notifications alerting them that they have been given access Survey Analytics, so you may want to reach out to these users directly to let them know that they now have access.
How to Edit Permissions
You can return to Survey Analytics, open Access Settings and click the Analysts button to add or remove users as Analysts at any time OR to update whether Analysts can reply to comments.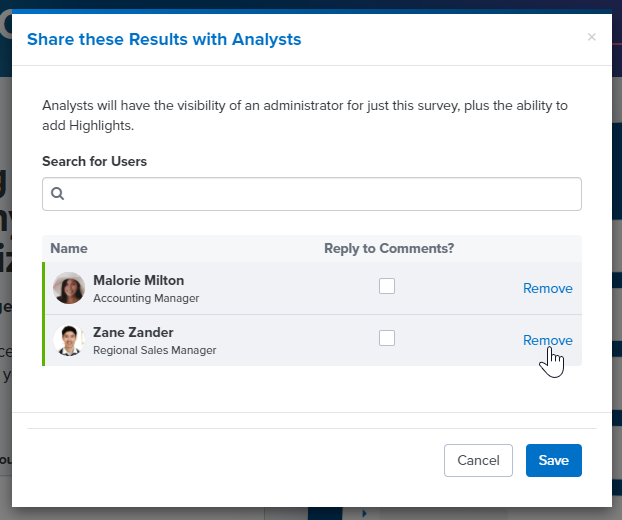 Click Remove to remove a user as an Analyst or use the search bar to add a new Analyst. You can check or uncheck the box next to Reply to Comments? for each Analyst to update their permissions.
Click Save to update permissions.