As an admin, learn how to set up Recognition and create custom Recognition Badges.
In this article:
Uploading & Creating Custom Recognition Badges
Custom badges are a great way for employees to categorize the recognition of others. Badges can also be used with recognition posts to tie into organizational values and awards.
To upload and create custom badges, start by clicking and expanding the Administration drop-down, then clicking Recognition.
From the admin's Recognition home page, click New Badge in the top-right.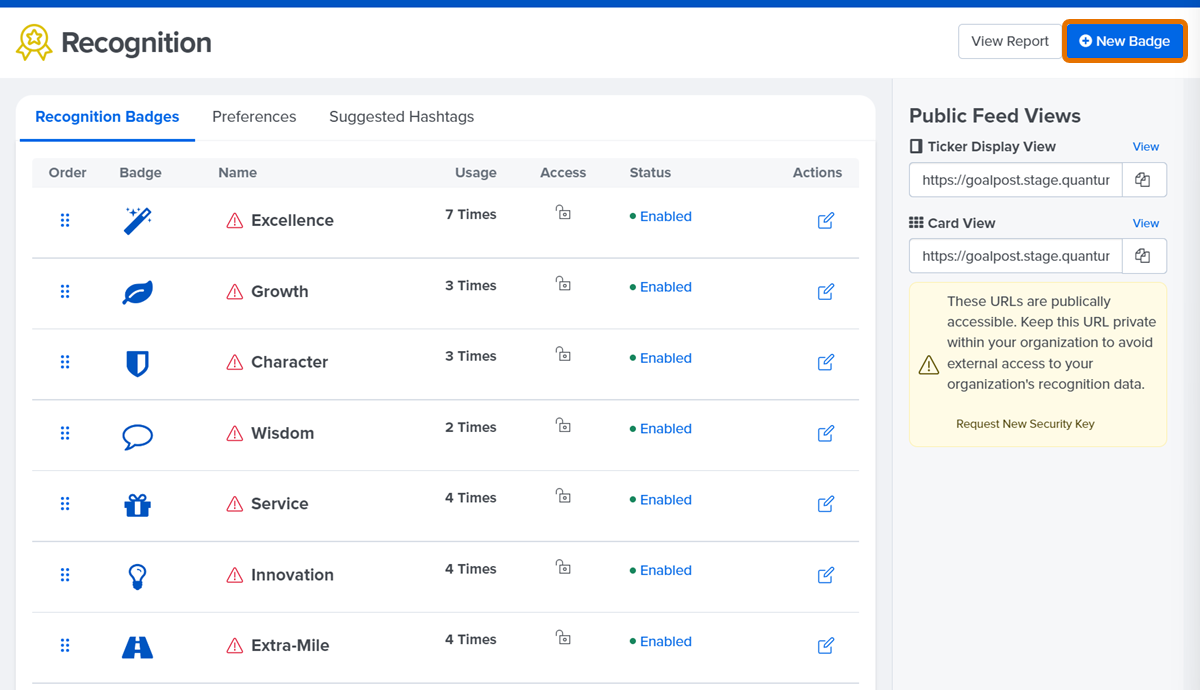 From the Create Badge page, create a custom badge that aligns with your organization's values: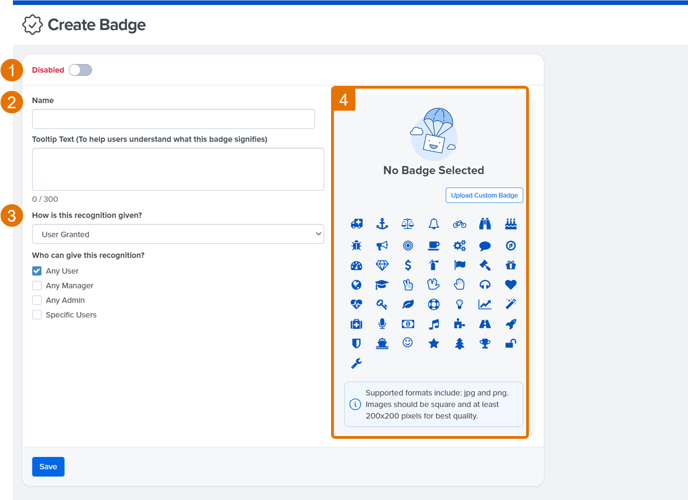 Enable/Disable Toggle: Controls whether the badge is available to your employees
Name & Tooltip Text: Provides context behind the badge's significance and when the badge should be used
How is this recognition given: Decide whether this badge is User Generated or System Generated

if User Generated is selected, specify to whom the badge is available to

if System Generated is selected, identify what triggers the automated recognition and if relevant, the trigger number for the//

Badge Icon Selector//: Select an icon from the gallery or upload a custom-created badge icon


To select an icon from the gallery, simply click the desired icon, then click Save to finalize your selection
To use a custom badge image, click Upload Custom Badge to upload a JPG or PNG file. For the best quality image, use a square image of at least 200x200 pixels
Click Save to finalize and create a custom badge.
Enabling & Disabling Badges
Under Administration's Recognition page, under the Recognition Badges tab, click the badge's corresponding edit icon. From the Edit Badge page, click the Enable/Disable toggle.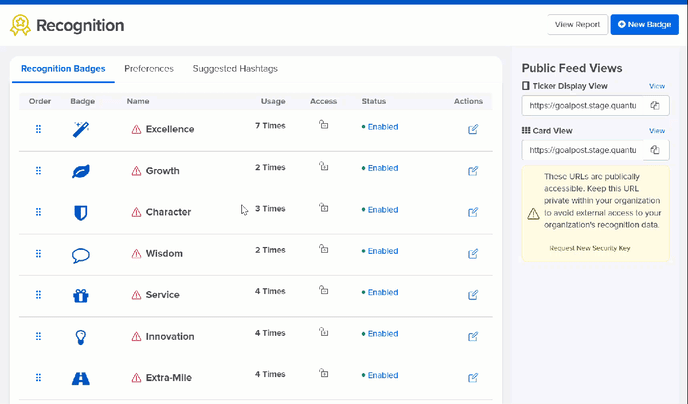 Setting Recognition Digest Email Preferences
Under Administration's Recognition page, under the Preferences tab, you can enable/disable the Recognition Digest. If enabled, click Update Preferences to set whether the email is sent on a weekly or monthly basis, as well as the day of the week.
Learn more about the Recognition Digest email.
Creating Suggested Hashtags
Under Administration's Recognition page, under the Suggested Hashtags tab, create your own list of suggested hashtags that can be included when giving recognition.
Create hashtags by entering them in the Create New Hashtag field and clicking Create. Existing hashtags can be edited, deleted, or reordered from this screen.
In the Help Tooltip field, customize the text that is shown when users hover over suggested hashtags. Click Save when complete and hover your cursor over the ? icon at the bottom of the screen to preview your text.