You made an investment in Recognition. To get the most out of the tool, your employees must participate. Use these emails to drive adoption and get employees involved.
IN THIS ARTICLE:
How-To Email
Tips on Meaningful Recognition Email
Recognition Badges Email
How-To Email
From: CEO
Subject: Recognition: Get started with these helpful tips!
Message:
Hello!
I hope that you have been able to login and checkout Recognition. Here are a couple helpful tips to make yourself more familiar with the system.
Add a Profile Picture: This can be done by accessing your "Account Settings."
Click your name on the top right once you've logged in
Click "Account Settings"
Click "Select Image"
Post a Recognition:
Under "Post Recognition", click the text box "Who do you want to recognize?"
Select appropriate badge, enter comments, and tag coworkers
Add an image or video if you would like
Click "Submit"
Hope you are enjoying the new tool!
-CEO
Tips on Meaningful Recognition Email
From: CEO
Subject: Make your recognition count! Read these tips.
Message:
Hello!
Recognition for a job well done has a profound impact on morale. When recognizing a co-worker in our new Recognition tool, here are three things to keep in mind to make your recognition impactful.
Specific: Use details to help people visualize where and when this event has occurred.
Impactful: Include the impact of the behavior or event and/or who it affected.
Energetic: Be creative and keep it fun through your word choice.
Example: Business Impact - Excellence
Jackie secured a new market in Madison, Wisconsin. In this instance, we're taking over an existing program that historically had 100+ participants and delivering participant value light speed ahead of their previous offering. #MakeItHappen

Example: Office Behavior - Service
Thanks to Kristin, Matt, and Wes for always taking the time to load / unload our dishwasher. It's a thankless job that no one enjoys and most of us avoid, but you three (and others, I'm sure) religiously help out our office family. Thanks for being such great servant leaders, guys!
Example: Skill – Extra-Mile
Fist bump to Mark for leading an experiment that helped decide strategy for our website navigation. He had to create 3 fully functional prototypes to do user testing. Then he created highlight reels that helped us make an informed decision -- and saved a ton of time. To top it off, he convinced Sean Connery to use our products.
Recognize someone today!
-CEO
Recognition Badges Email
From: CEO
Subject: GoalPost recognition badges
Message:
Hello,
Recognition has 10 badges. You should use these to emphasize the purpose of the recognition you're giving. Review the categories below, and recognize someone today!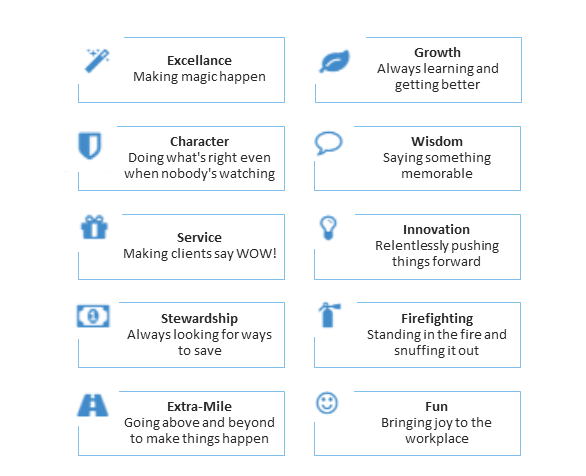 -CEO