Confidential surveys are best practice for Engagement Surveys or any survey for which employees may be less likely to share their honest opinions if their identities were revealed.
Strictly protecting confidentiality (recommended)
We recommend that you select "Confidential -- data feeds will not contain identifiable information" (as shown in the image below).
This option means that Quantum Workplace will strictly protect the identity of survey takers – no one at your organization will be granted access to raw survey results.

The communications that we send to your employees will inform them that the survey is confidential and that their individual survey responses will never be shared with or revealed to anyone in your organization. When taking the Engagement Survey, survey takers will see the following message: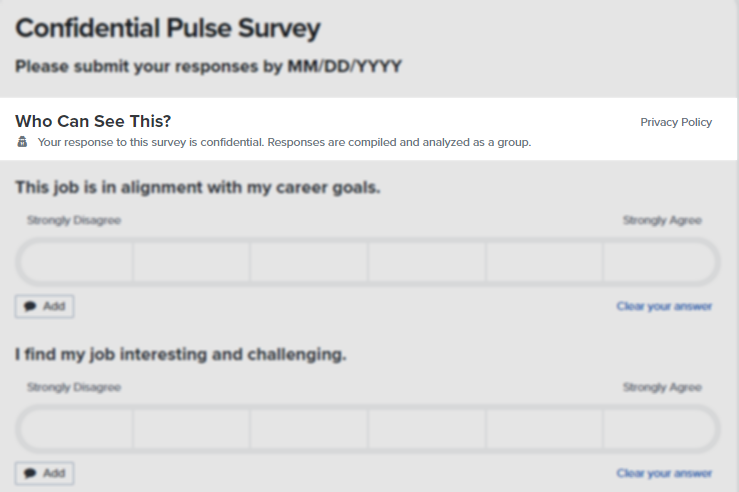 Quantum Workplace can provide your team with a data file that includes survey responses only (e.g. without any identifiable employee information) upon request.
Protecting confidentiality in our tool with limited access to raw data
To allow designated admins or data analysts to have access to raw data now or in the future, select "Confidential -- data feeds may contain identifiable information."
This option means that we protect confidentiality in our tools, but your organization is responsible for protecting confidentiality when raw data are shared with your team for analysis (e.g. for the purpose of analyzing data in the context of other business analytics).

The communications that we send to your employees will inform them that survey confidentiality is subject to your organization's privacy policy and that their individual survey responses may be shared with designated administrators. When taking surveys with this option, survey takers will see the following message: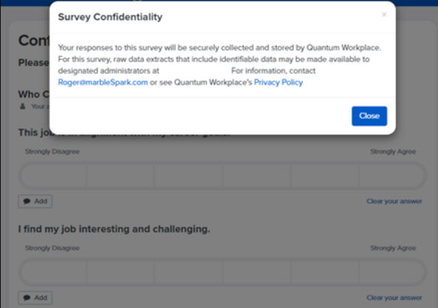 Attributed Pulse Surveys

If your organization would like everyone with access to survey analytics in our tool to have access to the raw demographic data and survey responses for your Pulse Survey, select 'Attributed' when creating your survey. Your employees will see message below when they take the attributed Engagement Survey: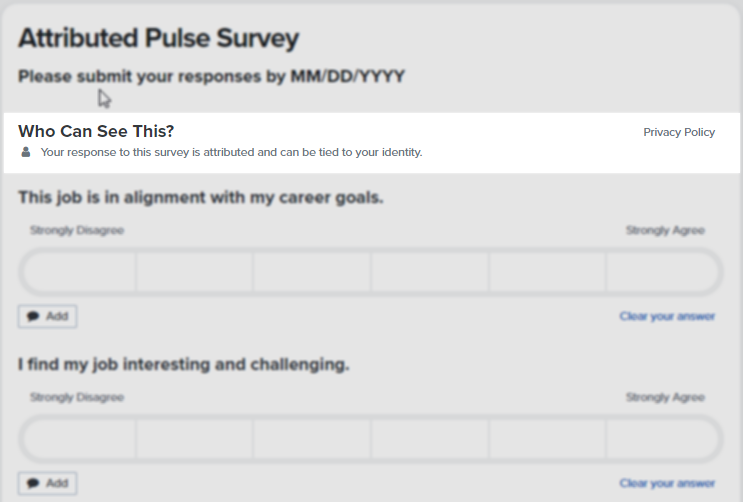 Privacy and Data Exports
For organizations interested in QW's Data Feed solutions, contact your Account Manager to explore additional options to protect employee confidentiality.
For more information about how Quantum Workplace protects employee privacy, check out our Privacy Policy.