Overview
How to Create a Public Survey Link
Confidential vs. Attributed Surveys
Overview of Public Survey Links
By creating a public survey link, you can invite external parties to take a survey in addition to your own employee population. You can use this public, shareable link to invite customers, job candidates, members of your community, conference attendees, and others to take a Pulse. Once you've generated a public link for your pulse, anyone who has access to that link can use it to take your survey. You can share the URL any number of ways: via your website, social media, posters, handouts, mailed items, etc.
Note: You will not be able to directly see the identity of anyone who takes the survey via the public link. This is because we are only able to provide demographic information for the employees who are invited to take the survey via the Respondents section and who take the survey using the unique link that they receive via email.
How to Create a Public Survey Link
You can generate a public, shareable link within the Participants section of your survey set up.
Under Who Will take this Survey? check the box next to Anyone with the link to generate a public link.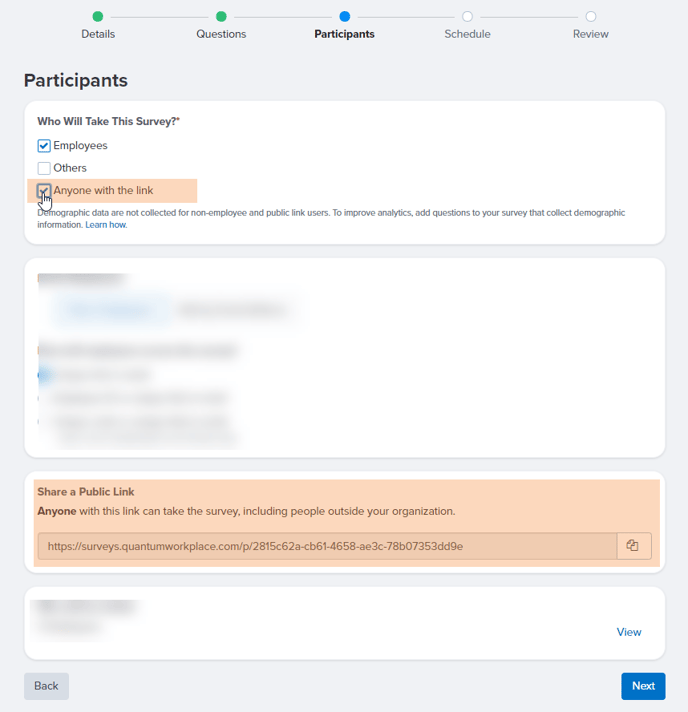 This will cause a new field title Share a Public Link to appear at the bottom of the screen. This is the public survey link you will copy and share with your survey takers.


You can click the copy icon to save this link, and you will also be able to access and copy this link from the Review screen when you are ready to launch your survey.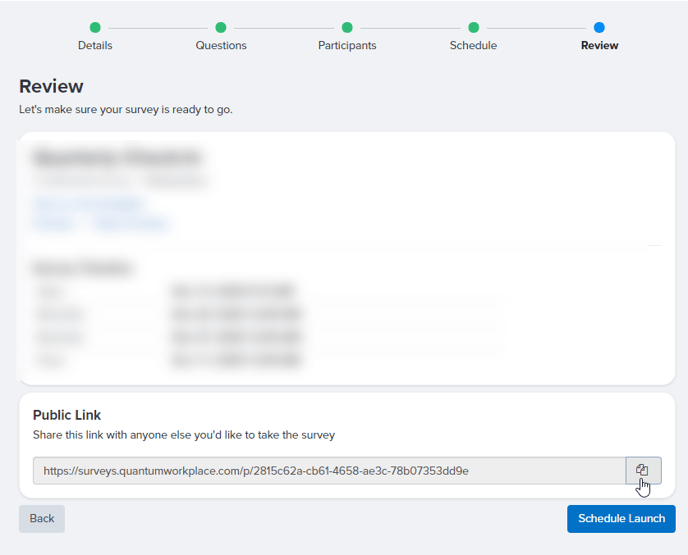 Confidential vs. Attributed Surveys
Although you won't ever be able to see the identity of any respondents who use the public link to take the survey, you can still specify whether the survey should be confidential or attributed.

For attributed surveys, any employee who uses their own unique link to take the survey rather than the public link will have their responses attributed to them.

For the survey respondents who use the public link to take the Pulse survey, you'll have the option to see each survey taker's full set of responses in line by exporting your data into Excel.
This can help facilitate nomination processes or any scenario in which it's helpful to be able to view each survey taker's complete responses from start to finish without needing to know the identity of each survey respondent.

To view this data in Excel, click the Export button in the top right corner of your Analytics and select Export Results to Excel.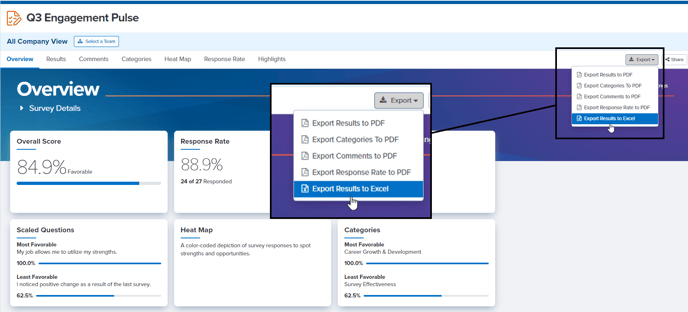 For confidential surveys, responses will be confidential for every survey taker (both employees invited to take the survey via the Respondents section and anyone who takes the survey using the public link.) You will not be able to export your data into Excel to see responses by survey taker.