Survey Comment Translations, Automated Insights for Custom Org Trees, and New Cover Page for the Survey Comment PDF
🕐 5 min read to learn about
Featured
---
Survey Comment Translations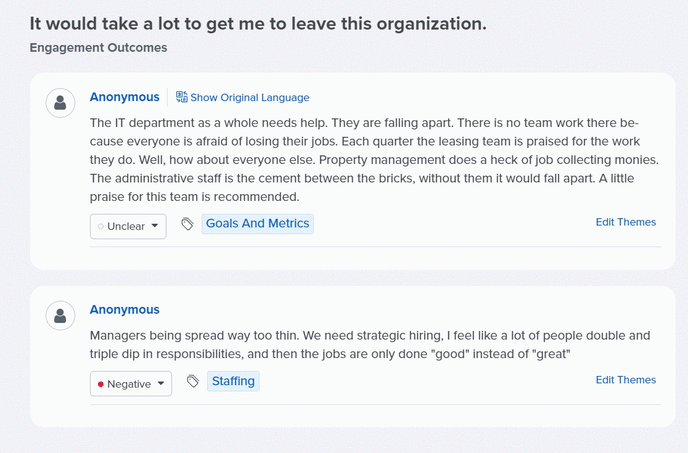 We've improved the way translated comments work in survey analytics. Translated comments now contain a "Show Original Language" link, which allows readers to see the comment as written and understand the original language and translation source. Also, using the keyword search now returns matches from both the original and translated comment.
Translations (as well as original language and translated source) have been added to the Excel export. While we don't add the original comment to the PDF export (to save you paper and, besides, most people aren't polyglots), we do list the translation source so you can log in and find the comment if you want to see the untranslated comment.
Quantum Workplace can source translations from an online translation service for free or from a team of professional linguists for a fee. Contact your Customer Success Manager if you have comments you would like translated.
Coming soon: an automated translation pipeline that will automatically translate your survey comments in real-time.
Learn more about Narrative Insight
Noteworthy
---
New Cover Page for the Survey Comment PDF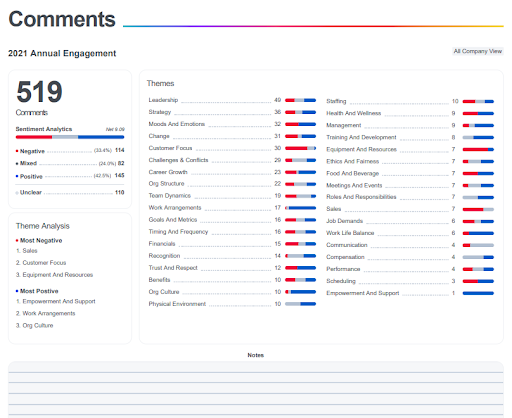 We've added a new cover page when exporting survey comments to PDF. This new cover page gives you the Text Analytics for your survey comments (plus a handy spot to take notes 😎)!
Automated Insights on Custom Org Trees
Automated Insights are now available for any org trees. This makes it easy to identify the most important insights by location, department, or any org trees.
Related:
Learn more about Automated Insights
Learn more about Custom Org Trees
Fixed
---
Survey Templates
We made it easier to see categories during survey creation - #CreateSurveysFaster
Survey Exports
Now see what filters were set when exporting survey data to excel - Kazaam!