🚀Featured
Filter Analytics by Manager Downline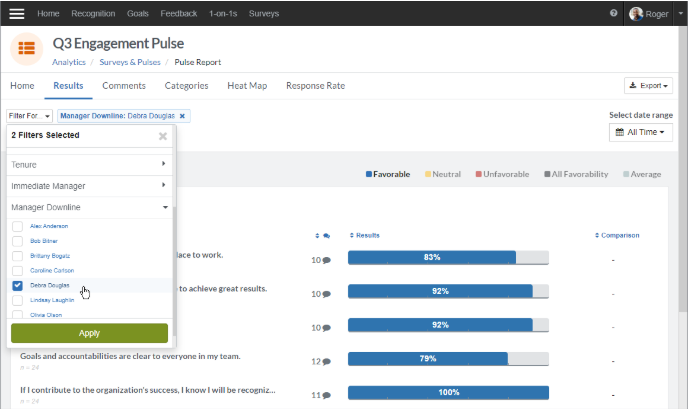 We've made it easier to see data for a manager's down line in Pulse, 1-on-1, and Feedback analytics. Now you can add a filter to view results for any person's down line. Simply select the name of a people leader to view results for their down line (that is, not only their direct reports but any employees who roll up to them).
Accessibility Update for Presentation Report


In order to make Engagement Survey data more accessible to low vision users, we have updated our Presentation report to include higher-contrast colors. We've also re-organized how content on every slide is ordered so that that anyone using a screen reader will experience a more logical flow to the presentation. Now you can share critical Engagement data with your people leaders and trust that it's more accessible for everyone. 🙌
📝Noteworthy

Saved Searches for Easier Platform Navigation


If you're an Admin user or a people leader with a large down line, you've probably relied on our search functionality to find a particular 1-on-1 or Feedback conversation. Now your search within Feedback, 1-on-1s, and Goals will save when you navigate away from the page so that you can pick up where you left off.
Nudging Managers to Schedule Recurring 1-on-1s

We know that employees and managers benefit from regular in person conversations-- when they make time for them. To nudge managers and employees to meet in person more regularly, we've updated our settings for user-initiated 1-on-1s. Now any 1-on-1 that isn't part of a cycle will default to recurring once a month. Managers and employees can easily adjust the cadence that they meet or schedule the meeting to occur once, but it's now easier than ever to get in the habit of meeting regularly. 👩‍💼👨‍💼
Comment Themes Now Available in Pulse Export



Your Excel export for Pulse Analytics just became more powerful! In July, we added the ability to add themes for your comments within Analytics. Now, themes will be included as a column in your export.
Send Us Your Analytics Feedback




📢 Do you have suggestions for us as we continue to improve our Pulse Survey Analytics? We'd love to hear from you! Click the Send us Feedback link in the top right corner of Pulse Analytics to share your thoughts.
🔨Fixed
Pulse Survey: Admin users were unable to see the questions on the template they had added to their Pulse Survey. Now you can review exactly which questions you're including on your survey before your launch it! 🚀💪
Vitals: We patched up an issue in which clicking on one of the 16-boxes in Vitals Analytics would incorrectly display employees in addition to the ones that received that rating. 💥