Featured
Noteworthy
Coming Soon
Fixed
🚀Featured

Benchmarks for Pulse Survey Now Available for All Customers


If you have ever conducted an Engagement Survey with Quantum Workplace and have access to Pulse Survey, you will now see benchmarks available in your Pulse Analytics. Industry and organization-size benchmarks are available for every question included in our library of best practice questions--- both for Pulses you've already conducted and any Pulse you launch in the future. Simply click the Compare To button and select a benchmark to begin.
Would you like to have benchmarks for your Pulse Survey questions, but haven't launched an Engagement Survey through Quantum Workplace? No problem! Contact your Customer Success Manager to get Pulse Benchmarks enabled for your organization.


Feedback Conversation Booster Now Available for all Feedback and 1-on-1 Users

Last month, we introduced our Feedback Conversation Booster in BETA to provide managers and employees the opportunity to review feedback that an employee has received within a 1-on-1 conversation. This feature is now available for all users who have access to both Feedback and 1-on-1s, so employees and managers can now elect to discuss Feedback together.
Click here for instructions on how to use the Feedback Conversation Booster.
📝Noteworthy

Update to Generation Demographics in Engagement Survey


We have updated the birth year cut-offs we use to calculate generations for our Engagement Survey in order to align with the Pew Research Center's generational cutoffs that include Generation Z. All Engagement Surveys that were built on or after November 11, 2019 will include the following generation breakouts:
| | |
| --- | --- |
| Generation | Birth Year |
| Traditionalists | 1928 – 1945 |
| Baby Boomers | 1946 – 1964 |
| Generation X | 1965 – 1980 |
| Millennials | 1981 – 1996 |
| Generation Z | 1997 – |
Engagement Surveys that were built prior to November 11 will continue to use the previous formula to calculate generations.
Update to Manager Downline Data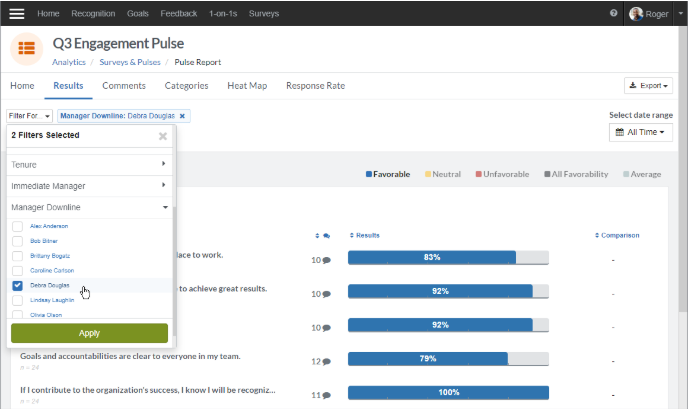 We have changed how we display data by team for Pulse, Feedback, and 1-on-1s. Now when you view data for a particular manager's down line, the manager's own responses to the survey are excluded from that view so that you only see data for the employees who roll up to them. This is now consistent with how we display Engagement Survey data.
⌚ Coming Soon:
Focused Feedback
We've heard from several customers who conduct 360 Feedback sessions who want a method to provide one cohesive message so that employees will know exactly what is expected of them. In the next month, we will be introducing our Focused Feedback tool to allow managers to summarize feedback that their employee has received and share only that summary with them.
Turnover Analytics
Are you interested in examining your turnover rate? Keep your eyes peeled for an upcoming release in which you'll be able to view turnover by department and all the other demographics you include in Quantum Workplace. In order to get accurate turnover data, you will need to make sure that your User Management section includes hire and exit date for your employees since you first started using Quantum Workplace.

🔨Fixed
User Edit Log: We fixed a problem in which the user edit log wouldn't always correctly reflect the changes made during a bulk import. 💪😎


Pulse Survey: We identified a glitch in employees wouldn't get notified when they received a reply to their comment on a Pulse Survey. We've fixed this so that everyone who receives a reply to their Pulse responses will receive an email notification and bell alert. 📩 🔔