🕐 5 min read to learn about
Action Planning with Custom Org Trees
Admin Improvements in Action Planning
Featured
---
Action Planning with Custom Org Trees
Action isn't one size fits all. That's why we've improved our action plans to align with both manager and custom org trees. Easily align your action plan with any org tree branch in your manager or custom org tree.
Want to assign an action plan owner? Now you can. Navigate to your action plan and select access settings. Select your custom org tree and select the pencil icon. Search for the user, determine their permissions and their action planning role. The action plan will now reflect the action plan owner.
Please note: Action Planning is not available at the organization level. However, action plans are available for any branch of your manager or custom org tree. Simply, select "select team" and navigate to the branch of your choice. Then the action plan for that team will appear.
Learn more about how to use action planning
Admin Improvements in Action Planning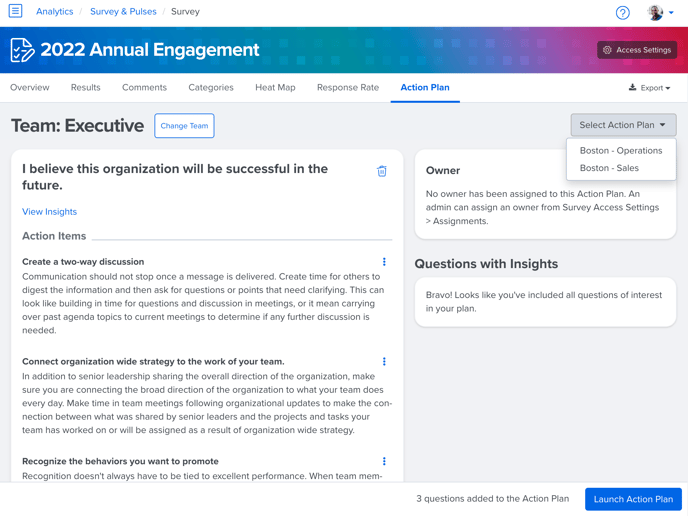 We've also improved the experience for admins within action planning. Admins can now assign admins as owners on an action plan. Whether you own one plan or multiple plans, you can now easily navigate to all of your action planning using our simple but effective drop-down.
Admins can also import/export admins as owners on action plans using the csv import/export.
Empower employees and managers to take action on their survey results with our latest improvements to action plans.