From the Notifications tab in Account Settings, users can specify the format in which they prefer to receive notifications in Quantum Workplace
Within Notification Preferences, users can determine their preferred mechanism for receiving notifications in Quantum Workplace, opt out of the daily email summary, and opt out of specific organization-wide emails.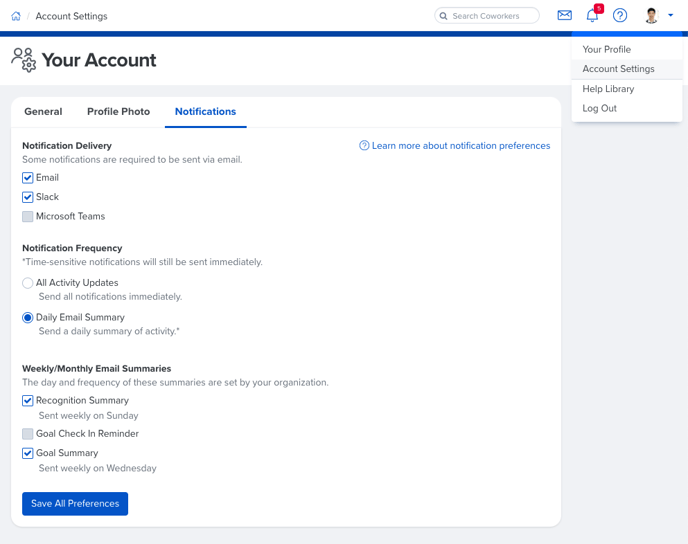 You can access your Notification Preferences by selecting Account Settings from the drop down menu in the top right corner of your account and clicking the Notifications tab.

The Notification Preferences page consists of three sections:
Notification Delivery
Notification Frequency
Weekly/ Monthly Email Summaries


Notification Delivery

If your organization has established an integration between Quantum Workplace and Slack or Microsoft Teams, you will receive certain notifications from Quantum Workplace in Slack or Teams in addition to via email. If your organization does not have a Slack or Teams integration, there is no action for you to take in this section.
If you prefer to receive notifications through Slack or Teams only instead of through email, you can uncheck the box next to Email.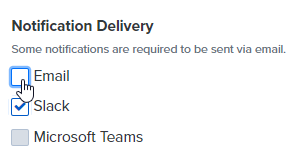 Please note that if you choose to use Slack or Microsoft Teams as your primary notification delivery mechanism, you will be still be notified via email for any events that are not able to be delivered via Slack or Microsoft Teams.

You can choose to opt out of Slack or Microsoft Teams notifications by unchecking the respective box.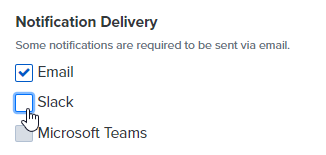 Notification Frequency
By default, all Quantum Workplace users are opted into the Daily Email Summary that condenses non-time sensitive notifications from Quantum Workplace into one email that is delivered overnight. If you prefer to receive separate email notifications for every event in Quantum Workplace, select the radio button next to All Activity Updates and click Save All Preferences at the bottom of the screen to opt into separate email notifications.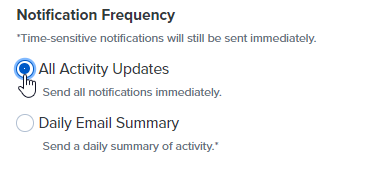 Weekly/Monthly Email Summaries

Below Weekly/Monthly Email Summaries, you can see the current reminder and summary emails that have been enabled for you by your organization, the frequency in which they're sent, and what day of the week or month they're deliveried. If any of the three reminder or summary emails are currently "on" for your organization, you can stop receiving them by unchecking the box next to those notifications and clicking Save Preferences.