Overview
If you have used Goals in Quantum Workplace in 2021, you likely saw the option to provide feedback on your experience with Goals from directly within your account.
Based on the feedback that users submitted directly within the software, we are unveiling a refreshed Goals design. The following changes are anticipated to go live July 28-29th, 2021.
Goals Explorer (Goals Landing Page)


When you click on Goals in the left navigation menu, you land on the Goals Explorer page, which by default displays Your Goals (e.g. all goals that you own, contribute to, and belong to as a team member.)

With the refreshed design, you will notice the following changes to the Goals Explorer:
Both your draft and in-progress goals (open goals) will appear on the Goals Explorer by default.


The Goals Search functionality, which was previously a panel on the right hand side of the screen, has been simplified.

Now, you can search for a goal by keyword, person, or goal tag using the Goals Search bar at the top of the screen.

Similarly, you can now filter for goals by goal type, due date, and more goals of a specific type using the dropdown menus at the top of the screen:

A new dashboard on the left displays the number of goals that you're viewing onscreen that are in progress, in draft mode, and overdue.

A new dashboard on the right displays whether the goals that you're viewing onscreen are flagged as On Track, At Risk, or Off Track.


Goal Creation Page
When you create a new goal in Quantum Workplace, you will notice the following changes: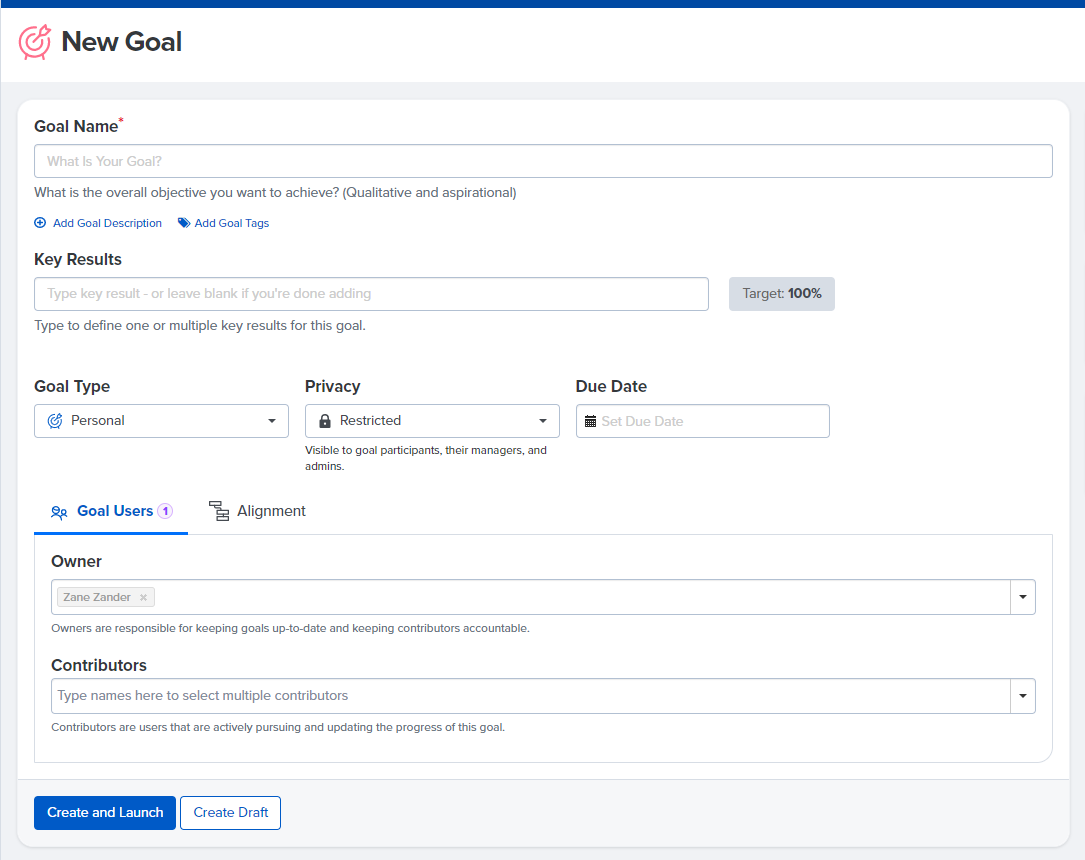 The options to edit the Goal Type, Privacy, Due Date, and Goal Users all appear by default on the screen. Previously, you needed to click on each of these tabs to view this information.
Only one key result field appears on the screen by default; as you add more key results, additional key result fields will appear.

Goal Detail Page

When you click on a goal to view the complete set of information about it, you land on the Goal Detail Page. On this screen, you will notice the following changes:
You can now mark your goal as complete directly from this screen.

The chart displaying your Goal Progress is more prominent and now appears towards the top of the screen.

This screen now displays the number of days remaining until the due date, the number of days since the last goal update, and the total number of goal updates that have been posted so far.
Key Results, Goal Users, and Alignments each appear in their own panel to make them more prominent.