🕑 3 min read
Featured
Introducing Bias Check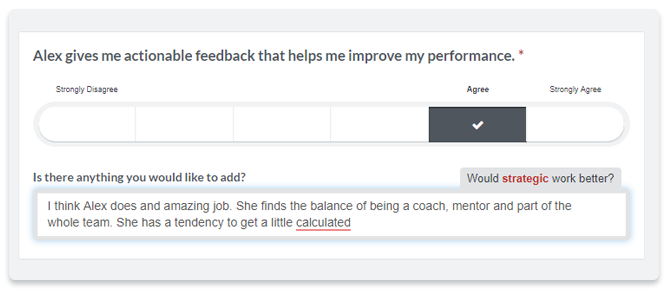 Unconscious gender bias is ingrained in society, and with a little help, we can learn to recognize and overcome this harmful bias. That's why we've begun to experiment with a new feature for Feedback that helps train your people to recognize this bias so we can all help women achieve true equality at work. If you're interested in participating in our beta program reach out and we'd be happy to include you.
Vitals Calibration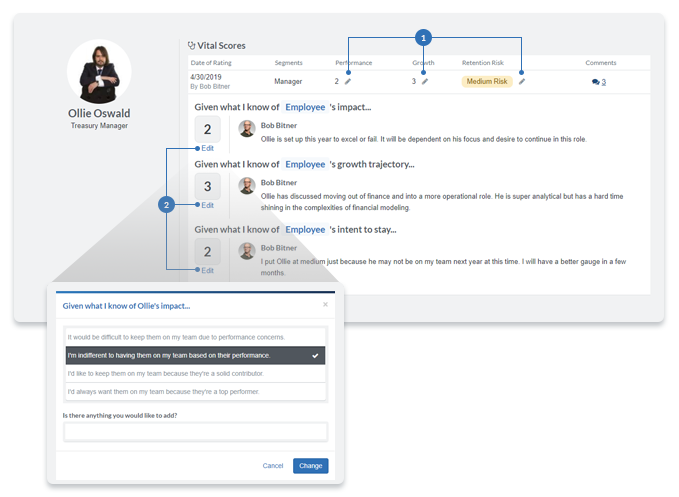 Vitals is making it easier than ever to have collaborative conversations about talent. That collaboration helps your team see the full picture so they can align. Enter Vitals Calibration, a simple way to update Vitals ratings from inside your analytics -- right where you are when you have those aha moments.
Vitals Admin
The power to manage Vitals is now available in Administration. With Vitals Admin you can create new cycles preconfigured with our recommended settings so you can get back to what matters without having to worry about the small details. You'll also find a way to customize the Insight Types that your team can add as flags to their insights in Vitals Analytics.
Noteworthy
Copy Templates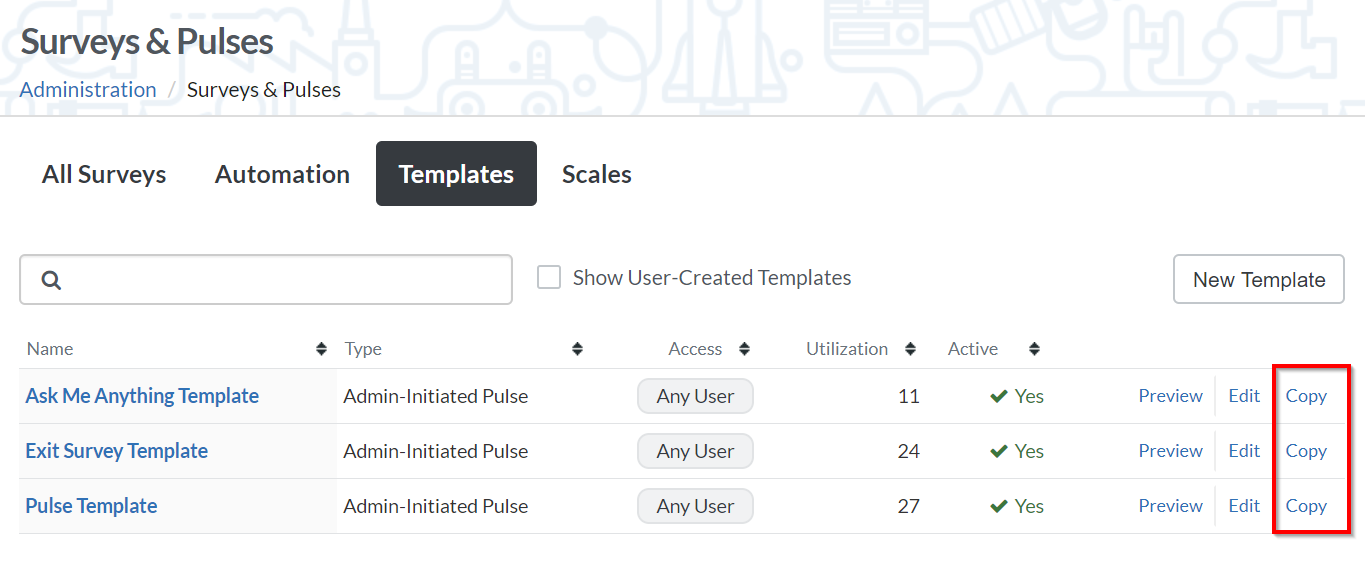 When you think of Templates in general, chances are pretty good that you think of them as a pattern you can copy. What do you think happens when you copy a template and then make changes to the questions in that all new template?
If you guessed that those changes were also made in the original template (not just in your copy), then you're one of the few people on earth with historical knowledge of how copying templates used to work in our platform.
Yes, that functionality is history, now that changes to questions in copied templates only get updated on your new copy -- matching the expectations of the majority. And, only questions in your new template that you do not make changes to will remain linked to their counterparts in the original template for trending purposes.
Pulse Analytics Default Chart View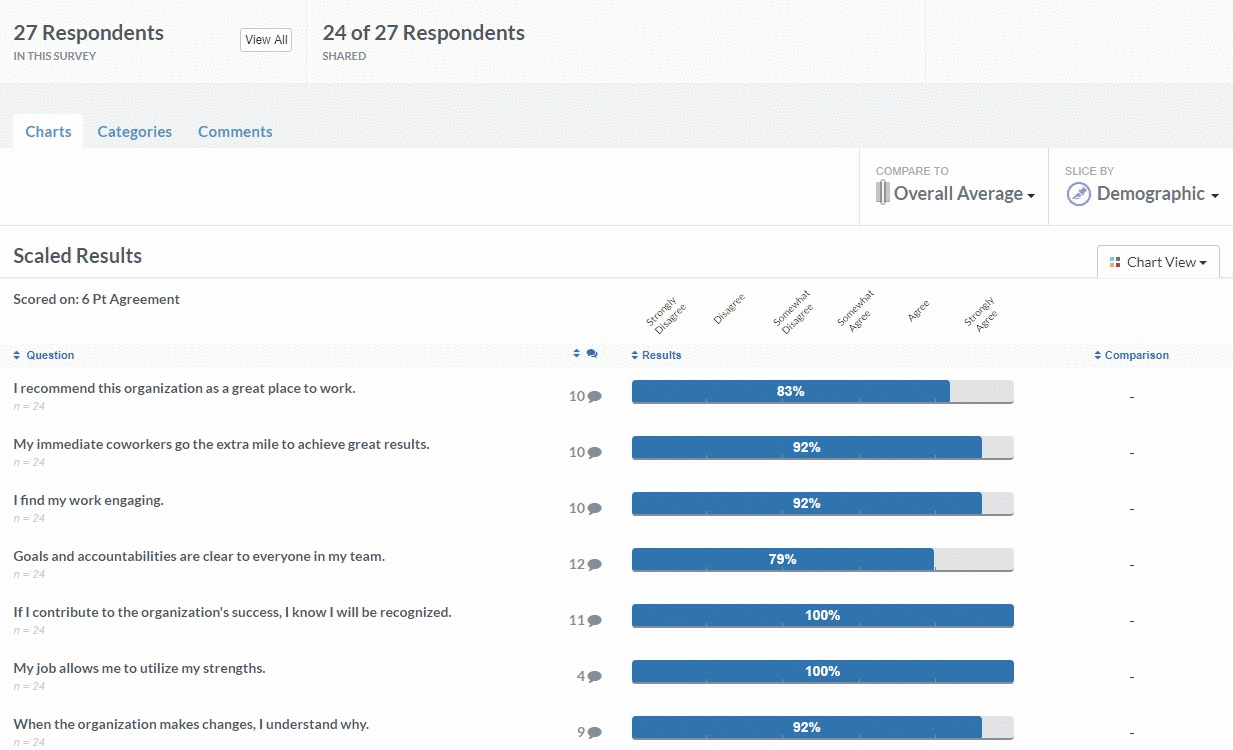 Hey, why do my Pulse Analytics look a little different?
Customers were asking for a consistent experience across their Engagement and Pulse surveys on analytics so we made a change to default to "Favorability" for the Chart View. Don't worry you can still see the Average Result by simply selecting "Average Result" in the Chart View Selector.
User-Tailored Extensions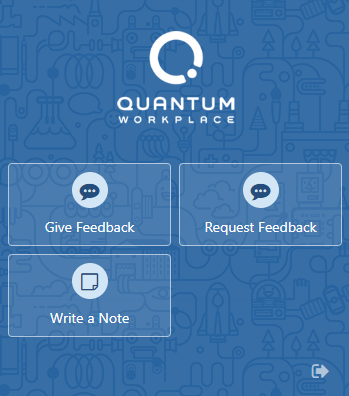 Our snazzy Chrome Extension and Outlook Add-on are convenient and easy to use — unless your users don't all use Feedback or Recognition. Now, the extensions only show actions based on each user's feature permissions. Here's an example showing what a user sees if they don't have access to Recognition.
Smarter Bulk Import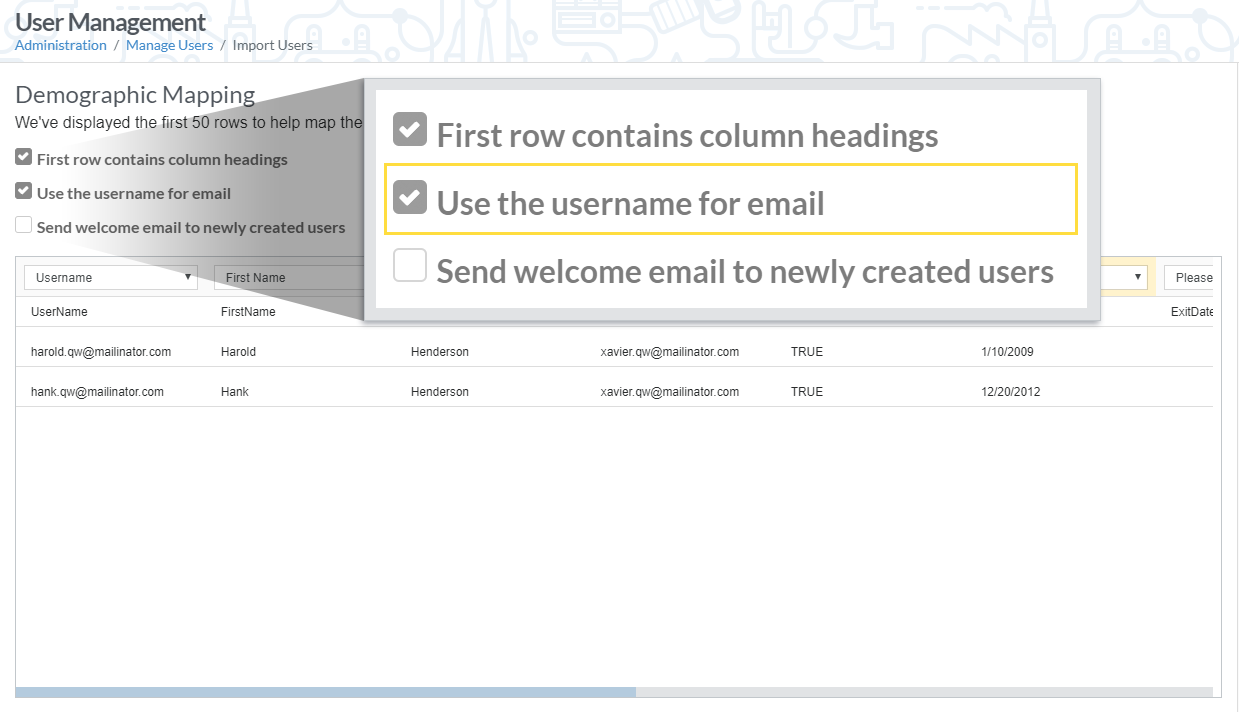 When uploading usernames that look like email addresses, it's probably safe to assume you want to those users to use that email address, right? Our old logic required that you duplicate that column and import to BOTH the username and email address fields. Well, now we say "HOGWASH!" The bulk import tool will now pick those up for you without making a fuss. If you decide you that's just a little too helpful, you can disable that during the import process.
Your Slack #recognition Channel - Now with Visuals!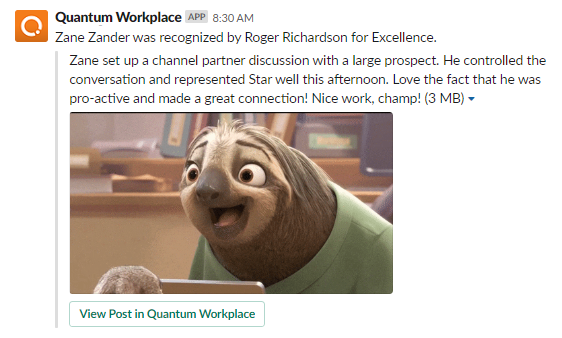 By popular request, we're now including recognition post details in your Slack #recognition feed — complete with attached images! Pretty cool, huh? Get these slick features rolling in your Slack feed by integrating Slack in less than 5 minutes. Just like that.
Comments by Category
What is the scoop on Team Dynamics? How do people feel about Benefits? You can now view your comments for your scaled questions by Category to get more context on what your employees are thinking about different topics!
Fixed
Question Library: The search box in the "Questions Library" was not showing the results of your search - We fixed that!
Feedback: People who could select Feedback providers were sometimes not seeing the "Add Providers" button when they were viewing their Feedback Inbox. So behind-the-scenes, we built out a much better way to decide what buttons show and put that issue to rest. - Feedback received!
Analytics: Before, the count of comments in analytics when slicing was including slices that did not meet the minimum threshold. Now, the count only includes the number of comments you can actually see. - You can count on that!
Newsfeed: Some recognition and goal posts were not appearing on the home news feed. We found and squashed the bug behind this problem. - Kazaam!