Mark Goals as "At Risk"

We recently introduced the ability for employees to add a status to their goals to signal whether progress on a goal is on track or off track. Now employees have the option to mark a goal as "at risk" to signal that a goal requires attention or prioritization in order to be achieved. Once an "At Risk" status has been added, the goal will be tagged with a yellow dot and given the label "At Risk". Everyone who has visibility into a goal will be able to see the new goal status at a glance from either the Home Newsfeed (if a goal update has been posted there) or from the main Goals page.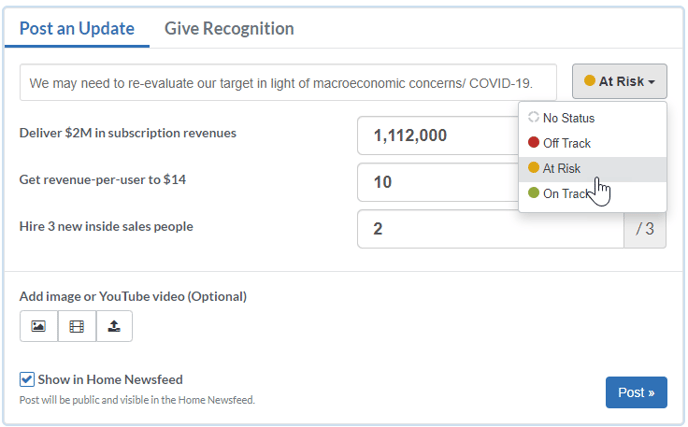 Any Goal Owner or Contributor can mark a goal as On Track, At Risk, or Off Track when they update the goal.
Request a Custom Org Tree to View Survey Data
We want to hear from you! In Survey Analytics, the Select a Team button allows Admin users to view results for any people leader's downline. This is especially helpful for organizations that use a people hierarchy to structure their organization, but there are cases when it may be more valuable to view survey data for a specific department, location, or business unit. We are experimenting with how we can display survey data to better meet the needs of our customers that don't primarily rely on a people hierarchy. If it would be valuable to your team to view survey data by department, location, or some other function, you can open Analytics for any survey and select Add a Custom Org Tree.

Once you click Add a Custom Org tree, a pop-up window will appear for you to enter some context about how you would ideally like your survey data to be organized: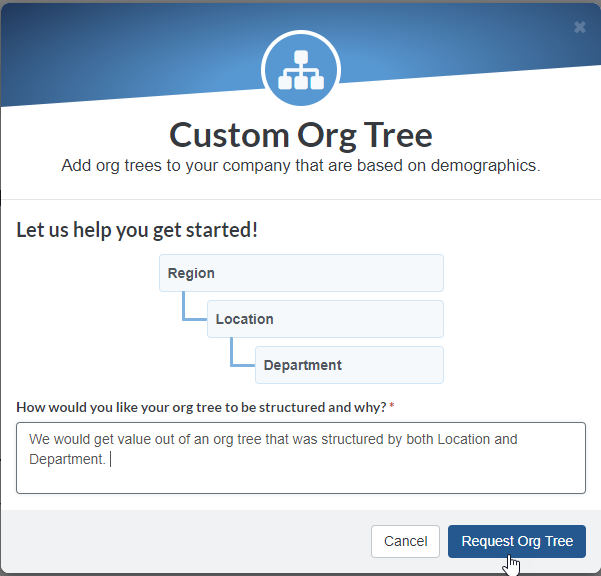 Our team will review requests that are submitted here to evaluate which organization hierarchies to create as a permanent software offering. A Product Manager will follow up with you to explore whether our team can build your custom org tree.
Coming Soon: Learn about our New and Upcoming Tools to Help you Fight Turnover

If you haven't checked out Turnover Rate in Analytics already, your organization's turnover rate is live in Quantum Workplace if we have sufficient data to enable it. If you click on Turnover Rate within Analytics and see the above screen, it means your organization doesn't currently include the data needed to enable turnover rate. If you enter your email address in the field on this screen, our team will follow up with more information about Turnover Rate Analytics and how we could update your data to make Turnover Rate Available.
Within the next two weeks, you will also have the ability to request personalized information on Flight Risk and our upcoming Performance Risk directly from Analytics.
Fixed 🔨
Survey Analytics:
We corrected an issue that managers experienced in Survey Analytics in which the Compare To feature was not correctly showing data comparisons between the data for a manager's downline and the overall organization average.