NEW! Keyword Detection, Response Rate Report Update, Action Planning Analytics Export, Team Report Addition
🕐 5 min read to learn about
Surveys & Pulses
Keyword Detection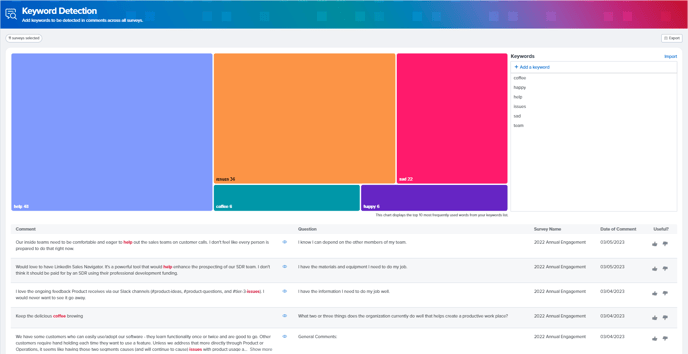 Now available for all survey admins.
Keyword detection is a powerful tool that filters and compiles comments based on words or phrases you choose. Navigate to the Analytics dropdown on the left panel and you'll find the Keyword Detection page.
Includes the following features:
Track default keywords or add/import your own
Filter by keyword, survey, and comment submission date
Set up keyword notification alerts
Learn more about keyword detection
Response Rate Report Update
When your survey is open, you want the most up-to-date participation data available. The response rate report has a new design and now supports real-time, live reporting to give survey admins the most current information available.
Learn more about the response rate report
Action Planning Analytics Export
Stop scrolling to analyze action planning participation. Now you can export the dashboard view of action planning analytics directly to Excel with the rest of the action plan details you're used to seeing.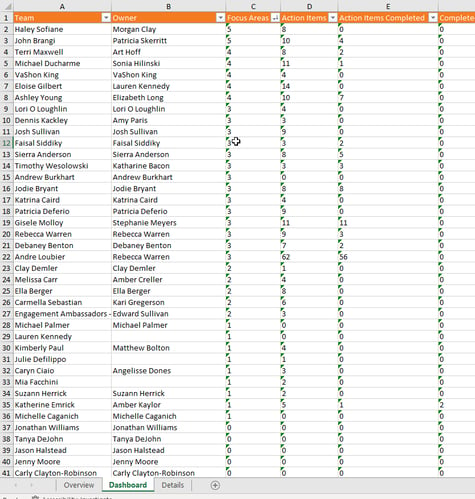 Learn more about action planning analytics and reports
Team Report Addition
Give your managers the best possible insights and guidance across all your engagement surveys with the new Team Report--now supported for the Engagement Follow-Up survey type.