Question Level View for Surveys, Trend Over Time Updates, Personalize Talent Review Insights, Update or Delete Goals from Goals Explorer
🕐 5 min read to learn about
Featured
---
Question Level View for Surveys
Our newest update to Survey Analytics, Question Level View, empowers you to explore further and dig deeper into scaled, multi-choice, NPS and rank questions. Let's say you have a high impact question that's ranking really low and you want to know why. Instead of making a slice across all questions and seeing all the results, you can now specify which question you want to drill into.

Simply click on the question to open Question Level View and you can slice, compare to other surveys and benchmarks, and create insights to maximize your analysis. It's that easy!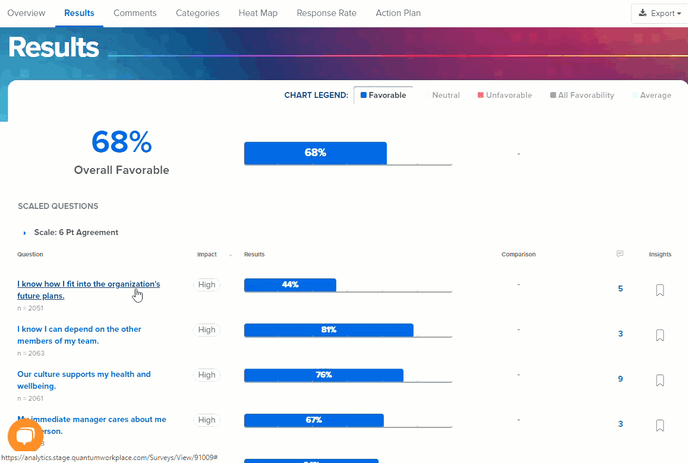 Noteworthy
---
Trend Over Time Updates
We recently released Trend Over Time. If that's news to you, you should read these release notes (or check out this quick video)!
Trend Over Time expanded to Comments and Heatmap
We've updated Trend Over Time to now include both Comments and Heatmap, giving you further insight into how perceptions may have changed over both months and quarters. You can also now export these results to Excel.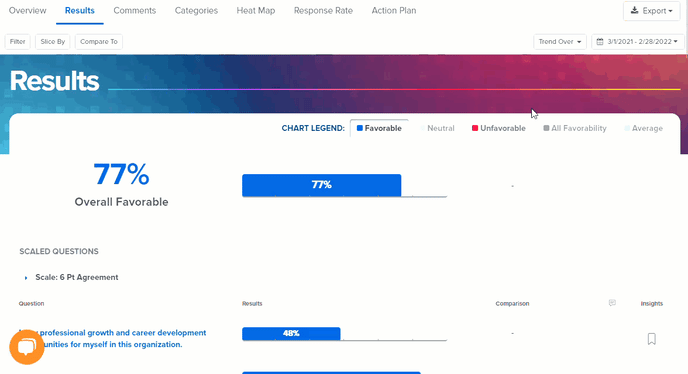 Trend over Time Insights
As you are diving into your Survey Analytics, easily keep track of any key insights discovered with our new addition of Trend Over Time Insights.
To the right of your results, you will see an Insight Ribbon, click the Ribbon to pop out the Insights panel. Here you'll be able to add an optional description to your insight and save to review later. It's also saved to your Action Plan — just like any other Insight!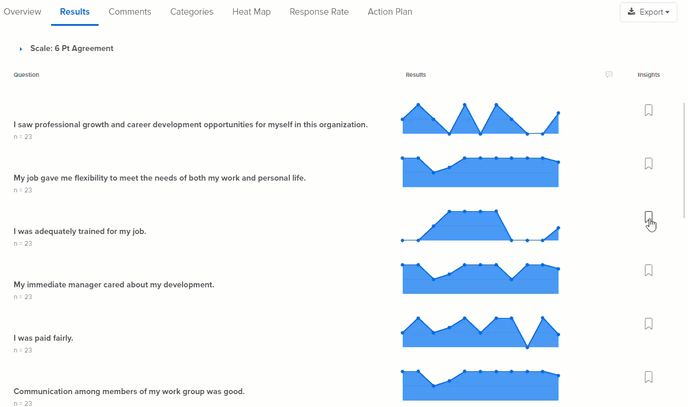 Personalize Talent Review Insights
Talent Review Insights turn your Talent Review data into insight and action. These Insights help capture conversations during your calibration session, managers determine next steps, and act as a reminder to share the outcomes. Insight Types categorize these Talent Review insights into common categories such as Compensation Review or Stretch Assignment.

We've enriched Insight Types by adding a description and Learn More link. Let's say you decide that a Stretch Assignment is the best thing for a high-performing employee. The manager might be left wondering exactly what that means. With the new description field, you can describe exactly what you'd like to see and even link out to a lesson in your learning system that gives managers more insight into how to approach Stretch Assignments. In addition, you can now also add, edit, archive and even delete unused Talent Review Insight Types.
Learn more about Talent Review Insights here.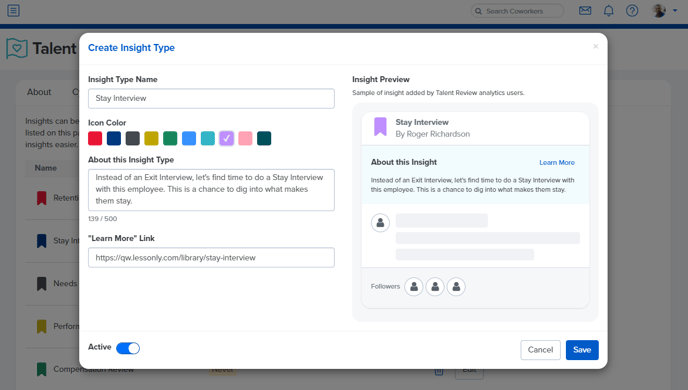 Update or Delete Goals without leaving the Goals Explorer
You work hard; completing and updating your goals shouldn't be. So we've shortened the path to update and close goals from the Goal Explorer. On the Goals Explorer page, you can now quickly click Update and this will pop out a new Update Modal, making updating goals quicker and easier. Have goal priorities shifted and the goal is no longer needed? Click the three dots next to Update and you can delete that goal.