🚀Featured
Customize Pulse Survey Invitation and Reminder Emails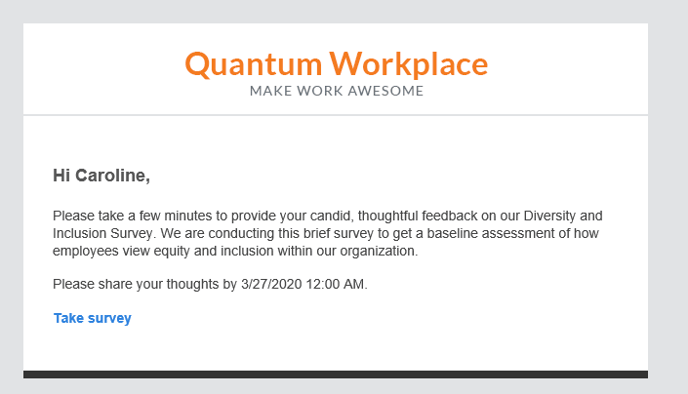 Have you ever wanted to include a custom message on the invitation and reminder emails that are sent to your survey takers? Admins can now add their own language to the body of Pulse Survey emails. Previously, the only option for customizing Pulse emails was to add text to the About This Survey field and specify that it should be included in Pulse emails in addition to the survey itself. This was limiting for customers who only wanted that text to appear in the invitation and reminder emails, but not at the top of the survey. This enhancement gives you the flexibility to choose whether you would like to add the About This Survey text OR your own message to the Pulse Survey emails.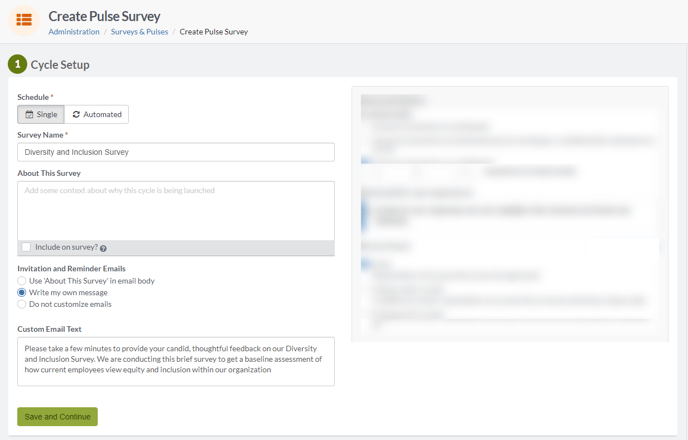 Turnover Rate Enhancements:
View Year to Date Comparison within Turnover Rate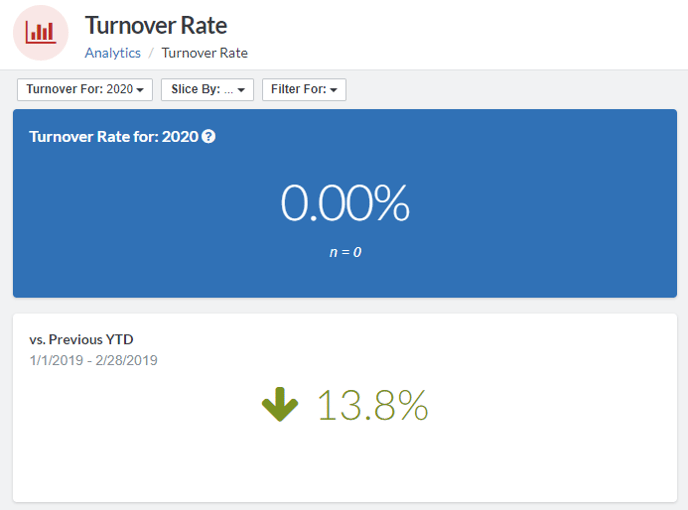 Monitoring your turnover is important, but how can you discern if your turnover is in line with what you should expect? Turnover Rate now includes a Year to Date Comparison option so you can see how your turnover for 2020 tracks with your turnover for 2019 as well as your turnover rate for each year that you have turnover data on file. This will help you gauge if your turnover is in line with what you experienced last year or if there may be a spike in turnover that warrants investigation.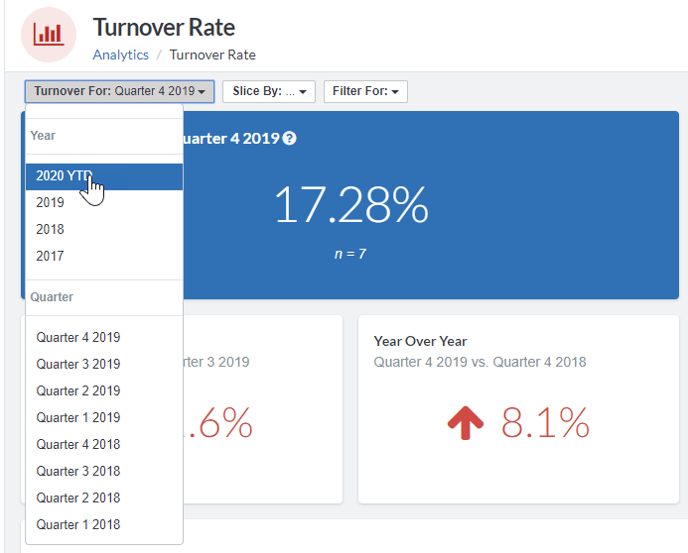 From the Turnover For: drop down in the top left corner, you can select the 2020 YTD option to see how your data for 2020 so far compares to the same time period for 2019. From this menu you will also be able to select a specific year or quarter to view turnover data for that specific time period.
Dig Deeper into Turnover Rate
While monitoring your Turnover Rate is valuable in itself, your ultimate goal is to examine the possible reasons that your terminated employees may have left in order to prevent regrettable turnover in the future. Our Turnover Rate feature now shows you the biggest differences in responses between terminated employees and current employees for your most recent Pulse Survey. For the last survey you conducted in Pulse, Turnover Rate will now display the 3 questions that had the biggest difference in responses between your employees who terminated and your current employees. These 3 questions will be displayed in the top right corner of your Turnover Rate page.
Within the next 1-2 months, you'll be able to select any of your Pulse Surveys to view the items with the biggest gaps between current and termed employees. We will announce that update in release notes as soon as it becomes available.
📝Noteworthy
Feedback Booster Redesign

The next time you add the Feedback Conversation Booster to a 1-on-1, you'll notice that the layout looks slightly different. We have made some updates to this experience to make it easier to keep track of your insights. You'll add an Insight the same way you did before by clicking the plus sign next to the section of the Feedback you would like to comment on and typing in the text you would like to add. Your newly added note will then appear in the Insights column on the right, and a lightbulb icon will appear next to the corresponding section of the Feedback Booster to indicate that you've added an Insight for that section. You can close out of the column to focus on the 1-on-1 and view your Insights at any time by clicking on the lightbulb icon.
🔨 Fixed
Goals: We fixed an error that occurred when duplicating goals in which the original goal owner's name would disappear. Now it will be clear who the original goal owner was anytime you duplicate a goal.