Flight Risk Analytics BETA


Preventing regrettable turnover is frequently cited by our customers as one of their top aspirations, which is why we're excited to introduce a new tool in the fight against regrettable employee turnover: Flight Risk Analytics. Flight Risk Analytics uses your Engagement Survey data to predict what your organizational flight risk is and helps you discover where that risk is within your organization.
Learn more about Flight Risk Analytics.
Flight Risk is in BETA-- contact your CSM to see if you are eligible to get Flight Risk Analytics.
Easily Resend Pulse Survey Invitations


Previously, there wasn't a straightforward way to resend Pulse invitation emails to employees who accidentally deleted them. Now you can return to your cycle setup at any time while your Pulse Survey is open to resend an invitation email to any employee. To resend a survey invitation, navigate to the Participants section of the cycle set up, select the name(s) of the employees who need a new invitation and click Resend Invitation. This replaces the "Nudge" feature within Pulse Survey.
For confidential surveys, you will see the option to resend an invitation to every employee regardless of whether they have completed the survey yet or not. Only those employees who haven't yet completed the survey will actually receive the invitation emails that you have resent.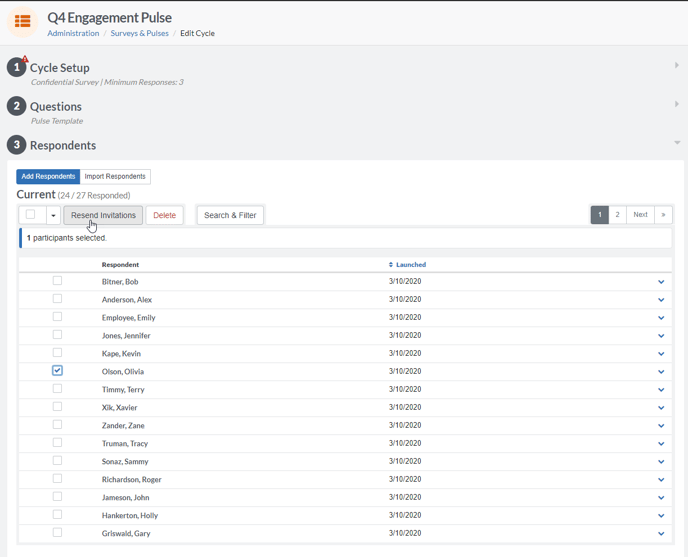 Empower Employees to Discuss 1-on-1s with Matrix Managers

In December, we introduced the capability for employees to give their mentors visibility into Feedback they had received. Now we are expanding this to 1-on-1s to give employees the option to give a mentor or matrix manager visibility into a 1-on-1 conversation they had with their direct manager or another colleague. Once enabled, employees will be able to easily give any colleague of their choice visibility into their 1-on-1 conversation by clicking the plus sign within the top banner of their 1-on-1 and typing in the name of the colleague who should get access. Our goal is to give matrix organizations the flexibility to ensure employees are able to keep their matrix managers (or project leads, coaches, or mentors) in the loop on key conversations.
Contact your CSM to enable this feature for your organization. Please note that if you enable this feature it will be available for all employees at your organization. You cannot enable this feature for specific employees or demographics.
User-Initiated 1-on-1s Now Default to Non-recurring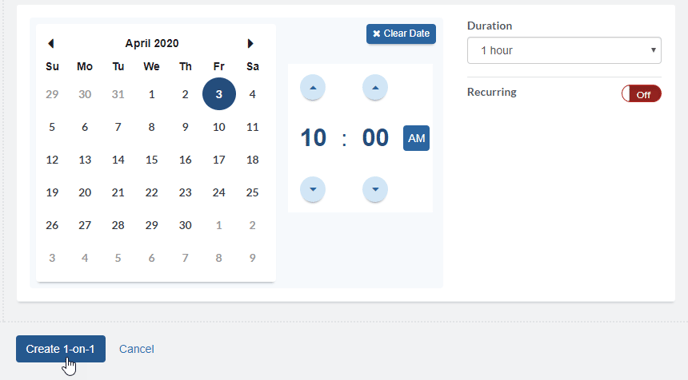 In Fall 2019 we updated user-initiated 1-on-1s to default to recurring meetings rather than occur once. Since then, we've heard feedback from customers that preferred user-initiated 1-on-1s to occur only once, so we are returning to the original default. Now when employees initiate their own 1-on-1, the 1-on-1 will default to occur only once. Employees will still have the option to set the 1-on-1 to recurring.
Turnover Rate: Compare Pulse Survey Data for Termed and Current Employees"


Turnover Rate Analytics now includes a section that displays how Pulse Survey data varies between your current employees and employees who have terminated. This can help shed light on the reasons that employees are leaving your organization by giving you a sense of the major differences in sentiment between your current and terminated employees. Within this section, you can select any past Pulse Survey to view the items with the biggest differences in favorability between your current employees and employees who have since terminated. You'll be able to view data for any Pulse Survey you've conducted in Quantum Workplace.