This post-survey toolkit will help you understand what is engagement, how to read your data, and how to determine what actions to take next. Let's dig in!
Part 1: Checklist for Taking Action on your Results
Part 2: What is Employee Engagement?
Part 1: Checklist for Taking Action on your Results
STEP 1: Read all sections of this Toolkit. Learn the basics of employee engagement and your reporting site.
☐ Taking Action on Results: Checklist
☐ What is Employee Engagement?
☐ Reporting Tools
STEP 2: Log in to your team's results to identify strengths and opportunities.
🎉 The most favorable items are your team's engagement strengths: celebrate and support these areas of success!
🔑 The least favorable items and lowest-rated drivers are areas of opportunity for your team to explore solutions and goals for making improvements.
☐ Categories report: Sort categories by favorability scores Highest to Lowest (click on "Results" header to sort, click again to sort other direction).
☐ Items report: Sort individual survey items by favorability scores Highest to Lowest (click on "Results" header to sort, click again to sort other direction).
STEP 3: Explore other reports and data you may have access to in your organization's site.
⛔ CAUTION: Do not go "who-hunting" in your comments or filters. Your team members gave their honest feedback on their confidential survey. Attempting to violate that confidentiality to figure out who said what will only reduce trust, cause employees to go silent in discussions, and reduce participation and honest responses in next year's survey.
☐ Comments report: Use comments to add context to your scores and identify possible team commitments and solutions.
☐ Slicing & Filtering: Compare different demographics groups within your team. Depending on what's available at your organization, you may be able to compare the results of different types of positions on your teams, different tenure groups, or managers vs. non-managers.
☐ Compare To: Add in comparisons to put your team's results this year in context.
Prior Year: If your organization surveyed the prior year and this feature is included in your reports, add in a comparison to the prior year's results. See which items improved and which items may have decreased. Note the largest differences and any changes that seem counter to expectation.
Organization overall: Compare your team's results to the overall results of the organization to see where you're in alignment with the company as a whole and where your team may be experiencing/perceiving things differently than other teams.
STEP 4: Review results with your team and identify concrete goals for making improvements.
☐ Watch this quick video:
How to Interpret Engagement Survey Results & Identify Commitments
☐ Share out results with your team.
☐ Hold a focus group or team discussion. Here's a great resource for approaching this meeting:
How to Meet With Your Team About Survey Results
☐ As a team, decide what to work on through the next year and how you want to do it. Choose items that are actionable and within your team's control.
STEP 5: Make your goals public and trackable in order to stay accountable throughout the year.
☐ If your platform includes Quantum Workplace Goals , add your team's commitments as goals. (If not, you can add your commitments to the Commitments tab in your Engagement Survey site.)
☐ Update goals and track progress throughout the year.
☐ Check in with your team regularly. This can be done several ways:
✔ Include a question about survey-related goals in your 1-on-1s with team members.
✔ Include a discussion or update on these goals in quarterly meetings -or- schedule a quarterly or mid-year focus group.
Part 2: What is Employee Engagement?
Employee engagement is the strength of the mental and emotional connection employees feel toward their workplace.
Highly engaged employees are more likely to...
be top performers and stronger team players
proactively participate and look for creative ways to improve processes
intend to stay with the organization longer
promote your organization as a great place to work
There are three areas in which employees can develop connections and feel engaged:
Organization: Are you employees proud to work here? Would they like to stay with your company long-term?
Team: Do your employees feel accepted by their immediate coworkers? Are team-members willing to go above and beyond to achieve goals?
Work: Are your employees inspired or motivated by the work they do?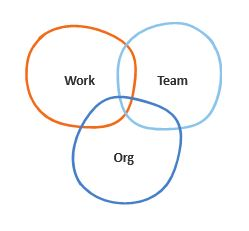 How can I enhance those connections for my employees?
Look to your organization's top drivers of engagement in the reporting site and explore ways you can improve those items. These items are highly connected to key outcomes of engagement and can have the highest impact on your team.

Keep those engagement drivers front of mind while driving into your reports - they are marked by a white star in a grey box: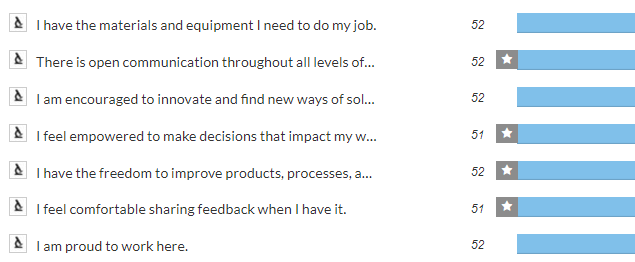 How are Your Engagement Drivers calculated?
Quantum Workplace calculates the top drivers of engagement (using a correlation analysis) for each organization that surveys with us.
This means that the list of drivers you see on the overview report are UNIQUE to your organization.
We have identified these items as top opportunities for your company to focus on.
Part 3: Reporting Tools
Every organization we partner with decides which report(s) to enable for their organization, so don't worry if a report that's listed below is not available to you.
Reports
Want to learn more about one report specifically? Check out our articles below. Each article contains a brief video, a short overview, and in-depth walk-through of the report functionality.
FAQs