IN THIS ARTICLE:
Overview
How to Access Analytics
Understanding Your Reports
Overview
If enabled by an Administrator, Manager Analytics provides any employee with direct reports access to reporting for a specific Pulse cycle (or a Feedback or 1-on-1 cycle) for their downline only. To enable Manager Analytics, an Admin must select the "Allow managers to access analytics for their hierarchy" checkbox on the cycle set-up screen. Admins can enable Manager Analytics even after a cycle has launched. For confidential surveys, managers must have a sufficient number of employees in their downline respond to the survey in order to view results.
How to Access Analytics
Managers can find Pulse Analytics by selecting Analytics in the bar at the top of the screen (just below the main navigation bar) or from the drop-down menu in the top right corner. From the Analytics landing page, click Surveys & Pulses.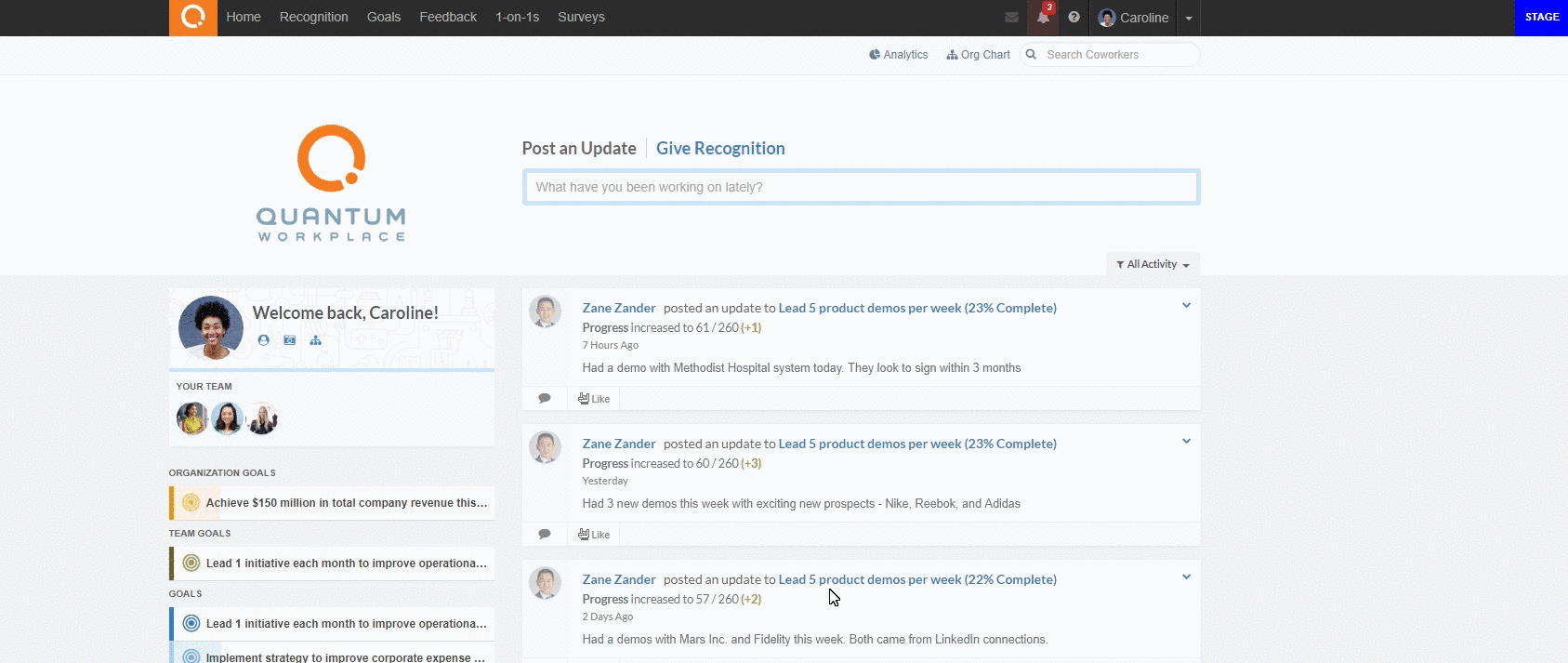 Click into Analytics for a given survey to view reporting. The analytics button will only be available if you have been given visibility into that survey.

Understanding your Reports
The top of your home page shows key details for the survey, such as a list of employees in your down line who were invited to take the survey, whether the survey was confidential or attributed, and the minimum response needed to reveal results for confidential surveys. The data are organized by reports; you can click into any report to view more.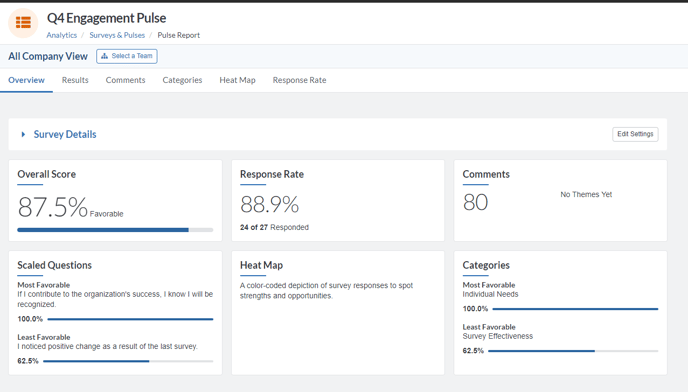 Responses by Question Type
The Responses by Question Type report, also accessible via the Charts tab, displays all data for scaled, multi-choice, and NPS questions, grouped by question type.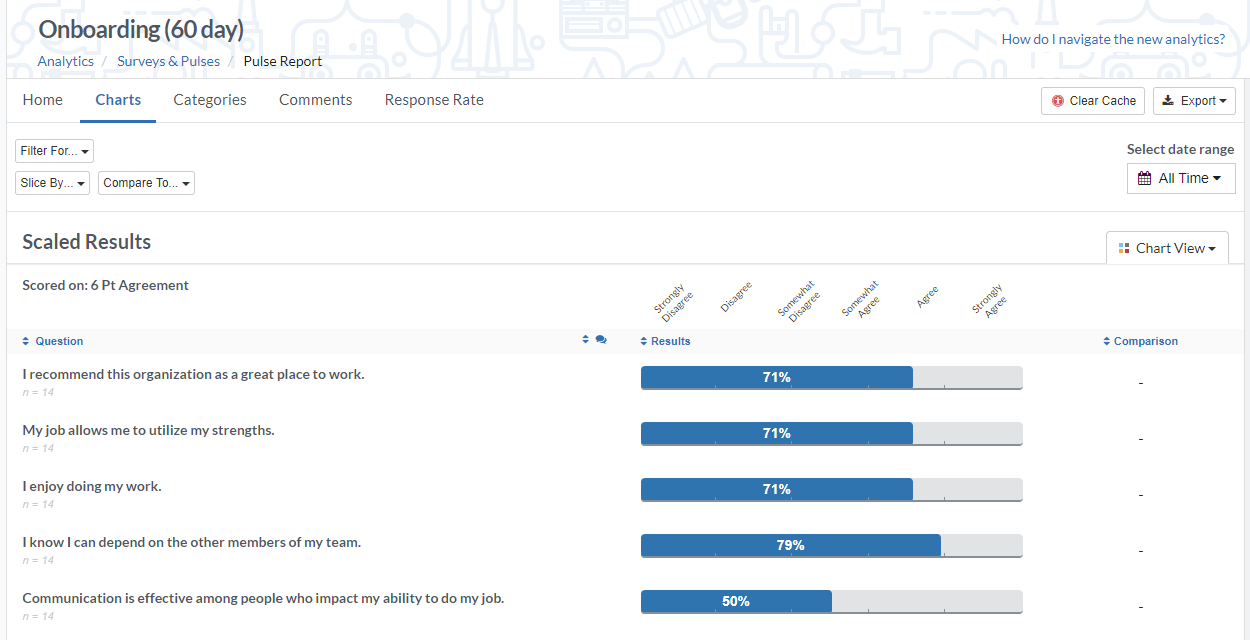 Compare To
If one or more questions on the survey have been asked in a previous survey, the Compare To button provides a comparison between historical and current results. From the Compare To drop down, select a cycle (survey) to compare to; for every question that was included in that earlier cycle, a pin will appear to represent that prior score. The delta will appear on the right side under Comparison.
Filter For... and Slice By...
Depending on how large your down line is and which demographics are visible to you, you may be able to slice and filter your data by different demographic values. Click Slice By... [Demographic] to break down scores by your selected demographic. For example, clicking Slice By... Department will show you an aggregate score for each department represented in your down line.
Use Filter For... to narrow your view down to particular group(s) within a demographic.Clicking Filter For... Sales will show you data for the Sales department only.

For confidential surveys, you will see Insufficient Results for any slice or filter you apply for which the minimum response threshold is not met.

Comments

If your direct reports left any text responses on the survey (whether in response to open-ended questions or within comment boxes), these will be visible via the Comments report. Some comments may have been tagged with a particular theme; these themes can only be removed by an Admin. If you click into any theme tag, you will be able to see all comments left by your down line reports that are tagged with that theme.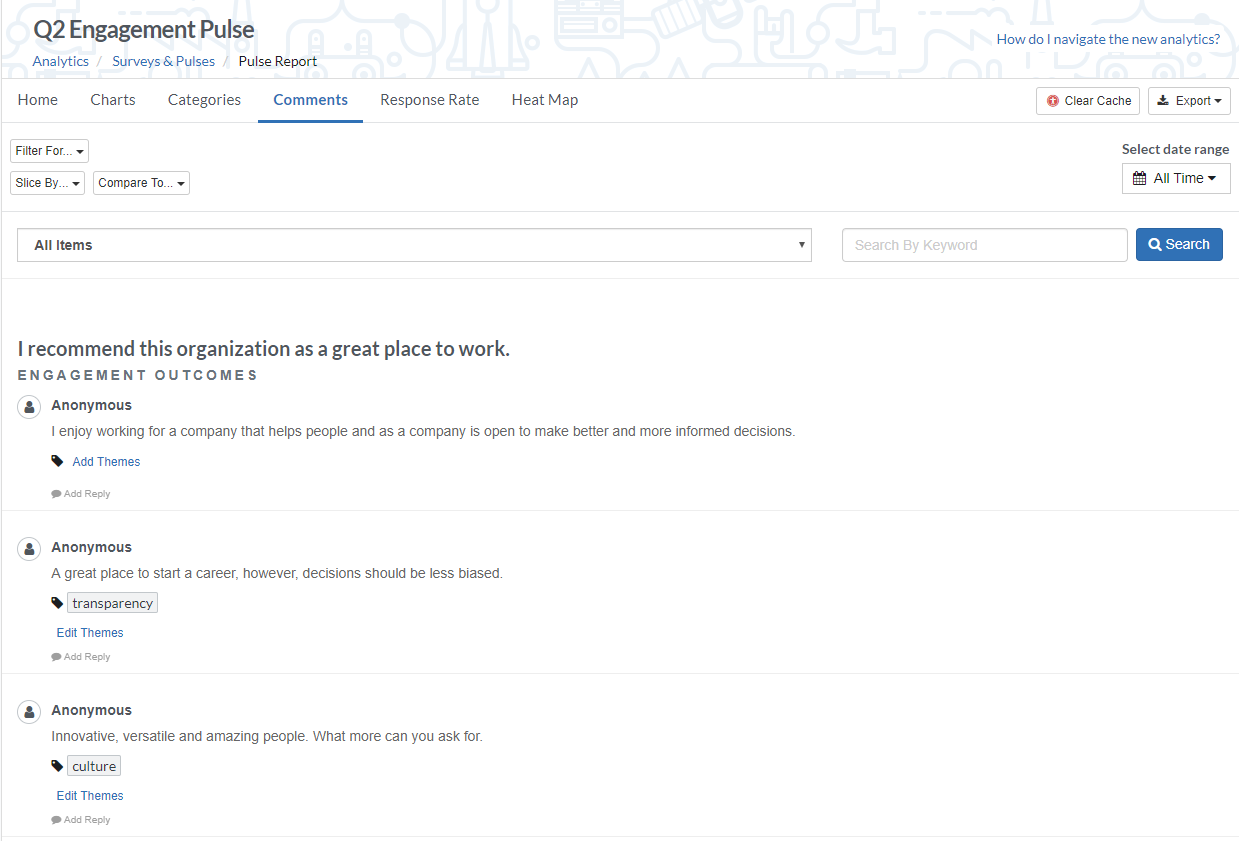 Heat Map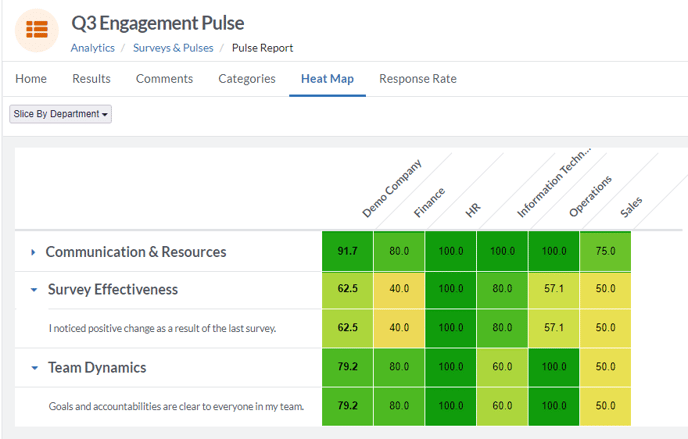 The heat map report provides a visual representation of how different groups within a demographic (e.g., department) responded to scaled agreement items and categories on the survey. Visually, the scores will be color coded from yellow to dark green, with yellow representing low scores and dark green representing high scores. When you first open the heat map, you'll be prompted to select a slice to begin.
By default you will see a breakout by Category; click the drop down arrow to view which items comprise a particular category.