Use Keyword Detection to filter and analyze survey comments for specific keywords and phrases.
In this article:
Overview
Keyword Detection allows you to quickly organize and view survey comments based on keywords or phrases important to your analysis, especially useful comments that are time-sensitive.
Keyword Detection also allows you to quickly identify keywords that are sensitive or require follow-up action.
Access Keyword Detection
To access the Keyword Detection page:
Click and expand Analytics in the left-hand navigation menu
Click Keyword Detection
Navigate Keyword Detection
To use and navigate Keyword Detection: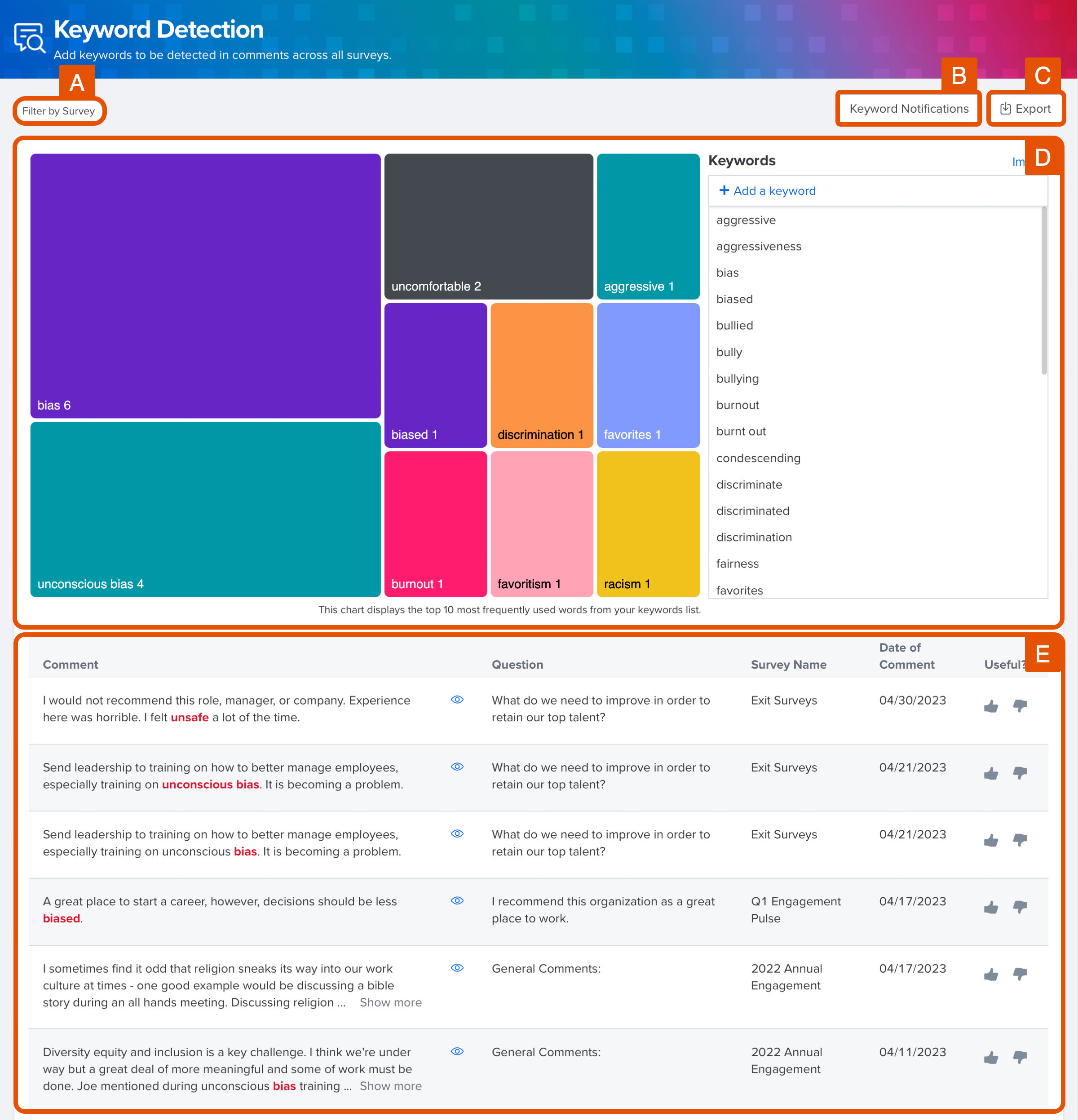 A. Filter by Survey: Click Filter by Survey to display comments for the selected survey
B. Keyword Notifications: If enabled, an email or in-app notification is delivered to the admin(s) of your choice, learn more
C. Export: Click to export a .xlsx version of the Keyword Detection data

Active filters and keyword selection are applied to the exported data

D. Popular Keywords & List: Click a keyword from the list to view the relevant comments in the list below, in Figure E


On the left, a maximum of the ten most popular keywords in the list are each represented by a colored tile with size correlated to keyword usage
On the right, a list of previously searched keywords and where keywords can be added and managed
Click Import to upload a CSV file with new keywords to track for your organization

E. Comments: A list of comments with the selected keyword highlighted and displaying their question and survey origin

Click the eye icon to view the comment in the survey's Comments Report
Use the thumbs-up & thumbs-down icons to improve Quantum Workplace's comment suggestions
Add & Edit Keywords
To add and edit keywords in Keyword Detection: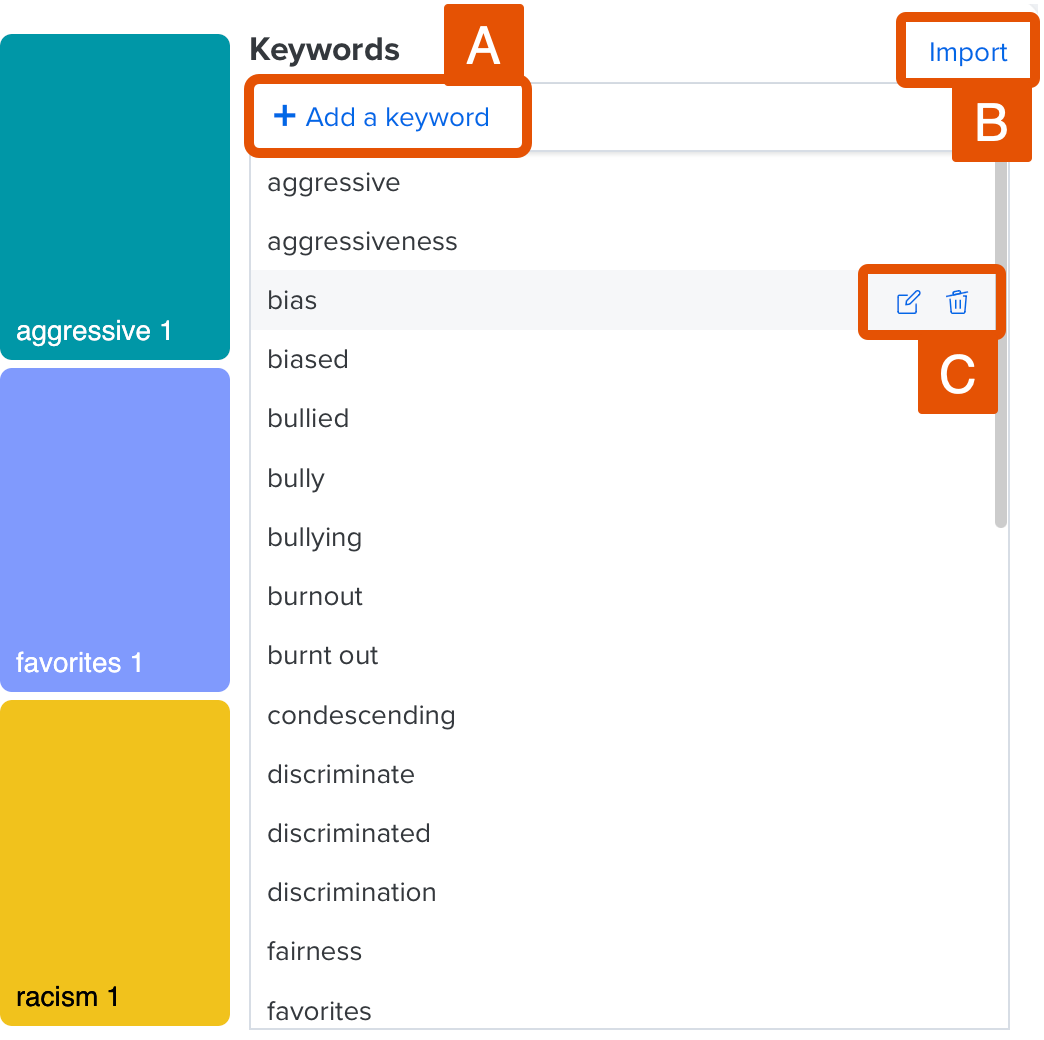 A. Add Keyword: Click + Add a keyword and enter the keyword, click Save to add the keyword
B. Import: Click Import to upload a CSV file with new keywords to track for your organization
C. Edit/Delete Keyword: Hover over a keyword to reveal the Edit and Delete icon

Click the Edit icon to update the keyword
Click the Trash/Delete icon to remove the keyword
Keyword Detection Notifications
To configure Keyword Detection notifications: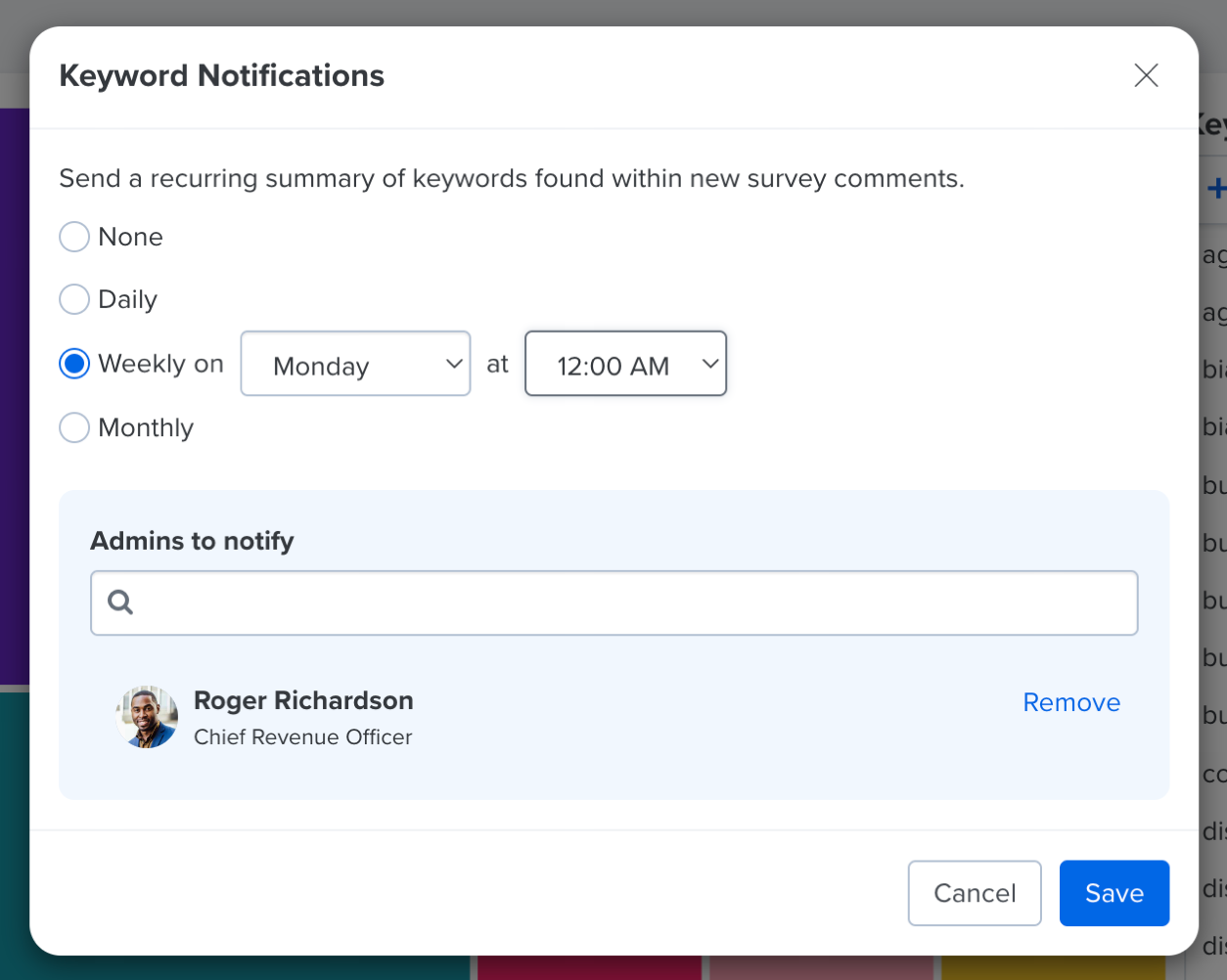 Click Keyword Notifications to open the notification modal
Specify if notifications should occur on a regular basis:

Daily, at the specified time of day
Weekly, on a specified time and day
Monthly, on the 1st or 15th of the month at a specified time

Specify the admin(s) who should receive the notifications

Click Remove for a corresponding admin to remove their access to notifications

Click Save
Opt-Out of Notifications
Admins assigned to receive keyword notifications can opt out of future notifications via the email notification.
As the admin who receives notifications, to opt out: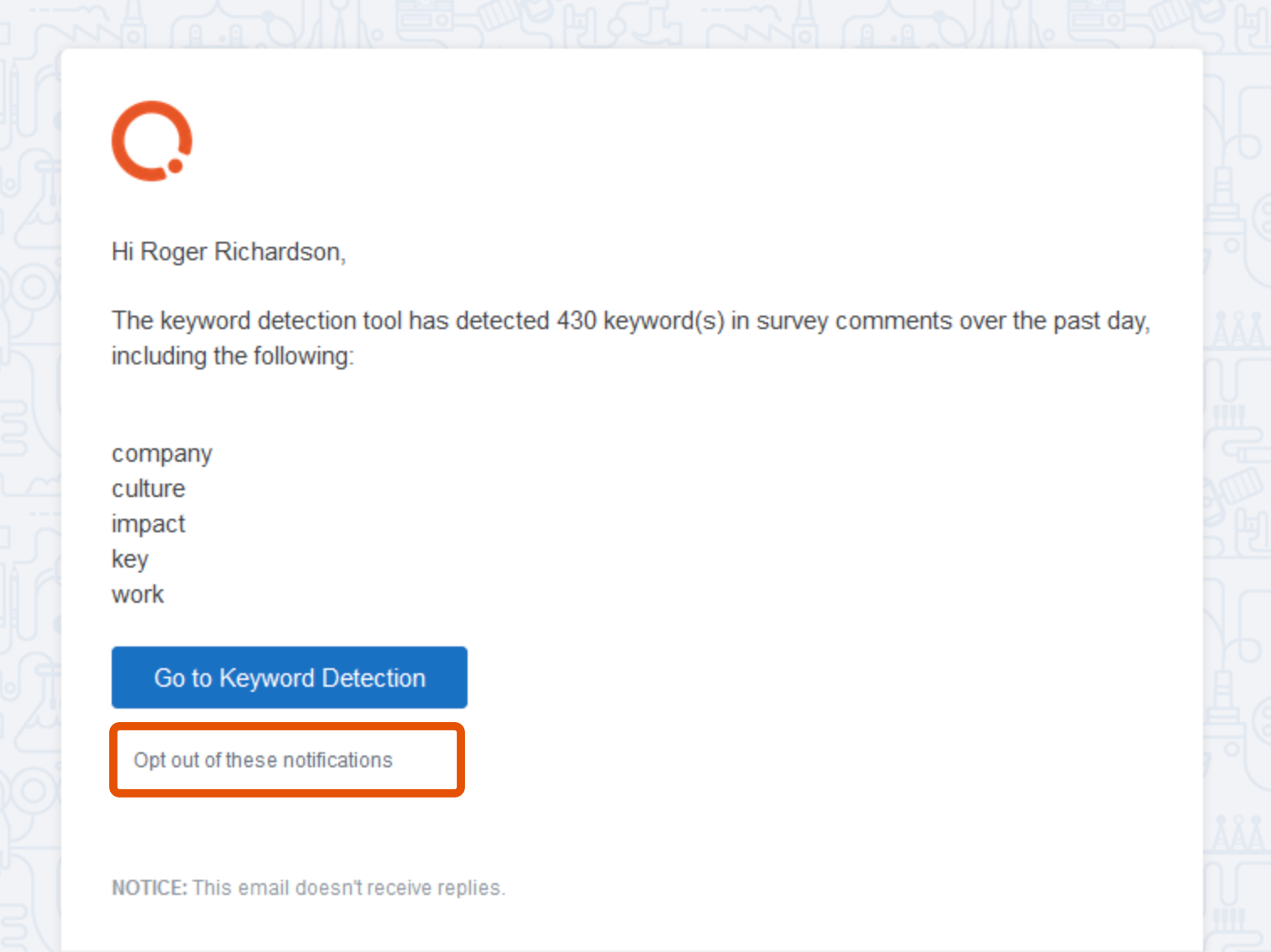 In the email notification, click Opt out of these notifications
When successful, the admin is navigated to a confirmation page
To reassign an admin to receive Keyword Detection notifications once again- enter their name in the Keyword Notifications modal.