Introducing the Refreshed Goals Design
Goals are getting a makeover! We are excited to unveil a more modern look and feel to Goals based on feedback shared by our users. The refreshed design features a more modular layout that makes creating and viewing goals more intuitive.
When you first access your goals in Quantum Workplace, you will now see both your draft and in-progress (open) goals on the page, eliminating the need to switch between viewing draft and in-progress goals.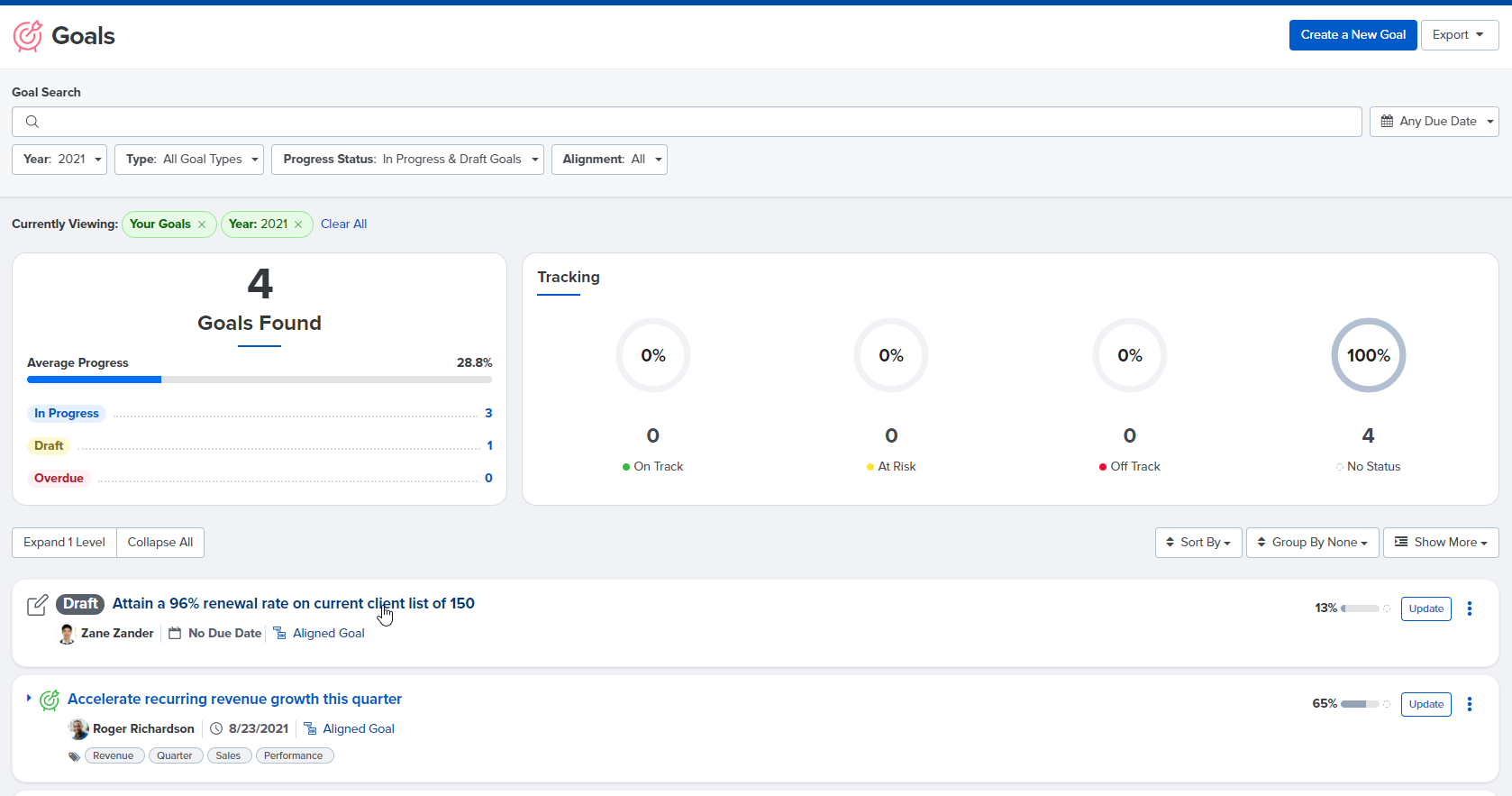 When you click on a goal to view the goal detail page, you will see new, key details about your current progress on the goal, including the number of days remaining until the goal's due date and when the goal was last updated.





Searching for goals is also easier than ever-- simply type in the name of a coworker, a keyword associated with the goal, or a Goal tag into the Goals Search to find the goal you're looking for.

You can read more about the refreshed Goals design here. Thank you to everyone who took time to provide their input on how Goals could be improved from within their Quantum Workplace accounts!
One Mind Mental Health Survey


All Survey customers in Quantum Workplace now have access to a new mental health survey created in partnership with One Mind, a leading mental health and brain research non-profit. The One Mind Mental Health survey is designed to assess employee perceptions on mental health resources and support in their organization. By understanding how employees perceive their organization's current offerings and their manager's support of their mental health, organizations can gain clarity on how best to invest their time and resources to support their employees' mental health.

You can view and launch the mental health survey from within Surveys & Pulses Administration.


Noteworthy

Timestamps Indicate when Feedback was Requested

When employees request feedback from their colleagues, the feedback request is titled with the date that the feedback request was sent by default. Previously, if an employee decided to title their feedback request with something other than the date, there was no indication of when the request was sent out. To provide this context, the Feedback Inbox now displays a timestamp in every row to indicate when that Feedback was initiated. This will include Feedback from Admin-initiated cycles as well as feedback received via Request Feedback and Give Feedback.



View Your Recurring 1-on-1s at a Glance

If you're managing a team, you likely have multiple recurring 1-on-1s scheduled per month. To make it easier to track your availability, the Add Date and Time window will now display your recurring 1-on-1s whenever you schedule a new 1-on-1. In addition, the calendar selector will indicate every day of the month that you currently have a meeting scheduled. By clicking any date on the calendar, you will see exactly which colleagues you are scheduled to meet on that day.
Fixed:


Your Templates in Feedback and 1-on-1 Templates:
We fixed a bug related to 1-on-1 and Feedback templates in which templates that were saved as a draft did not appear in the Your Templates section.