🕑 5 min read
🚀Featured
Mobile App Now Available!
Use the Quantum Workplace app to stay up-to-date on recognition happening in your workplace. You can even post recognition for your colleagues right from the app.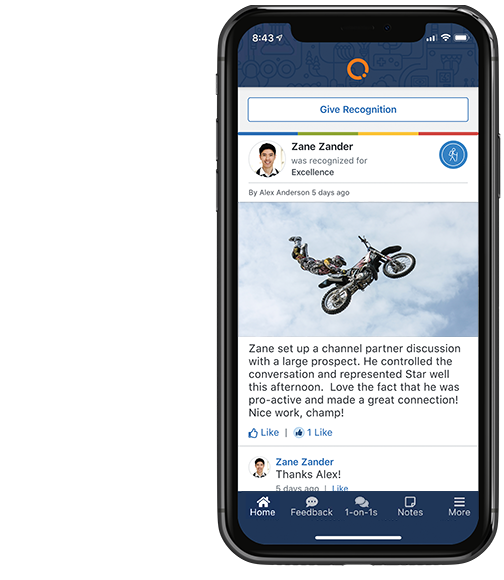 Use convenient shortcut features to give or request feedback in the moment and capture private notes that automatically sync with your Quantum Workplace account for later reference.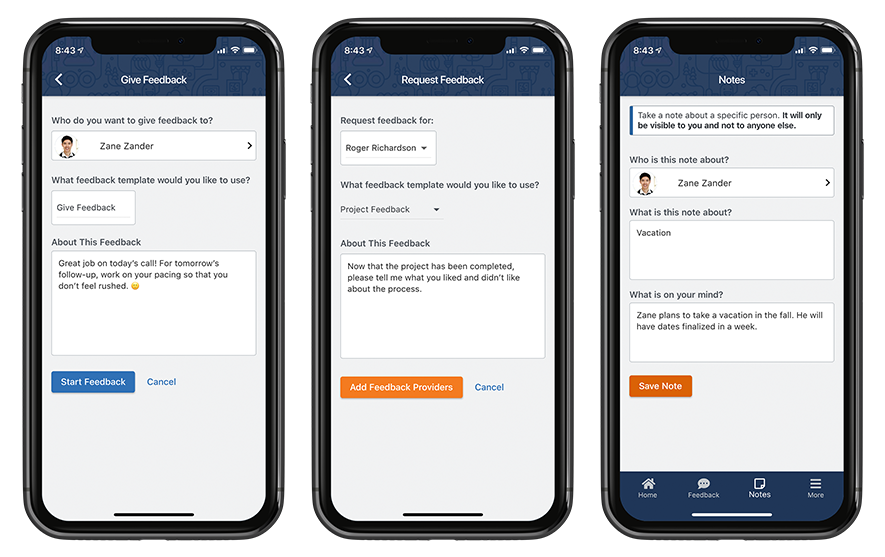 Download on the App Stores
Find the Quantum Workplace app on both the Google Play Store and the iOS App Store.
Goal Conversation Booster
The Goal Conversation Booster is a 1-on-1 enhancement to help managers and employees get a shared understanding of an employee's progress on a goal at a glance. It encourages a dialogue that makes it easy for both parties to keep track of action items to drive goal progress forward. That way they can follow-up in their next 1-on-1.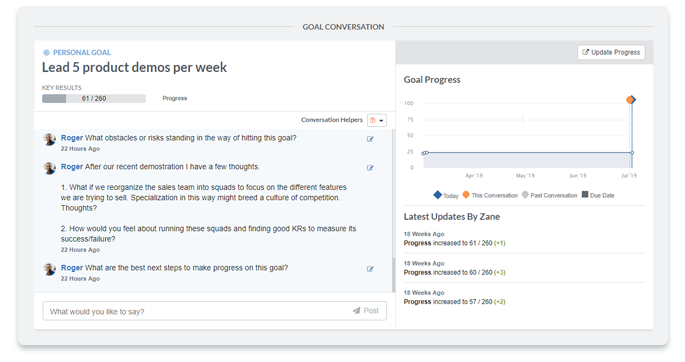 The Goal Conversation Booster can support your goal planning and review process by making it easier than ever to have...
Quarterly goal progress check-ins
Goal setting conversations
Informal goal check-ins between managers and employees
Keep goals top-of-mind in 1-on-1 conversations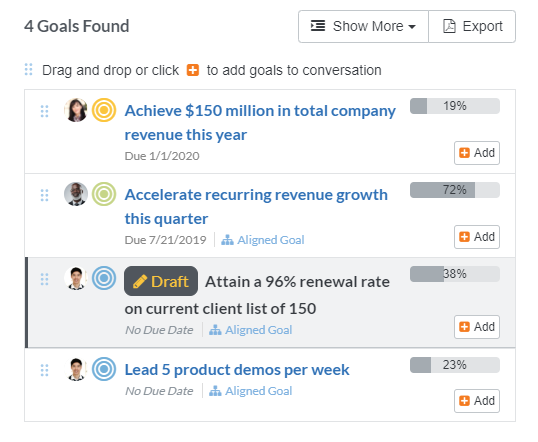 The Goal Conversation Booster encourage managers and employees to drag and drop the employee's goals or draft goals into their 1-on-1 agenda for easy progress review and action planning.
Understand goal progress at a glance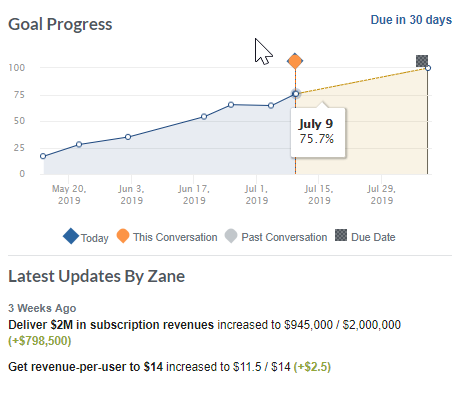 The Goal Conversation Booster allows managers and employees to quickly make sense of their goal progress. Over time, they can see how their conversations are having an impact on goals.
Empower managers to facilitate thoughtful goal discussions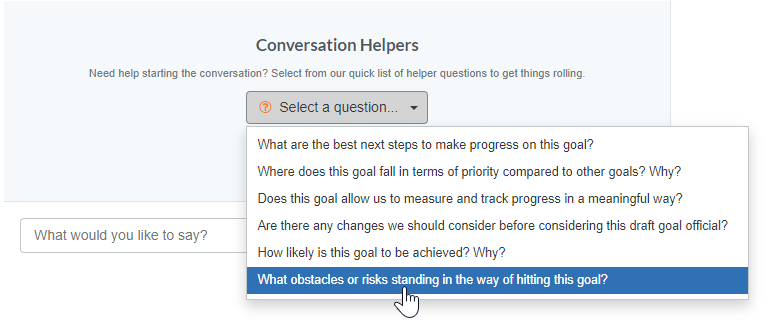 Conversation Helpers prompt managers with suggested questions to ignite meaningful discussion around goals and goal progress.
Make accountability AWESOME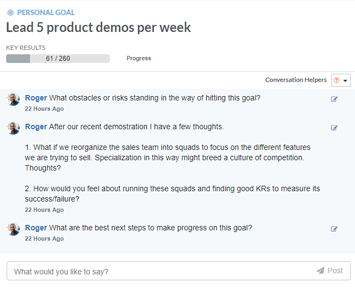 The Goal Conversation Booster allows managers and employees to keep track of action items and discussion points from one conversation to the next, turning follow up into follow through.
Learn more about the Goal Conversation Booster.
📝Noteworthy
Vitals now features coaching for managers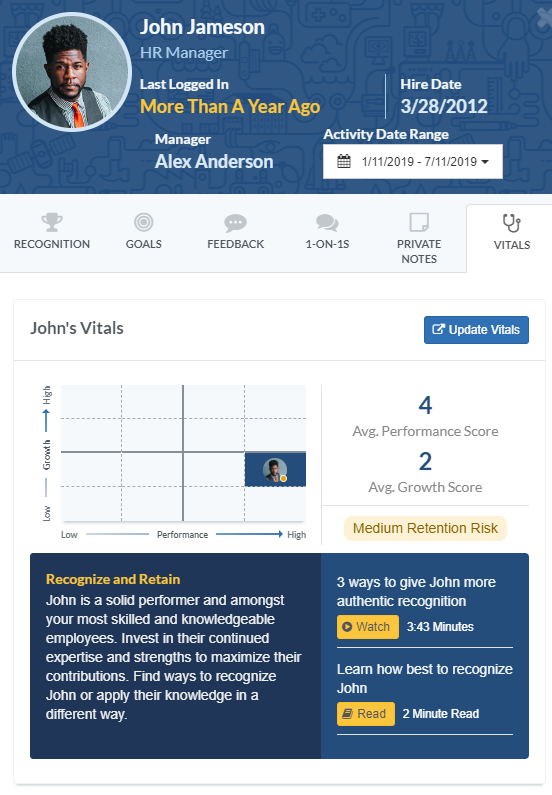 Vitals now injects coaching for managers directly into each employee's Snapshot to help them take appropriate action to develop and retain talent.
🛠Fixed
Bulk Select a Filtered List of 1-on-1 Participants
In our last release, we introduced a way for admins to search by facilitator so that they could swap that facilitator with a new one. However, if you tried to select those 1-on-1s with the 'select all' checkbox, it would select every 1-on-1 in the cycle and not just the 1-on-1s you filtered for. With this fix, you don't have to select each conversation manually. Go ahead and click that 'select all' checkbox with confidence!
We squashed a 1-on-1 bug facilitator bug
There was an edge case where some facilitators were being assigned to 1-on-1s who didn't have permission to use 1-on-1s. When we fixed that, we also introduced a subtle bug that prevented employees without managers from getting a facilitator. In certain situations, this meant that some top-of-the-org employees didn't get a facilitator assigned without a workaround. A bug's life: short and pesky
No way to preview the unique questions for a feedback group? Look again!
When managers go to the page to select peer feedback providers on behalf of their direct reports, there's a link that shows the list of questions being asked. Of course, what they wanted was a way to preview the questions for the peer to answer. What they got was a list of questions for managers. Someone told us they didn't think this made sense. After thinking about it for 50 milliseconds we agreed.