🚀Featured
Question Text Formatting (BETA)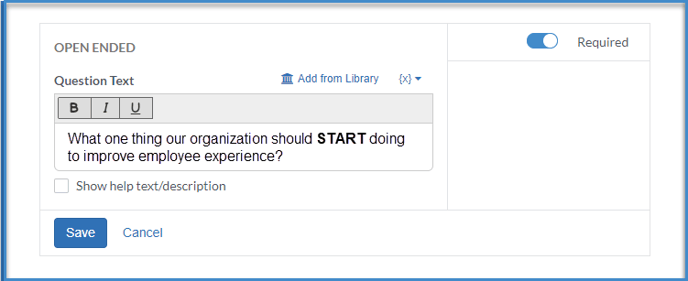 Have you ever thought to yourself, I wish I could bold that question text without using HTML? Great news! Our new BETA question text formatting will allow you to easily customize questions within your Pulse, Feedback, and 1-on-1 templates. You'll be able to bold, italicize or underline text with a click of the mouse. You'll also be able to add hyperlinks to the help text within your questions, making it easier for your survey takers to reference any key materials.
Contact your Customer Success Manager to become a BETA user of our new question text formatting options.
More Configuration Options for the Goal Conversation Booster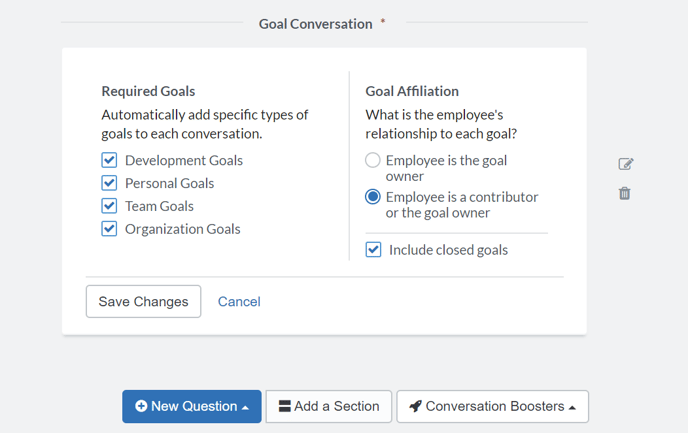 As an Administrator, you now have more control over how the Goal Conversation Booster is utilized in your organization. You can now configure the Booster to pull in all goals for which the employee is either a contributor or an owner, as opposed to only pulling in goals that the employee owns outright. You can also set the Booster to pull in closed goals in addition to open ones to better facilitate conversations about what employees have accomplished recently.
📝Noteworthy
Brandable Survey-Taker Experience (ALPHA)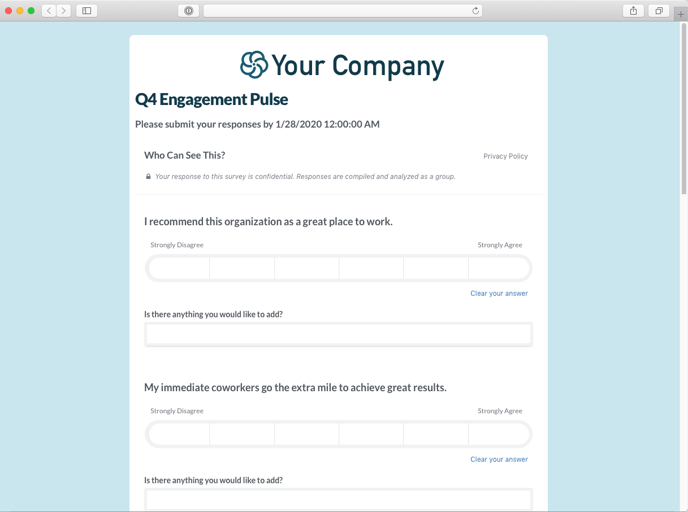 You can now add your logo and a background color to your Pulse Surveys and Feedback prompts using CSS. This capability is in ALPHA, so please contact your Customer Success Manager for assistance if you'd like to add your logo or a color to your survey-taker experience.
Turnover Rate Enhancements

At the end of last year we introduced our new Turnover Rate feature to help you keep an eye on turnover throughout your organization. Turnover Rate provides data on turnover throughout your organization (e.g. by department and location) as well as your organization's turnover each quarter. Now Turnover Rate also provides the names and demographic information of your recently terminated employees.

Turnover Rate is automatically enabled for all Platform and Experience customers who have an HRIS integration, but depending on when your HRIS integration was established, you may need to update your employee information to ensure data accuracy.
⌚ Coming Soon: Automated Comment Theming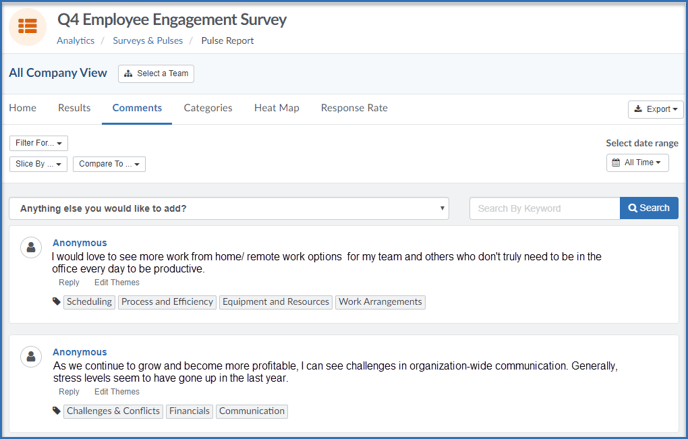 Update: Automated Comment Theming for Pulse Survey is live as of 2/6/2020.
We're excited to announce that in the near future we will enable Automated Comment Theming for Pulse Surveys! Once this feature is released, all comments that are left on new Pulse Surveys will be automatically themed by our next generation theming engine (a machine learning tool) .
⌚ Coming Soon: Smart Boosters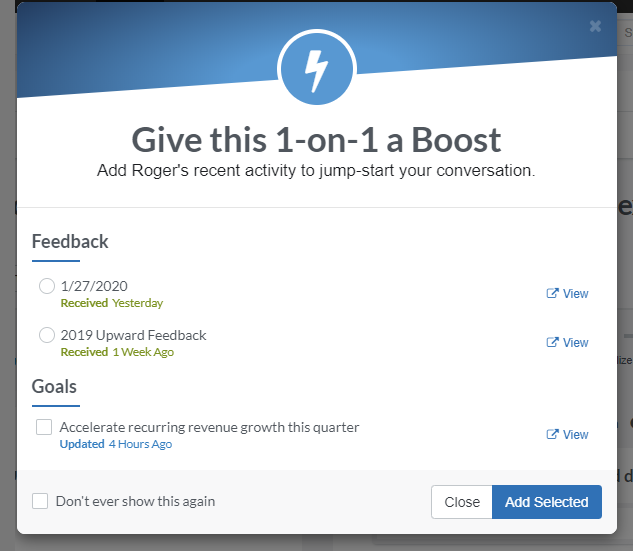 Update: the Smart Booster is live as of 1/28/2020.

We know that employees perform at their best when they're actively discussing performance with their manager, which is why we introduced the Feedback and Goals Conversation Boosters that provide employees and managers with an easy way to discuss recent developments within their 1-on-1. Smart Boosters, which are accessible within any 1-on-1, display the employee's recent Goals and Feedback activity. Either the manager or the employee can select any recent goals or feedback to discuss in the 1-on-1.

Managers will be able to add the Smart Booster via the Conversation Booster button in the bottom left corner. You can learn more about the Smart Booster here.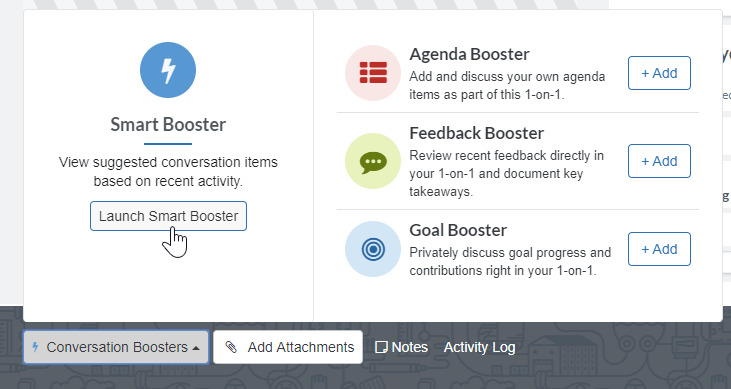 🔨 Fixed
Feedback: We fixed an error that prevented Feedback providers outside of your organization (e.g. customers) from receiving nudge emails encouraging them to provide Feedback. 📧📬
Give Feedback: Earlier this month, we introduced the ability to add a title to their ad hoc feedback (e.g., any feedback created using the Give Feedback and Request Feedback buttons). Now users also have the option of editing any title they add via Give Feedback or Request Feedback at a later date, too. 📣💥