With the introduction of Automated Insights, powered by our new Insights Engine, "Highlights" has been renamed to "Insights." Quantum Workplace automatically delivers tailored Insights for your surveys, and you can still add your own to further tailor areas of interest unique to your needs.
In this Article:
What are Insights?


Insights allow you to save specific items on a survey to revisit later or call to a colleague's attention.
Insights can be created for survey items with or without any slices, filters, or comparisons, and can be added to scaled, multi-choice, NPS, and rank items.
For example, if you notice a significant disparity in how different departments responded to a survey item, you can apply the department slice to the item and save it to call to your colleague's attention.
You also have the option to add a comment to any Insight you create for context, visible to yourself and your colleagues. Once you've added an Insight, anyone who has visibility to that survey data can see that you've saved that data point and read any context that is provided+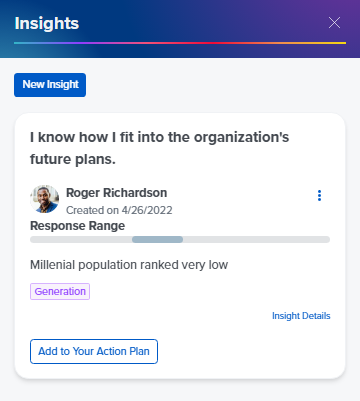 All Insights that you add will be saved to the Insights tab so that you and your colleagues can view the data point associated with them at any time. To view the data points associated with any Insight (which includes the survey item and any saved slice or filter), click View Insight.
What are Automated Insights?
Our new Insights Engine delivers tailored Insights for your surveys. Using a proprietary algorithm, potential areas of interest are delivered for company-wide results, as well as manager-level results, to drive focus and uncover areas of strengths and opportunities.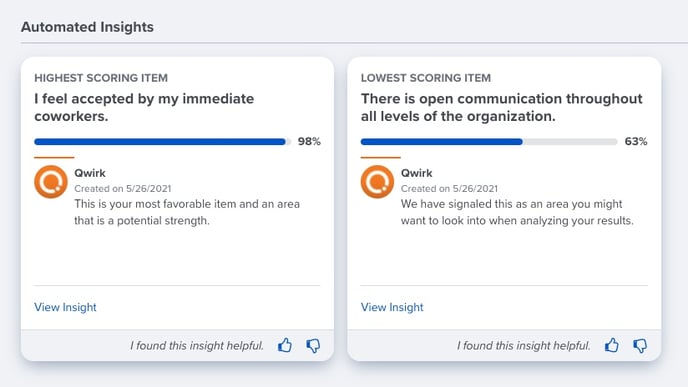 Who Can Create Insights?
Admins and managers who have analytics enabled for a particular survey can add Insights. Insights will be attributed to the person who created them, each Insight includes the name and avatar of the person who added it.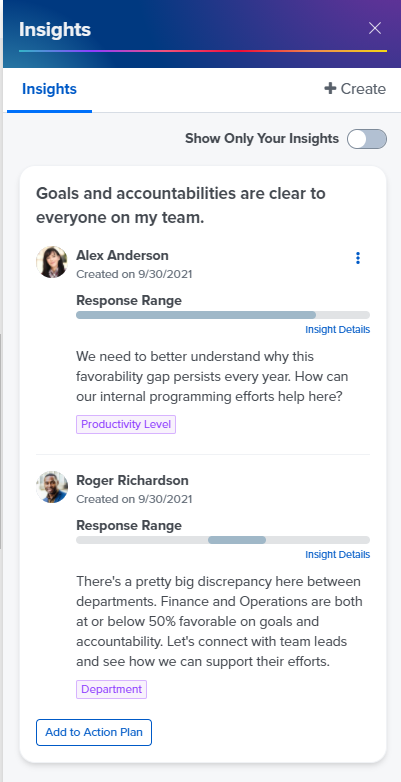 Who Can View Insights?
The purpose of Insights is to get teams on the same page about which data points to focus on. Because of that, Insights are not private to you- they are visible to your colleagues.
Top-Level Admins can view all Insights, regardless of who created them.
Insights authors can always see their created Insights on a survey item.
Managers' visibility into Insights is based on their position in the manager hierarchy. That is, managers can see all Insights that were created by anyone in their downline.

Managers cannot see Insights created by their upline managers or an Admin unless that Insight is created on their team's, or a downline team's, data. Meaning, that managers are only able to see Insights made by Admins if the Admin has created an Insight downline from the manager's team's data, using the Team Select button.

Custom Org Trees display Insights for teams. These Insights are accessible by those assigned to the team, in addition to Admins and users given All Respondent assignments. This streamlines automated insights and delivers actionable, focused insights.
How to View Insights
Automated Insights
When a team is selected via the Select a Team button, users can only see Automated Insights for the selected team. Insights for demographics may or may not be shown depending on whether the user has access to a demographic.

Manual Insights
Users can create an Insight on any team, with any demographic as long as they're granted access to the demographic in question.
Users can always see manual Insights that they've created, regardless of which team they have selected. Users can also see manual Insights created by others in different teams as long as the selected team is in the user's own downline.
Users with limited upline access cannot see Insights manually created by others in an upline team.
How to Edit or Delete Insights
Users can edit or delete their own Insights, e.g. Insights they created themselves. To edit your Insight's text, click the ⋮ icon and edit your comment's text and click Save Changes.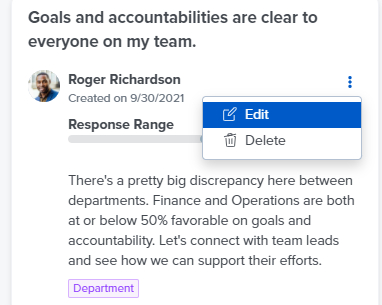 Once you have edited your Insight's text, you will see a date of the most recent edit.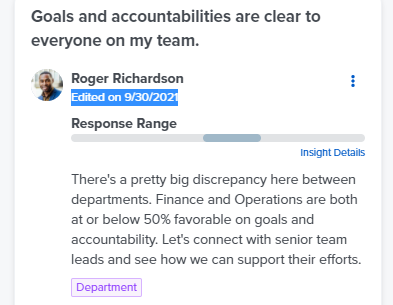 To delete your Insight, click the ⋮ icon on the Insight, followed Delete.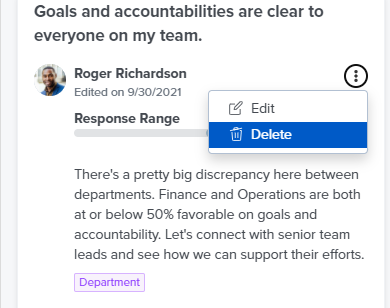 Then, click Delete Insight.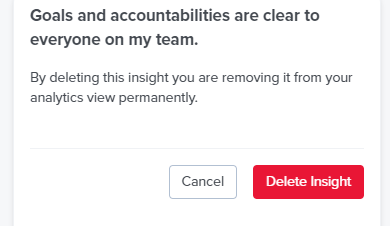 What Data can be used to Create an Insight?
Currently, any data visible from the Results tab can be used to create an Insight. This means that you can create an Insight about any scaled, NPS, multi-choice, or rank item. Data located on the other tabs cannot be used to create an Insight at this time.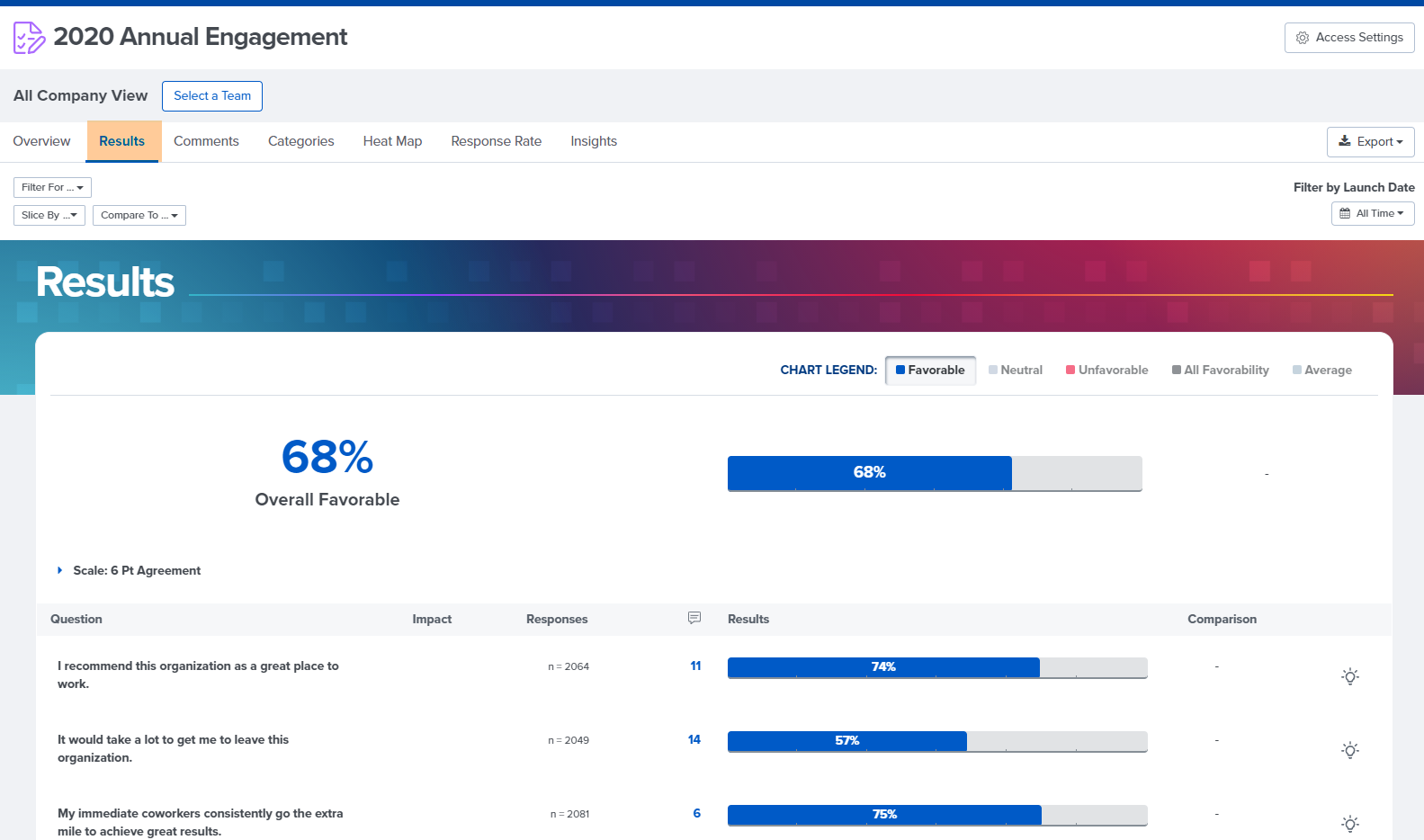 Within the Results tab, you can apply a comparison (e.g. a benchmark), slice, filter, or any combination of these, and then select a specific survey item with those comparisons/slices/filters applied to create an Insight.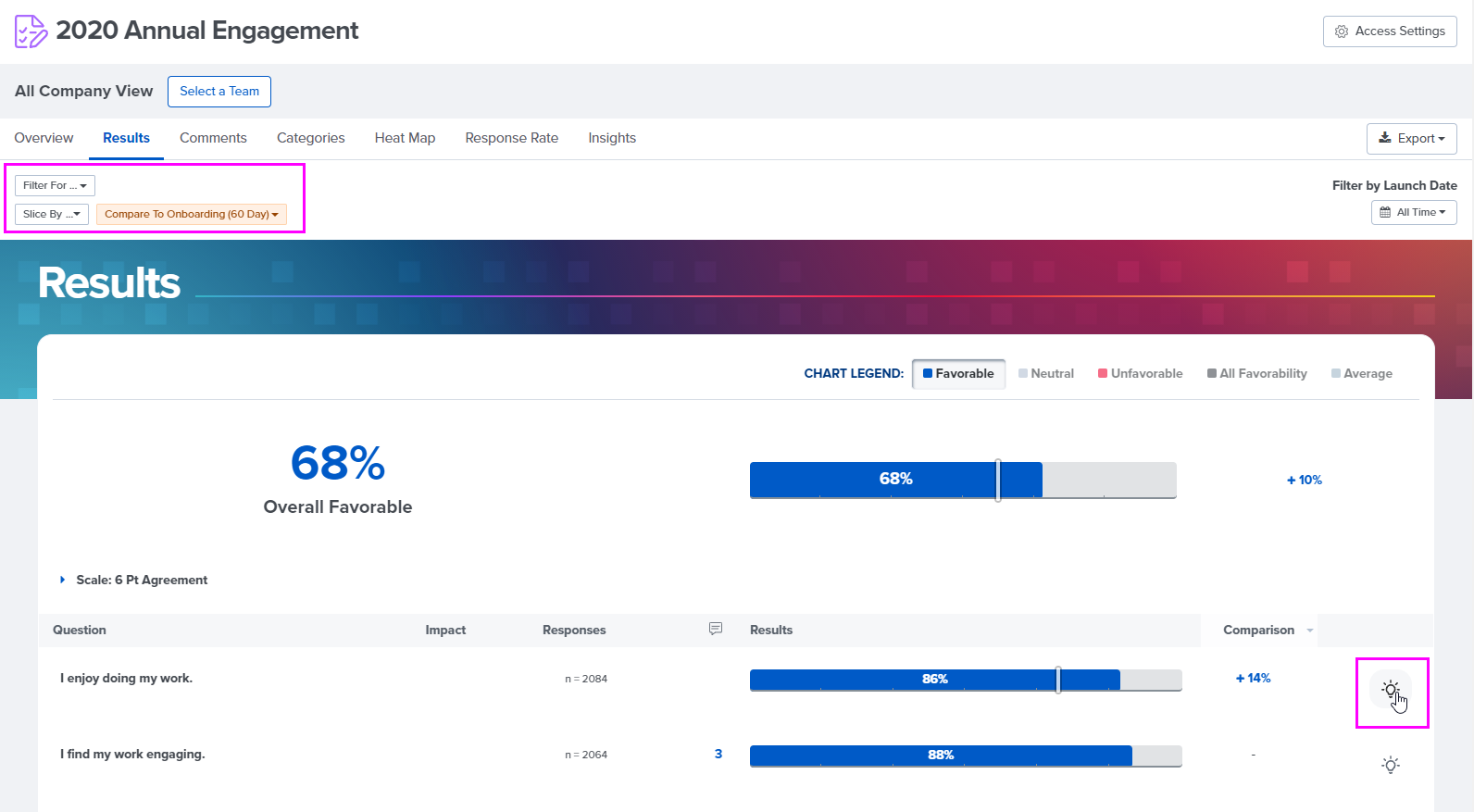 Alternatively, you can create an Insight for any survey item from the Results tab without adding a slice, filter, or comparison. You can also add multiple Insights for a single survey item (i.e., you can save the same survey item multiple times with different slices and filters applied.)