As an admin, create goal templates and bulk goals to easily assign a goal to multiple employees in your organization.
In this article:
Overview
As an admin, create goal templates and bulk goals to easily assign a goal to multiple employees in your organization. This is especially useful if an identical goal is being sent out to a number of your employees.
Create a Goal Template
Goals assigned to multiple employees first require a goal template. If you have an existing bulk goal template you want to use, you can skip this section and learn how to create a bulk goal.
To create a goal template, begin by navigating to Goals under Administration in the left-hand navigation menu. Click the Create Bulk Goals card on the Goals page.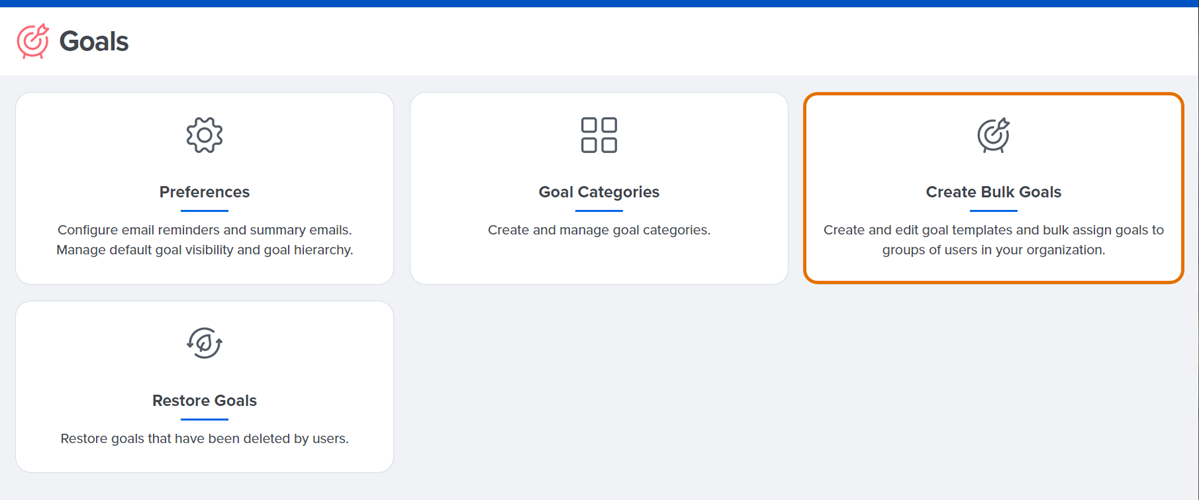 If there are no existing bulk goal templates, you must create one before proceeding.
Click Create a Goal Template to navigate to the template creation page.
Template Name: Give the template a name and check the Active Template box to enable/disable the template
Goal Name: Give the goal a name, typically this reflects the desired end result of the goal
Goal Type: Select whether this goal is a Developmental, Personal or a Team goal
Goal Privacy: Select whether this goal is Public or Restricted
Key Results: Enter the metric(s) and how they're measured, click New Key Result to add an additional Key Result to better track and organize your goal
Click Save Template to complete and save the goal template.
Create a New Bulk Goal
From Create Bulk Goals home page, you can edit existing templates or create new bulk goals for your organization.
To begin the bulk goal process, click New Bulk Goal.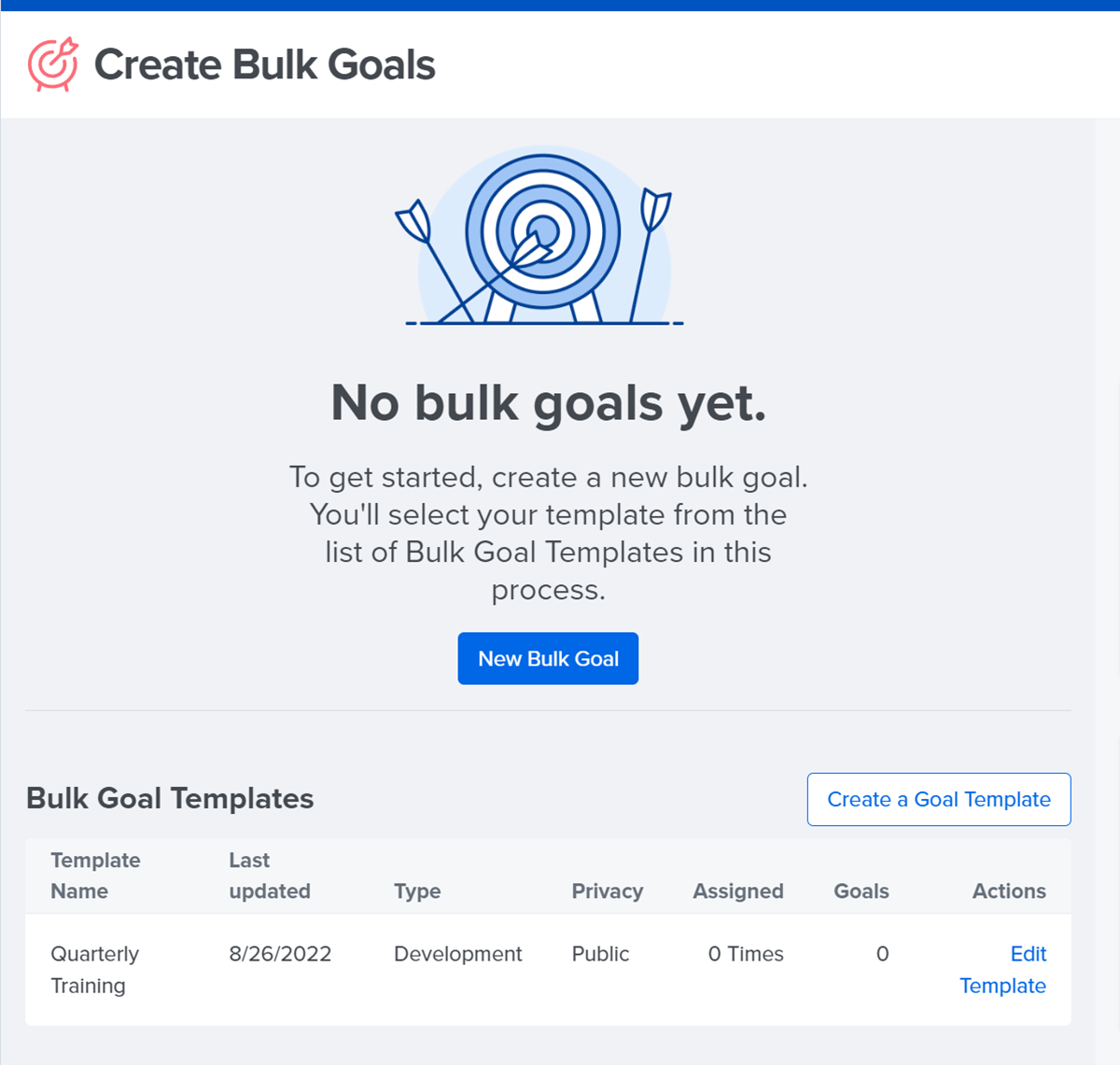 Select Goal Template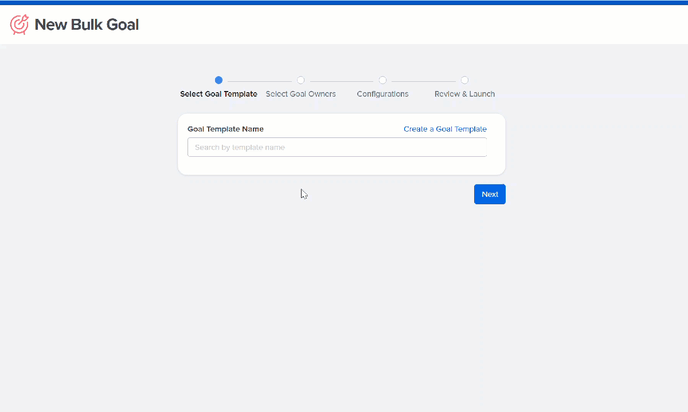 Select the goal template you wish to be assigned to employees at your organization.
Click the Goal Template Name field to reveal a list of existing templates, or type and search among your organization's templates. Select the appropriate template and click Next.
Select Goal Owners
Specify and assign goal owners on this page.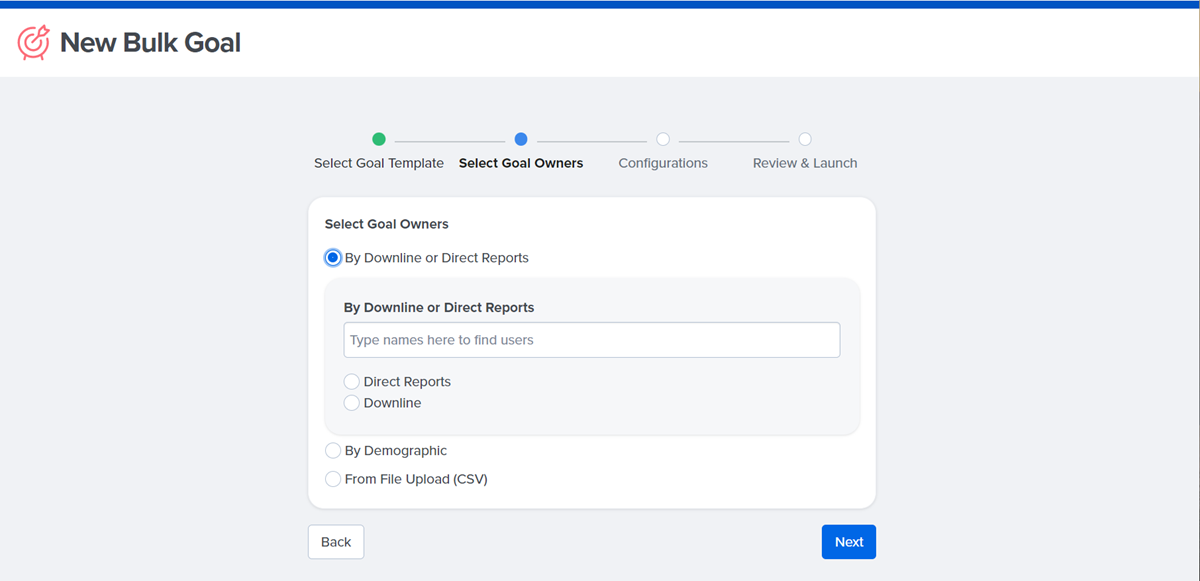 By Downline or Direct Reports:

Use the search bar to identify the user(s) and specify whether their direct reports or their downline will be added as goal owners

By Demographic:

Assign users of the selected demographic(s) as goal owners
Selecting a demographic creates a clickable link that identifies all users included under your current demographic selection

From File Upload (CSV):

Upload a file with EmployeeId for included users to be automatically validated
Click Requirements and Descriptions for CSV for more information on what's required
Click Next to proceed.
Configurations
Specify the time range and configurations for this goal.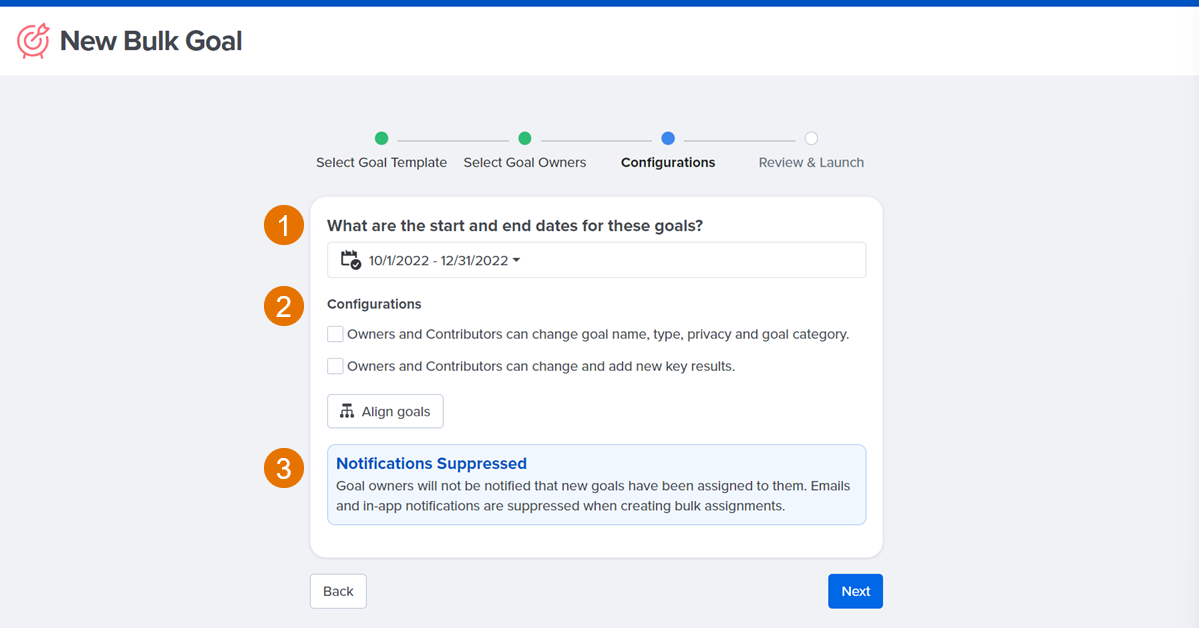 Start and End Dates: Select between quarterly or annual dates, or create a custom date range
Configurations: Optionally:

Check the boxes to grant owners and contributors certain abilities
Click Align Goals to align this goal with your organization's existing goals

Notifications Suppressed: Indicates that email and in-app notifications are not delivered when creating bulk goal assignments
Click Next to proceed.
Review & Launch
Verify and confirm that the details of your goal are accurate before launching.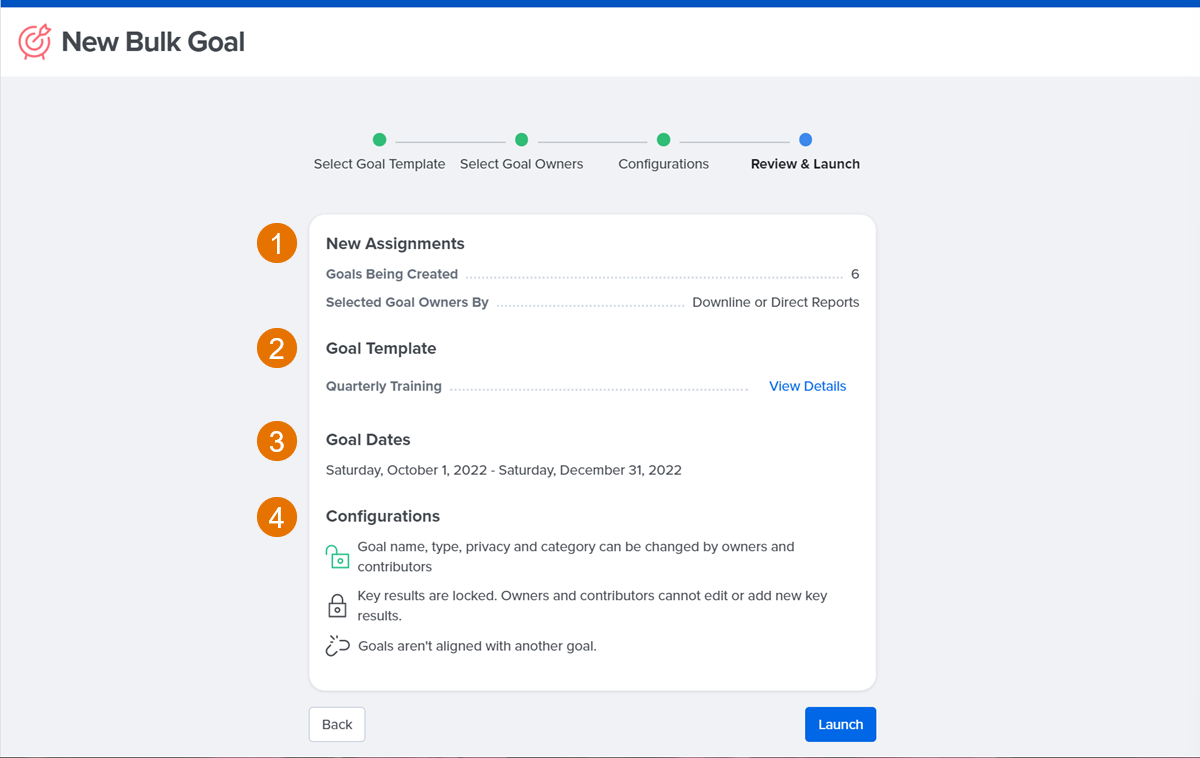 Some key details to review:
New Assignments: Goals Being Created represents the number of users being assigned to the bulk goal
Goal Template: Indicates the template being used, click View Details to see its key results, privacy, and type
Goal Dates: Displays the start and end dates for this goal
Configurations: Quickly review your configuration options from the previous page
Click Launch to publish the goal for all of the previously assigned goal owners.