In this article:
Overview
In this article, you'll learn the two ways to designate who should provide Feedback as part of a Feedback cycle.
As an admin, you will need to complete this step if you have designated that admins should select Feedback providers.
You can also choose to select feedback providers on behalf of your employees even if you have designated that employees are responsible for selecting their own feedback providers.
If you have set up your template such that feedback groups are automatically invited to provide feedback, you will not need to complete this step.
Learn more about the Feedback Cycle Setup.
Import Feedback Providers for an Existing Cycle
Admin users can import Feedback providers via a .csv file either before or after the Feedback cycle is officially open.
If you are using a template that automatically invites providers, you don't have to add providers who would otherwise, be invited automatically anyway.
Manually adding providers who will be automatically invited anyway can result in a failed import.
Learn more about the Feedback Cycle Setup.
To import Feedback Providers for an existing Feedback Cycle:
Navigate to the Feedback Cycle's setup via

Administration > Feedback

Click the Feedback Recipients step to expand the section
Click Import Feedback Providers to open the import modal


Click Download Participant File (Figure A) to download a CSV file with rows for each Feedback Recipient
In the CSV file, add a row for each Provider and enter their Feedback Groups, i.e. Manager, Peers, etc.

Refer to the listed Feedback Groups in the Segments In Use for eligible entries when entering Feedback Groups
If you have set up Feedback Groups for the cycle, Column C contains the wording you used to define a Feedback Group, if Feedback Groups were not set up, enter Feedback Provider in Column C

Update and save the CSV file
Use the upload window to update the file (Figure B)
Click Import
Add Feedback Providers from the Feedback Homepage
As an admin, Feedback Providers can be added from the Feedback home page for active cycles.
Requirements
During the cycle setup, if users were given the ability to select their own Providers, users can select Providers from the Feedback homepage or via the email notification that prompts them to select their Providers.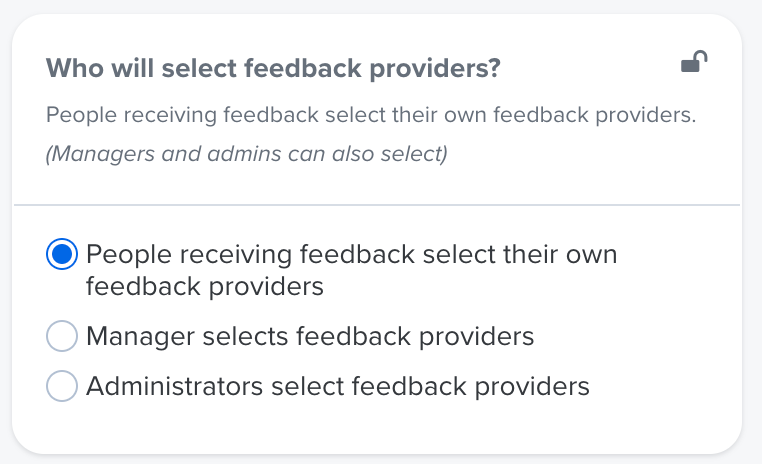 Add Feedback Providers from the Feedback Homepage
To add Feedback Providers:
Click Feedback in the left-hand navigation menu
Click and navigate to the All Feedback tab
If Add Providers is not the primary action, click the ⋮ icon for the corresponding cycle and click Add Providers in the drop-down
From the Add Provider page, you will have one of two views:

Cycles without Feedback Groups: Enter the name(s) or email address(es) of the new Provider(s)
Cycles with Feedback Groups: Enter the name(s) or email address(es) of the new Provider(s) in the appropriate Feedback Group section based on the Providers' relationship to the recipient

After Providers have been entered, click Send Invites