You can search for and view any public (i.e. not restricted) goal in your organization from your Goals Home.
In this Article
Overview
Quick Filters
Search Options

Overview
By default, when you visit your Goals Home page, you will be viewing goals that you are personally associated with as the owner or as a goal contributor. However, you can easily view all public, open goals in your organization by clicking Show All Open Goals.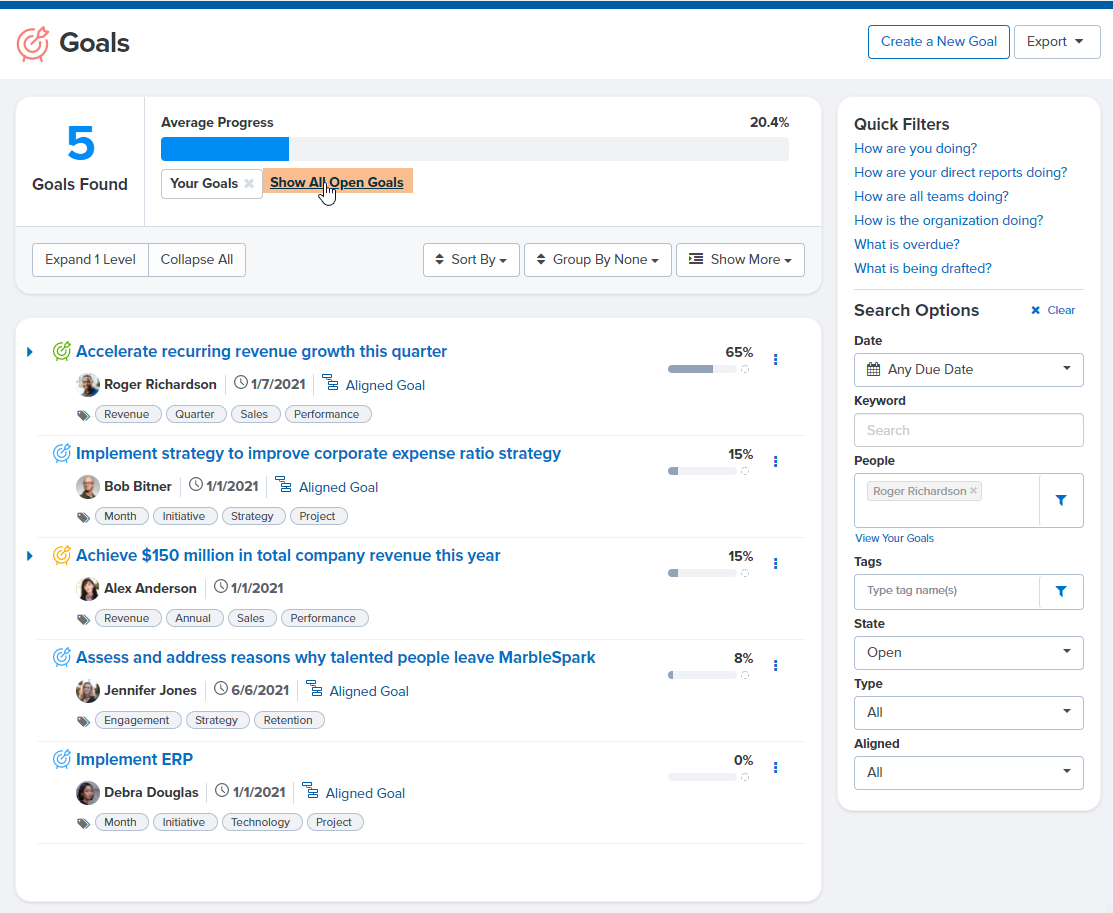 From this view, you can use any of the search and filter functionality from the right panel to narrow down goals that you're viewing. This includes the Quick Filters towards the top of the page and the Search Options (such as due date and keyword) that appear below. When you apply multiple search terms, the search results will only display goals that meet all of the search parameters. Restricted goals that you do not have visibility into will not appear in your search results.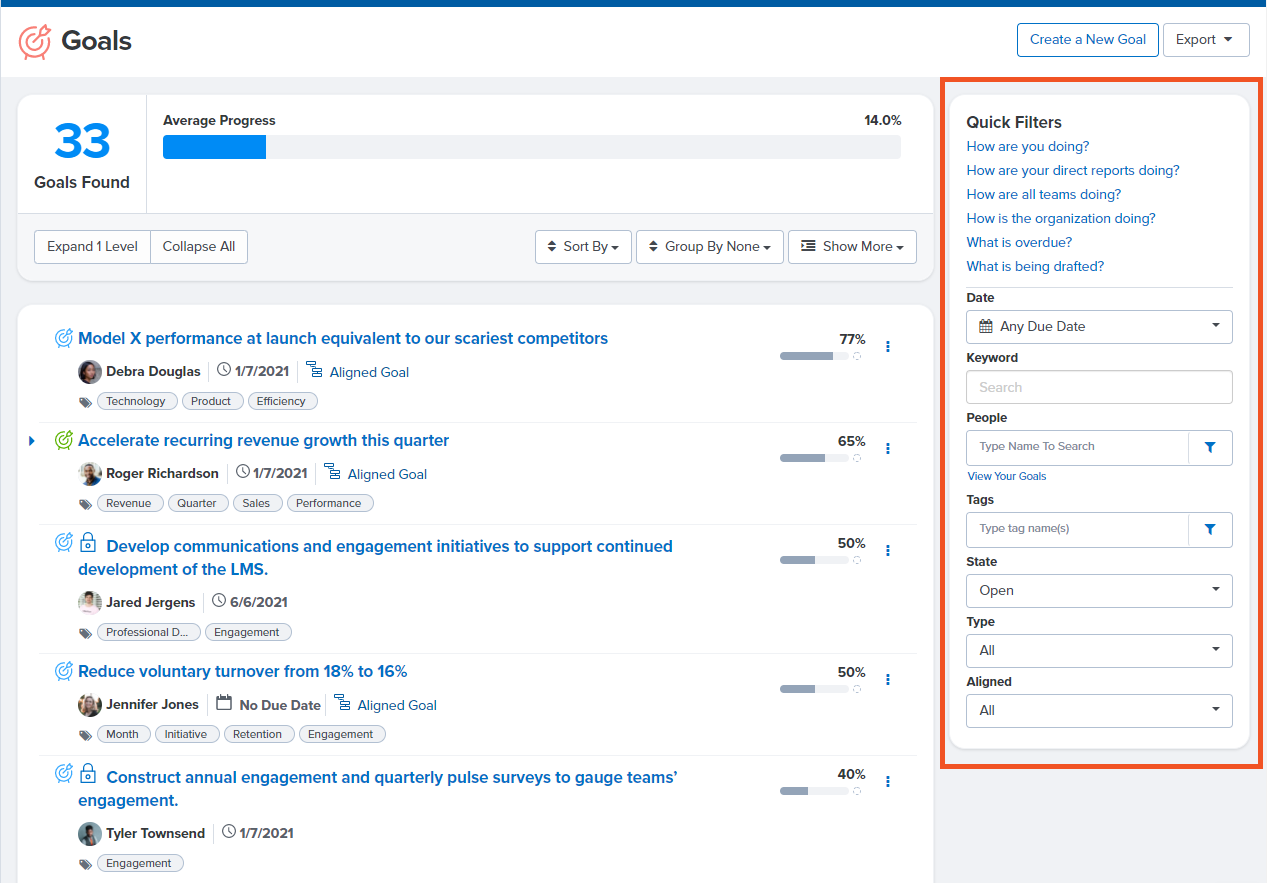 To remove a search, click the X next to the individual search term(s) you've applied or click Clear from the Search Options panel to remove all search terms.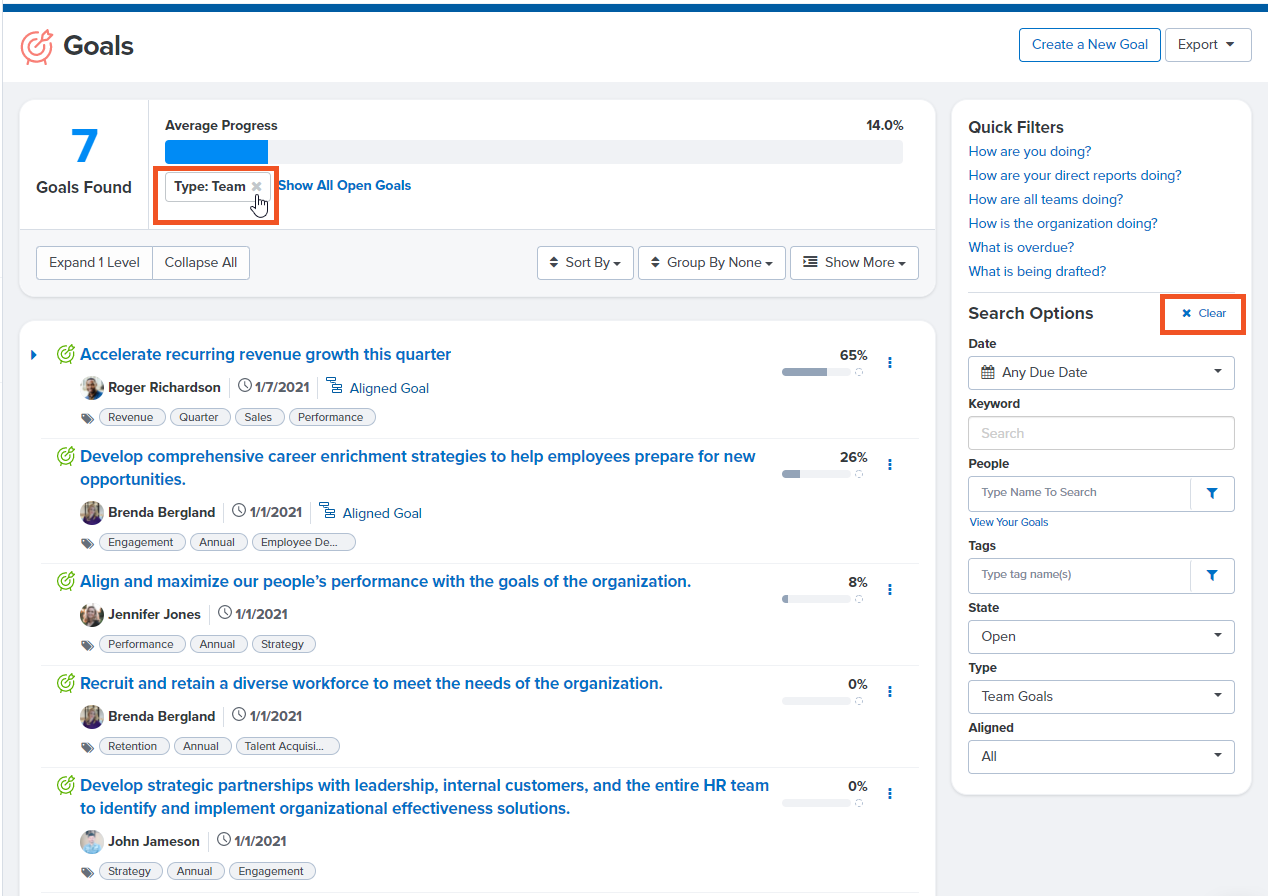 You can also click Show all Open Goals at any time to return to viewing all public, open goals in your organization.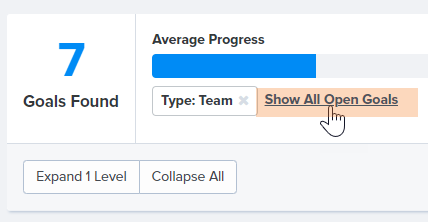 Quick Filters
Clicking any of the Quick Filters at the top of the panel will take you to a specific subset of goals:
How are you doing? will take you to a view of all of your goals (e.g. all goals you either contribute to or own.)
How are all teams doing? displays all open, public, team goals throughout the organization.
How is the organization doing? displays all open, public organization goals.
What is overdue? displays all open, public goals with a due date in the past.
What is being drafted? displays all public goals that are in a draft state (not open or closed).
How are your direct reports doing? is available to all managers and displays all open goals their direct reports are working on. Draft and closed goals will not appear in this search result.

Search Options
If you are looking for a specific goal and remember any part of the goal name, you can use the Keyword search to search for all goals with a specific word in the title. Simply type in the keyword you would like to search for and click enter.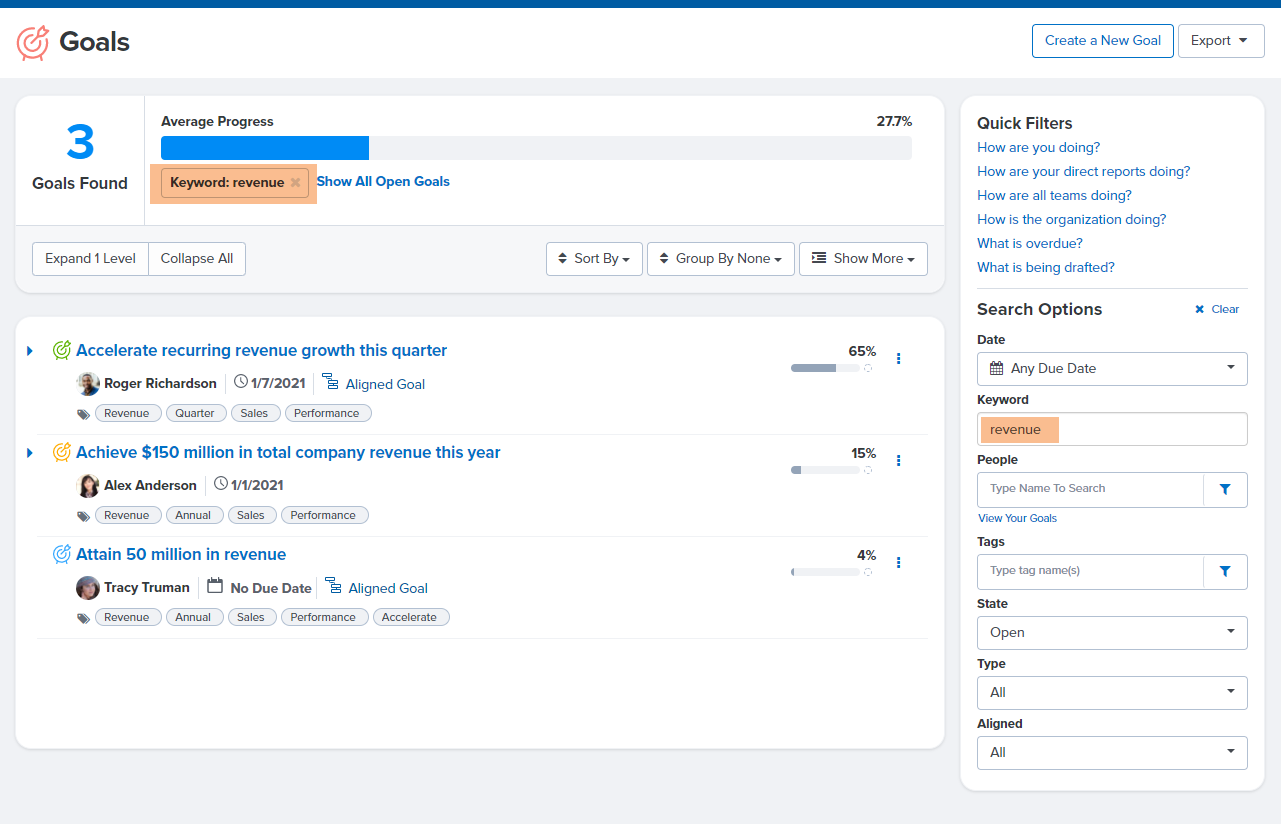 You can use the People search to search for all goals that a particular colleague either owns or contributes to (that is, all goals for which your coworker is either the goal owner or a goal contributor.) Type in your coworker's name under the People heading and click the filter icon to search.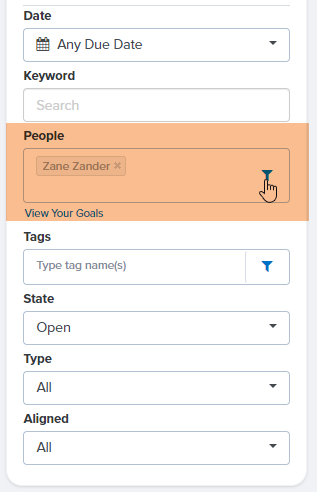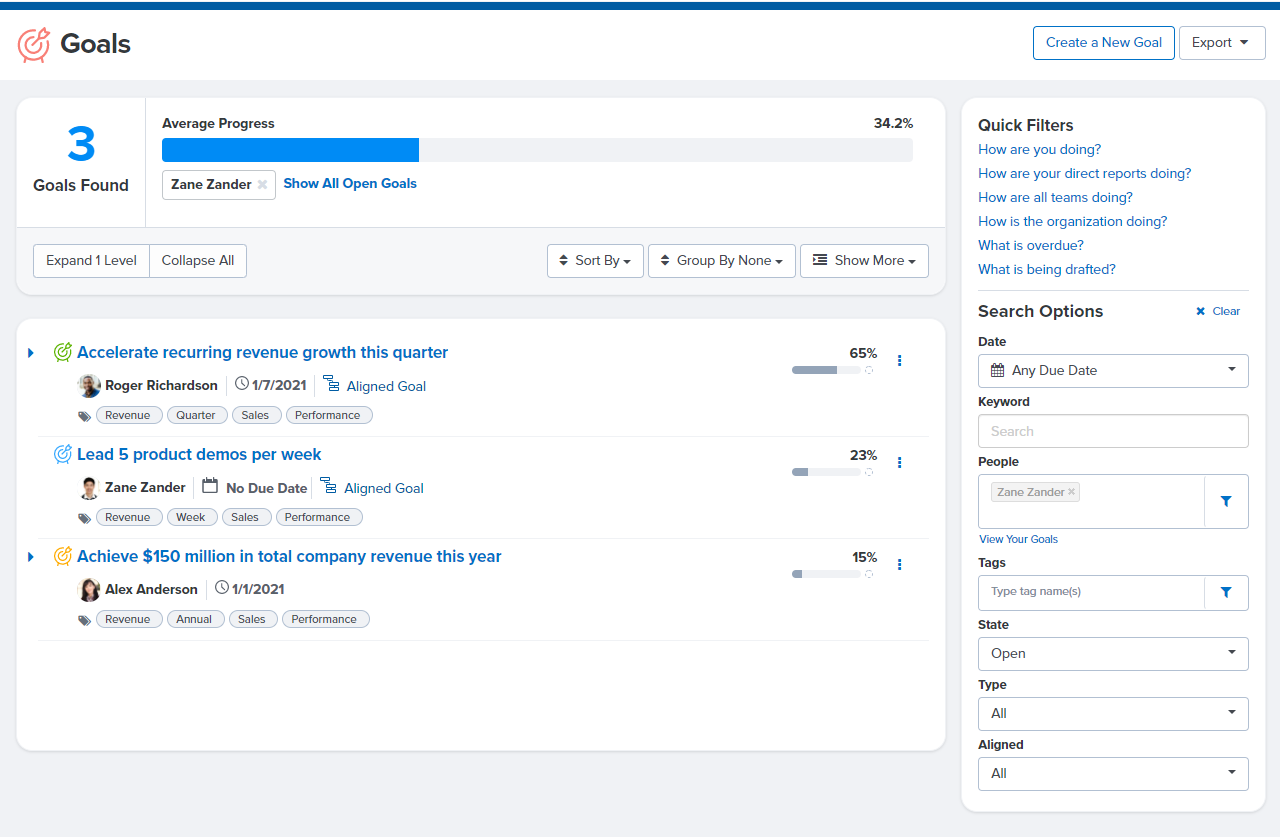 If users at your organization have added Goal Tags to their goals, you can search for goals that include any particular tag using the Tags field. Type in or select the tag you would like to search for and click the filter icon to complete the search.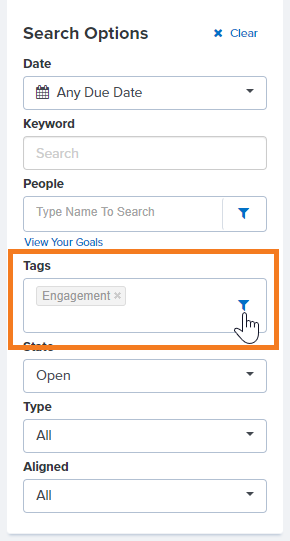 To view goals that have closed or are currently in draft mode, select Closed or Draft from the Stage menu.