The User Management section of the platform allows Admins to create and update accounts for their employees in Quantum Workplace.
IN THIS ARTICLE:
Managing User Access to Engagement Survey Reporting
Overview
All of the functions outlined in this guide can be performed by Admin users of Quantum Workplace via the User Management page in Administration. To open User Management, navigate to Administration and select Users.

If you have an HRIS integration established with Quantum Workplace, any changes that you make in User Management will get overwritten with the next instance of the integration.
How to Create Users
From within User Management, click the New User button and fill in out the fields to create an account for an employee. All required fields are marked with an asterisk. Click Save.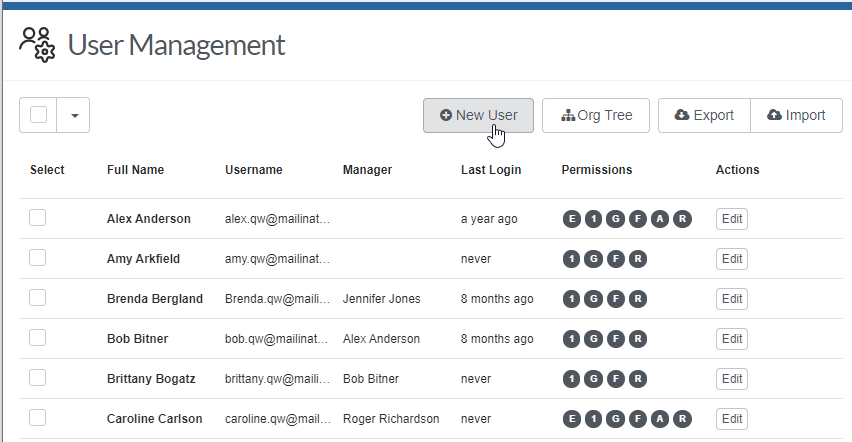 Want your new user to set up their account in Quantum Workplace? From User Management, check the box next to their name and click Send Welcome to trigger an email to go out that prompts them to log in.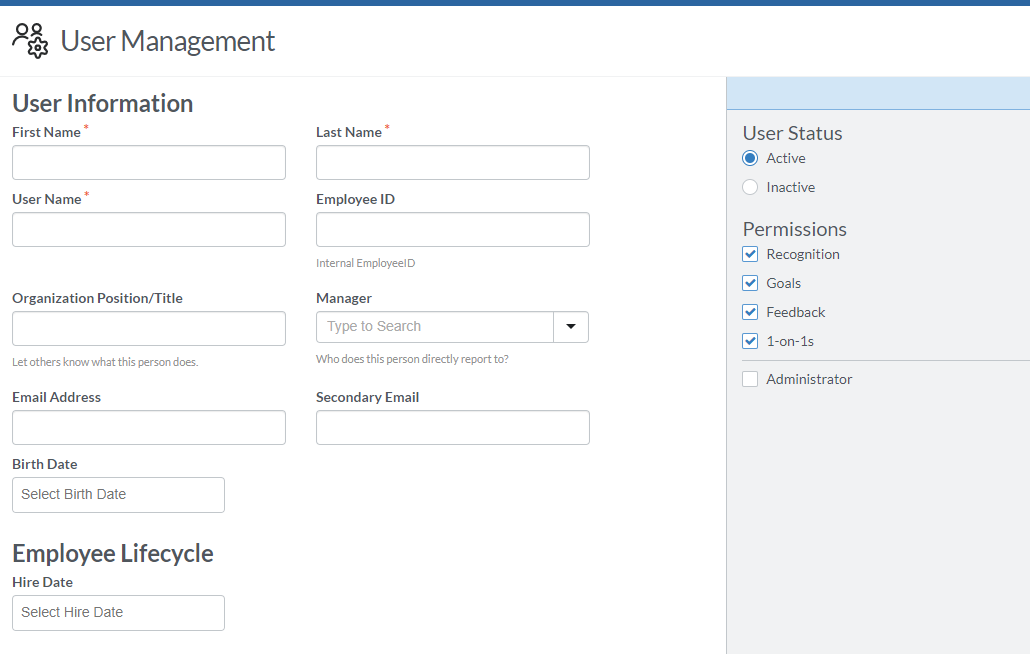 How to Edit Users Individually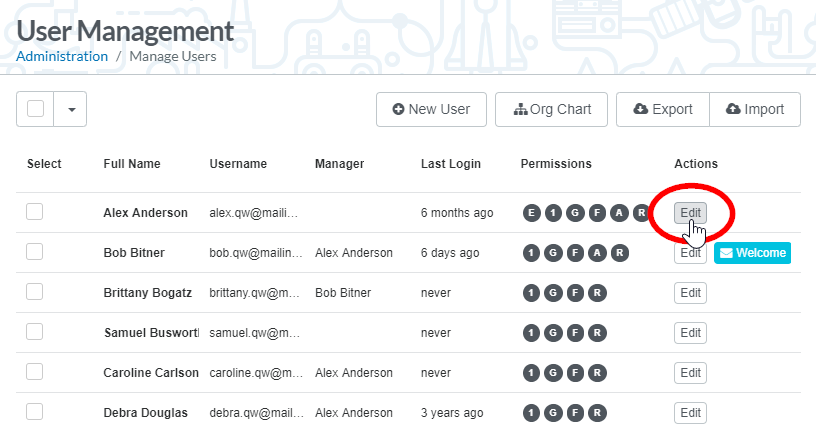 From User Management, search for the name of the employee whose information you need to update and click Edit.

You can use the Search feature in User Management to search by a user's name, email address, or any demographics associated to them, such as department or location.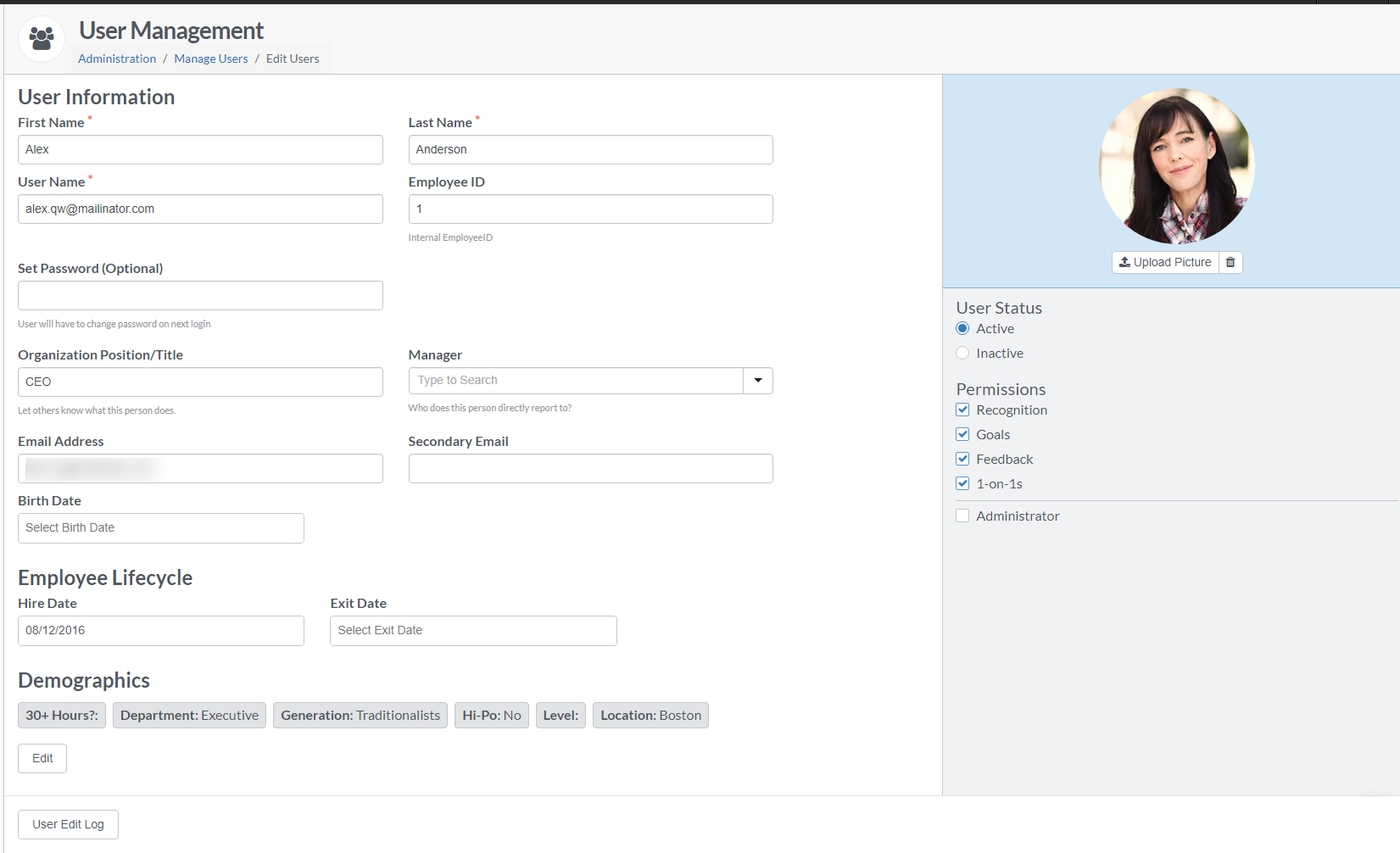 From this page, you can type in any of the fields to update the employee's information (e.g., add their hire or exit date), update their Profile Photo, or edit their permissions via the panel on the right side. Editing permissions allows you to designate someone as an Admin or Focused Admin user of Quantum Workplace as well as add or remove their access to any Quantum Workplace feature. Click Save.
Focused Admins:
If your organization has a team of HRBPs managing different regions, you may want to provide each HRBP with Administrative access to the regions they support only. You can enable this by setting these users up as Focused Admins.
How to Help Employees Reset their Password
From User management, search for the employee who needs to reset their password and check the box next to their name. From the resulting menu that appears at the top of the screen, click Reset Password. They will then receive an email from the system asking them to reset their password.

Actions for Multiple Users
You can update permissions for multiple users at one time within User Management. First, search for the users using the Search function in User Management and check the box by their names to select them. If you need to perform an action for all employees, click Select All from the drop down in the top left corner. You can also use this drop down to select all managers or other types of users.




Once you've selected the group of employees, you can perform the following actions:
Deactivate (or Activate) the selected users
Send a welcome email
Send a password reset email
Update the permissions that are enabled for these users. Click Set Permissions and select the box next to the feature that you would like to add or remove for this group of employees (e.g. Recognition, Goals, Feedback, or 1-on-1s). Click Confirm.
How to Import Users (Create or Edit Users in Bulk)
You can create or update accounts for multiple employees at once by importing a .csv file instead of creating one new user at a time. With the creation of a .csv file, simply import users quickly with their full demographic information.
The .csv file should list each employee on a new line with the columns separated by a comma in this order: EmployeeID, UserName, Email, NameFirst, NameLast, Title, ManagerEmployeeID, HireDate, Status, DateOfBirth, TermDate, Demographic1, Demographic2, Demographic3.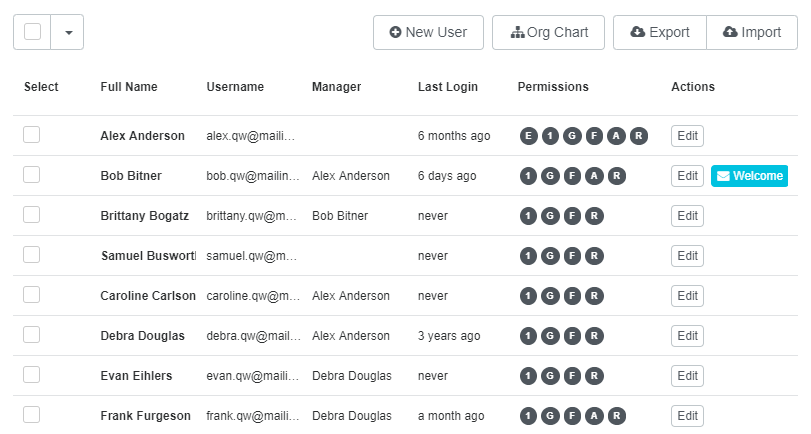 Click here to download a sample .csv file to import your users.

Import Rules
When you import a file, the importer will look for a unique identifier for each user:
If it finds

EmployeeID

, the importer will use that.
If

EmployeeID

is not available, the importer will look for

Username

.
Why this is important: When a user's data is changed, it always finds that unique identifier to decide how updates are made. For example, if an EmployeeID is found, then it will update Username and Email (and any other columns) if that data is available in the file. If you don't want a certain column updated, remove it from your file before uploading.
Is managing your users manually a daunting task? Consider establishing an HRIS integration. We can establish a daily file feed from your HRIS system to Quantum Workplace to automatically update your employee information.
Engagement Surveys
How to Assign Commitment Plan Owners
If you want this user to be a Commitment Plan Owner on this branch, select the check box corresponding with that branch.

When you're done with all your settings for that survey, click the Save Settings button.
You can add access to as many surveys as needed.
Access Manager
IN THIS SECTION:
Video Overview
Watch this 2-minute video for an overview of the Access Manager tool.
View User Access
Administrators can access the user management tool from their census Analytics page by selecting the Team Select button, then Access manager.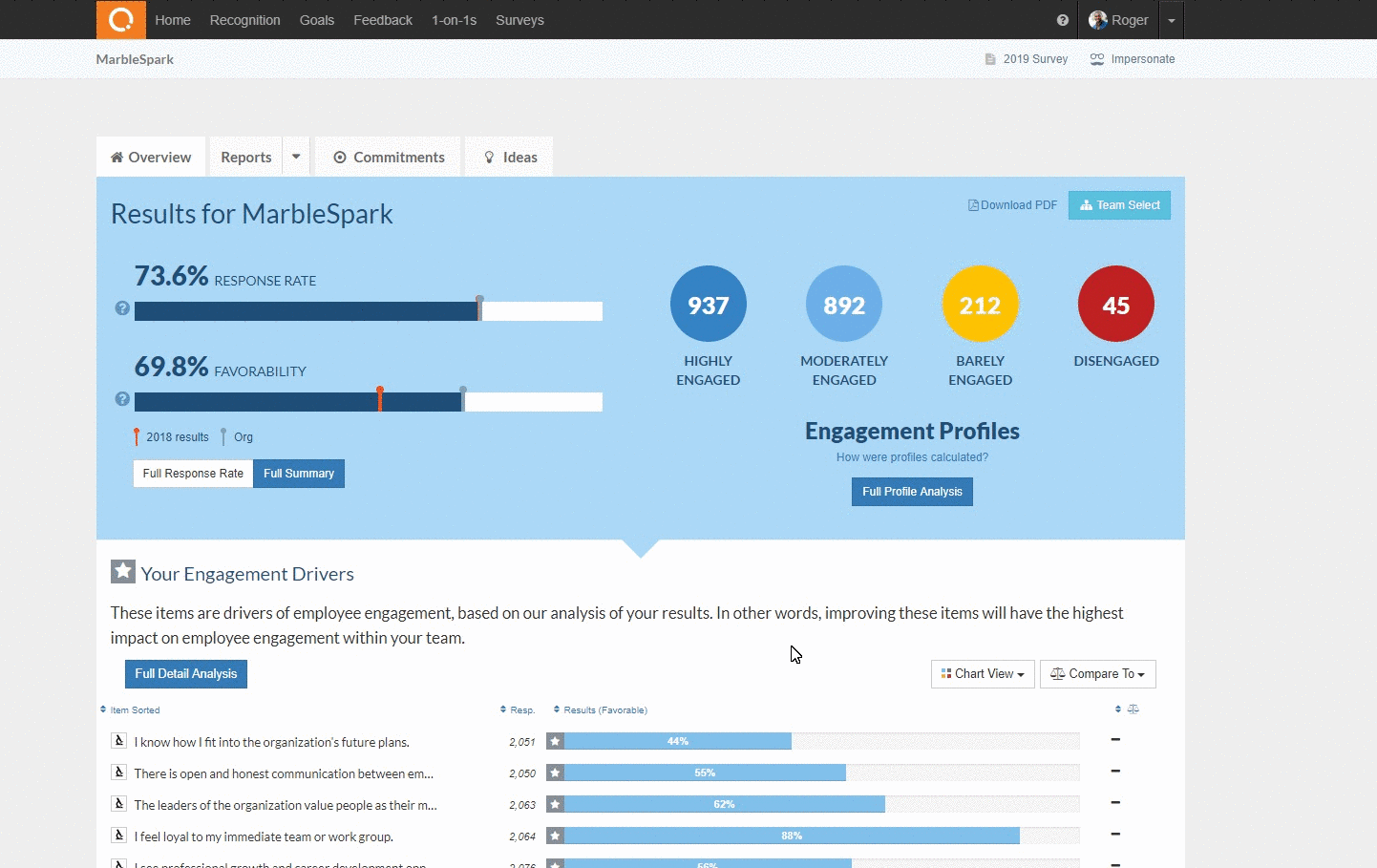 Access Manager allows you to do the following:
Review the Organization Structure.
View / edit the users assigned to different branches.
Export the Organization Structure to an Excel document.
Focus on certain portions of the Organization Structure using the filter on the left.
Set whether or not certain users can create Commitment Plans.
Add Users to a Branch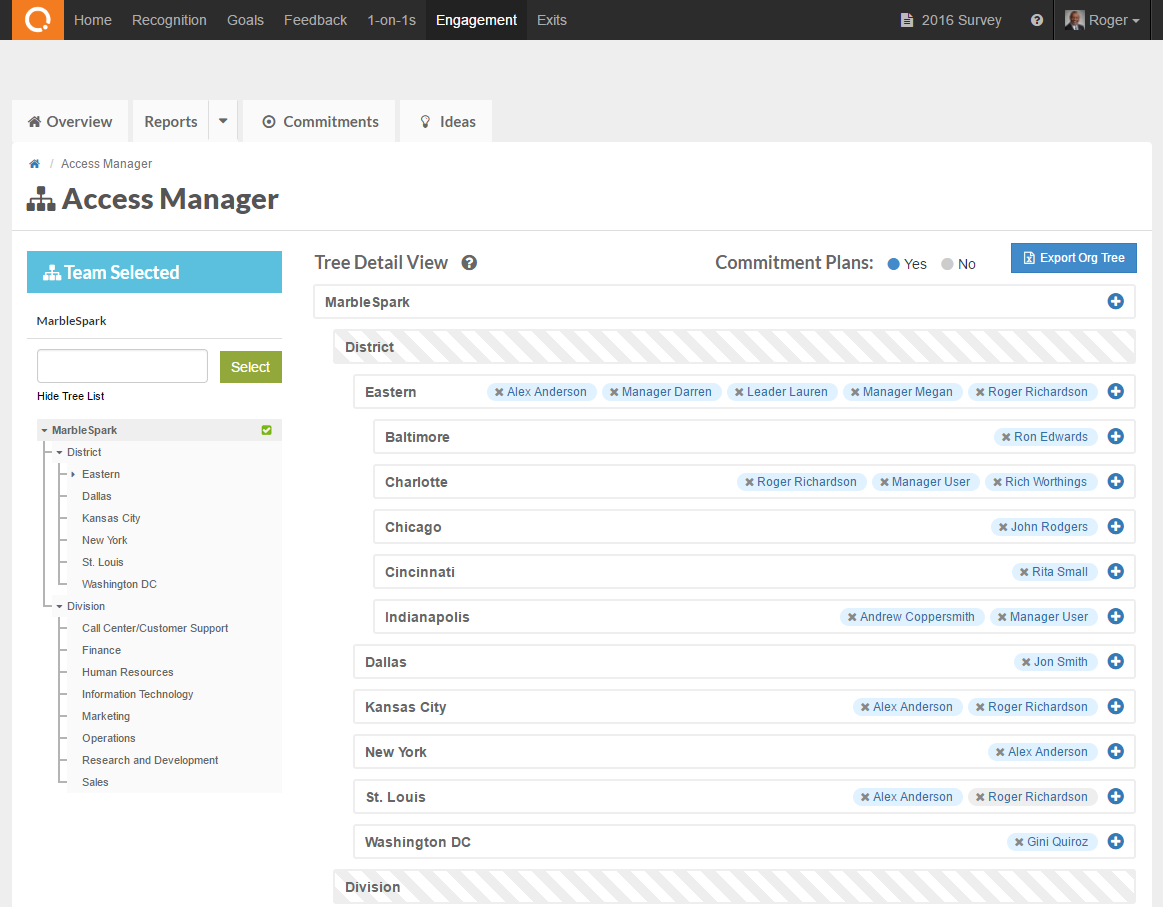 Click the plus icon to add users to that branch.
Enter their name in the search box, and select whether or not the user should be able to create Commitment Plans on that branch.
Click Add.
Filter My View to Specific Branches of the Organization
For large trees, you can filter your view to make it easier to see details for a specific branch. Click the branch you would like to view in detail.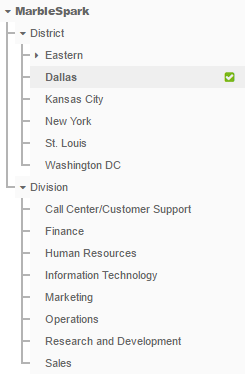 The selected branch then becomes the top branch in the Detail View.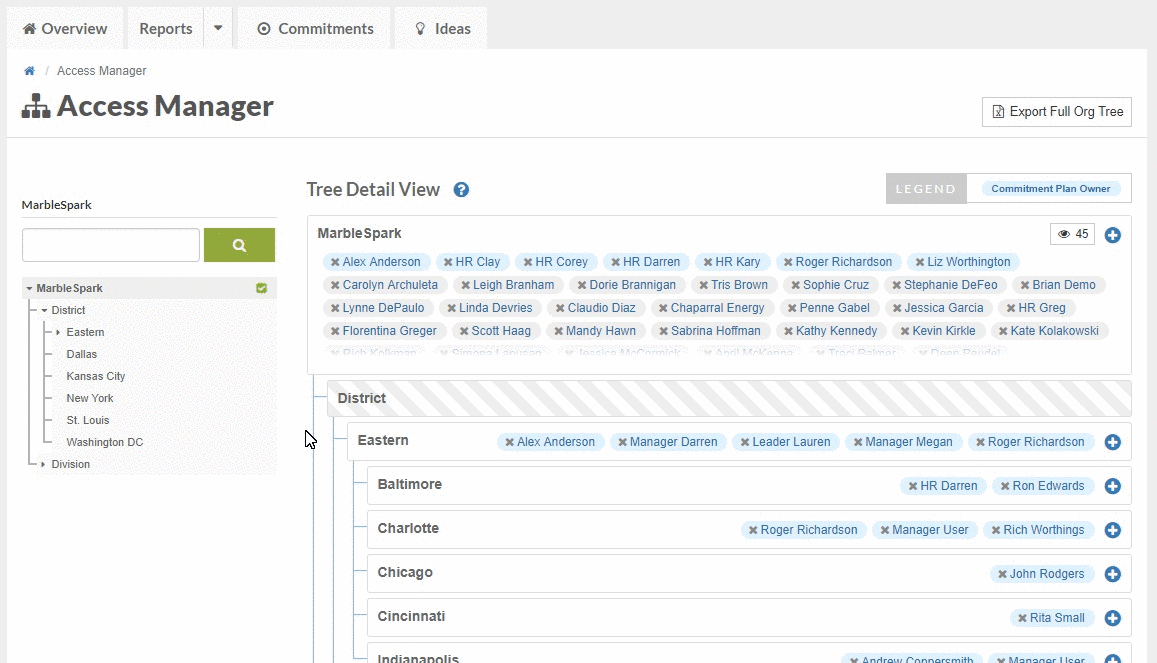 How to Remove Access
To remove a user's access to a particular branch, click the X next to their name on the branch you would like to remove them from.
Removing a user from a single branch only removes that user's access to that branch in the organization. If you want to completely remove someone's access to Engagement Survey data, you must remove them from every branch they've been added to, if applicable.