IN THIS ARTICLE:
The Basics
Archive a Feedback Session
Find and Filter Feedback
Delete a Feedback Session
The Basics
The Feedback screen is divided into 3 "folders":
Inbox contains all your open and active Feedback sessions
Archived contains all Feedback sessions that you've archived
All Feedback contains all your Feedback (i.e. Inbox + Archived) PLUS, if you're a manager, all Feedback for your downline reports
Important: Archiving a Feedback session only archives it for you -- your decision to archive a Feedback session does not cause that session to be archived for other people.
Archive a Feedback Session
There are a few ways to archive your Feedback:
From your Feedback Inbox, select the checkbox next to any Feedback session you want to archive. Then click the "Archive" button. (Pro tip: you can select all by clicking the top checkbox!) Within a Feedback session, you can click Actions > Archive Feedback


From within an individual Feedback session, click the drop down menu in the top right corner and select Archive:

There are a couple reasons a Feedback session will move back to your Inbox: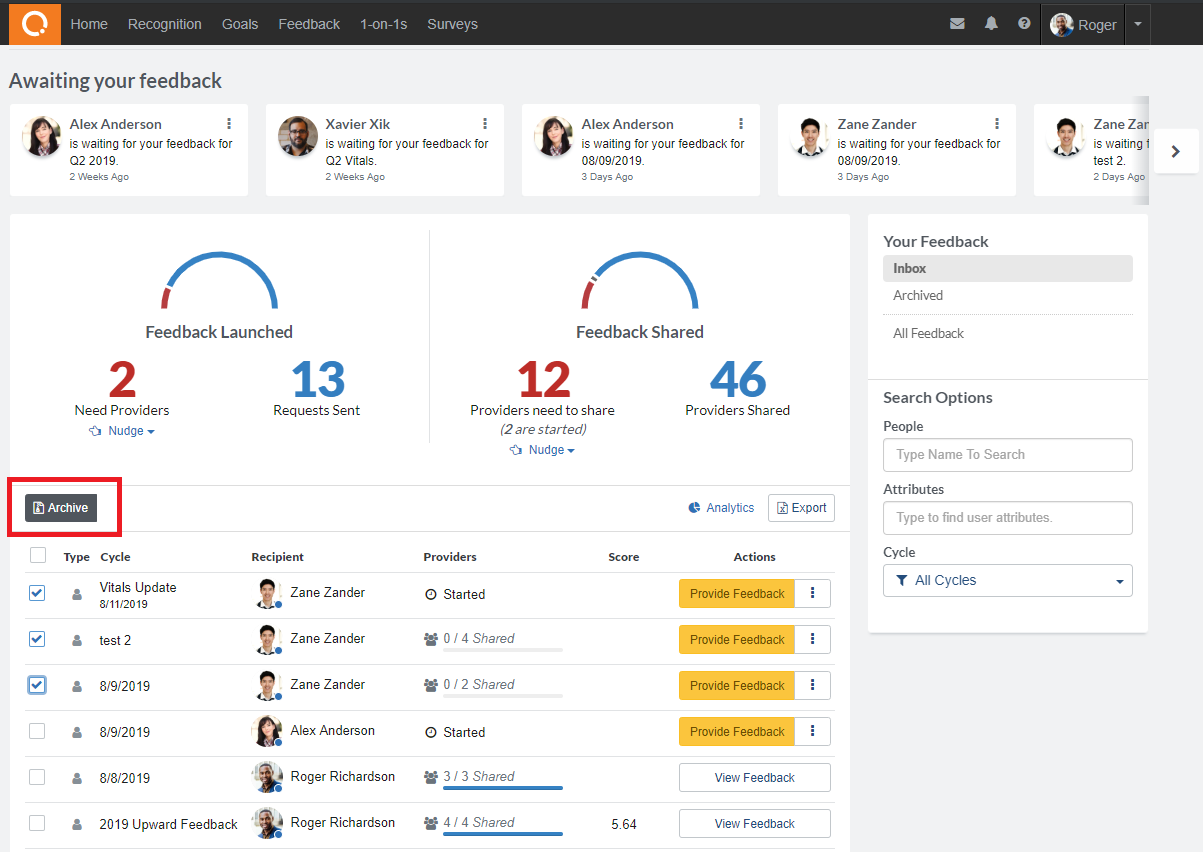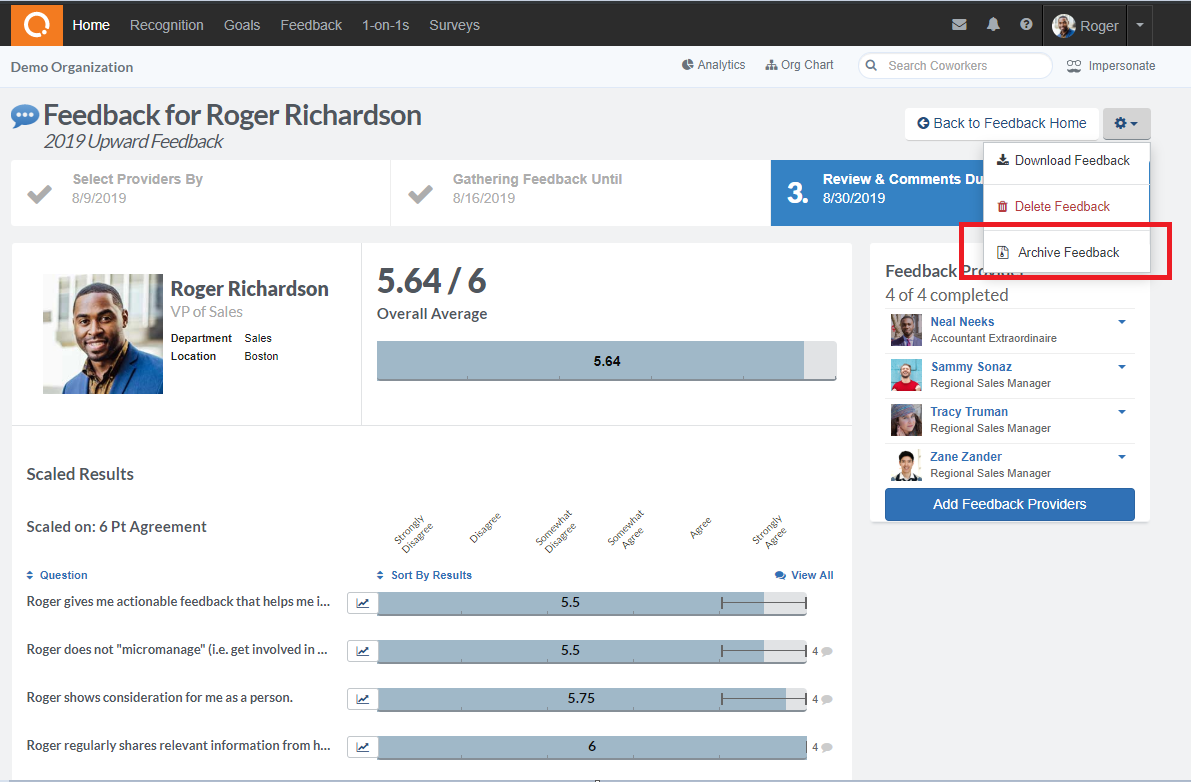 If you unarchive it! Similar to the way you archived it (either from inside the Feedback Session or from Archived) except now your Unarchiving the 1-on-1.
If a feedback provider shares feedback or adds comments, the conversation will move back to your Inbox.
If someone comments on feedback you've given, the conversation will move back to your Inbox.
How to Find a Feedback Session
On the right hand side of your Feedback home page, there are search fields you can use to find all feedback sessions associated with a particular person, a particular demographic (attribute), or a particular cycle.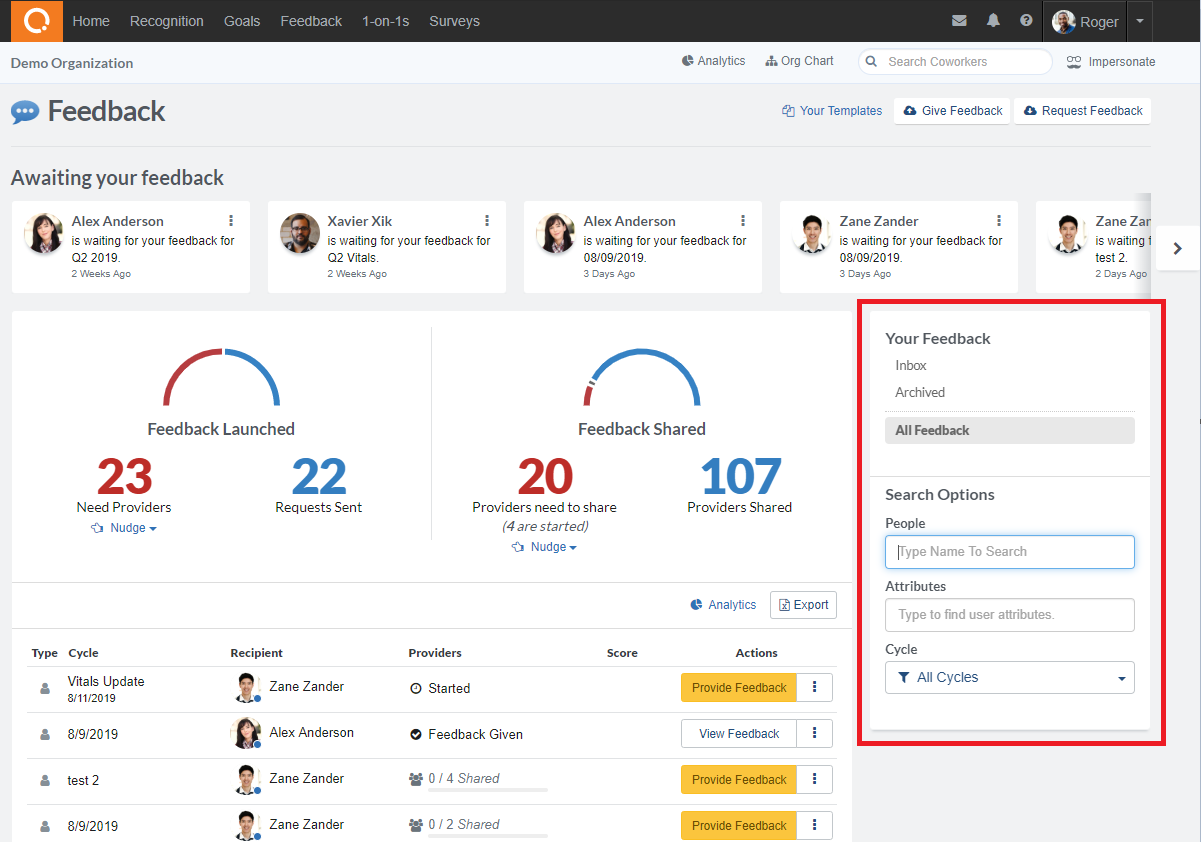 Delete a Feedback Session
If you initiated a feedback session, you are able to delete it