In this Article
1-on-1s Page
Your 1-on-1s Page is divided into 3 sections: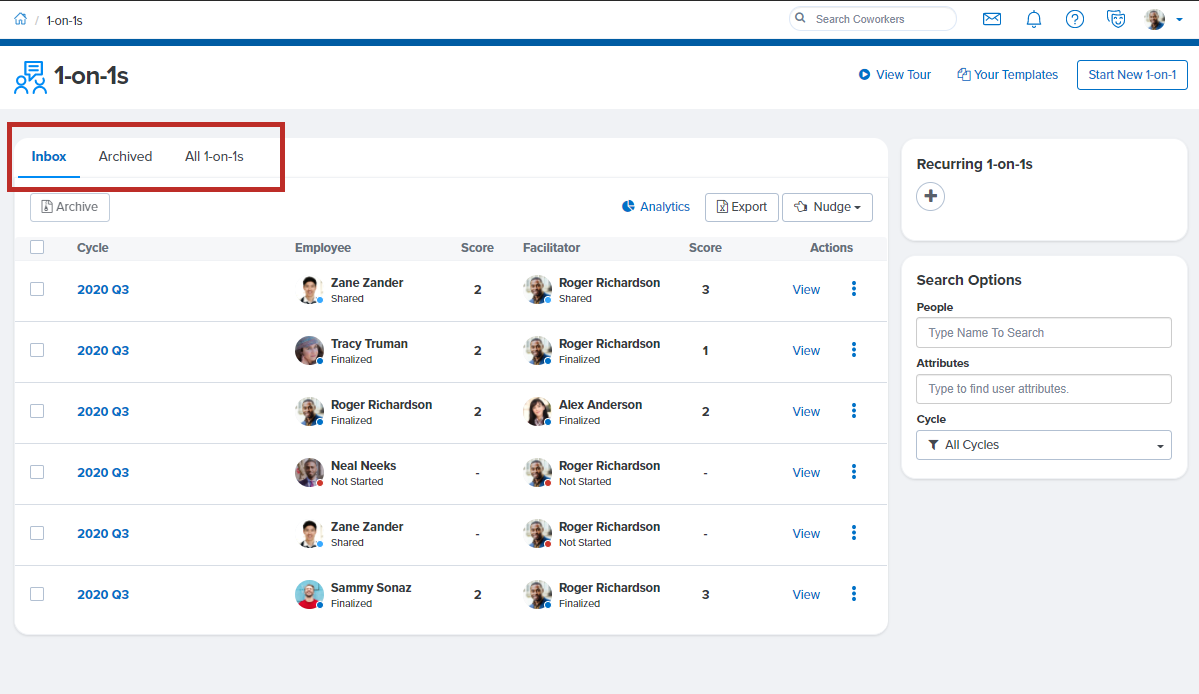 Your Inbox contains all your open 1-on-1s that you personally are participating in as either a manager or an employee. This is the view you see by default when you navigate to 1-on-1s.
Archived contains all 1-on-1s that you've archived.
All 1-on-1s contain all your 1-on-1s from your Inbox or Archived folders. If you're a manager, this section will also contain all 1-on-1s for your downline reports.
Important: Archiving a 1-on-1 only archives it for you -- if you archive a 1-on-1, it will not automatically be archived for your 1-on-1 partner.
How to Archive a 1-on-1
There are two primary ways to archive your 1-on-1s:
From your 1-on-1s Inbox, click the checkbox next to the 1-on-1(s) you want to archive. Then, click the Archive button. (Note: You can select all by clicking the top checkbox.)




From within any 1-on-1, including finalized 1-on-1s, you can click the More drop down menu in the top right corner and select Archive 1-on-1.



There are three why a finalized 1-on-1 might move back to your Inbox:
If you choose to unarchive it. You can unarchive any 1-on-1 by finding the 1-on-1 in your Archived folder and moving it back to your inbox.
If the other participant in the 1-on-1 comments (or shares), the 1-on-1 will automatically move back to your Inbox.
If you had archived the 1-on-1 but had not finalized it, the 1-on-1 will move back to your Inbox if the other participant finalizes their portion of the 1-on-1.
How to Search for 1-on-1s
From the right hand side of your 1-on-1 landing page you can search for your different conversations by people, demographics, cycle name, and whether you were in the direct report or facilitator role within that 1-on-1.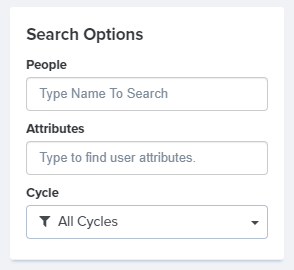 How to Delete a 1-on-1
You can delete any 1-on-1 that you initiated at any point. From within the 1-on-1 conversation, click the Actions drop down menu and select Delete 1-on-1.