Follow these instructions to launch an automated exit survey with our recommended settings.
In this article:
Please note that only Top-Level Admins can launch exit surveys. Focused Admins cannot launch automated surveys of any kind.
Getting Started
To begin, navigate to Surveys & Pulses in Administration and click New Survey.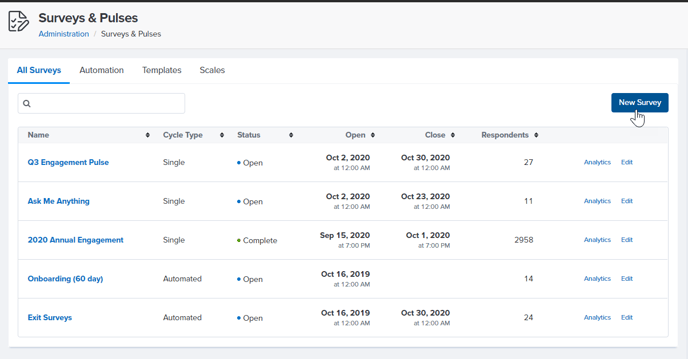 From the pop-up window that appears, select the radio button next to Automated Survey and click Continue.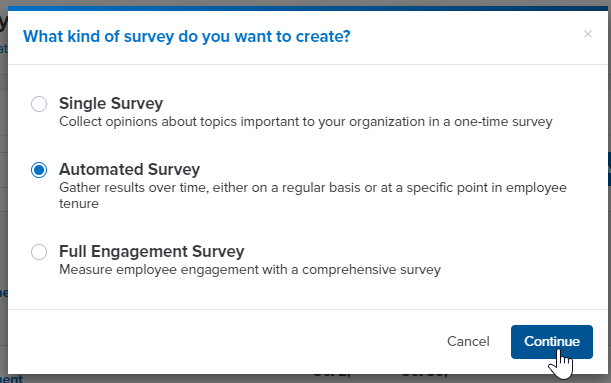 On the next page, you will see our collection of best-practice templates (question sets), organized alphabetically. Click on Exits.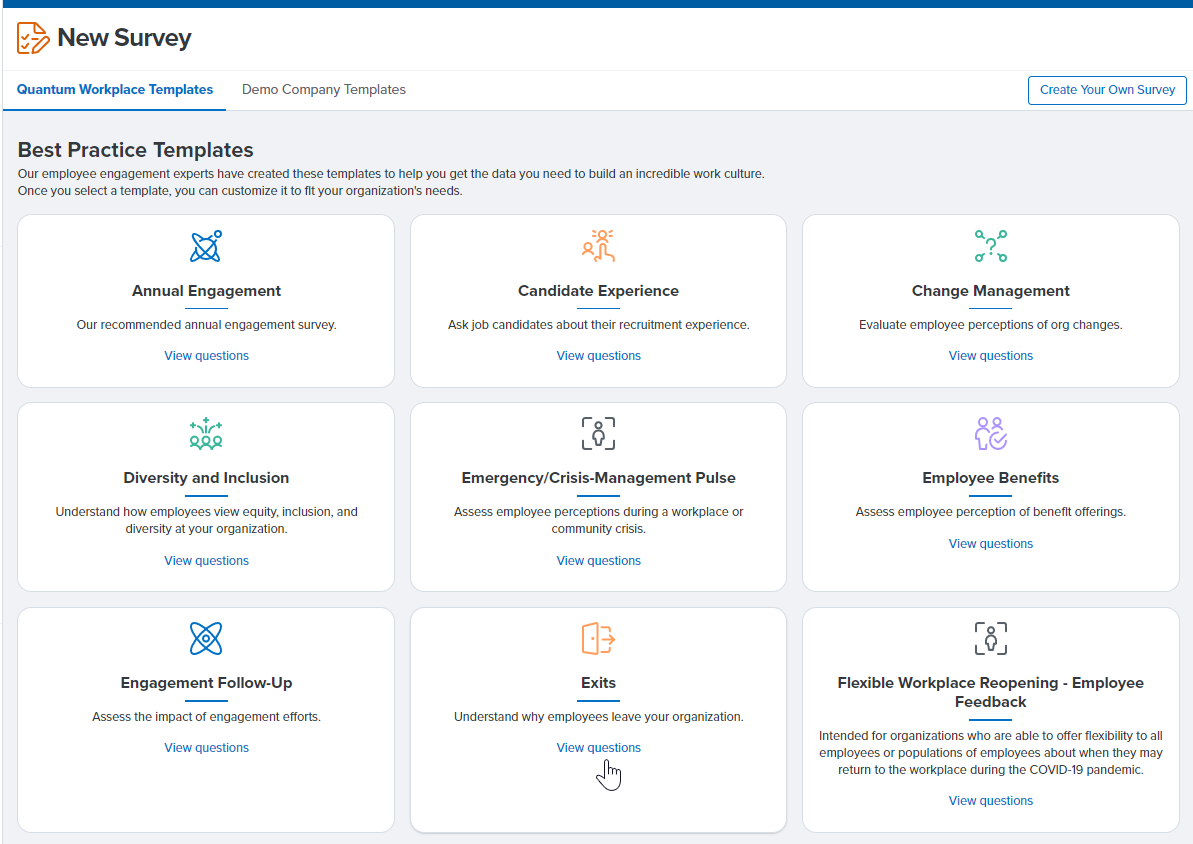 From the window that appears, click Use this template.

Survey Details

Next, you will see the Survey Details screen. On this screen, complete the following steps.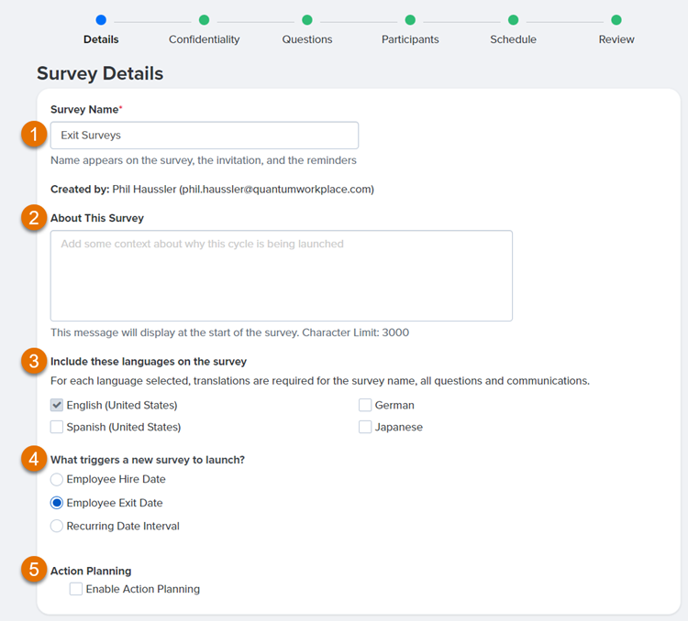 Survey Name: enter a title for your survey, e.g. Exit Survey.
About this Survey: enter any context or instructions you would like your survey-takers to see.
Include these languages on the survey: if your organization has multiple languages enabled, check the box next to every language in which the survey should be offered.
Note: You will supply your own translations for every survey question. Learn how to add translations to your survey.
What triggers a new survey to launch: select the Employee Exit Date option.
Action Planning: Optionally, enable Action Planning to strategize engagement improvement while creating your survey
Once you have completed all of the above steps, click Next.
Confidentiality
On the Confidentiality screen, specify the confidentiality settings for your survey.
We recommend setting new hire and exit surveys to be Not Confidential so that you can see how individual survey takers responded, and follow up with their specific questions or comments as needed.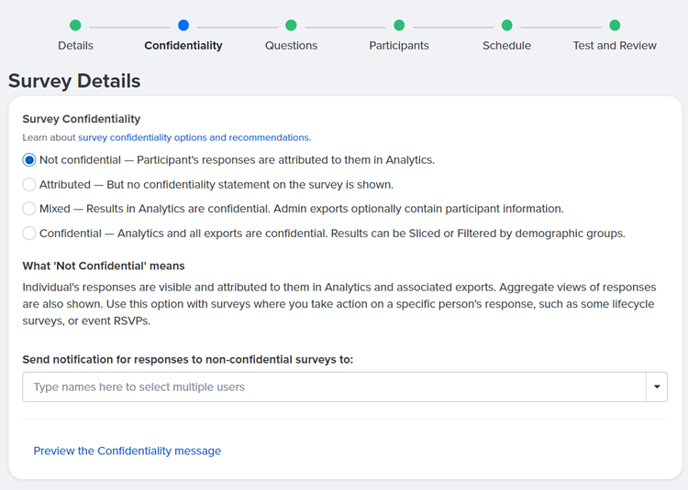 For Mixed and Confidential surveys, under the Minimum response count to show results in Analytics, you will set the minimum number of survey responses needed to be able to view results.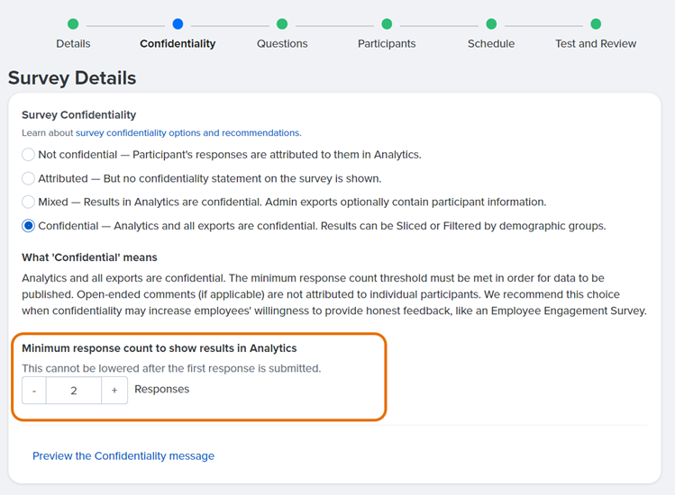 For Mixed surveys only, you will have the option to receive a raw export of your survey data and to view the responses of any individual survey taker within the Excel export.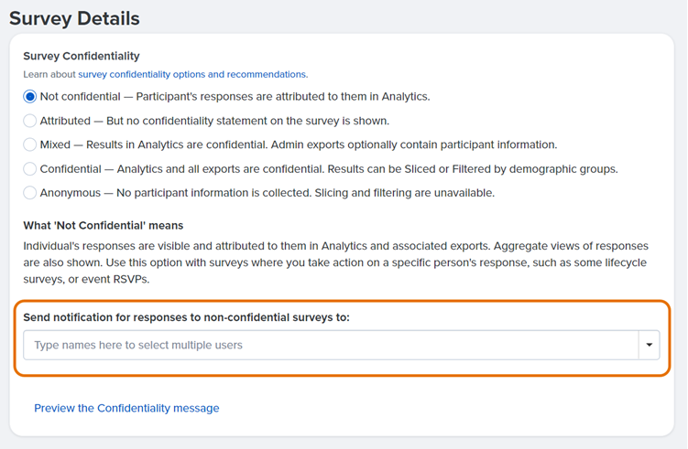 For Not Confidential surveys, you can enter the names of any admin user who should receive an email notification anytime someone submits their survey.
This option is most helpful for New Hire and Exit Surveys and other lower volume surveys that occur over an extended period of time.
Questions
On the Questions screen, you will see all of our recommended questions for the Exit Survey. You can edit or delete any question by clicking the drop-down arrow next to each question.

Click Next to advance.
Participants
On the following screen, you will determine whether all departing employees should receive the survey and how employees should be invited to take the survey.
If your organization subscribes to Survey Messages Powered by Quantum Workplace, you'll have the option to send survey invites and notifications to exiting employees via SMS messages.
Invite Employees
If your organization includes a demographic that specifies whether employees were terminated voluntarily or involuntarily, we recommend you limit the exit surveys to only voluntarily terminated employees.
To do this, select Limit who is invited based on demographics and enter Status: Voluntary in the Include field.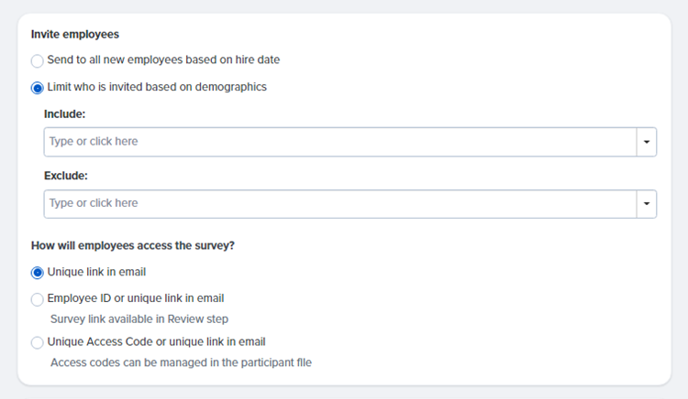 How Will Employees Access the Survey?
If all of your employees have email addresses, leave the radio button next to Unique link in email selected.
If some of your employees do not have email addresses, decide whether employees without email addresses should access the survey by entering their Employee ID or by entering a unique code that will be generated by our system. Learn more about personal/ secondary emails and Exit Surveys.
You will be able to download a list of Employee IDs or unique codes for employees to take the survey in the Review step at the end of the survey setup.
Note: When your Exit Survey launches, the software will automatically detect any employees who have an exit date within the last 30 days and add them to the survey. You will be able to view and delete upcoming participants from the Review step (the last page within the Survey Setup.)
Manually Adding Exiting Employees
You can add employees to your Exit Survey at any time without waiting for the system to add them to the survey on the specific day that you have specified that exiting employees should become eligible to take it. When you manually add an employee to take your exit survey, the survey will be sent to them immediately.
If you do not have an HRIS integration, you will need to add all survey-takers manually.
To add employees to an open exit survey, navigate to Surveys & Pulses Administration and click either your survey name or Edit, next to your survey.
Then, click on the Participants section and click Select Employees to search for add and the employee.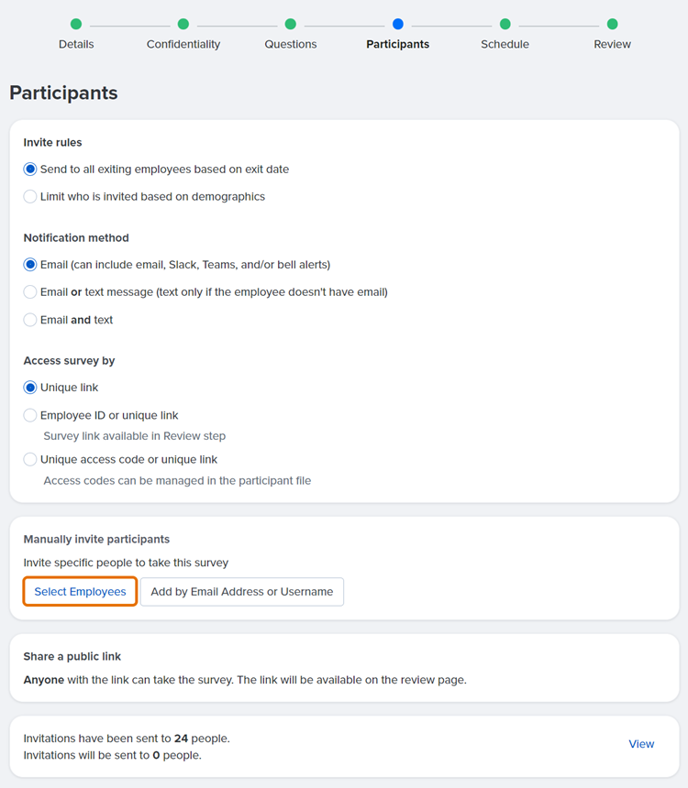 Click the Active Employees drop-down, then click Inactive Employees. Employees with an inactive Quantum Workplace account within the last 30 days will be displayed as potential survey participants. Keep in mind, that other active filters will still be applied.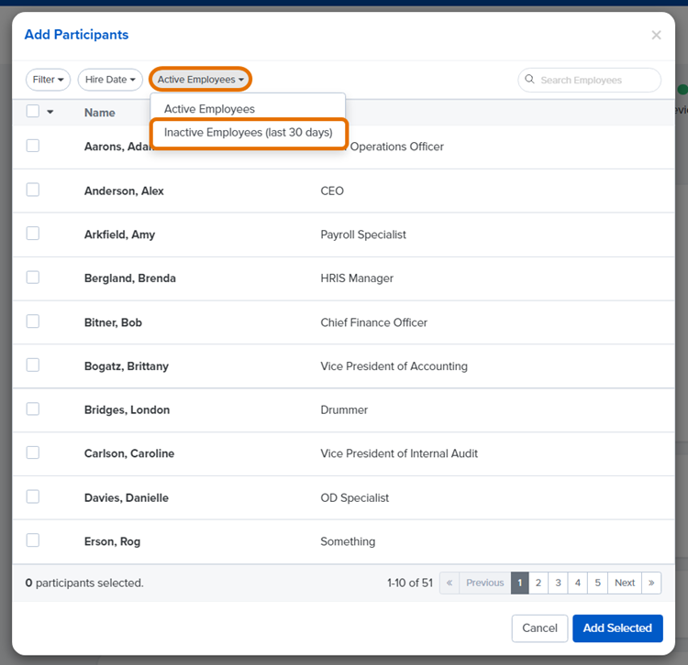 Click Next to continue.
Schedule
From the Schedule screen, you will do the following: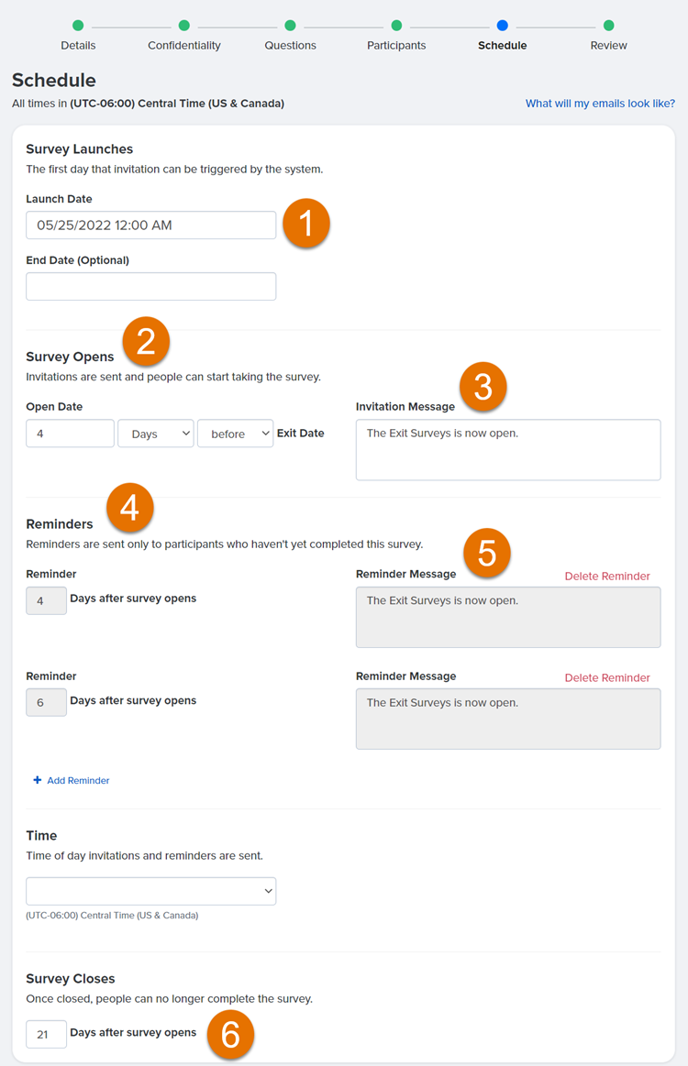 Set a date that this survey should go live.
Select the number of days before an employee's exit date they should be invited to take the survey.
Customize the text of the survey invitation email that exiting employees will receive when they are first invited to take the survey.
Select the number of days after the survey is initially sent out to each employee that they will receive reminder emails. You can delete or add reminder emails.
Customize the text of the reminder email(s) that exiting employees receive if they have not yet completed the survey. You can customize the text of each reminder email individually.
Select the date after being invited to take the survey that exiting employees should no longer be able to complete the survey. You can leave the default date that is selected here unless you prefer to give exiting employees a longer or shorter window to complete the survey.

Once you have worked through the above steps, click Next to continue.
Review
From the Review screen, you will review the details of the survey you had just set up. If you need to change any aspect of the survey, click on the step that you need to edit to return to that screen.

If you would like to share the questions on this survey with a colleague for their review, click Copy Preview Link and share the link that is generated with anyone who needs or wants to review the survey questions.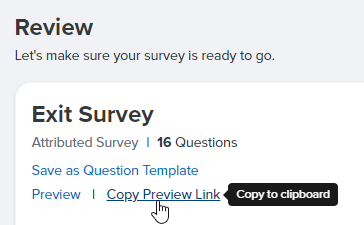 You can view a list of your exiting employees and the date on which they will be invited to take the survey by clicking View Participants.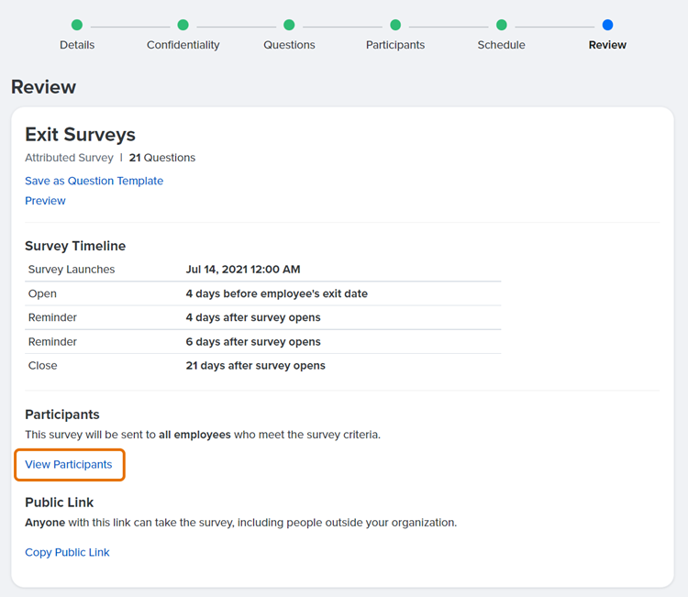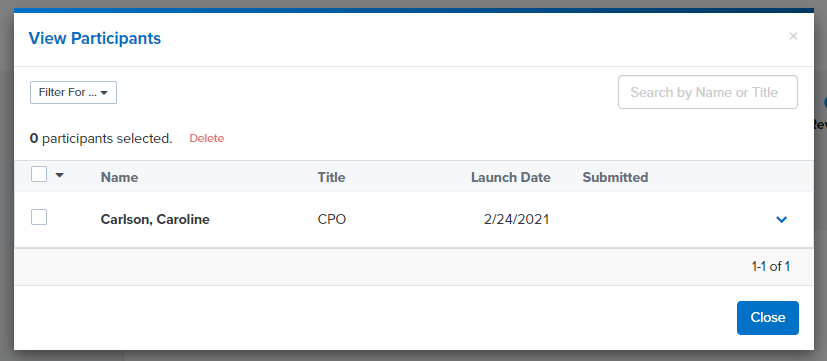 Warning: Ignore the section under Public Link. Do not copy and share the public link for this survey.

Once you are ready to schedule this survey to open on the date that you have selected as the Survey Launches date, click Schedule Launch. From the dialogue box that appears, click Schedule Launch again. If any exiting employees are slated to receive the survey immediately, they will be invited to take the survey on the date that the survey is scheduled to launch. If the survey launch date is set as of today's date, the surveys will go out automatically or at the time that you have specified.