Automated surveys allow organizations to launch New Hire and Exit surveys and other automatically recurring surveys.
In this article:
Overview
Automated surveys refer to automatically launched surveys based on an employee's hire/exit date or surveys that automatically recur on a regular time interval.
New Hire Surveys: specify the number of days into an employee's tenure that they should be invited to take the survey so that survey invitations are automatically sent to new hires at the appropriate time.
Exit Surveys: specify the number of days before an employee's exit date when they should receive their survey invite. Terminated employees can still participate in an exit survey by receiving the invite via a secondary or personal email address.
Recurring Surveys: specify whether the entire organization or a subset of the population should be invited to take the survey and the specific time frame on which the survey should reoccur.
With any automated survey, additional employees can be manually added to participate even if they fall outside of the regular invite rules.
Getting Started: Launching an Automated Survey
To launch an automated survey:
Click and expand Administration in the left-hand navigation menu
Click Survey & Pulses from the drop-down menu
Click New Survey in the top right
Selecting a Template (Question Set)
The first step of the survey-creation process is to select the template for the survey.
For New Hire surveys, any of the New Hire templates are recommended.
For Exit surveys, the Exits template is recommended.
For newly promoted managers, the New Manager template is recommended. Learn more about launching Automated New Manager Surveys.
Select a template from Quantum Workplace's Best Practices, your organization's templates, or click Create Your Own Survey in the top-right to create your own questions
Look over the included questions- questions can be removed or added later in the setup
To confirm your template, click Use this template
Survey Details
On the Survey Details page, enter the survey name, the context for the survey, determine what other languages to offer the survey in, and whether to disable Action Planning.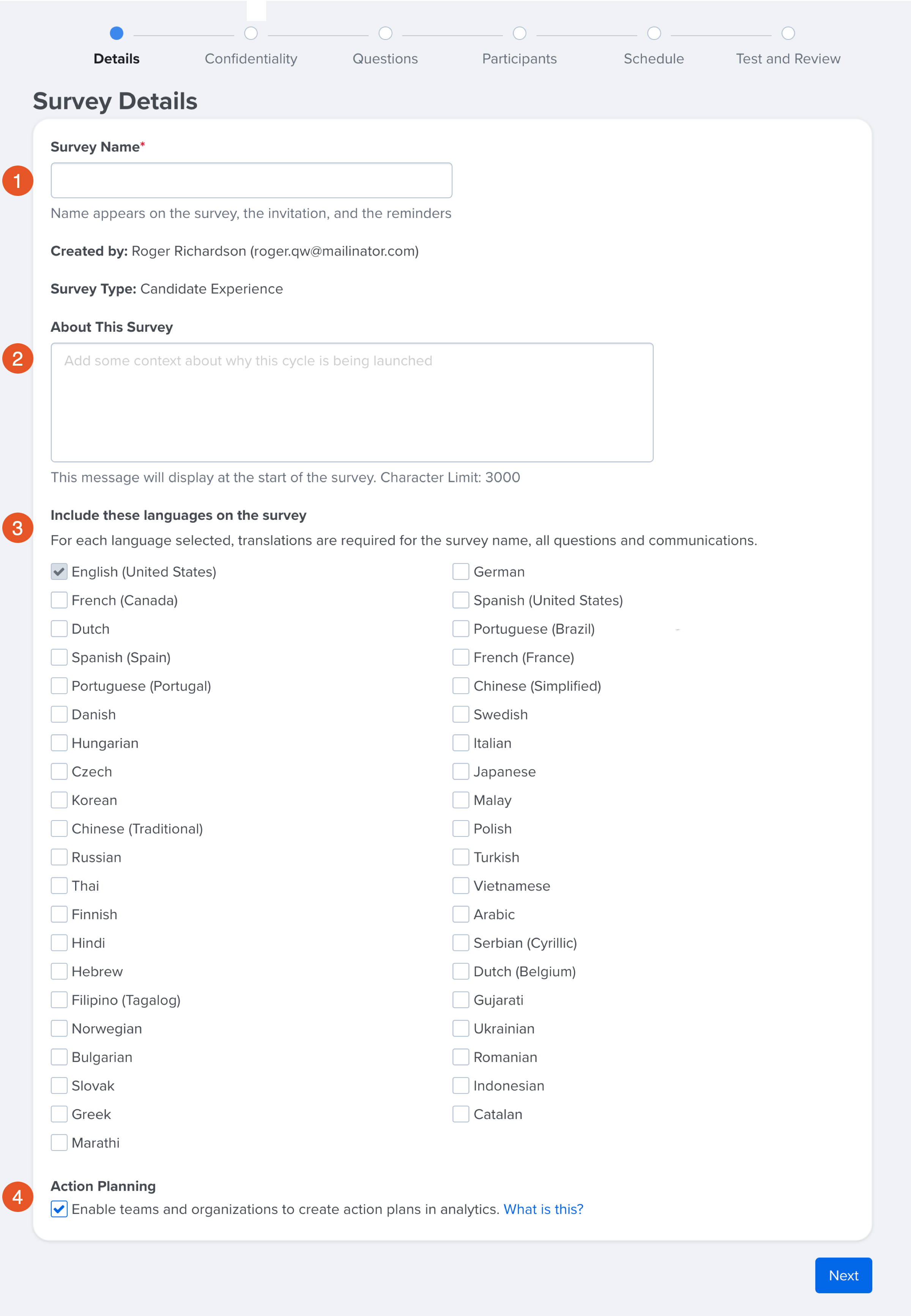 Under Survey Name, provide the survey name as it should appear on the survey, invitations, and reminders

The use of special characters in the survey title can affect survey exports, learn more about which characters are compatible with successful exports

Optionally, provide a brief description or add context for your survey participants
Specify whether any additional languages should be included in the survey

Additional languages require translations that will be submitted in a later step

Action Planning is enabled by default, click the box to disable Action Planning for the survey. Learn more about Action Planning
Click Next to continue.
Confidentiality
On the Confidentiality page, specify the confidentiality settings appropriate for the survey.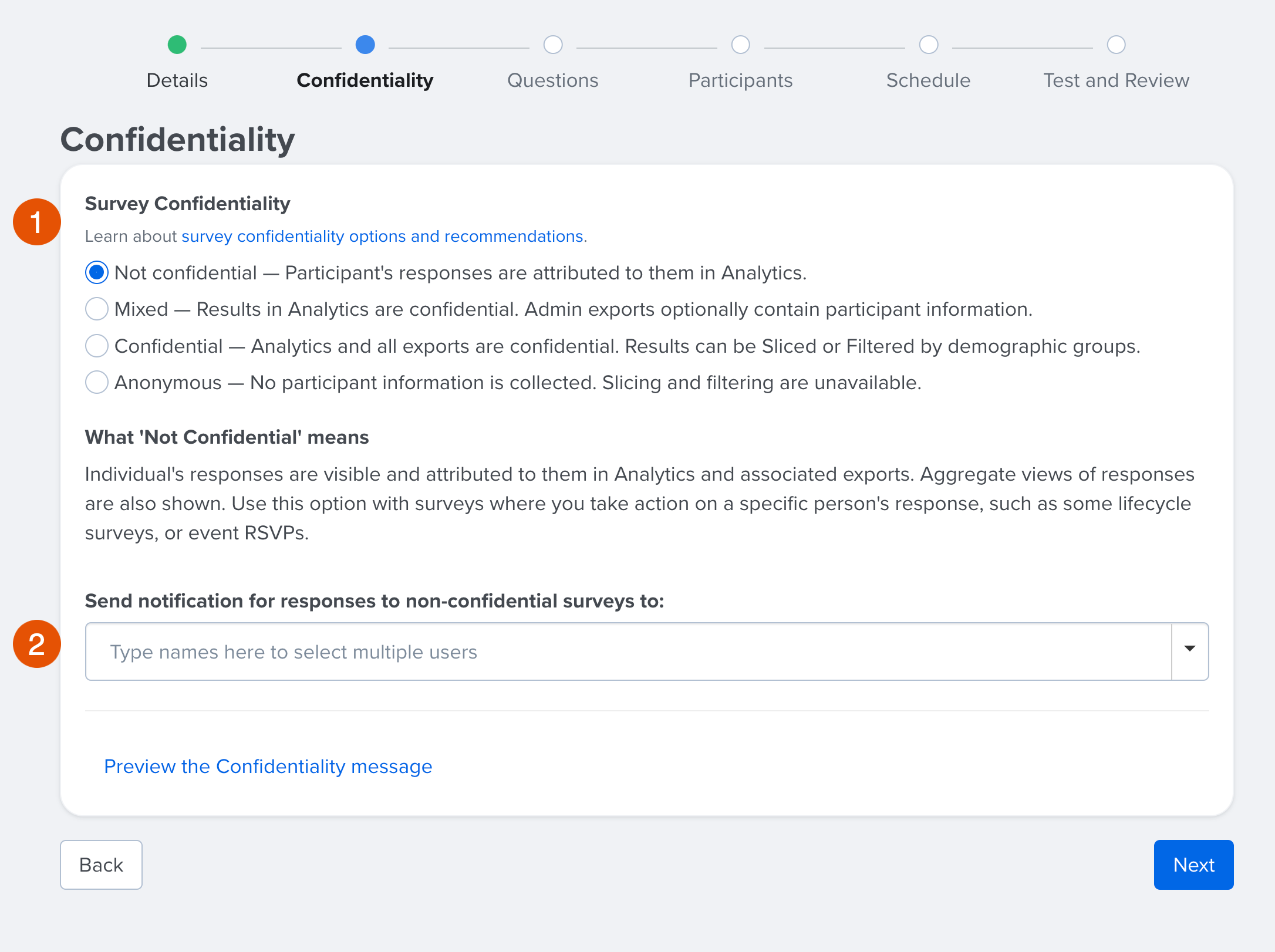 Select the confidentiality setting for the survey
Each confidentiality setting has a different follow-up action:


Not Confidential: Enter the user(s) who should be notified each time the survey is completed
Mixed: Specify the number of responses required to show survey results in Analytics, and enter an email address for survey participants to contact should they have any confidentiality-related questions
Confidential: Specify the number of responses required to show survey results in Analytics
Anonymous: Specify the number of responses required to show survey results in Analytics
Learn more about survey confidentiality and best practices.
Click Next to continue.
The Not Confidential confidentiality option is recommended for New Hire, Exit Surveys and other lower-volume surveys. For Not Confidential surveys, enter the names of an admin user who should be notified anytime a survey is submitted.
Questions
From the Questions page, you can add, rearrange, and edit your questions.
If you selected a template at the beginning of the survey creation process, those questions will be listed on this page.
If you selected Create Your Own Survey, this is where you will add questions for your survey, either via the Library or custom questions. Learn more about creating survey questions.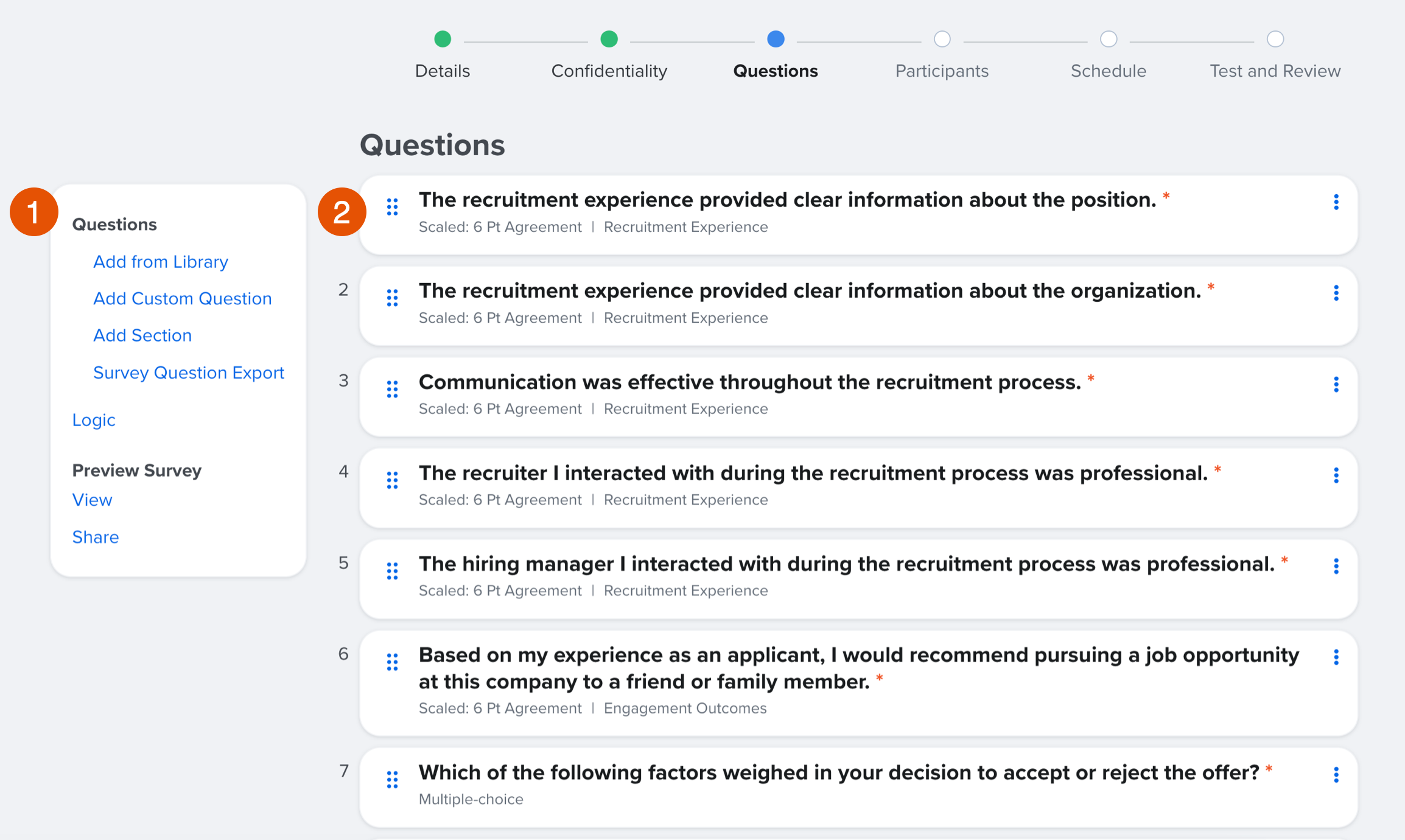 Under the menu to the left of the question list, you have several options to modify your survey's questions:

Add from Library: Add a question from Quantum Workplace's Best Practice library or from past surveys
Add Custom Question: Create a custom question

Note: Custom questions do not provide benchmark or trending data

Add Section: Create a section to visually organize survey questions
Survey Question Export: Export your current list of questions in detail
Logic: Configure questions to ask follow-up questions based on responses or limit who can see a question, learn more about Survey Logic
Preview Survey: Click View to preview a finalized version of the survey, and click Share to copy the URL of the preview to your web browser's clipboard

View and edit the questions currently included in the survey

Click and drag the ⋮⋮ icon to move and rearrange the question to the desired order
Click the ⋮ icon for a question to edit or delete the question
Click Next to continue.
Participants
On the Participants page, customize how survey participants are chosen and invited.
To launch an automated survey:
Select Invite Automatically
Under Triggered By, select the trigger event
Under Targeting, specify if all qualifying employees are invited or if a qualifying employee should pass through a demographic filter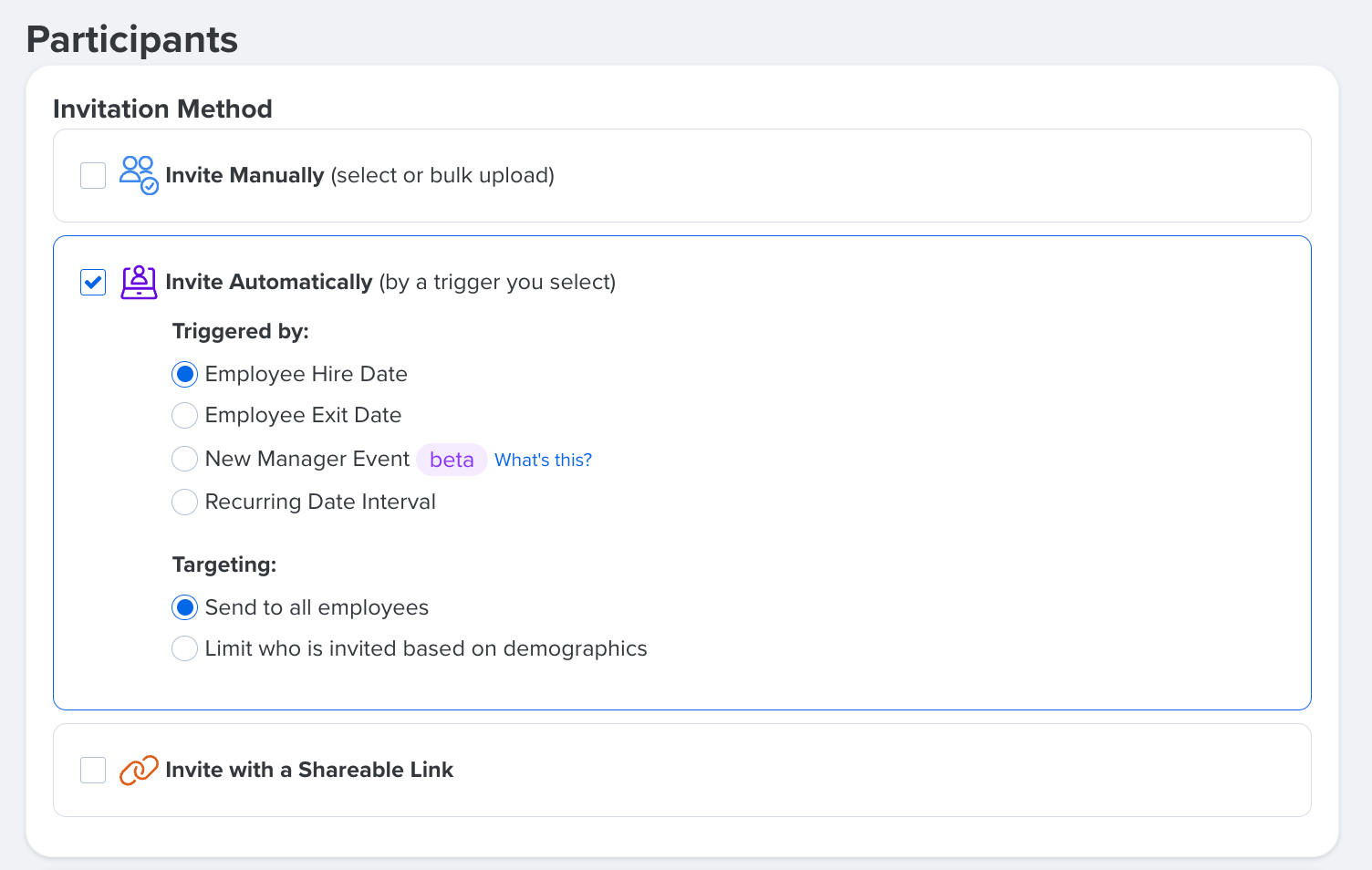 Under Triggered By, select the event to trigger an automatic survey invitation
Employee Hire Date: Useful for New Hire surveys,
Employee Exit Date: Useful for Exit Surveys

Manually entering an employee's exit date under Administration > Users will also add the employee to an exit survey

New Manager Event: Support and prepare newly promoted managers
Recurring Date Interval: Useful for collecting consistent data on a regular basis
Under Targeting, determine who is sent survey invites after the selected trigger occurs:
Send to all employees will invite all employees who qualify for the trigger
Limit who is invited based on demographics allows you to control what demographics are included and excluded as an additional rule for survey invitations.

For example, if a New Manager Event survey is meant for offices in Boston and San Diego, but shouldn't include HR employees in either office, the fields can look like this:
Include: Location: Boston, Location: San Diego

Exclude: Department: HR
Select another method or continue on the Survey Access Method to specify how survey participants can securely access the survey.

Select one of the following options:
Unique Link
Employee ID or Unique Link
Unique Access Code or Unique Link
If the survey should include recently hired or exited employees that wouldn't qualify under the current invite rules, use the Invite Manually to select the employees who should be invited to participate.
Click Next to continue.
Schedule
On the Schedule page, determine when invitations are delivered, how long surveys are open for, and when reminders, if any, are sent to participants.
Depending on the invitation method(s) selected in the previous step, the options displayed on the Schedule step will vary.
The following view reflects when the Invite Automatically option is selected.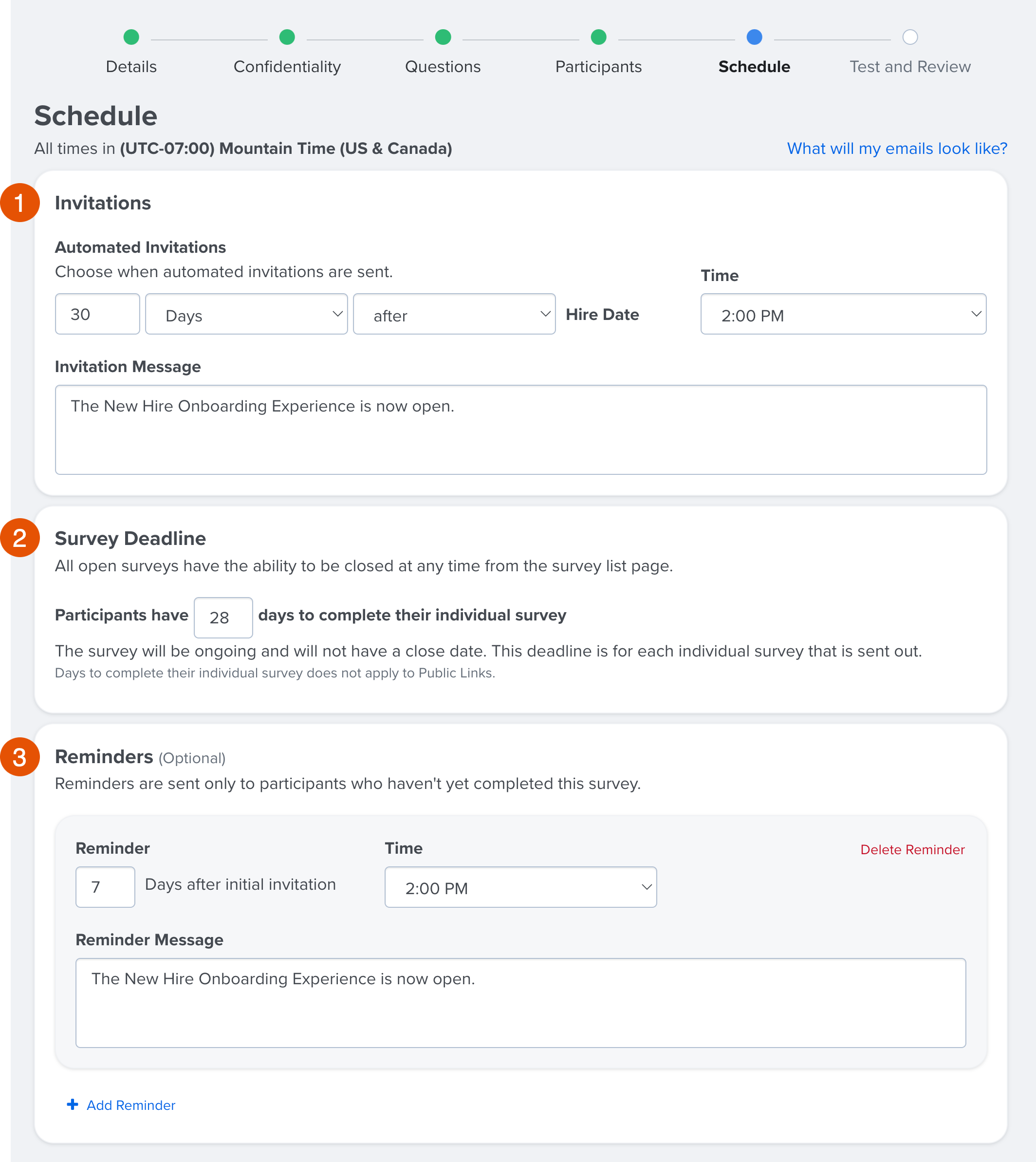 Invitations: Customize when invitations are sent out according to the trigger, the Invitation Message can also be edited
Survey Deadline: Determine how many days survey participants have to complete their survey
Reminders (Optionally): Customize when reminders, if any, are sent to participants as well as the Reminder Message's text

Click Add Reminder to add additional reminders
Click Delete Reminder to remove reminders
Click Next to continue.
For example, consider a New Hire survey set up to invite employees 30 days after their hire date. When the survey launches, any new hires with a start date within the last 30 days will be invited to participate in the survey.
For Exit Surveys, invitations are delivered according to an employee's termination date, whether that is acquired via an HRIS integration or the termination date is manually updated within Quantum Workplace.
If an employee is leaving an organization before the scheduled survey invite, ensure a secondary or personal email address is assigned to the user within Quantum Workplace.
Languages
If you specified that a survey is offered in another language, besides English, you will see the Languages page following the Schedule page. If your survey is only in English, you will see the Review page instead.
From the Languages page, enter translations for the survey title, description, reminders and each question. Learn how to add translations individually or in bulk.
Test & Review
On the Test and Review page, review key details and dates for your survey before finalizing and launching the survey.
Learn more about testing and previewing surveys prior to launch.
The information displayed on this page should reflect and confirm your survey design decisions.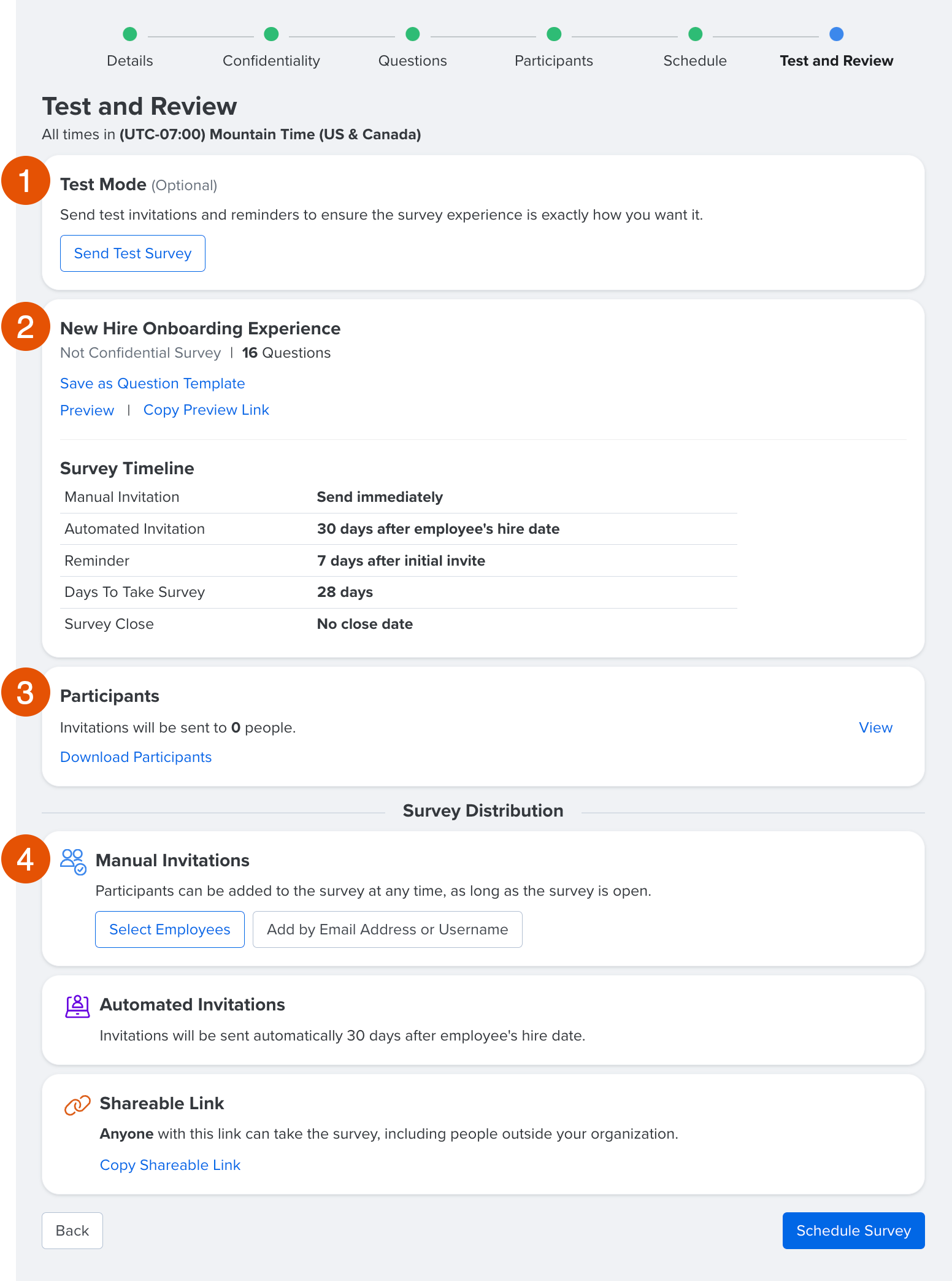 Test Mode: Optionally, click Send Test Survey to send a survey sample to select users as well as which message to be included

Survey Details: This card details the survey name, confidentiality, and the specified survey timeline
Participants: See the number of participants currently qued to be invited to participate, click View the participants in detail
Survey Distribution: This section reflects your selections on the Participants page and allows you to perform any follow-up actions, i.e. adding users manually or copying the shareable link, as you could on the Participants page
Click Schedule Launch to complete the survey. If you scheduled the survey to launch at a future date, it will automatically launch at the specified time.