Overview of Automated Feedback
Getting Started
Cycle Setup
Schedule & Milestones
Feedback Recipients
Activation Settings
Overview of Automated Feedback Cycles
As an Admin, you can create Feedback cycles that launch automatically based on an employee's hire or exit date (to solicit feedback for new hires or facilitate peer exit surveys) or automatically on the month of an employee's anniversary with the company (to facilitate Focal Date Reviews or Anniversary Date Reviews). You can also set Feedback to recur automatically on a set time frame (e.g. quarterly, semi-annually, or annually) such that the same group of employees receive feedback on the time frame you specify.

For all of the above options, the feedback recipients will automatically be added to the cycle at the time that you designate. However, you will still need to specify who should be invited to provide feedback for those recipients each time the cycle launches or a new feedback recipient is added. The only way that you can automatically invite Feedback providers to any Feedback cycle is to designate that Feedback groups should be automatically invited via the template that you're using.

For most Feedback cycles (e.g. all Feedback cycles except for the ones outlined above), we recommend creating a single cycle rather than an automated cycle. Click here for instructions on how to launch a Feedback cycle.
Getting Started
Navigate to Feedback Administration. Click New Cycle in the top right corner.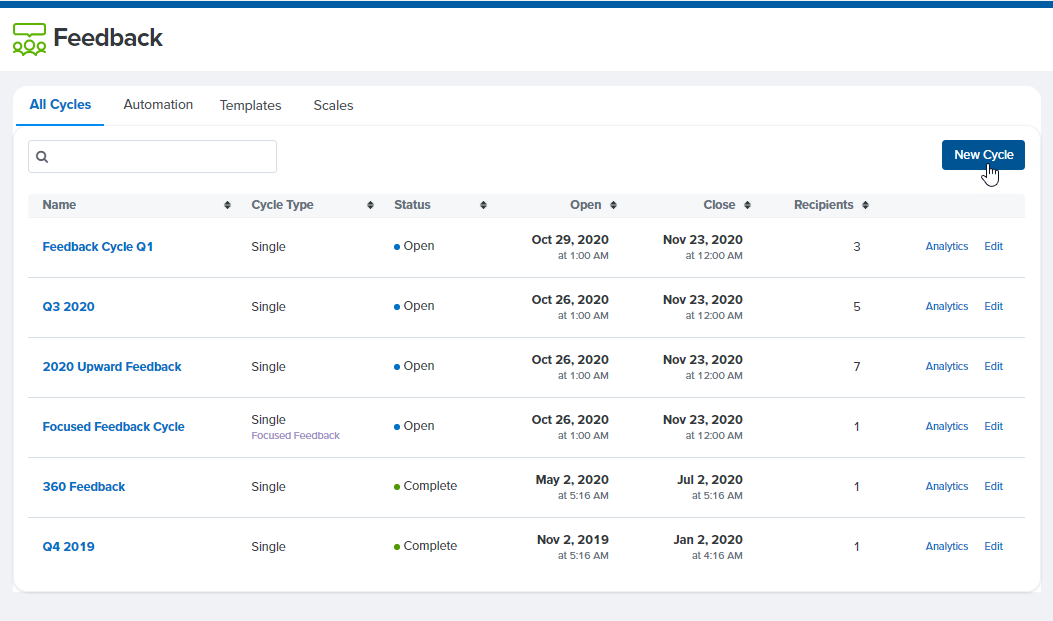 Cycle Setup / General Settings


If your organization has enabled Focused Feedback as an option, you will see the below screen. If you see this screen select Open Feedback Cycle.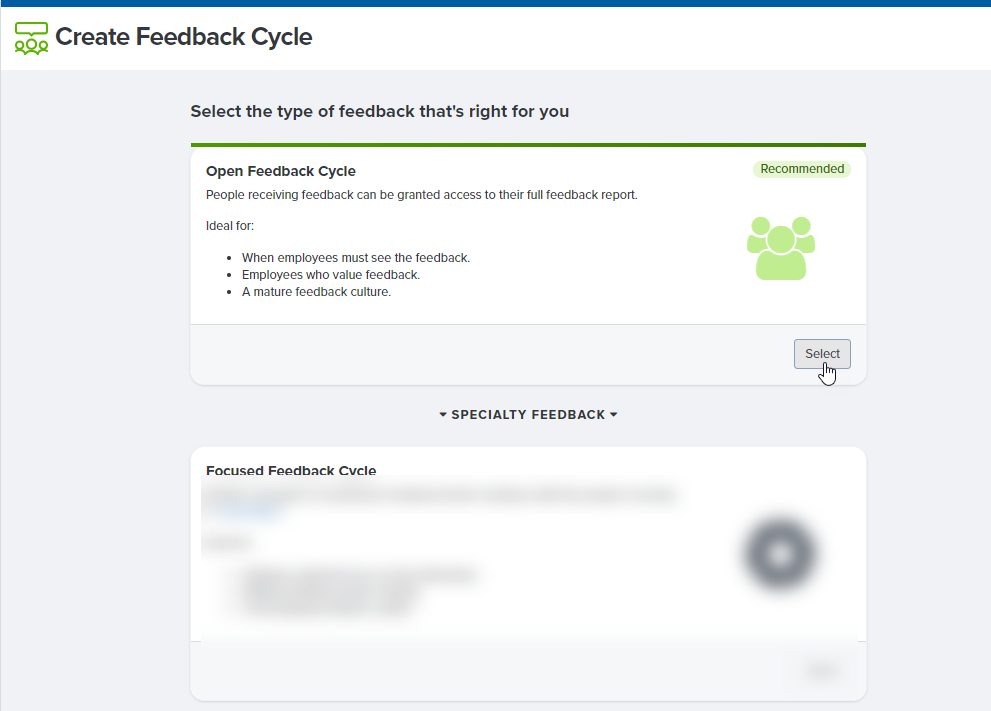 From the Cycle Setup screen, click Automated in the top left corner under Cycle Type.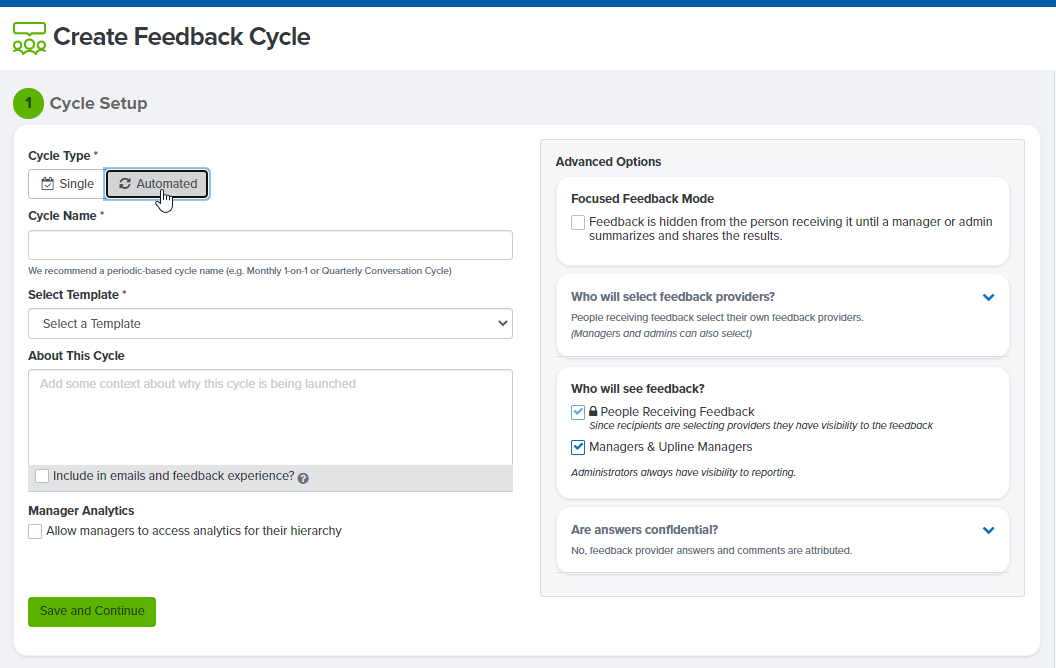 Then, work through the following steps:

Cycle Name: Enter the title for this Feedback cycle.
Select Template: Select the Feedback template that you will utilize for this cycle.
About This Cycle: Add any context about this cycle that you would like to share with your feedback providers and/or recipients.

Advanced Options
Under Advanced Options, you will specify who is responsible for selecting Feedback providers, who can see the feedback for this cycle, and whether this Feedback will be confidential or attributed.

Who will select feedback providers?
Click the drop down arrow by this section to determine who is responsible for selecting feedback providers. Feedback providers will not be automatically re-invited to a recurring Feedback cycle unless your Feedback template is set to automatically invite feedback providers based on the Feedback Group they belong to.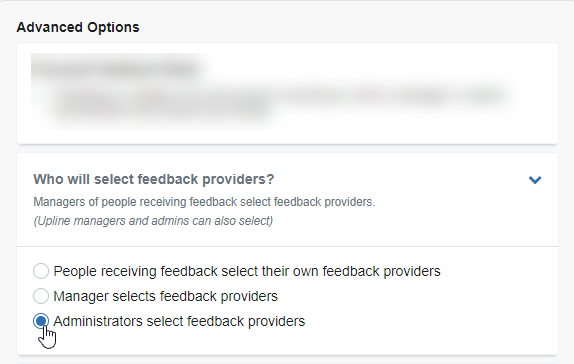 Who will see feedback?
In this section you will determine whether feedback recipients and their managers should have visibility into the feedback they receive. If you specified that feedback recipients will select their own feedback providers, they will be able to see any feedback they receive.




Are answers confidential?
Click the drop down arrow next to this field to designate whether feedback should be confidential or attributed.


Schedule & Milestones

Within the Schedule & Milestones section you will designate what triggers this cycle to re-occur and specify the dates that feedback should be due following the launch of the cycle.

What triggers a new cycle to launch?
Under this header, you'll select what type of automated Feedback cycle this is. To automatically add new hires as feedback recipients a certain number of days into their tenure, select Hire Date. To conduct a peer exit survey (e.g., to ask colleagues to provide feedback about a terminating employee) select Exit Date. To automatically add employees to receive feedback on their anniversary month, select Anniversary Date. To create a Feedback cycle that adds employees to receive feedback on a set time frame, select Recurring Date.


Based on the selection you made above, you will designate when this cycle should launch, the due date for selecting feedback providers, the due date for giving feedback, and the date that feedback should become visible. Once you have added your dates, click Save and Continue to advance.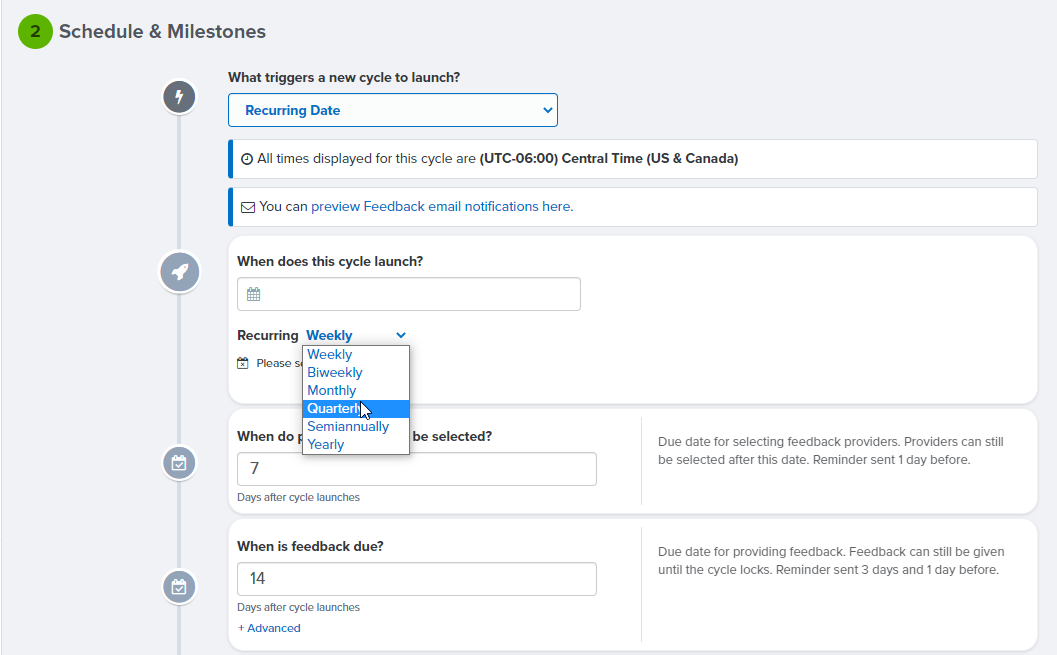 Feedback Recipients

For recurring Feedback cycles, the default is for all employees who have Feedback enabled for them to be invited as feedback recipients for the recurring cycle. To designate that only a subset of your employees should receive feedback, enter in the specific employee demographics that should be invited to receive Feedback under Limit by Demographic. Once you enter in a demographic group, you can click View All Feedback Recipients to download a list of employees will be recipients for this Feedback cycle.





For cycles based on hire date, exit date, or anniversary, all upcoming employees who fit the criteria you specified in the Schedule & Milestones section will be listed in this section. For every employee who will be added as a feedback recipient, you will see the date that they will be added to the cycle as a Feedback recipient under Launch Date. As with other Feedback cycles, this section lists the feedback recipients only-- these recipients will either need to select their own Feedback providers or have Feedback providers added on their behalf once the cycle launches (depending on your settings in Step 1).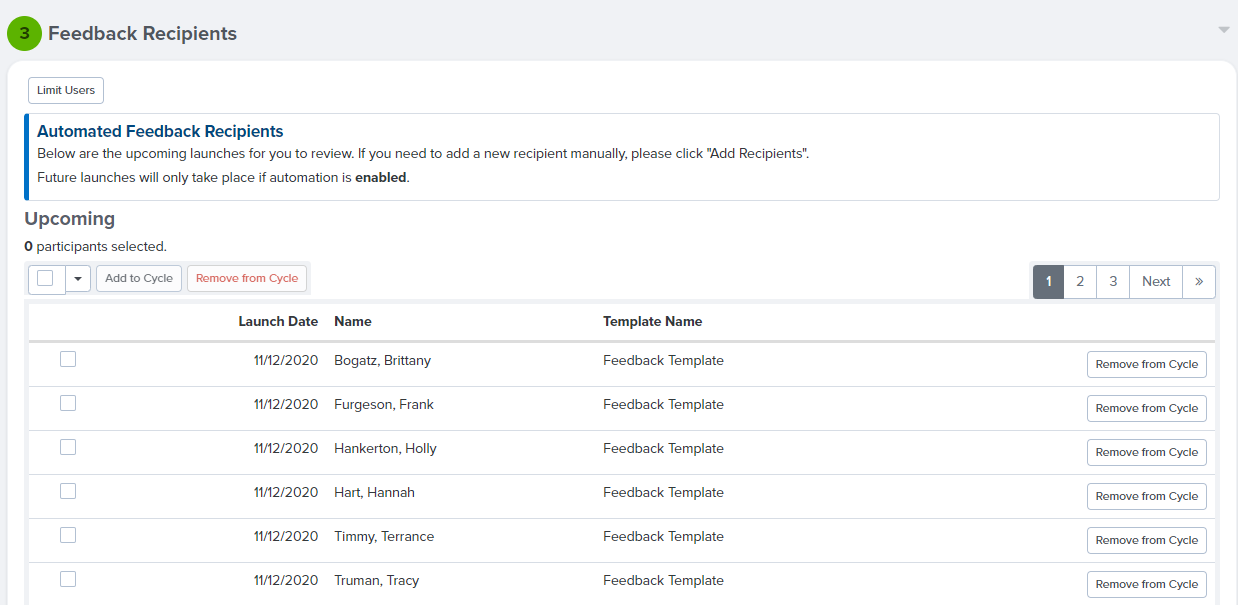 If you need to limit who should be added to this cycle as a Feedback recipient, click Limit Users and specify which demographics should be included in this cycle.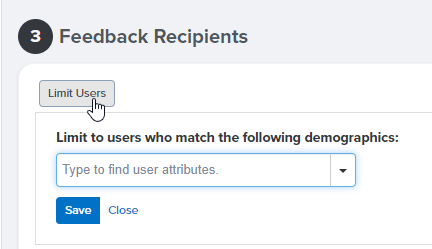 For cycles based on hire date, exit date, or anniversary, you can manually add feedback recipients to the cycle by clicking Select Feedback Recipients.


Then click Save and Continue to advance to the final step.
Activation Settings



Under Activation Settings, you can click Enable Automation Now to set the Feedback cycle to go live now. For Recurring Feedback cycles, this means that the first instance of this Feedback will launch on the date and time you've selected. For all other automated Feedback cycles (New Hire, Exit, and Anniversary), the employees who you've added as Feedback Recipients will be added to this Feedback cycle on the dates listed in the Feedback Recipients section.


If you're not ready to schedule the first Feedback to launch, you can return to the set up for this Feedback cycle at any time to enable the automation. Or, click Schedule for Later to pick the first date that the Feedback cycle should launch and to schedule an end date (if needed).