As an admin, upload your organization's Succession Plan
In this article:
Accessing Succession Planning
Access Succession Planning by clicking and expanding Analytics in the left-hand navigation menu. Then click Succession Planning to navigate to the Talent & Succession Planning home page.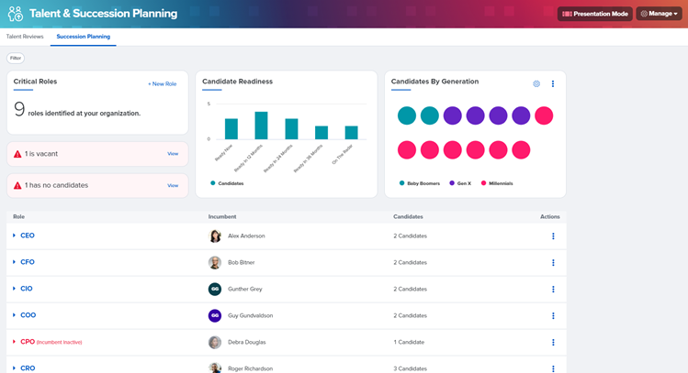 Your organization will upload a file with your current succession plan, this file should include:
Critical Role Name
Current Incumbent ID
Successor Employee ID
Successor Readiness

Ready Now
Ready In 12 Months
Ready In 24 Months
Ready In 36 Months
On The Radar
The only required fields are the Critical Role Name and Current Incumbent. You can import a blank plan with your critical roles and current incumbents and complete the rest within the tool.
Import Talent File
To import a talent file, click Manage in the top-right to expand a drop-down menu and then Import Talent File to start the import process.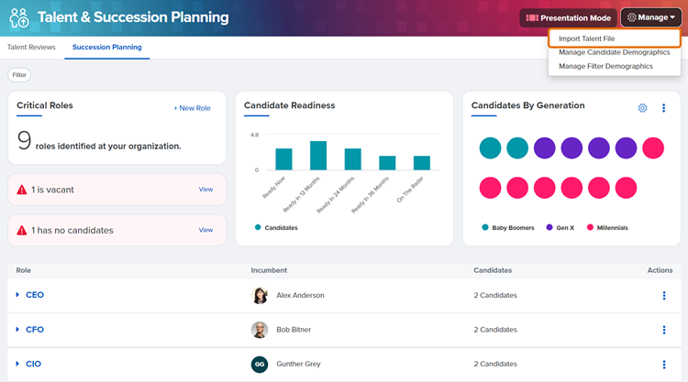 We have a simple CSV template that the information needs to match. You may download the template file to follow the expected format.
If you have any mistakes or errors, the system will identify and explain each error.
Once you're satisfied with your file, you may upload the file by either dragging the file into the field or clicking Browse and selecting the file.
Click Upload and Validate to start the import process.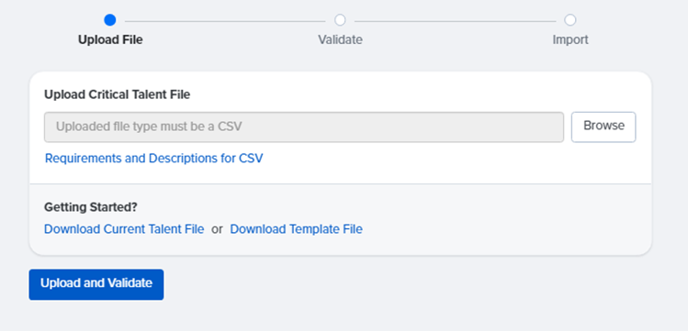 As the file is imported, you'll see whether the file was successfully validated or not. Click Import to continue.
If the file could not be validated, you'll see an error message with details of what went wrong. Correct the errors in the original file before restarting and re-importing the updated file.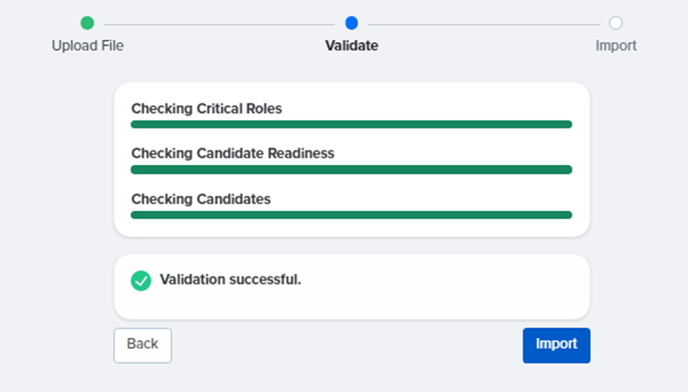 You will now see that your import was successful. Click View Analytics to navigate back to the Succession Planning home page where the dashboard will be populated with the imported information.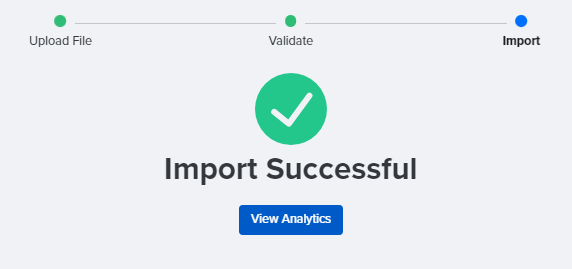 Click here to learn more about Succession Planning.