How to Export a Report
In this article:
Overview
From any report, you can export your data as PDFs, Powerpoints or Excel spreadsheets via the Export button in the upper-right corner.
PDF and Excel exports reflect any slices, filters and comparisons active at the time the report is exported. Excel exports include the actual data points you're examining.
Powerpoint exports only reflect the team select filter. Powerpoint exports gather your data points and present the data in a succinct Powerpoint presentation.
How to Export a Report
To export a report, navigate to the report from the Analytics drop-down in the left-hand navigation menu.
Although this example uses a survey, the same steps can be taken to export reports in other tools, i.e. Recognition, Feedback, etc.
On the Overview tab of the survey analytics, click Export in the upper-right corner.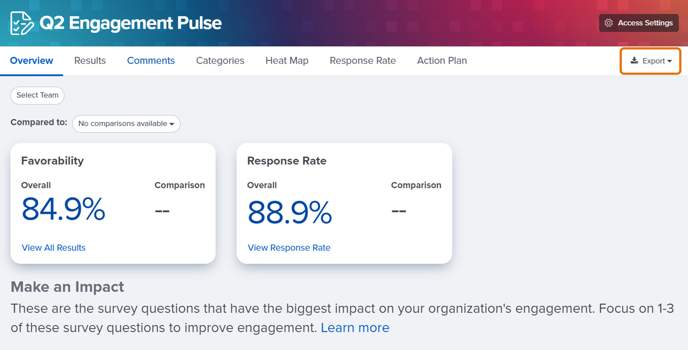 From the Export drop-down menu, select the report and format. Your exported file will then be downloaded and accessible to you.
For surveys, the Overview tab allows you to export results for the entire survey. For a specific report, you can navigate to the different tabs, i.e. Results, Comments, Categories, etc. From these tabs, click Export and select your report to begin the export.