Goal owners can edit their in progress goals from the goal detail page. You can edit any of the following details about the goal by clicking directly on the field or aspect of the goal that you would like to edit.

Goal contributors cannot edit the goal; they can only update the goal (that is, update the progress that has been made on the goal's key results).
The Goal Name

The Description


The Goal Type (development, personal, team, or organizational)



Goal Privacy

The Due Date


Key Results
To edit a key result, hover over it until the Settings icon (gear icon) appears.



Next, click the Settings icon and select Edit Name & Progress Type to update the key result, or Delete Key Result to remove it from the goal.


7. Contributors and Followers
You can add any other coworkers as contributors or followers to your goal. Click the plus sign next to Contributors or Followers and type in the name of your coworker(s) to add them to the goal. Or, click the drop-down arrow next to a coworker's name and click Remove to remove them as a contributor or follower.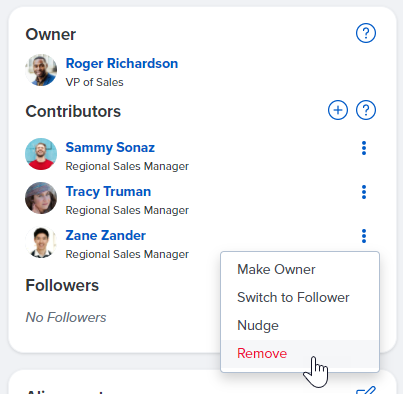 The Goal Owner and any Goal Contributors can update the progress on the goal at any time.